Many crypto investors disagree with tax on cryptocurrency altogether and wrongly assume that they don't need to pay tax on crypto gains or income because they think the IRS can't track crypto. Well, we're here to tell you it's not the case. The IRS can track cryptocurrency and here's how…
Can the IRS track cryptocurrency?
Wondering whether the IRS can track Bitcoin and other cryptocurrencies? The answer is simple. Yes, the IRS can track cryptocurrency, including Bitcoin, Ether and a huge variety of other cryptocurrencies. There is no doubt about it. Here's how the IRS tracks crypto.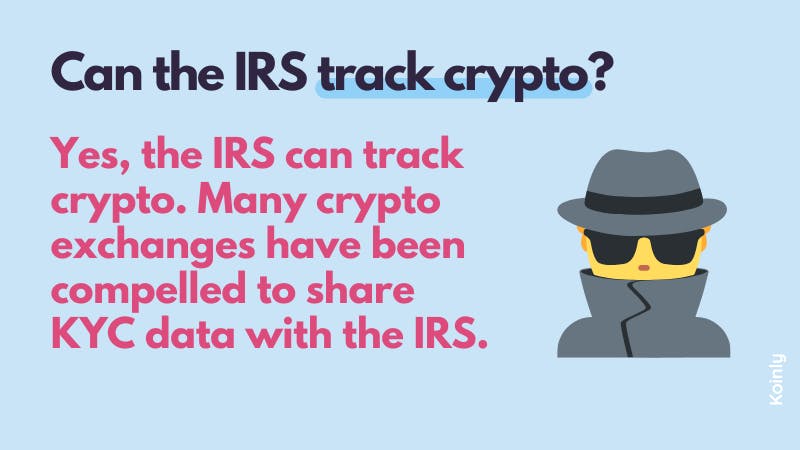 How does the IRS track cryptocurrency?
The IRS is gaining increasing amounts of data about crypto transactions.
All major crypto exchanges now need to complete Know-Your-Customer (KYC) checks on new and existing customers in order to operate in the US.
KYC checks were previously quite simple and only asked for basic personal data like your name, address and sometimes your social security number (though that's still plenty for the IRS to identify you with). But KYC checks have evolved alongside ID technology, with many crypto exchanges now adopting various KYC verification methods such as:
Biometric identification.
Asking users for short videos of themselves.
Taking photos alongside their ID.
As well as this, crypto exchanges collect other information about you - including your banking information, your phone number(s) and employment details. 
Crypto exchanges also have the visibility of crypto addresses you withdraw funds to. This means they can effectively identify your custodial wallets - like if you're withdrawing funds to a MetaMask wallet for example. 
Why does all this matter?
Because the IRS can (and have) request data from crypto exchanges in order to ensure tax compliance.
Do crypto exchanges report to the IRS?
Yes. A variety of large crypto exchanges have already confirmed they report to the IRS.
Back in 2016, the IRS won a John Doe summons against Coinbase. A John Doe summons compels a given exchange to share user data with the IRS so it can be used to identify and audit taxpayers, as well as prosecute those evading taxes. Since 2016, the IRS has won similar cases against both Kraken and Poloniex. 
The success of these summons, alongside the various regulations they must follow in order to operate in the US lawfully, has compelled many crypto exchanges to comply with the IRS to avoid a similar summons in the future. 
As well as this, Operation Hidden Treasure was launched in March 2021. It's a partnership between the civil office of fraud enforcement and the IRS and made up of a specialized team trained in cryptocurrency and virtual currency tracking. The aim of the game? To root out tax evasion from crypto investors.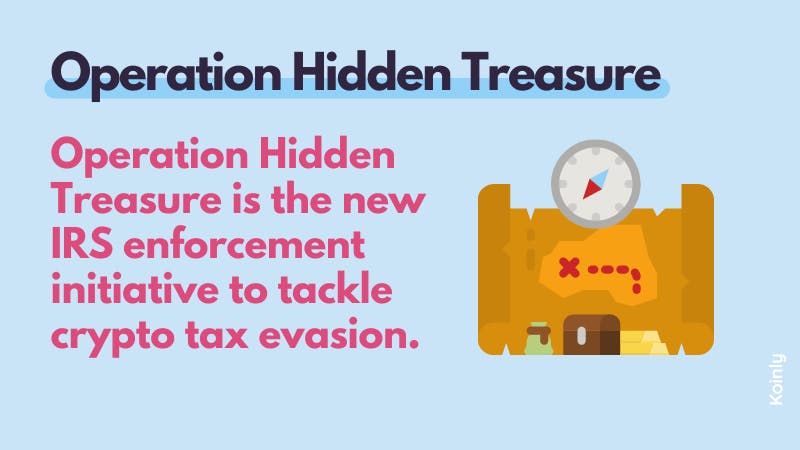 Which crypto exchanges report to the IRS?
It's impossible to say for certain how many crypto exchanges are reporting to the IRS or precisely which crypto exchanges are reporting to the IRS. Many exchanges rightfully don't want to advertise this to their users as one of the core tenets of crypto is anonymity. 
This said, in an effort to stay in the good books of the IRS, many crypto exchanges are sending out 1099 forms. 1099 forms are a record of income or an individual taxpayer. 1099 forms come in a variety of shapes and sizes (which you can learn about in our crypto 1099 form guide) - but what you need to know is that whenever you get a copy of a 1099 form, so does the IRS.
Crypto exchanges that are sending out 1099 forms include:
Coinbase
Coinbase Pro
Coinbase Prime
Binance US
Gemini
Kraken
Bitstamp
eToro
Crypto.com
Uphold
Bittrex
Robinhood Crypto
PayPal Crypto
Celsius
It is likely that with impending changes to crypto tax legislation this year - more crypto exchanges than those listed above will send out 1099 forms in an attempt to comply with the IRS and avoid penalties.
If you'd like to find out more about if your crypto exchange/wallet reports to the IRS, check out our crypto exchange guides:
When do crypto exchanges report to the IRS?
Regarding 1099 forms, the taxpayer and the IRS will generally receive these in January or February following the previous tax year. 
However, the IRS is probing many crypto exchanges currently - including Binance. It's impossible to say if or when these crypto exchanges will share data with the IRS. 
Are there any crypto exchanges that don't report to the IRS?
You might think you're safe sticking to crypto exchanges with no KYC or even only using decentralized exchanges (DEX) - but it's not quite that clear cut. 
You're right in thinking that, as of yet, we've had no IRS crypto news on any DEX reporting to the IRS. It's true that most of them don't collect KYC data - so they'd have less to share with the IRS even if they do face a John Doe Summons.
This said, many of the browser wallets you'll use to interact with a given DeFi protocol may have KYC checks and more importantly - many of them need you to link a bank card or account. If you've got funds being withdrawn or coming into your bank account, the IRS will want to know about it.
As we said above, if you're moving crypto between wallets and crypto exchanges - the IRS may be able to access this data.
You can learn more about DeFi taxes in our guide, as well as more about a variety of DeFi protocols, how they're taxed and whether they report to the IRS in our DeFi guides:
What do I need to report about crypto to the IRS?
The IRS want a lot of information about your crypto assets, including:
The date of each transaction.
Your cost basis or the fair market value of your crypto in USD the day you acquired it.
The fair market value of your crypto in USD the day you disposed of it.
The capital gain or loss you made from each transaction.
What the transaction was and the parties involved.
Receipts of purchase and sale.
Records of transfers and transactions from all your crypto wallets and exchanges.
You'll need to report all this on Form 8949 and Schedule D, as well as any crypto income on Schedule 1. You can learn more about reporting your crypto taxes in our complete US crypto tax guide.
How does the IRS know your cost basis?
Tempted to tweak your cost basis in order to pay less tax?
It's tax evasion and it's not worth the risk. While the IRS might not be able to prove anything from one single tax return - they can compare cost basis and the cost basis methods for crypto from your previous tax returns. If there are discrepancies, the IRS can and will audit you.
The usual statute limit for an IRS audit is three years. But when it comes to overstating cost basis by 25% or more, the IRS has 6 years to audit those tax returns.
I forgot to report cryptocurrency on taxes - what do I do?
Whether you forgot or you "forgot" - if the IRS believes you've committed tax fraud, there's no limit to how far back they can audit you. Fortunately, you have a couple of routes available for you to avoid a crypto tax evasion penalty. 
The best thing to do in this scenario is to amend your tax return for the years you forgot to report crypto. You have three years from the date you originally filed to file an amended return. The IRS is far more likely to be lenient to those who make the effort to go back and correct their taxes. 
To amend your tax return - you'll need to file an IRS Form 1040X. Don't worry, you won't need to file all your taxes again, only the missing information.
Alternatively, if you've deliberately underreported or avoided reporting crypto on your taxes altogether, the IRS just updated Form 14457 to include a section on reporting virtual currency. Form 14457 is a voluntary disclosure application that allows taxpayers who may be facing criminal prosecution for violation of tax laws voluntarily disclose information to the IRS they previously failed to disclose. By filing a Form 14457, you agree to comply with the IRS and pay any due taxes.
How Koinly crypto tax calculator can help
We get it. Crypto taxes are time consuming, that's why we made Koinly crypto tax calculator. We make it easy to get your crypto taxes done in no time at all and ensure you remain tax compliant.
All you need to do with Koinly is sync all the crypto exchanges, wallets and blockchains you use (we support a lot!) using API or by importing a CSV file of your transaction history. Once you've done that, Koinly will calculate your capital gains, losses, income, expenses and more and fetch your crypto tax report, ready for you to download.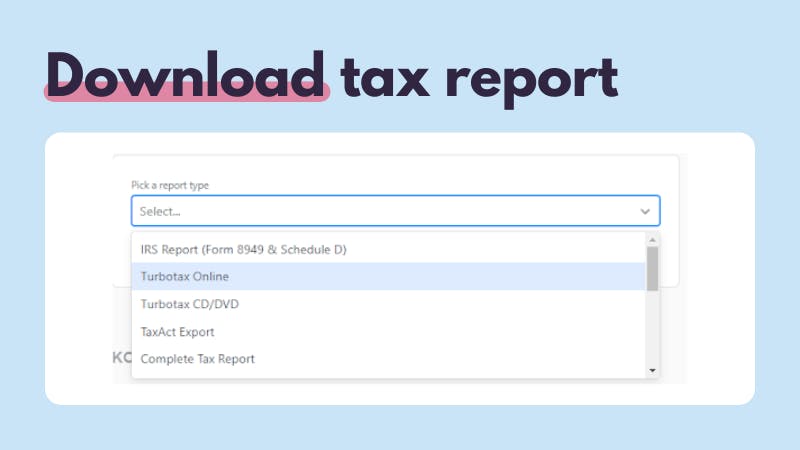 For US investors, Koinly can generate a pre-filled Form 8949 and Schedule D, the Complete Tax Report (for crypto income) and a variety of tax reports for tax apps like TurboTax and TaxAct.