Cryptocurrency transactions attract both Capital Gains Taxes and Income Taxes in Australia. The Australian Tax Office (ATO) has set out clear guidelines on how crypto buying, selling and mining is taxed. This guide breaks down everything you need to know about crypto taxes and how you can avoid notices, audits and penalties later on. We'll also explain how to calculate your crypto taxes, the forms you need, and tips on how to reduce your Australian tax bill.
This guide is regularly updated
Before we start - crypto tax rules are in constant flux. At Koinly we keep a very close eye on the ATO's crypto policies and regularly update this guide to keep you informed and tax-compliant.
Update 28 May 2021: The ATO issued a statement addressing crypto investors & traders.
Update 13 May 2021: Updated for 2021.
Update 22 June 2020: ATO warns 350,000 investors & traders to disclose or face penalties.
First Published 24 July 2019: Welcome to your Australian cryptocurrency tax guide!
Yes, Cryptocurrency is taxed in Australia.
In Australia cryptocurrency is viewed as an asset and attracts Capital Gains Tax and Income Tax. With the ATO announcing that it's specifically targeting cryptocurrency traders, it's essential that you understand the tax consequences of your crypto trading. If you've bought or sold cryptocurrency in the last financial year, you will need to declare your crypto totals on your income tax return.
Will the ATO know about your crypto?
Yes. If you have an account with an Australian cryptocurrency designated service providers (DSPs), then it's likely that the ATO already has your data. In April 2019 the ATO announced their data sharing program with all Australian exchanges. As a result, the ATO has crypto transaction data from as far back as 2014.
The ATO also has the Know your customer – KYC information you provided when opening your account with any Australian digital currency exchange.
In 2020, 350,000 Australian crypto investors were treated to a letter from the ATO warning that crypto was indeed taxable, and that failure to declare could result in penalties for tax evasion. In this instance, recipients were given 28 days to disclose their crypto trades.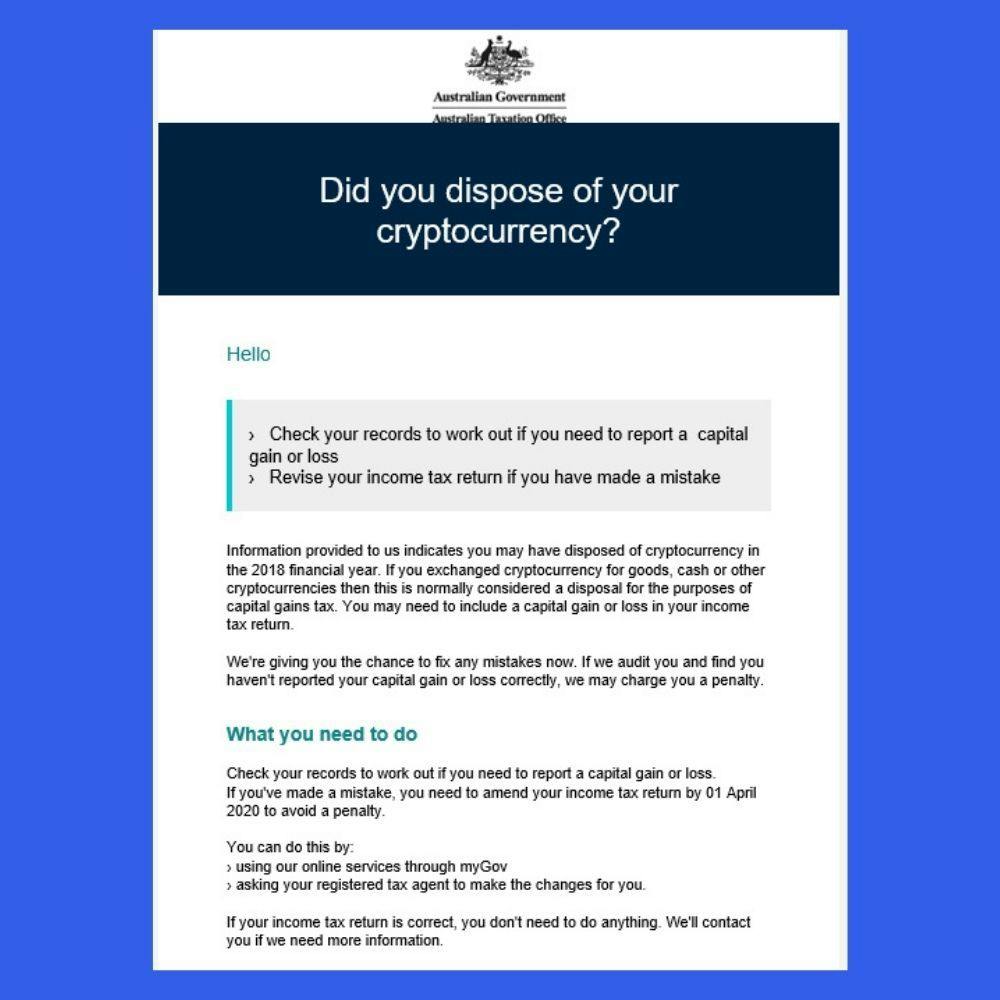 28 May 2021 - The ATO issued a reminder to Australian crypto users to report all gains on their tax return. Approximately 100,000 taxpayers will receive a warning letter outlining their obligations and asking them to review their previously lodged returns. A further 300,000 people are expected to be prompted as they lodge their 2021 tax return.
To determine tax liability, the ATO is collecting data from crypto exchanges and comparing it to amounts entered on previous tax returns.
Failure to declare crypto gains can attract a penalty of 75% of the outstanding tax liability, plus the tax itself and interest on the shortfall. Read the full press release here.
Capital Gains Tax Rate
If you're trading crypto as an individual (investor), the percentage you'll pay on Capital Gains Tax is the same as your income tax rate for the year. Your income tax rate depends on your total income during the tax year.
Individual investors benefit from a 50% discount on the tax if the crypto is held for at least 12 months.
ATO Individual income tax rates 2020–21
Source: ATO
The above rates do not include the Medicare levy of 2%.
How Australia taxes Cryptocurrency
The Australian government does not see Bitcoin and other cryptocurrencies as money nor foreign currency. Instead, the ATO classes crypto as property, and as an asset for Capital Gains Tax (CGT) purposes. Crypto can also be viewed and taxed as Income Tax. How you're taxed depends on your 'intentions' and setup.
Trader or investor?
The ATO views participants in the crypto market as either a trader, or an investor for tax purposes.
Investor: An investor is just that - investing in a future return. An investor buys and sells crypto as a personal investment 'stock'. In this case, profit will be derived from long-term capital gains typically, as well as from airdrops forks and staking. Most Australian crypto users today will be considered 'investors' and their cryptocurrency transactions will be subject to Capital Gains Tax (CGT).
Buys crypto for themselves
Mines crypto as a hobby
Casually trades cryptocurrency
Trader: A trader will typically buy and sell crypto in a matter of hours or days with the intention to profit from short-term price fluctuations. A trader is active in crypto as a means to generate, or earn, an income. Here, gains are seen as business income, and not as investment profit.
Commercial cryptocurrency mining
Professional crypto trading
Forges crypto as a business
Operation of cryptocurrency-related businesses
Business-related cryptocurrency transactions
Not sure which one you are? The lines can get a little fuzzy. Read here for more advice from the ATO.
You should also keep in mind that the ATO may decide to tax you as a business depending on your mining activities. In order to determine whether you are mining crypto as a business, check out this section of ATO's website.
Capital Gains Tax, Income Tax and Tax Free
Capital Gains Tax
CGT is currently charged at the same rate as your personal income tax rate. You'll pay 50% less tax on crypto gains made after 1 year of purchase. The following crypto activities attract capital gains tax in Australia when undertaken by individual investors (most crypto users):
Exchanging Crypto for Fiat
Exchanging Crypto for Crypto
Buying Goods and Services (if not seen as a personal use asset)
Gifting & Donating Crypto
Receiving Crypto as a gift
Stablecoin Trades
Margin Trading, ICOs / IEOs, Forks / Chain Splits for investment purposes
Mining & Forging Crypto as a hobby
How to work out your Capital Gains Tax
The ATO provides the following guidance:
The first step is to determine your cost base. This is the purchase price of your crypto plus the costs related to acquiring or disposing of it.
Your sale price – your cost price = your total capital gain or loss
If you make a gain:
Report the total amount under the 18H 'Current year capital gains' label on your tax return. 
If you've had your crypto for more than 12 months, you may be eligible to discount your capital gain by 50% or establish what indexation factor you can apply against your capital gain. 
If you've owned your crypto for less than 12 months, you must use the other method, where you simply subtract your cost base from your sale price.
This final amount is reported at the 18A 'NET capital gain' label. Tax is then applied to your total assessable income (which includes things like wage and interest income) at standard marginal rates. 
If you make a loss, work out your reduced cost base.              
Use your capital loss to reduce an existing capital gain, or carry it forward to a future year.
To report a net capital loss, enter '0' at the 'NET capital gain' label. 
Enter your total capital loss in the 18V 'NET capital losses carried forward to later income years' label.
Income Tax
There are many cases where crypto gains are seen as income and thus attract income tax, especially if the ATO views you as a trader, versus an investor. For example:
Getting paid in Crypto
Accepting Crypto for payment of goods and services
Airdrops (participant and involuntary)
Forging
Signup & Referral Bonuses
Interest from Lending, Staking, DeFi and Masternodes.
Margin Trading, ICOs / IEOs, Forks / Chain Splits for investment purposes
Crypto Mining & Forging as a business
Tax Free
The following crypto activities are tax-free in Australia:
Buying Crypto
Holding Crypto
Token & Coin Swaps
Transferring Crypto Between Own Wallets
Buying Goods and Services (Under A$10,000, if it's a personal use asset.)
Donating Crypto to registered charities
If you dabbled in the crypto market in 2020-2021, then you will likely pay one or both of these taxes depending on the type of activity you were involved in. We'll jump into the detail of each tax type a little further down.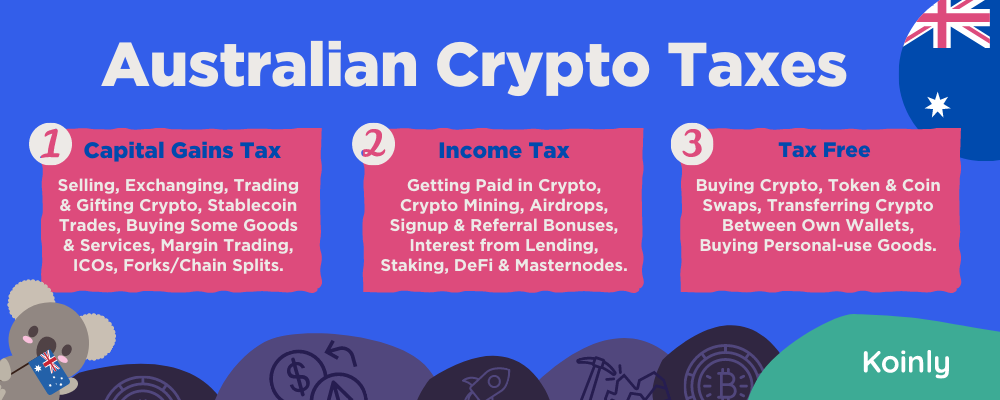 How to report your crypto tax activity?
The ATO wants to know about your crypto activity in terms of income and capital gains. You'll need to declare both in your annual tax return, in the same way you need to report your regular income, gains and losses.
Tax deadline
The Australian tax year runs from July 1 - June 30 the following year. If you are lodging your own tax return for July 1, 2020 – June 30, 2021, it needs to be filed by October 31, 2021.
Lodging through an accountant? You have until March 31 2022 to file.
Filing with myTax
Once you, or your accountant has calculated your crypto tax (we have an app for that!), the easiest way to file your taxes is online using myTax, available from your myGov dashboard.

1. From your myGov dashboard
2. Select ATO myTax (you need to have previously linked your ATO profile to myGov. See steps here.)
3. From your myTax dashboard select Tax from the top navigation.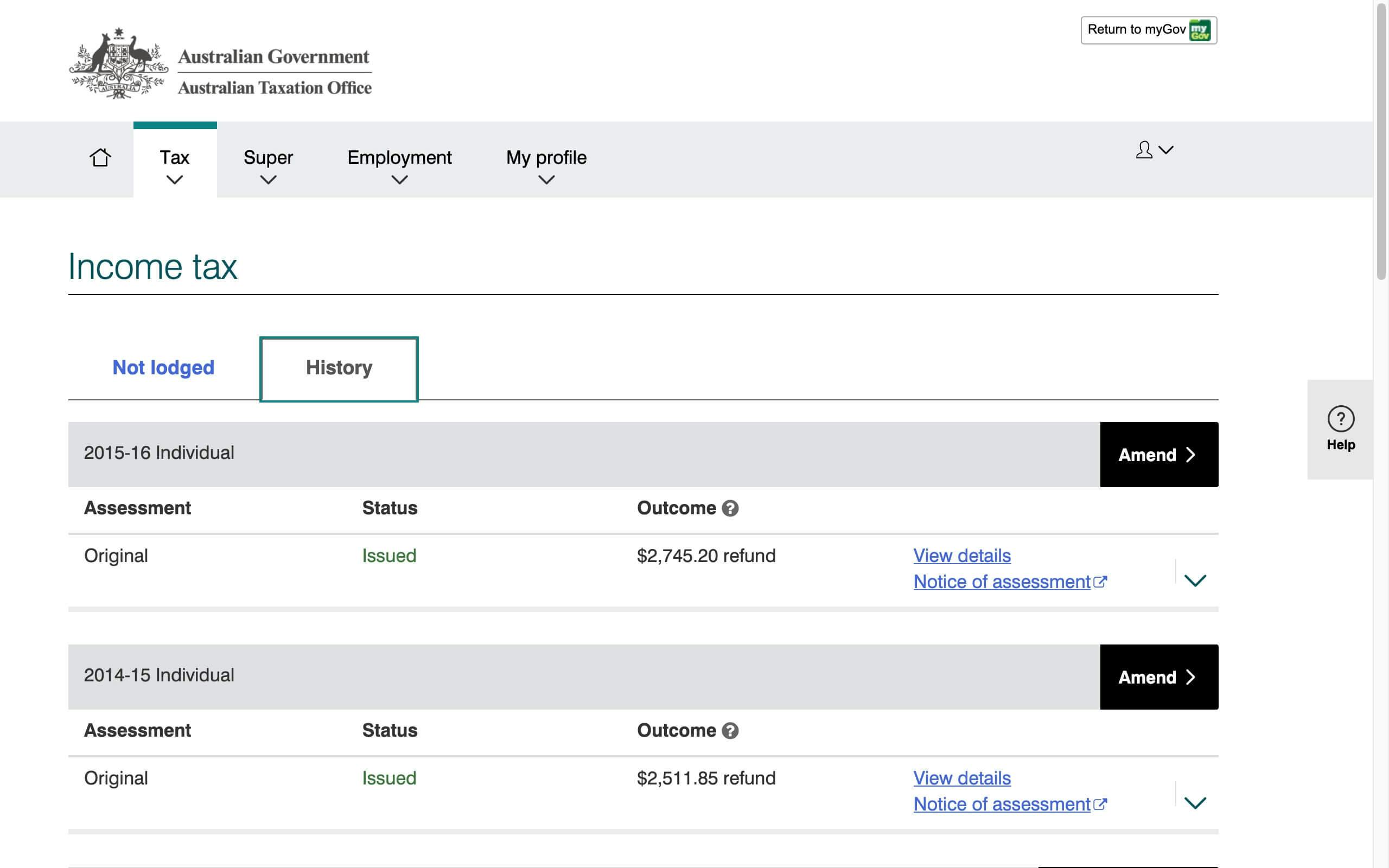 4. Here you'll see any upcoming lodgements, as well as your previous lodgements and refunds. Select this years income return.
5. Follow steps 1 and 2 to enter or update your personal contact details and those of your banks and other financial institutions.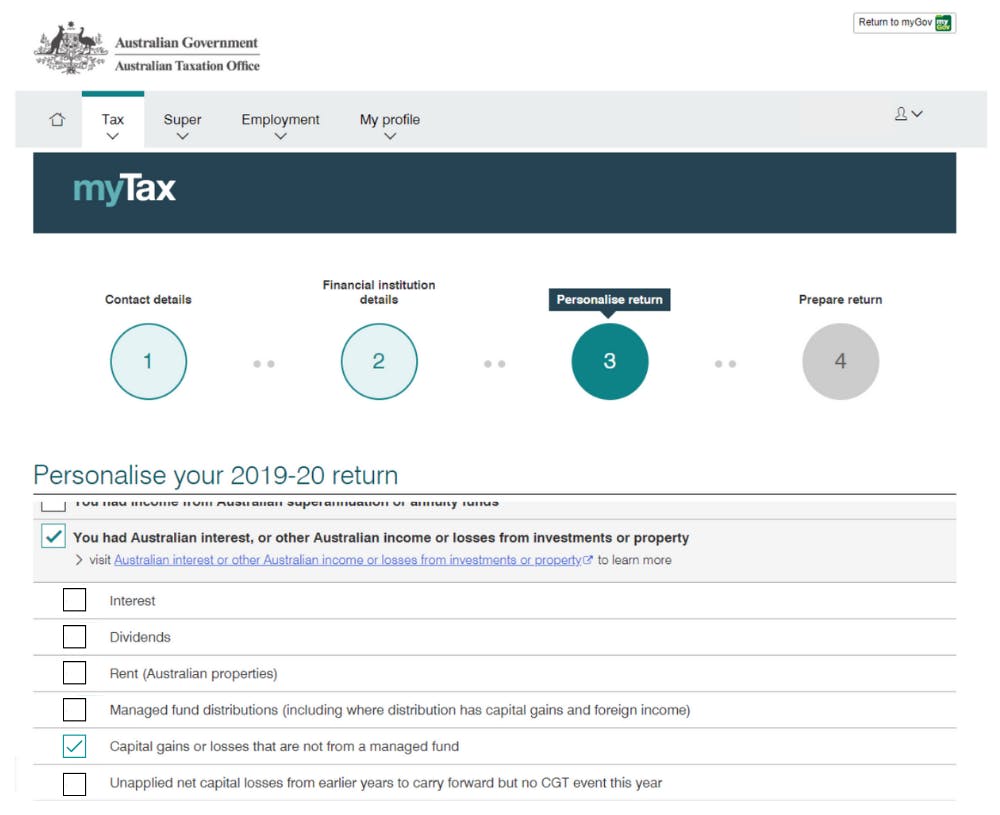 5. Before you enter your figures for the year, you need to personalise your return at step 3.
Here you'll make selections that may apply to include them in your tax return. See more on making the correct selections here.
Be sure to select Australian interest, or other Australian income or losses from investments or property, and from its drop down options, select Capital gains tax (CGT) related items. This will apply to most crypto users, who are seen as investors by the ATO.

If your crypto activity is at a business-level, you're seen as a trader and need to make a selection under Sole trader or business income or losses, partnership or trust distributions (not from a managed fund)
6. Don't forget to select the deductions you want to claim, including your Koinly subscription, which counts towards the costs of managing your tax affairs.


7. Once you've personalised your return, it's on to step 4: Prepare return.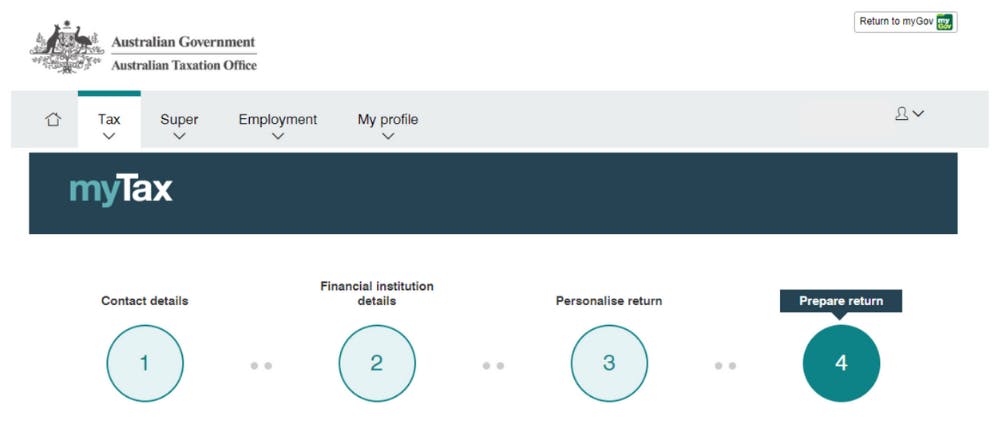 If you made a gain: Report the total amount under the 18H 'Current year capital gains' label on your tax return. 
If you've had your crypto for more than 12 months, you may be eligible to discount your capital gain by 50% or establish what indexation factor you can apply against your capital gain. 
If you've owned your crypto for less than 12 months, you must use the other method, where you simply subtract your cost base from your sale price.
This final amount is reported at the 18A 'NET capital gain' label. Tax is then applied to your total assessable income (which includes things like wage and interest income) at standard marginal rates.
If you make a loss, work out your reduced cost base. Use your capital loss to reduce an existing capital gain, or carry it forward to a future year.
To report a net capital loss, enter '0' at the 'NET capital gain' label. 
undefined
Filing with printable forms
You also have the option of declaring your crypto activity on paper and returning the forms by mail. You'll need 2 forms, one for income, and one for capital gains.
Crypto income is declared on question 2 of Tax return for individuals 2020 (NAT 2541).

Crypto capital gains: You'll need to select YES on question 1 of the Taxpayer's Declaration on your Tax return for individuals 2020 form (the form used for income tax).

Next, complete question 18 of the Individual tax return instructions supplement 2020 Tax return for individuals (supplementary section) 2020 (NAT 2679).
If you made a gain: Report the total amount under the 18H 'Current year capital gains' label on your tax return. 
If you made a loss: Enter your total capital loss in the 18V 'NET capital losses carried forward to later income years' label.
This final amount is reported at the 18A 'NET capital gain' label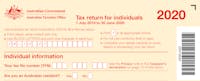 Download Form
Tax returns for individuals 2020
WHO NEEDS TO FILE THIS?
Anyone who has earnt income or made capital gains (not just from crypto).
WHAT INFORMATION IS NEEDED?
This form requires you to enter all your income tax information.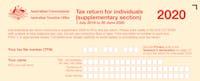 Download form
Tax return for individuals (supplementary section) 2020
WHO NEEDS TO FILE THIS?
Anyone who has made capital gains (not just from crypto).
WHAT INFORMATION IS NEEDED?
This form requires you to enter all your capital gains totals.
Accounting method used
As an investor you can use either FIFO or LIFO.
As a trader, the ATO requires you to use FIFO (first in, first out) when calculating your crypto taxes. To understand how FIFO works, check out this article.
See more on this from the ATO here.
You need to keep records
The ATO requires you to keep detailed records of cryptocurrency transactions for 5 years after you "prepared or obtained the records", or "completed the transactions or acts those records relate to", whichever is later. You need to keep the following records:
the date of your crypto transactions
the value of the cryptocurrency in Australian dollars at the time of the transaction (which can be taken from a reputable online exchange.)
what the transaction was for and who the other party was (even if it's just their cryptocurrency address).
The ATO recommends using an Australian tax-compliant app like Koinly for record keeping. "You can use an accountant or third-party software to help meet your record-keeping obligations and working out your tax."
Who can help you calculate your crypto tax?
Crypto tax reporting is fairly new, and a road less travelled for most accountants. That doesn't mean the ATO is going to cut you any slack. Here are 4 ways you can tackle your crypto taxes and keep in the taxman's good books. We'll start with the easiest and most accurate method first.
Use a crypto tax calculator like Koinly to create a report of crypto activity. Send the report to your accountant to complete your tax return. Super accurate, super easy.
Use a crypto tax calculator like Koinly to create a report of crypto activity. Add the necessary data to your tax return and file it yourself. Accurate, and easy, if you know what you're doing.
Get your accountant to work out your crypto activity by supplying transaction histories, statements etc. Let them work it out and file for you. Not very accurate, lots of admin.
Work out your activity yourself, and file yourself. (Best of luck to you.)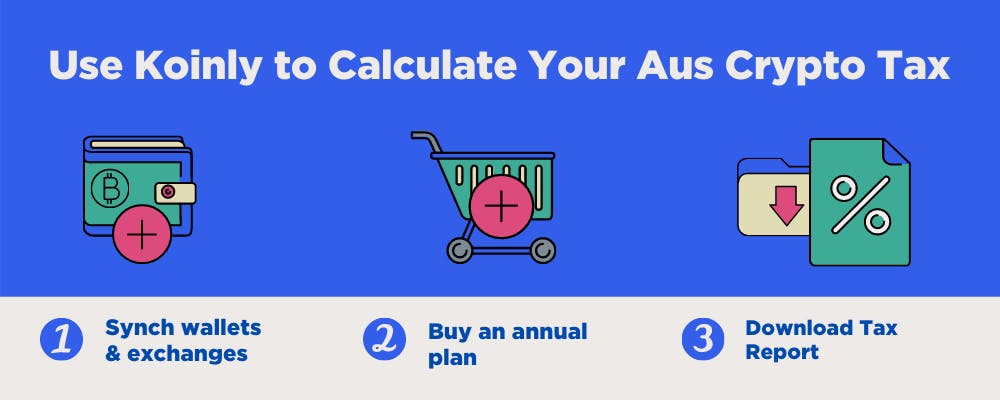 How to use a crypto tax app like Koinly
Don't get stuck in the busywork. Don't get it wrong. Don't rely on your accountant to know where to look. Use Koinly. Here's how easy it is:
Select your base country (Australia) and currency (Australian dollars).
Connect Koinly to your wallets and exchanges. Koinly integrates with Binance, CoinSpot, CoinJar, Kraken, Swyft, and 300+ more. (See all)
Let Koinly crunch the numbers. Make a coffee.
Ta-da! Your data is collected and your full tax report is generated!
To download your crypto tax report, upgrade to a paid plan from $49 per year.
Send your report to your accountant, or complete your ATO submission yourself, using the figures from your Koinly report.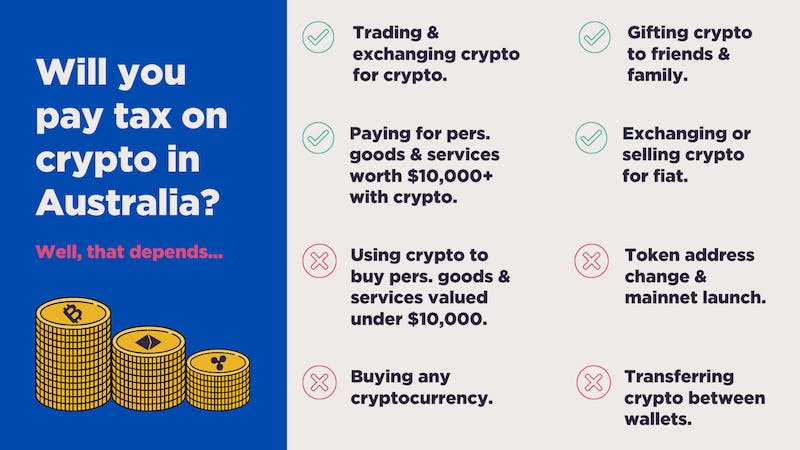 Now that you know how to go about calculating and submitting your taxes, let's explore Australia's crypto tax rules in more detail. Here's a breakdown of the most common crypto scenarios and the type of tax liability they result in:
Capital Gains Tax examples
Capital Gains Tax (CGT) is the type of tax most crypto investors face. That applies in Australia and many other countries including the USA, UK and Canada. As per the ATO, "a capital gains tax (CGT) event occurs when you dispose of your cryptocurrency." In other words, as an investor, if you get rid of your crypto, whether you sold it, swapped it or gave it away - or exchanged it for an item (paid with it) - and the item is not for personal use.
Before we look at the different crypto 'events' that a trigger CGT in the eyes of the ATO, let's define what a capital gain is. Simply put, a capital gain is the profit or loss you make from trading or selling crypto:
Capital gain = selling price - buying price - fees
Your buying price + associated fees are also known as the cost-basis or just basis in accounting lingo.
Capital Gains tax is paid on the profit from a trade.
Gains: If you make a capital gain when you dispose of cryptocurrency, you'll need to pay tax on some or all of that gain. ex. if you paid $1000 for 1 BTC and sold the Bitcoin later on for $2000, then you will pay a CGT on the $1000 profit.
Or, if you bought 1 BTC for 1000 AUD and also paid a fee of $10, then your cost basis is $1010. If you later sell the Bitcoin for $1500 then you will realise a capital gain of $1500 - $1000 - $10 = $490. You will have to pay a CGT on that $490.
CGT Discount: If you hold your cryptocurrency for more than a year before selling or trading it, you may be entitled to a 50% CGT discount. And even if the market value of your cryptocurrency changes, you won't make a capital gain or loss until you actually dispose of your holdings.
Losses: If the proceeds from the disposal of the cryptocurrency are less than what you paid to acquire it initially, you will experience a capital loss. If you make a loss on the trade then you can deduct it from other profits or even carry over the loss to future years. Losses can offset gains made on cryptocurrency investments, share investments and even property investments.You can't deduct a net capital loss from your other income.
Selling crypto for fiat
According to the ATO, selling crypto for fiat currency, such as the Australian dollar, is a taxable event. Profit made from the sale of cryptocurrency attracts a Capital Gains Tax in Australia.
EXAMPLE
Craig purchases 0.1 Bitcoin in July 2017 for AU$1000 and sells it in November 2017 for AU$2000. His total capital gain is thus AU$1000.
Trading or exchanging crypto
Trading one crypto for another (ex. BTC → XRP) is a taxable event in Australia. The ATO sees a trade as 2 separate transactions, first you are selling your BTC for X amount of fictional dollars, then you are buying ETH with these fictional dollars.
Even though you never received any dollars in hand, you still have to pay tax on the sale of the BTC.
The market value (in AUD) of the purchased coins is used to determine the capital gain. If the cryptocurrency that you received can't be valued, you will have to take into account the market value of the crypto you sold at the time of the transaction.
EXAMPLE
Let's say you purchased 1 Bitcoin for AU$1000 in July 2017.
In November 2017, you exchanged 0.5 Bitcoin for 3 Ether. At this time, the market value of 3 ether was around AU$2000.
This means your capital proceeds come to AU$2000 and the cost of acquisition is AU$500. In other words, your capital gains would be $1500.
Gifting crypto to friends & family
Unlike in the USA, in Australia gifting (opposed to donating) crypto is viewed exactly the same as selling it, so it's a taxable event and you'll need to pay CGT on the 'disposal' of your crypto. The sales proceeds would be the fair market value of the crypto on the date when the gift was made.
EXAMPLE
Ex. Jane bought 1 ETH for AU$2000 in Jan 2020. in June 2020, she gives her daughter crypto as an 18th birthday present, on which day the ETH is valued at AU$4000. The difference of AU$2000 is the 'gain' that Jade made, even though she did not sell her ETH back into dollars, and she effectively gave the crypto away.
At tax time, Jane's gain of AU$2000 attracts CGT tax.
Receiving crypto as a gift
If you're lucky recipient of a gift or donation made in crypto, your 'gain' is not immediately taxed. Instead, as per all cases of CGT on crypto, you're taxed when you go on to dispose of it. Sell, exchange or give away. When this should happen, use the market value of the crypto gift on the day you received it when calculating any capital gain or loss.
Trading with stablecoins
A stablecoin - like TrueUSD or Australia's AUDT, is simply a class of cryptocurrency that offers price stability. That's because stablecoins are backed by a reserve asset, usually a stable fiat currency like USD or AUD. As far as the ATO is concerned however, stablecoins like TrueUSD are exactly the same as any other cryptocurrency, and so the tax treatment - CGT - is the same as for regular crypto to crypto exchanges.
There is no major advantage or disadvantage between trading with fiat and trading with a stablecoin when it comes taxes.
Margin trading
Margin trading with crypto involves borrowing funds from an exchange to carry out your trades and then repaying the loan later. There is usually some interest involved as well.
There is currently no guidance on how this is taxed however it is important to note that there is a clear differnce between margin trading and trading with futures, so the rules that apply to futures trading/speculation may not apply to margin trades.
On a futures trade you are speculating on the rise/fall of a coin, on a margin trade you are borrowing funds to carry out some trades. Most exchanges have different platforms for both, for ex. Binance allows margin trading on spot markets, whereas you have to trade on a completely different platform if you want to do futures as well - Binance Futures.
Taking this into consideration, the conservative approach is to simply treat borrowed funds as your own investments and pay CGT on the repayment of the loan (since this would be deemed a disposal).
Participating in an ICO / IEO
ICOs (Initial Coin Offerings) or IEOs (Initial Exchange Offerings) refer to a situation where investors can purchase tokens/coins in a yet-to-be-released cryptocurrency/company. This purchase usually happens via an existing cryptocurrency likes Bitcoin or Ethereum.
From the ATO's perspective, this amounts to a crypto-to-crypto trade. The taxable event is triggered on the date of the ICO transaction, when you receive the new tokens. When you sell the new tokens at a later date, the cost base of that transaction will be the value of the cryptocurrency that you paid for it on the date of the ICO/IEO.
Forks / chain-splits
Forks are taxed differently depending on what happened to the original blockchain. Also known as chain splits, you may be charged if one blockchain splits into two (or more) depending on the type of fork. In most cases, the original chain still functions like normal. There is zero basis on the new forked asset, but you will still pay CGT when disposing of the new one. There is no impact on the first or original asset and no ordinary income, as well.
Meanwhile, if the original chain no longer works, the new assets will have a zero basis. CGT applies if you dispose of the new ones. The primary chain is considered a full capital loss. No ordinary income is reported.
The ATO offers more detail on chain split scenarios here.
Paying for goods and services not intended for personal use and/or priced over AUD$10,000 and/or paid with long-held crypto.
Goods paid for in crypto attract capital gains tax when:
1. The item value is over AUD $10,000, or
2. Goods are bought for business use, or as an investment, or
3. Goods are bought with crypto held for a long period of time and/or initially bought for investment purposes. According to the ATO, the longer you hold a cryptocurrency, the less likely it is to be a personal use asset.
EXAMPLE
Jasmine has been regularly keeping cryptocurrency for over six months with the intention of selling at a favourable exchange rate. She has decided to buy pay for new furniture with some of her cryptocurrency. Because Jasmine used the cryptocurrency as an investment initially, the cryptocurrency - and its disposal - is not a personal use asset.
Mining or Forging as a hobby
A hobby miner or forger is someone who participates in cryptocurrency mining/forging as an interest or pastime and not in a business-like manner seeking commercial profits. Their investment in mining tech will be relatively insignificant - a small scale operation at home - and intention to accumulate the rewarded coins rather than sell immediately to turn a profit.
Rewarded coins are not income but rather a capital acquisition.
Tax Free examples
Believe it or not, not every aspect of crypto trading is taxable. In some cases, you might not have to pay any tax at all. Tax free crypto events include buying crypto, token & coin swaps and moving crypto between wallets that you own. In certain cases, using crypto to 'buy' items for personal use is also tax free. Here's a breakdown of the most common crypto scenarios where no tax applies:
Paying for personal stuff less than AUD $10,000
While most assets attract capital gains tax in Australia, goods bought for personal use, such as clothes, are classed as personal use assets. Personal use assets do not attract capital gains tax. So, how does this personal use asset exemption apply to purchases paid for in crypto?
Ordinarily, when you pay with crypto, this is seems as a 'disposal' - and that equals capital gains tax.
However, capital gains tax may not apply to goods paid for in crypto when:
1. The item bought is for personal use (not for business, nor as an investment.) Ex. Clothes, airline tickets, sporting equipment.
2. The cryptocurrency used to pay is acquired and used within a short period of time
3. The item bought is priced under AUD $10,000.
EXAMPLE
Steve needs a new hoodie. His favourite store offers discounted prices for payments made in cryptocurrency. Steve pays $120 to acquire cryptocurrency and uses the cryptocurrency to pay for the hoodie on the same day. Under the circumstances in which Steve acquired and used the crypto, the cryptocurrency is a personal use asset, and thus does not attract capital gains tax.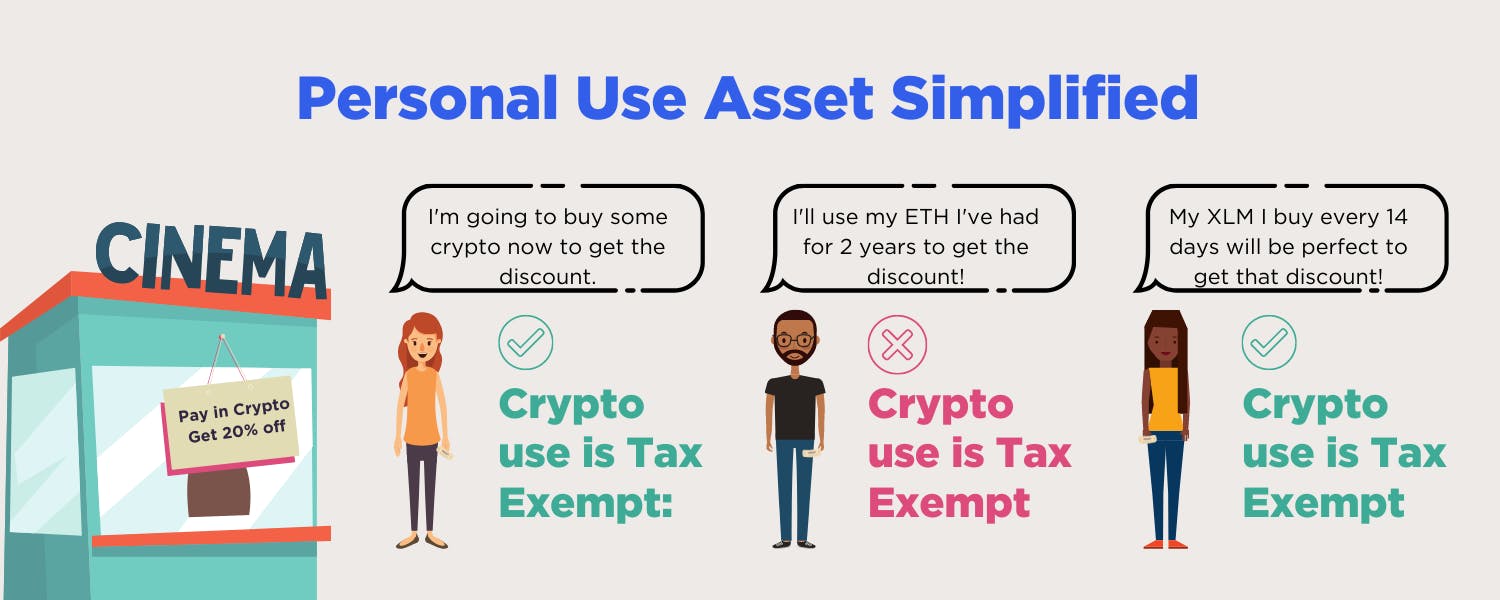 Buying cryptocurrency
Like in most parts of the world, there are no taxes on buying or hodling cryptocurrencies in Australia. However, keeping accurate records of the purchase is very important so that you can calculate the cost basis of the transaction when you decide to sell or 'dispose' of your crypto.
Koinly is not just a crypto tax calculator but a crypto portfolio tracker too - the perfect tool to keep a hold on your crypto purchase and sale dates.
Buy and HODL
If your strategy is to simply buy and hold your crypto, then you don't need to pay tax on your cryptocurrency you hodl, even if the value of your portfolio increases. The taxable event is when you sell, exchange or gift your crypto.
Transferring crypto between own wallets
Moving crypto between different wallets or accounts is not a taxable event and doesn't trigger CGT. Having said that, it's important to keep track of these movements because automated crypto tax software like Koinly use these movements to keep track of your cost-basis.
EXAMPLE
Let's say Sam buys 4LTC for AU$1000 on Coinbase. She later moves the funds into her private LTC wallet. A few days later she transfers the LTC from her private wallet to her Binance account and sells it for AU$2000, making a profit of AU$1000.
If Sam wants to use Koinly to generate her crypto tax report, she will have to connect all three wallets. If she doesn't sync her private wallet but only syncs the Coinbase and Binance account, Koinly won't be able to identify that the funds she transferred into her Binance account are the same funds she purchased on Coinbase. However, once Sam adds her private wallet address, Koinly can match the transfer by tracing it from Coinbase to her wallet and then from her wallet to Binance. This will help in producing an accurate tax report.
If she no longer has access to her private wallet, she will have to make some manual changes using the Koinly web interface. She will have to mark the transfer from Coinbase as Ignored so that Koinly doesn't realize gains on it and she doesn't have to pay taxes twice. She would then change the value of the incoming transaction to Binance to match the cost-basis of the outgoing transaction from Coinbase.
Token address change / mainnet launch
When a cryptocurrency changes its underlying tech for ex. when EOS went from the ETH blockchain to the EOS mainnet or when DAI changed its contract address and named the old coin SAI - there are no tax liabilities. Note that if your old coins continue to hold value even after the new ones have been issued then the ATO may consider this as a fork and not a swap - this may give rise to a CGT event.
Donating crypto
In Australia crypto donations work the same as regular donations - they're tax deductible if you're donating to a registered charity.
You can claim the donated amount, calculated as the dollar price of the cryptocurrency at the time it's donated) as a deduction on your tax return.
Income Tax examples
Cryptocurrency interest income, staking income, mining, forging, airdrops (participant and involuntary) and hard forks are taxed as income by the ATO.
Crypto users engaged in trading, rather than investing, will also be taxed under income tax and not under CGT.
Income tax is charged on the fair market value of the received coins, ex. if you mined 0.05 BTC worth $300 then you will have to pay income tax on the whole $300. If you later sell this Bitcoin for $400 then you will have to pay an additional capital gains tax on the $100 profit. Here's a breakdown of the most common crypto scenarios where income tax applies:
Getting paid in Bitcoins
Whether you are freelancing or working for a company that pays employees in crypto, you can't escape income tax.
Any coins received as income are taxed at market value at the time you received them so make sure you declare this income on your annual tax return or you might end up facing the taxhammer.
Signup & Referral bonuses
Any crypto you get in return for signing up or referring users to a service is taxed as Income.
Mining & Forging Crypto
A person conducting their mining/forging in a large scale business operation is a commercial miner/forger. If you've invested extensively in equipment and are operating out of a dedicated space such as a data centre, then you're in the business of mining/forging. You may also be in the business of mining/forging if rather than accumulating the rewarded coins, you continually sell for an immediate profit.
Any proceeds you receive from a mining pool/service or your own mining rig are taxed as ordinary income and will need to be declared on your Income tax return.
Note that when you eventually sell the mined coins, you will still be subject to capital gains tax on the difference between the value you declared as Income and the value at the time of the sale.
Airdrops
The ATO has stated that any airdrops received from an established token are considered ordinary income at the fair market value of the tokens on the date you received them.
"The money value of an established token received through an airdrop is ordinary income of the recipient at the time it is derived."
This applies to both participant and involuntary airdrops.
Airdrops can trigger two separate tax events. First, the dollar value of the airdropped coins or tokens is treated as assessable income at the time of the airdrop. So, if you're sent $400 worth of tokens in an airdrop, you need to report that as taxable income.
Second, if you sell, trade or gift your airdropped tokens, it's treated as a normal capital gains event, with the cost basis being the value of the tokens when they were first airdropped to you. This means that if you later sell those tokens for $600, you need to report a capital gain of $200.
Joe has held TRX tokens since December 2017, entitling him to receive monthly BTT airdrops from January 2019.
The money value of the BTT tokens Joe receives as a result of holding his TRX tokens is assessable income at the time the tokens are received.
The cost base of Joe's airdropped BTT tokens will be their market value at the time they were dropped.
Interest from DeFi / Lending / Staking / Masternodes
Lending your cryptocurrency and getting interest on the same generates taxable income. This is similar to mining coins and is subject to similar rules. You have to declare it on your Income tax statement as additional ordinary income.
Futures / contracts / options trading with crypto
In futures trading, you are not actually buying or selling any crypto. Instead you are speculating on the rise or fall of the price of a crypto asset in the future. When the future arrives you will either make a profit or a loss (P&L).
There is no guidance from the ATO on how this P&L should be taxed but there are 2 possible tax categories that this can fall into:
Note: If you are using Koinly to calculate your taxes then you can control how the P&L is taxed on the Settings page.
CAPITAL GAINS OR INCOME TAX
Do I have to pay Capital gains tax if I have already paid Income tax?
Yes, you do! This is because Income tax is paid on received coins while capital gains tax is paid on the profit or loss when you sell, or 'dispose' of these coins.
If you mine 1 BTC (worth $1500) and later sell it for $2000, you would have to pay Income tax on $1500 and a capital gains tax on the $500 profit.
Minimising Your Tax Liability
Deducting Cryptocurrency Losses & Trading Fees
The first step towards minimizing your tax liability is figuring out what losses and expenses you can offset against your taxable income. In order to do this, you first need to figure out whether you will be classified as someone who holds crypto as an investment or whether you're carrying on a crypto trading business.
Crypto trading or cryptocurrency used in business
In this case, you can completely offset your crypto losses against your income, as long as you pass the non-commercial losses rules. Also keep in mind, that the crypto you own at the end of the year is your trading stock and you have to declare it's value as part of your assessable income. Interestingly, you can declare this either at cost or market value, which gives you some flexibility in terms of tax planning.
Buying crypto only to pay for something else / Personal use asset
You can get an exemption from capital gains tax if you hold cryptocurrency as a personal use asset. If you purchase no more than AU$10000 of cryptocurrency to directly buy something else with crypto, that too over a short time period, you're eligible for this exemption.
When the crypto is acquired and held for some time before any such transactions are made, or if only a small portion of the crypto is used to make some transactions, it's unlikely that the crypto is a personal use asset. A cryptocurrency is unlikely to be a personal use asset in the following situations:
When you have to exchange the crypto to Austrian dollars or some other cryptocurrency to purchase the items for personal consumption, or
If you have to use a payment gateway or other payment intermediary to acquire the items on your behalf (as opposed to using crypto directly)
The time of disposal of the crypto is the key to working out if it's a personal use asset. The longer the crypto is held, it's unlikely to be a personal use asset — even if you ultimately use it to purchase items for personal consumption. This is because you have likely benefited from an increase in the value of the crypto during the holding period.
So use this provision with care. If you end up getting investigated by the ATO, the burden of proof is on you to show that the crypto was, in fact, a personal use asset. Also, all capital losses you make on personal use assets cannot be written off against capital gains at any point.
Hacked or stolen cryptocurrency
If your cryptocurrency gets stolen or if you lose your private key, you can claim a capital loss. However, in order to claim this capital loss, you need to be able to provide certain evidence. This includes:
The wallet address that the key belongs to
When you acquired the key and when you lost it
The cost of acquiring the stolen/lost cryptocurrency
The fact that the wallet was controlled by you
The amount of cryptocurrency at the time that you lost the key
That you possess the hardware where the wallet is stored
The transactions to the wallet from an exchange which is linked to your identity
Deducting cryptocurrency mining expenses
This depends on whether you undertake mining as a business or a hobby; this can be done by looking through the Are-you-in-business section on the ATO website.
Mining as a business
Any expenses related to mining — including electricity costs — can be deducted from your income to find your net taxable income. Moreover, the cost of capital assets, including both hardware and software, can be depreciated over their effective life. If eligible, you may also be able to apply the $20000 instant asset write off to the cost of the capital assets.
Mining as a hobby
If you've undertaken crypto mining as a hobby, the mined bitcoin constitutes holding a CGT asset and you would be subject to capital gains tax on disposal of the crypto. This means that no deductions are allowable. It's also important to remember that personal use asset exemption rules don't apply to the capital gains made on disposal of mined cryptocurrency.
Calculating your crypto taxes (example)
Let's look at how capital gains are calculated by way of an example.
Jed bought 1 BTC for $1000 on 1st July 2020.
He traded it for 20 ETH on 5th July 2020. The market value of 20 ETH at this point was $1500.
He also received 0.15 ETH (worth $10) from Coinbase as a signup bonus.
To calculate the crypto taxes for Jed we are going to use Koinly which is a free online crypto tax calculator.
After entering the 3 transactions into Koinly manually, this is the output:

We can see the gain/loss on each transaction clearly. Navigating to the Tax Reports page also shows us the total capital gains.
As you can see, Jed will have a taxable capital gain of $500 along with taxable income of $10 from cryptocurrencies.
The good thing about crypto tax software is that whether you have 10 transactions or 10,000 - it is equally easy to generate your tax reports! You can sign up for a free Koinly account and view your capital gains in a matter of minutes.
Bonus: Use cryptocurrency tax software to automate your reports
Filing with your Koinly report
Ready to share your 2020-21 crypto journey with the ATO? Whether you're filing yourself via myTax or printed forms, or handing the job over to your accountant, you'll need to start by downloading your crypto activity summary from Koinly.
While the task of preparing your crypto taxes can seem quite daunting - especially if you traded on multiple exchanges - there are tools like Koinly which can make your life really easy.Here's how it works:
1. Connect your exchanges and wallets
Most exchanges have API's that can allow Koinly to download your transaction history automatically. You can also import CSV or excel files with your transaction history if you prefer that (or if your exchange does not have an API).
Once imported you'll have a clear overview of your trades and can use Koinly as a portfolio tracker.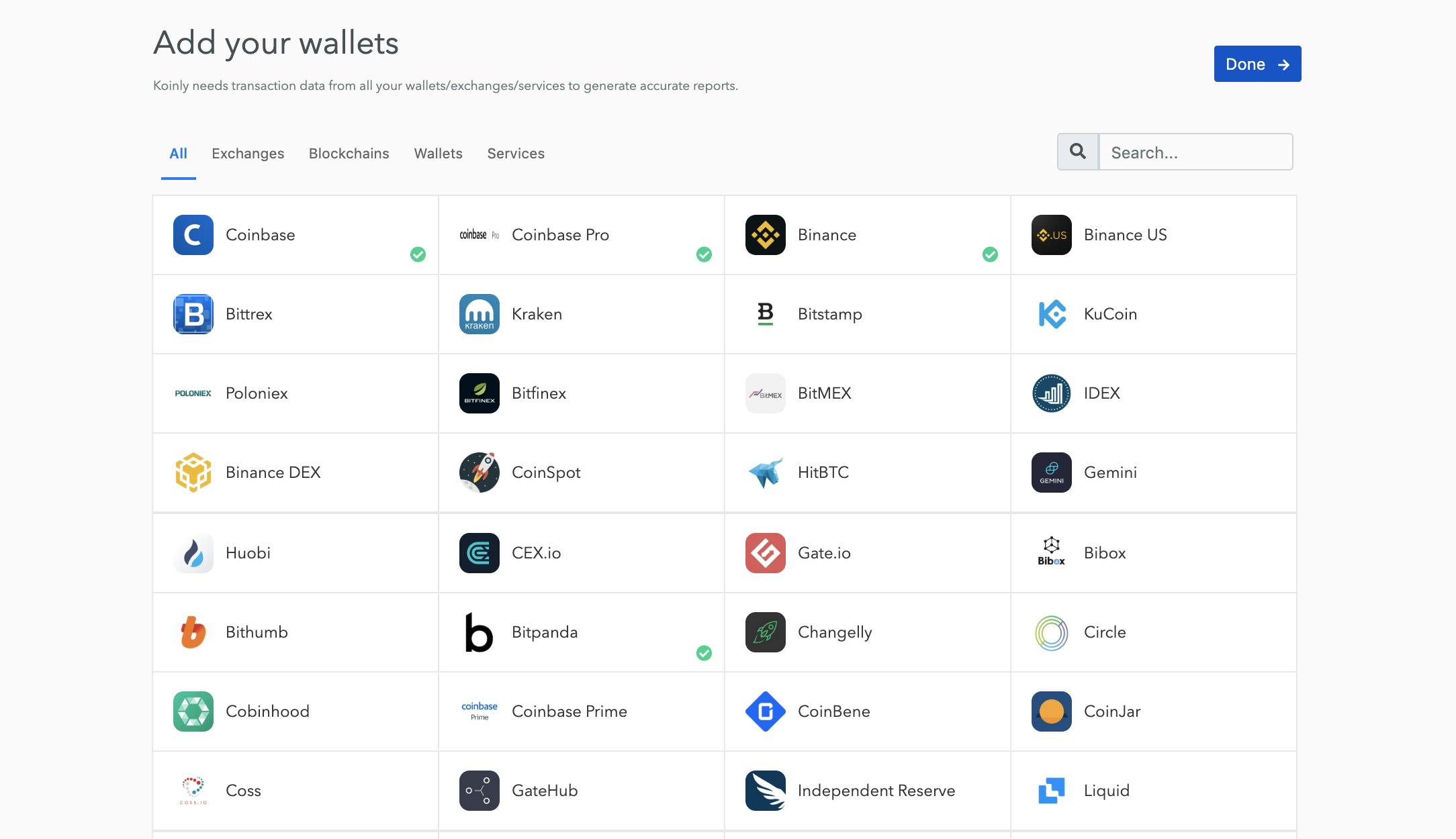 2. Ensure your account settings are correct for Australia.
Your base currency should be AUD. The pre-selected cost-basis method is FIFO, which is correct and as per the ATO's requirements. Note: Investors can use either FIFO or LIFO. Traders must use FIFO.
3. Head over to the Reports page.
Select the date range you need to file for. The Australian tax year runs from July 01 to June 31 of the following year.
Koinly does a number of things under the hood in order to calculate your capital gains and income.
First it fetches the market rates at the time of your trades, then it matches transfers between your wallets and exchange accounts and finally it calculates your capital gains.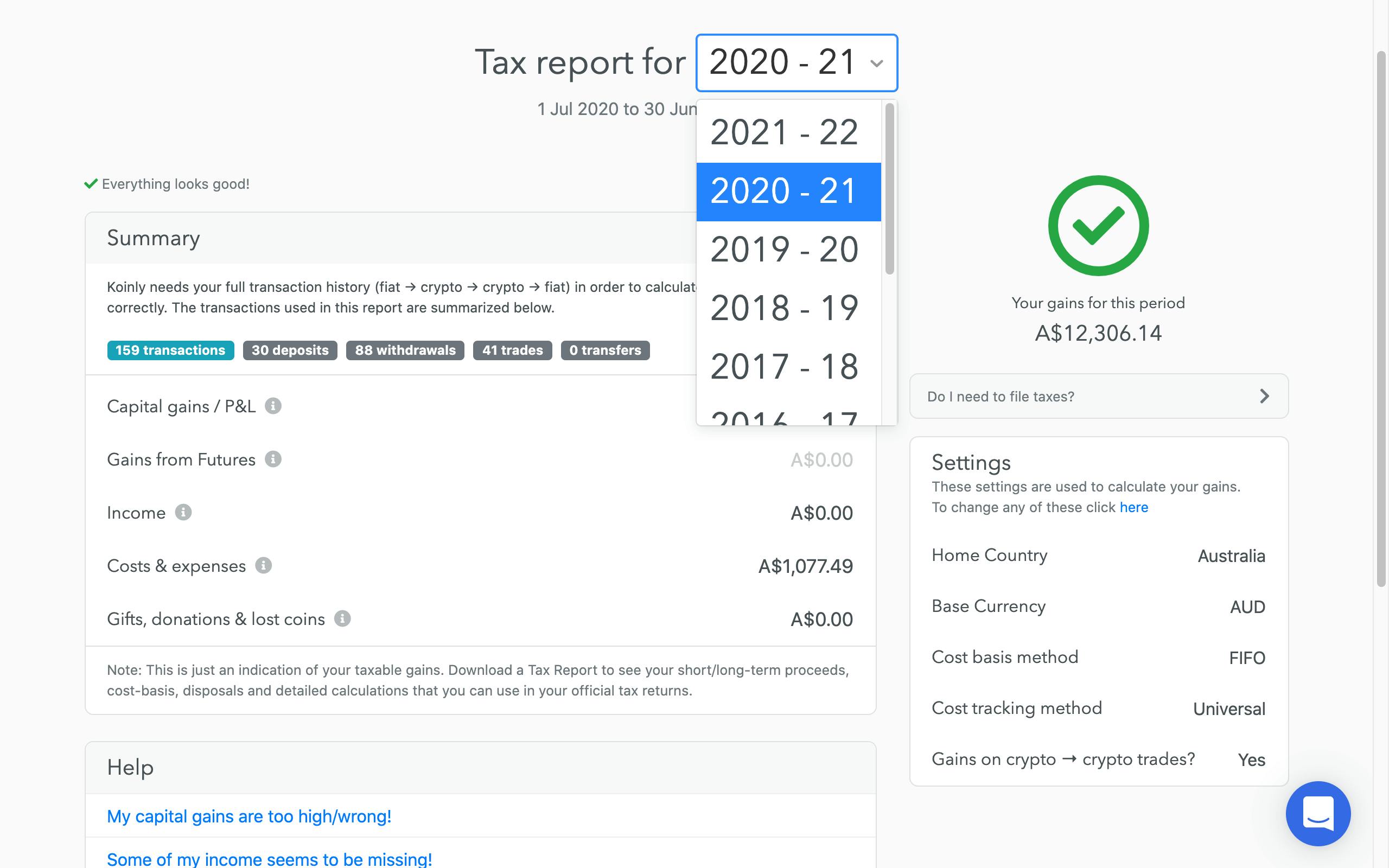 4. Select and download your report
Koinly offers many downloadable tax reports. For Australia, the report you need to download is called 'Complete Tax Report'. It contains everything you need to report to the ATO.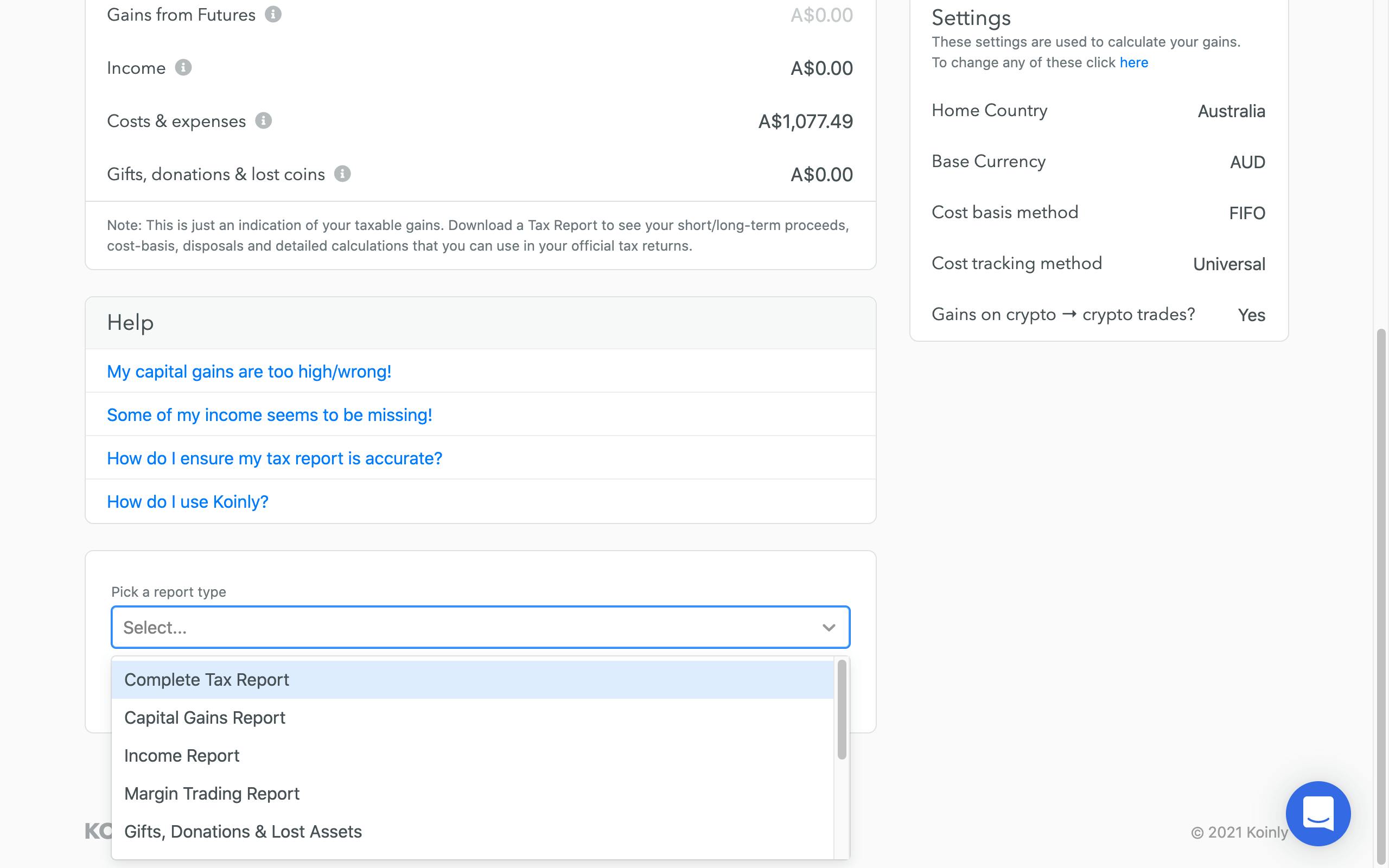 Your report will download as a PDF and will contain:
1. Capital gains summary
2. Income summary
3. Asset Summary
4. End of Year Balances
5. Capital Gains Transactions
6. Income Transactions
7. Gifts, donations & lost assets
8. Expenses
9. Data sources
Here's what it will look like - plus - see a sample report here.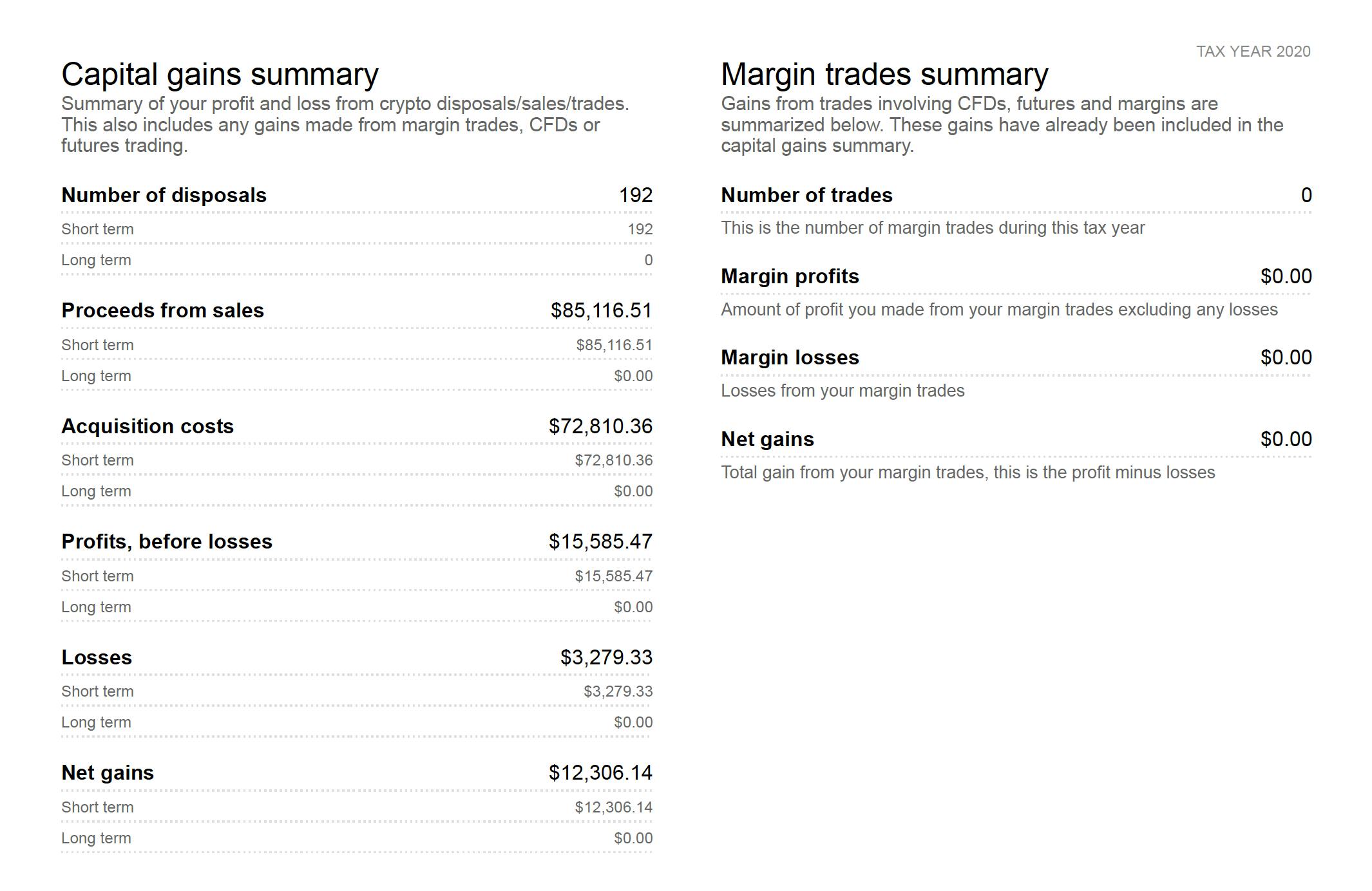 With your summaries calculated, it's time to share your data with the ATO.