Want to buy, sell and hold crypto? You can do it all through PayPal now. With more than 346 million active PayPal accounts - it might just be the start of the crypto officially becoming mainstream. It's great news for those totally new to crypto and seasoned investors alike - but you shouldn't overlook the tax implications of the PayPal crypto hub. We're looking at everything you need to know about PayPal's crypto hub, including PayPal crypto taxes.
What is the PayPal crypto hub?
In October 2021, PayPal announced the launch of the PayPal crypto hub. This new service would let PayPal customers around the world buy, sell and store crypto - as well as spend it at any of the 26 million PayPal merchants. The PayPal crypto hub is still in its infancy, so at the minute you can only buy and sell four different cryptocurrencies including:
Bitcoin
Ethereum
Litecoin
Bitcoin Cash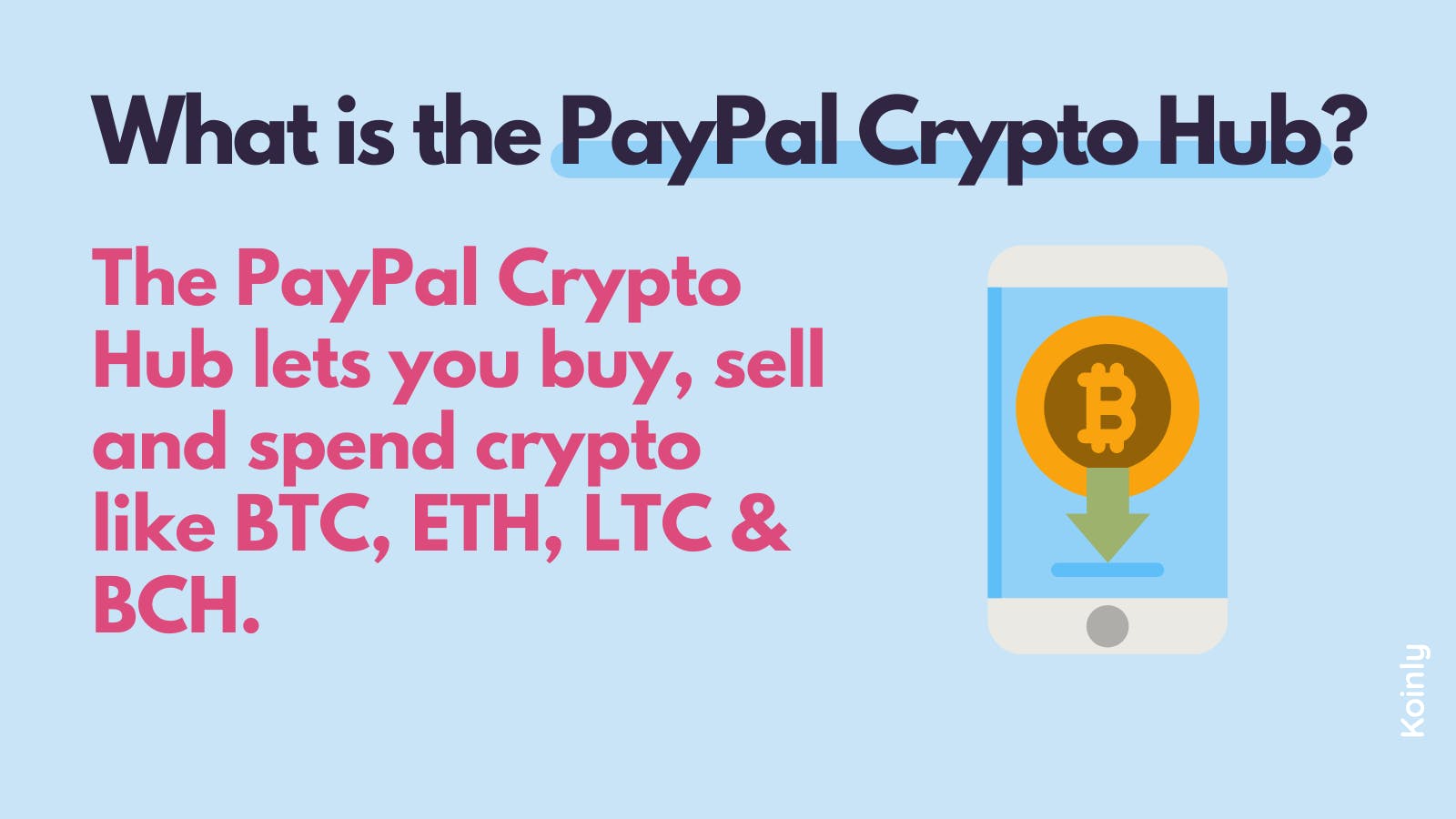 One thing to note is that if you buy crypto using PayPal - you can't move your crypto off the platform like you can with traditional crypto exchanges and wallets. This is because with PayPal, you only have access to the public address of your crypto - not the private key.
This means the platform is useful for those who want to buy and HODL crypto in PayPal, or even sell within PayPal more regularly as the market fluctuates. But it's of little use for investors who'd like to move their crypto around between other wallets and exchanges to use their crypto for other investments like staking, lending or DeFi protocols.
As with all crypto - you'll pay a fee for different transactions. When you buy or sell crypto on the PayPal crypto hub the fees are as follows:
Meanwhile, when you spend crypto using PayPal - it'll convert your crypto into USD at no extra charge - so there are no fees for using this service.

PayPal crypto taxes
The simplicity of the platform has a silver lining - it means PayPal crypto taxes are pretty straightforward.
You can only make four different types of transactions on the PayPal crypto hub - buying, selling or holding. Each has a different tax treatment like so:
Buying crypto: tax free!
Holding crypto: tax free!
Selling crypto: Capital Gains Tax.
Spending crypto: Capital Gains Tax.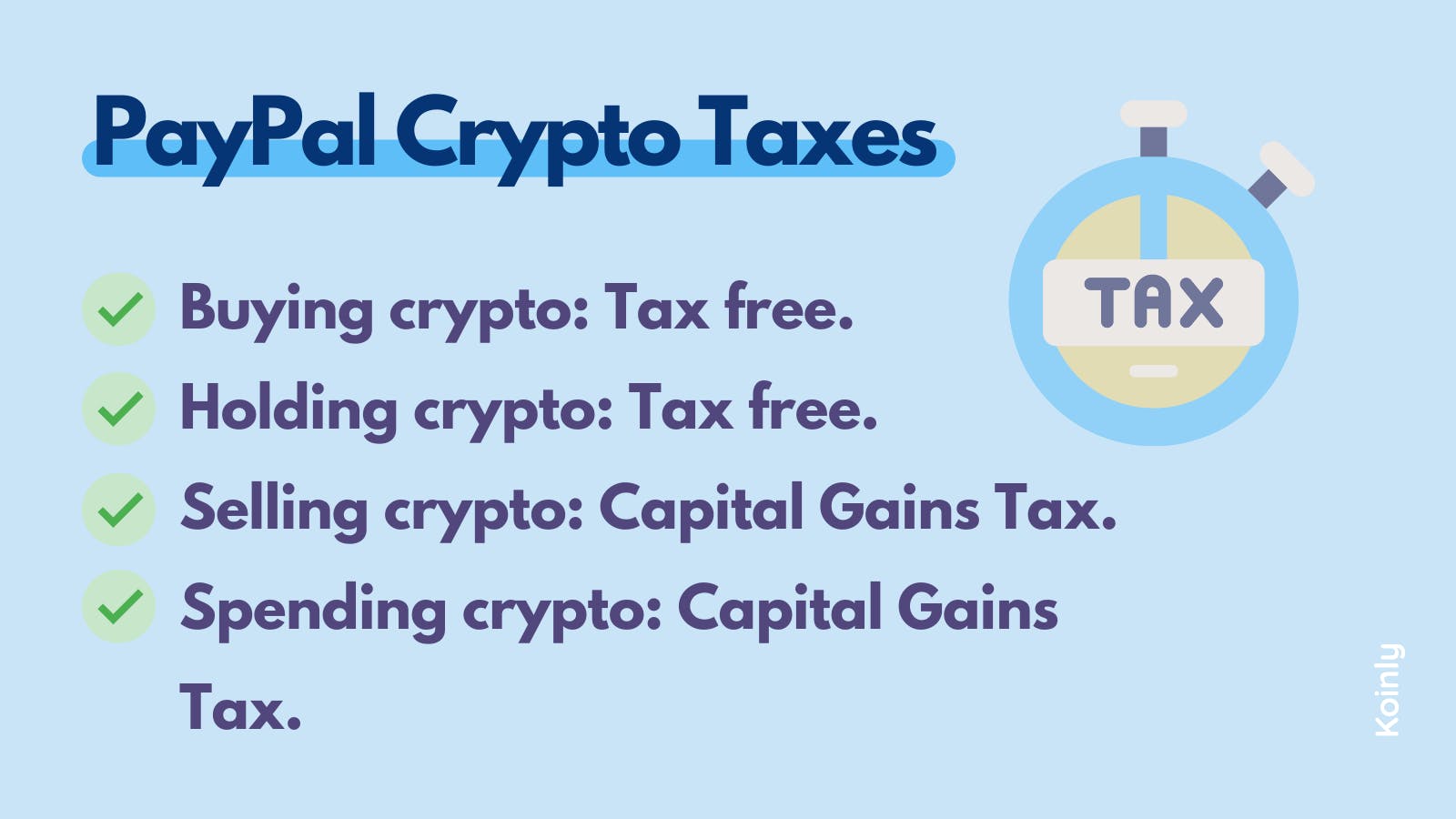 As you can see the good news is that buying and holding crypto is almost always tax free, wherever you live. There are a couple of countries that technically tax holding crypto through a wealth tax - like Spain, the Netherlands, Norway, Switzerland, Italy and France.
So the only tax you'll pay on your PayPal crypto is when you sell your crypto for fiat currency - like USD - or spend your crypto on goods or services. This is because crypto is seen as a capital asset - not a currency - which makes it subject to Capital Gains Tax rules. When you dispose of a capital asset by selling it, trading it, spending it or (sometimes!) gifting it - you'll pay Capital Gains Tax. You can learn more about US crypto tax in our guide.
Don't worry - you won't pay Capital Gains Tax on the full amount, only any perceived capital gain (profit). A capital gain or loss is the difference in value from when you bought your crypto to when you disposed of it. If the value of your asset has increased since you bought it, you'll have a profit (capital gain) and you'll pay Capital Gains Tax on that profit. You can also include any fees when calculating how much profit you've made, this is easier to understand with an example. 
Example
You buy 1 ETH for $4,200 on the PayPal crypto hub. You pay 1.50% in fees, so $63. This makes your cost basis for the asset $4,263. 
You later sell your 1 ETH on the PayPal crypto hub for $5,000. You pay another 1.50% in fees, so another $75 which you can add to your cost basis. You need to figure out how much profit you've made, so just subtract your cost basis from your sale price.
$5000 - $4338 = $662. You've made a capital gain of $662, which you'll pay Capital Gains Tax on.
The exact amount of capital gains tax you'll pay depends on how long you held your crypto for and how much you earn in regular income. You can learn more about US Capital Gains Tax rates in our guide.
How do you report PayPal crypto taxes?
So now you know if you sell or spend crypto on the PayPal crypto hub - you need to pay tax on it. But how do you report your crypto taxes to the IRS?
You report your crypto capital gains and losses to the IRS as part of your Individual Tax Return. You need to list each disposal (sale or spend) on IRS Form 8949 and your net capital gains and losses on Schedule D. 
Because PayPal 'locks' crypto assets within the platform - this actually makes tax reporting for PayPal crypto much easier. With most crypto platforms, you can transfer your crypto across multiple exchanges and wallets and even wrap coins to transfer them across blockchains. This makes tracking things like cost basis and subsequent capital gains and losses very difficult. 
But because all your crypto in PayPal is stuck there - this isn't an issue for those using the PayPal crypto hub, which may explain why PayPal made the decision to hold custody of private keys. This means PayPal can issue accurate 1099 forms to users to help them report their crypto taxes. Let's dive into this a bit further.
PayPal 1099 Reporting
1099 forms are a record of income. Some crypto exchanges send out 1099 forms to users. When you get a copy of a 1099 form - so does the IRS. 
The issue here is that no 1099 form is custom built for crypto. So many crypto exchanges were sending out 1099-K forms, but as this records gross proceeds and not net capital gains, it led to a lot of confusion for both investors and the IRS.
The ideal form for crypto reporting is the 1099-B form. This form is traditionally for capital assets and issued by brokers and it records capital gains and losses, not gross proceeds. However, due to the issues of tracking crypto assets across multiple exchanges that we highlighted above - 1099-B forms issued by crypto exchanges are often incorrect.
This said, PayPal locks crypto assets so they can successfully create correct 1099-B forms to report capital gains and losses as a result of crypto assets. Though it's important to note PayPal haven't yet confirmed that this will be the case.
Does PayPal report to the IRS?
Yes. The IRS made it mandatory for all payment processors (like PayPal) operating in the US to provide information to the IRS about customers receiving payments on their platform.
It's unclear just yet whether PayPal will be issuing users of the PayPal crypto hub with 1099-B forms, though if they are going to you should expect to be able to see these on the platform by the end of January 2022.
For all other crypto taxes, use Koinly!
If you're only using PayPal to buy and sell crypto then your crypto tax reporting is relatively straightforward! But the reality for most crypto investors is that they're using multiple exchanges, wallets and blockchains for their crypto investments - which can make crypto tax reporting a real headache. 
Fortunately, Koinly makes crypto tax simple. All you need to do is sync the wallets, exchanges and blockchains you use with Koinly via API integration or through a CSV file import of your transaction history. Once you've done this, Koinly calculates your cost basis, capital gains and losses, crypto income, expenses and more and summarizes all of this for you (for free!) in a tax summary.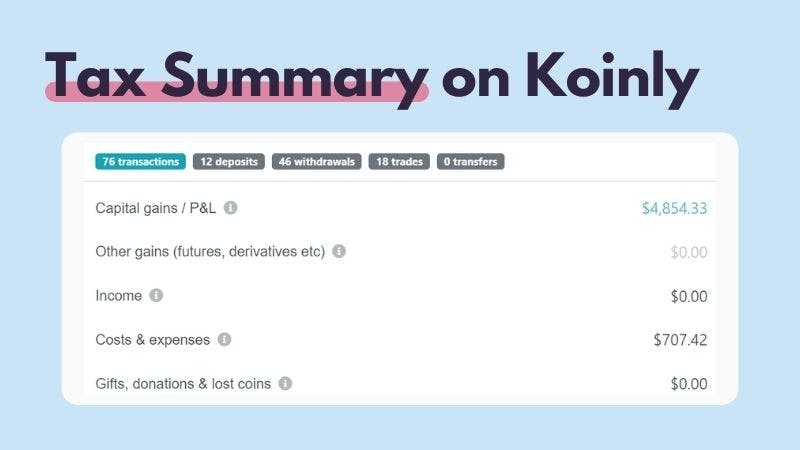 If you'd like to download a tax report, upgrade to a paid Koinly plan starting from $49 and you'll be able to download a variety of tax reports based on your location including the Form 8949 and Schedule D, Schedule 1, TurboTax report and TaxAct report.