Crypto has gone mainstream and more people than ever want a slice of the action. But the high cost of mainstream cryptocurrencies like Bitcoin and Ether can be a barrier to entry for many people. Fortunately, if this is the case for you - there are many easy ways to earn free crypto! We're looking at everything you need to know about how to earn free cryptocurrency… and what the taxman will want to know about your earnings.
15 ways to earn free crypto
From crypto faucets to crypto bounties to DeFi protocols - there's plenty of ways to earn free crypto with and without investment if you've got the time. We'll be covering how to earn cryptocurrency, as well as how to put your idle assets to good use! Let's dive in.
Learn to earn crypto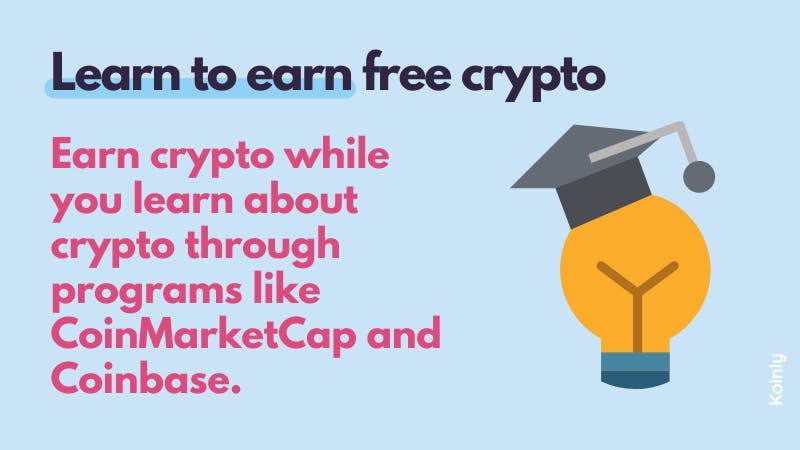 Want to get involved in crypto, but don't have a clue how it all works? You can actually earn free crypto while you learn about it. This is a great program for beginners and there are several awesome exchanges and crypto businesses offering learn to earn program including:

Play to earn crypto games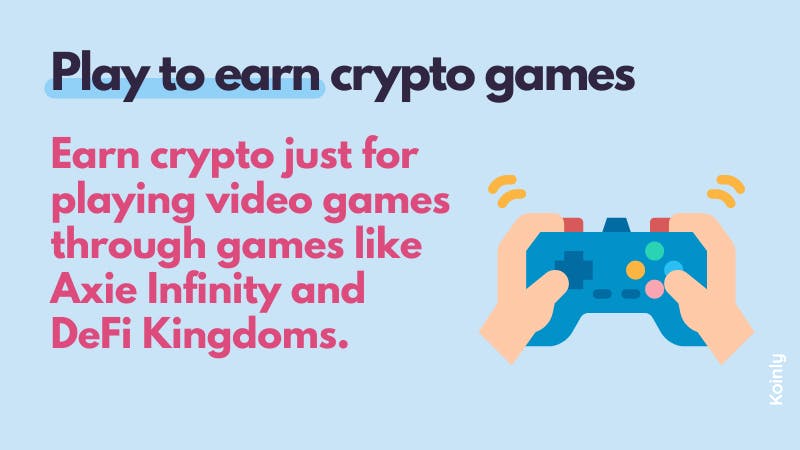 Yep, you read that right. You can play games and earn free crypto just for taking part. There are a huge number of play to earn crypto games available now and each works a little differently, so you've got plenty of gaming genres to choose from to suit your interests. Some of the most popular games you can earn free crypto with include:
Crypto airdrops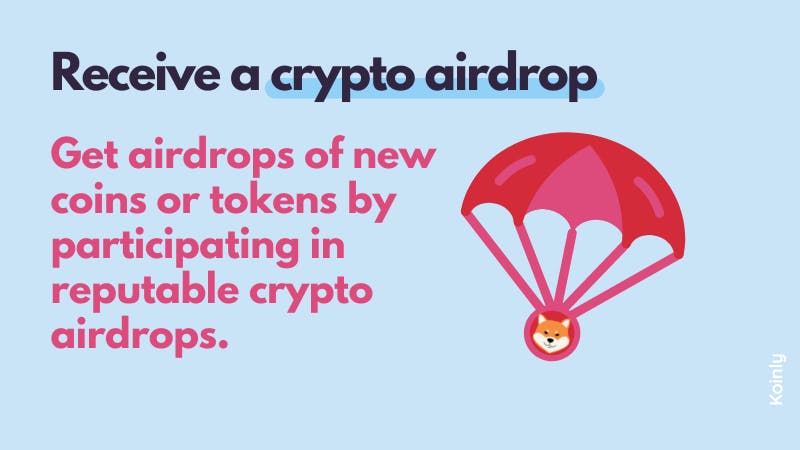 One of the easiest ways to earn free crypto is through an airdrop. Airdrops are usually used to raise awareness of a new token or coin, decentralize coin distribution, stimulate trading and reward early investors.
A word of warning though - airdrop scams are rife. In these scams, hackers will mint a malicious token, send it to user accounts and use the coin to phish for user data to gain access to their wallet. 
The best way to avoid airdrop scams? Only use reputable sites to find airdrops. Two of the best are CoinMarketCap and Binance. Their listed airdrops are regularly updated, so check in often to make sure you're not missing out on free crypto.
Another closely related phenomenon is NFT drops. Many start up NFT projects drop assets for free to decentralize ownership. For example, when CryptoPunks first launched, all assets were dropped to users free of charge. These same NFTs are now selling for millions of dollars.
Of course, not all NFT projects are going to see the same success as CryptoPunks, Bored Ape Yacht Club and so on. But some might, so it's well worth keeping your ear to the ground for new NFT projects and getting in on any free NFT drops… just in case. Like with the above, make sure to do your due diligence and research any projects before getting involved and use reputable crypto news sites to discover NFT projects.
Crypto bounties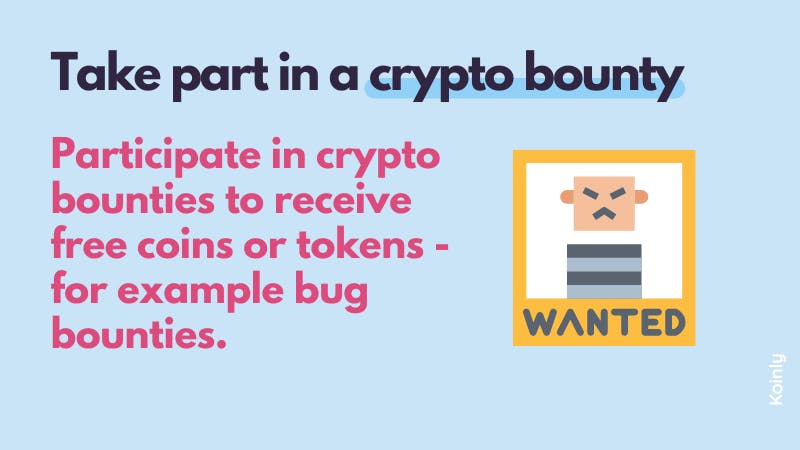 Crypto bounties are similar to airdrops in that you'll be rewarded with a certain coin related to a specific project or company, but you'll need to do something in exchange for it. In fact, many airdrops now ask users to complete a task in exchange for the coins or tokens.
The tasks involved in crypto bounties vary massively, but they're normally tasks relating to an initial coin offering (ICO). This could be simple things like referral schemes or reviews, or it can be more complicated tasks like bug bounties. Bug bounties are more technically advanced tasks for programmers to find bugs within blockchain projects and are rewarded with coins or tokens in exchange for their service. Crypto.com has a great example of this kind of bug bounty program - they reward users for reporting security vulnerabilities, currently up to a maximum of $80,000! Think of all the BTC and ETH you could buy with that.
A word to the wise though - crypto bounties have a bad rep. Many bounty programs fail to pay out investors for a number of reasons like failure to launch or more. So like with airdrops, do your research before participating in any crypto bounties and find companies with strong user reviews and community support before diving in. Remember, if it sounds too good to be true, it probably is.
Crypto faucets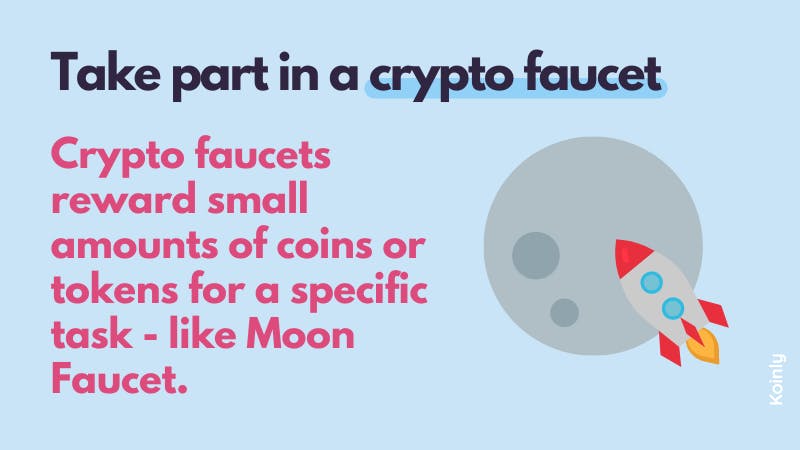 Technically, the learn to earn programs are a kind of crypto faucet, but there's many more crypto faucets available. Crypto faucets reward users with a small amount of tokens for completing a given task - like learning about a specific token, solving captchas or even browsing on Reddit - so you can earn free crypto for a variety of tasks.
Moon Faucet is one of the best examples of this. Users can earn moons based on their Reddit activity. At a basic level, the more karma, the more moons you'll earn. 
But Moon Faucet is by no means the only crypto faucet going. You can find a crypto faucet for a variety of popular coins and tokens including BTC, ETH, SOL and more. As with all things crypto, do your research first to avoid using faucets that don't pay out - or worse, are outright scams.
Change browsers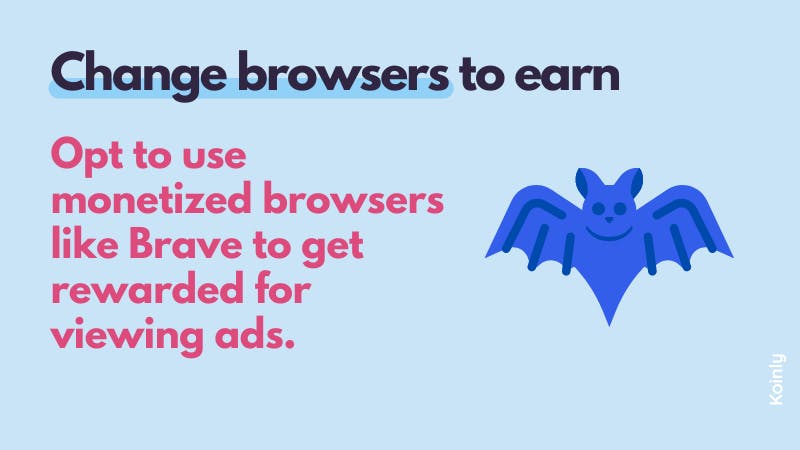 Make the switch from your current browser - whether that's Chrome, Firefox or Safari (or if you're somehow still using Internet Explorer) to Brave browser.
Brave pride themselves on providing a more secure and private browsing experience where you're not bombarded with ads. Whereas in mainstream browsers, your data will be collected and used to target ads at you, Brave have reinvented the wheel with the Brave Reward program, letting users earn free crypto in exchange for seeing ads.
You can opt-in for ads and you'll be paid out 70% of the ad revenue from ads you see in the form of BAT (Basic Attention Tokens).
Shop and earn free Bitcoin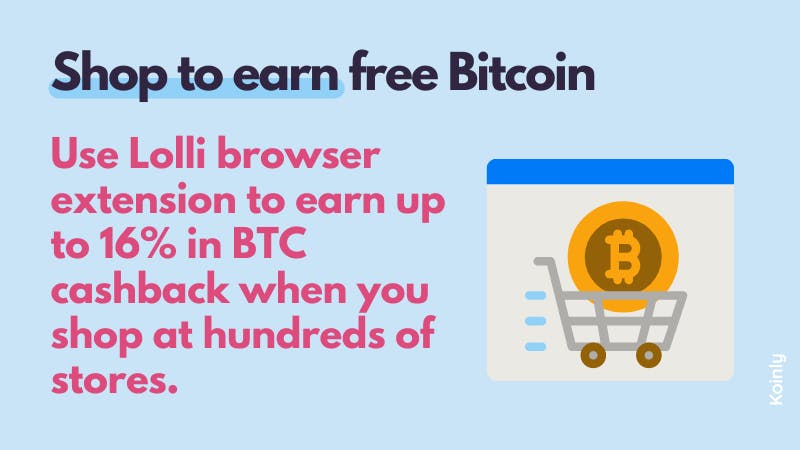 Lolli is a free browser extension that helps you earn free Bitcoin (or cash) when you shop at more than 1,000 stores. When you shop with their partner stores you'll be earn free Bitcoin in return - up to 16% in Bitcoin cashback depending on the store!
Their partner stores include a huge number of stores you probably already shop at online including Adidas, Walgreens, Nike, Expedia, eBay, Petco, Samsung and hundreds more. 
The only downside? You'll need to live in the US for the time being to use Lolli. They are planning to expand to other countries, so if you're not in the US and want to earn free Bitcoin - watch this space!
Mine crypto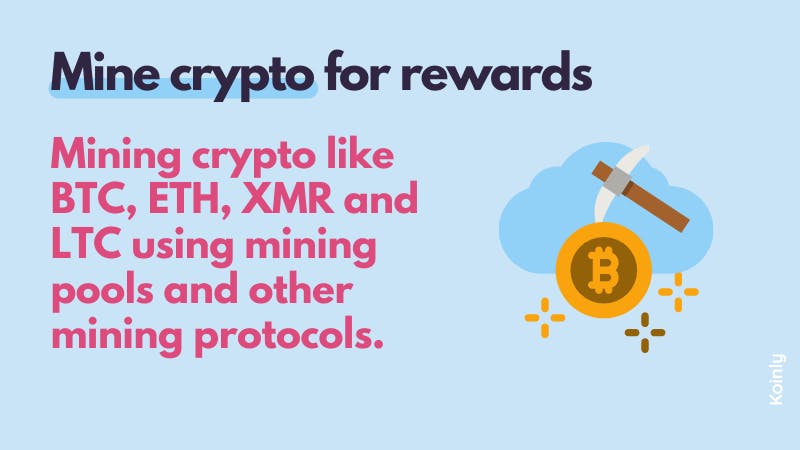 Normally when you think of crypto mining now - you think of huge mining farms packed full of incredibly expensive equipment and meagre returns. But it's not the case, there are a huge number of projects making crypto mining accessible and profitable for all. 
One of the leading projects to get you started in crypto mining with no hassle at all is Nice Hash. Simply connect your GPU or CPU and start earning Bitcoin. You can even use their crypto mining calculator to see how much you're likely to earn based on your computer set up. 
Nice Hash and ECOS aren't your only options, you can also join a mining pool to get started earning free Bitcoin straight away. Popular crypto mining pools include:
As well as this, Bitcoin mining isn't the only option available. You can mine plenty of other alt coins including DOGE, XMR, RVN, LTC, ETC and more.
Earn interest on idle crypto assets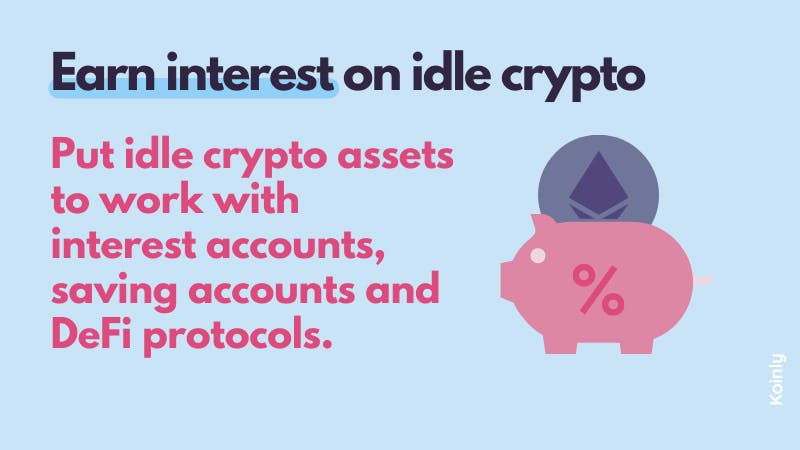 HODLing for the moon is a solid investment strategy in the crypto market and many investors have reaped the rewards. But there's little use in your crypto assets gathering dust in a wallet. Instead put them to work and earn interest on them.
There are a huge number of both centralized and decentralized exchanges offering letting you earn free crypto simply for HODLing using their wallet or vault. You can see a complete list of crypto interest options on CoinMarketCap - offering up to 10% interest so far more than you'd see from a bank with fiat currency! Some of the most popular crypto interest products include:
Yield farming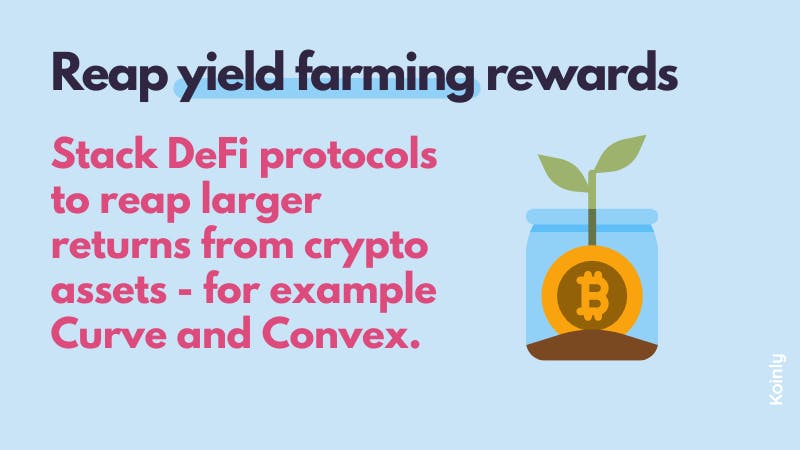 Yield farming puts idle crypto assets into overdrive. Yield farming is the process of stacking multiple DeFi protocols on top of one another to reap the largest rewards. While many investors have their own unique strategies, other investors utilize yield farming protocols to do the hard work for them - letting them earn free crypto simply by depositing their asset into a giving DeFi protocol.
Yield farming protocols each work slightly differently but a nice simple example is Curve and Convex Finance. Investors can use Curve to invest in a variety of liquidity pools and earn CRV tokens (and sometimes other liquidity pool tokens) as a reward. CRV tokens can be sold, but you can also stake them in Convex Finance to boost rewards further. 
This is just one example of many, other popular DeFi yield farming protocols include:
Refer and earn free crypto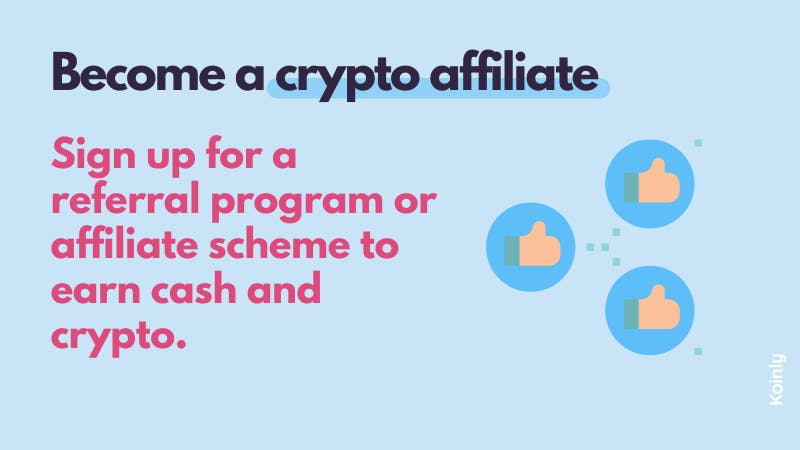 Crypto referral programs (or affiliate programs) let you earn free crypto in exchange for referring people to a specific platform - normally an exchange or wallet. Quite often they pay out in cash - but you can always put that money back into crypto. There's lots of great referral programs from large crypto exchanges that can let you earn free crypto. Some of the most popular include:
Switch your search engine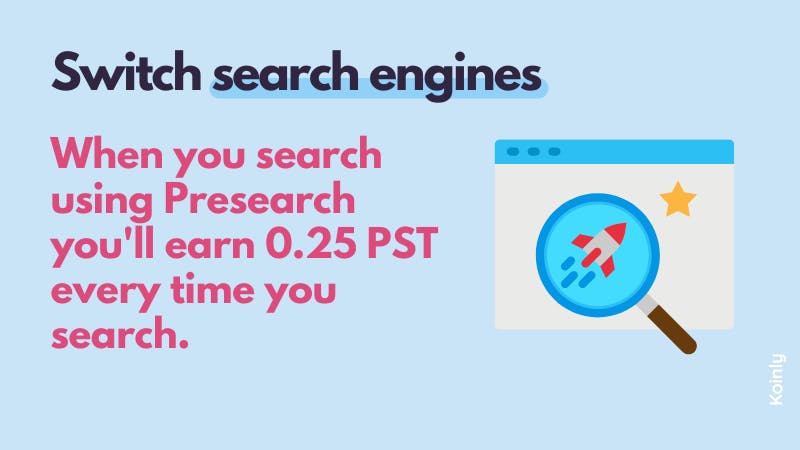 Presearch is a decentralized search engine that lets you earn free crypto in exchange for using their search engine. You'll get paid 0.25 PST (Presearch Tokens) every time you search which caps out at 8 PST a day. At the time of writing, 1 PST is $0.02 - but it all adds up, making it a great way to earn free crypto just for changing your browsing habits.
Read and write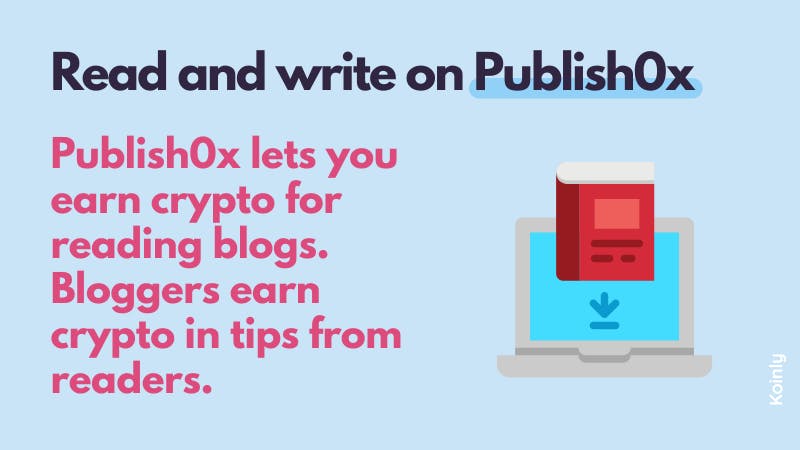 Publish0x lets you earn free crypto for writing blogs and for reading them! Bloggers earn as readers tip them in crypto, while readers earn from the advertising money the site makes. You can even earn crypto for sharing articles on social if it attracts more readers.
Make the most of sign up bonuses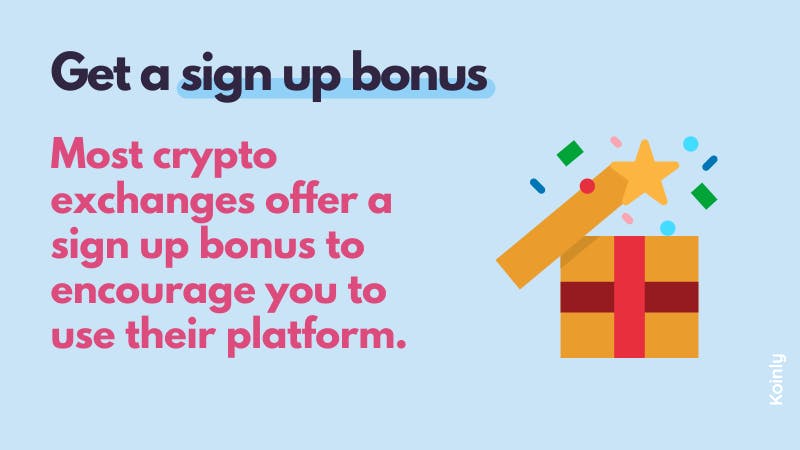 The crypto exchange space is competitive and every crypto exchange wants you to use their platform for trading so they can reap the trading fee rewards. To attract new customers, most large crypto exchanges offer a sign up bonus. This is sometimes a specific cryptocurrency, but more often than not it's a credit to your new account to let you buy whatever crypto you want. Sign up bonuses are always changing, but here's some of the best currently:
Binance: Up to $100 in credit for new users who complete a variety of actions including a fiat deposit, crypto deposit and a spot trade.
BlockFi: $250 in credit for opening and funding an interest account.
KuCoin: Up to $510 in credit for new users who deposit at least $50.
Get a crypto cashback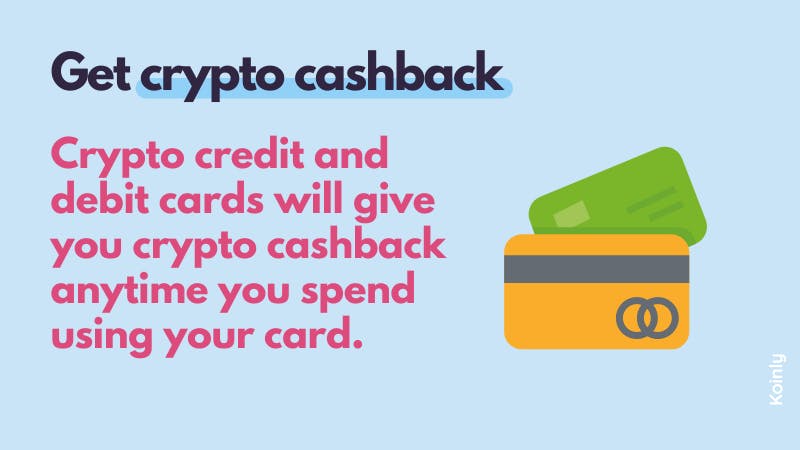 Crypto credit and debit cards help you spend your crypto at stores that usually wouldn't accept crypto as a means of payment. Not only that - but most of them let you earn free crypto cashback in return for spending. Popular crypto cashback cards include:
Crypto.com: Up to 8% crypto cashback.
Coinbase: Up to 4% crypto cashback.
Blockcard: Up to 6% crypto cashback.
Wirex: Up to 2% crypto cashback.
BlockFi: Up to 3.5% crypto cashback.
What's the catch?
All 15 of the options above are great ways to earn free crypto - but there is a catch. The taxman will want to know about your crypto and take a cut of the profit.
The taxation of crypto varies around the world - but in all instances your crypto will either be subject to Income Tax or Capital Gains Tax. 
Crypto is seen as a capital asset in most countries - like a stock or a property. You'll pay Capital Gains Tax anytime you dispose of that asset. This includes:
Selling crypto for fiat currency.
Trading crypto for crypto.
Spending crypto on goods or services.
Gifting crypto (in some countries).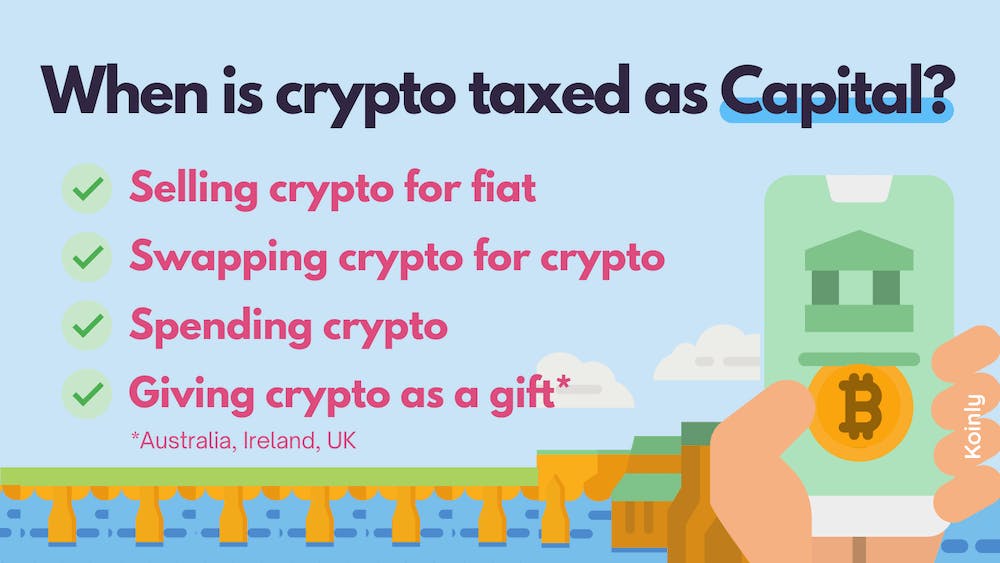 You won't pay tax on the whole proceeds, just any profit as a result of a disposal. This is the difference in value between when you acquired the asset and when you disposed of it.
Meanwhile, you'll pay Income Tax on crypto that you earn. The rules about what is and isn't earning crypto vary (a lot!) from country to country, but in most instances you'll pay Income Tax on crypto when:
You're paid in crypto
You mine crypto - although some countries exclude hobby mining from Income Tax.
You stake crypto
Airdrops - some countries see airdrops as a kind of bonus and subject Income Tax while others don't.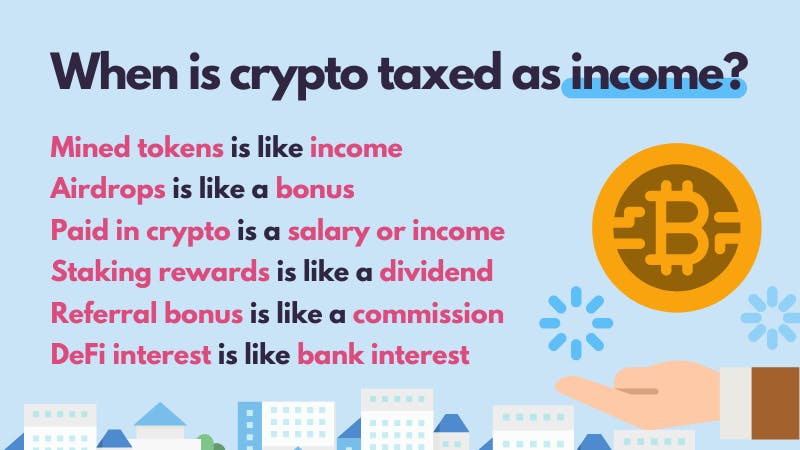 You'll pay Income Tax at your regular rate, based on the fair market value of the asset on the day you received it.
Let's take a quick look at the different ways to earn free crypto and see how they might be taxed.
Learn to earn crypto tax
There isn't specific guidance from any tax office about learn to earn crypto program tax. In most instances, the amounts you're earning will be very negligible - as in a few tokens for each program. 
However, if you have many other crypto investments, you should still include this in your tax return to remain tax compliant. You might pay Income Tax if you're earning over a certain amount.
Learn more about learn and earn tax.
Play to earn crypto tax
Like above, tax offices haven't given any specific guidance on play to earn crypto tax just yet. Although the Philippines tax office did state that profits from Axie Infinity would be subject to tax after many residents turned to the game as a main source of income during the initial 2020 lockdown.
Unlike learn to earn crypto, the profits from play to earn crypto games can be significant. In general, your crypto is going to be treated in two ways.
If you're earning new tokens for playing - for example AXS and SLP tokens on Axie Infinity - there is a strong possibility that this would be subject to Income Tax. You're earning new tokens which could be seen as an additional form of income.
When you later sell, spend or swap these tokens - you'll pay Capital Gains Tax. They're treated like any other cryptocurrency, which makes these events a disposal of a capital asset.
Learn more about play to earn tax.
When it comes to NFTs - these are treated just like cryptocurrency. So you won't pay tax when you buy NFTs (or tokens), but you'll pay Capital Gains Tax when you sell or swap NFTs. Learn more about NFT tax.
Crypto airdrops tax
Airdrops are taxed very differently depending on where you live, so we'll break it down.
You'll always pay Capital Gains Tax when you sell, swap, spend or gift (in most countries) coins you received from an airdrop. 
However in some countries - like the US and the UK - you'll also pay Income Tax on your airdropped coins based on the fair market value on the day you received them.
You can find out more about airdrops and tax around the world here.
Crypto bounties tax
Again, there is no specific guidance on crypto bounties from a tax perspective. However, many tax offices do clarify that if you're receiving crypto in exchange for a service - like bug bounties - you'll pay Income Tax on the crypto you receive. 
Crypto faucets
Technically, you are doing something in exchange for receiving crypto from a faucet, but unlike crypto bounties, the amount of crypto you receive is often negligible. In other words, you might pay a very tiny amount of Income Tax, but you should make sure to report any earnings from crypto faucets in your tax return - especially if you have other crypto investments.
Earn to browse tax
Like with learn to earn and play to earn, there's no tax guidance on monetized browsing just yet. As BAT and PRE tokens are quite low in value - any tax you do pay will be minimal.
A lot of whether you report this will come down to your country's specific rules on earning additional income. Most countries allow a small amount of additional income before you'll pay Income Tax on it. This said, if you're over this limit, you'll need to report your monetized browsing to your tax office and you may pay Income Tax on it. 
You'll also pay Capital Gains Tax when you sell or swap BAT or PRE tokens later on.
Shop and earn tax
It's good news for US Lolli users. As Lolli is more akin to a cashback scheme, you won't pay Income Tax on Bitcoin you earn while using Lolli.
However, as with all cryptocurrencies, you will pay Capital Gains Tax when you later sell, spend, swap or gift your BTC from Lolli.
Crypto mining tax
The way crypto mining is taxed varies depending on where you live and the scale you're mining at.
Some countries - like Australia and Canada - allow hobby mining to be exempt from Income Tax. So you'll only pay Income Tax on mined crypto if you're mining like a business.
Meanwhile other countries - like the US and the UK - have taken a harder stance and tax all mined crypto under Income Tax.
Remember, you'll also pay Capital Gains Tax in all countries when you later spend, sell, swap or gift mined coins.
You can learn more about crypto mining around the world here.
Crypto interest tax
There is no specific guidance on crypto interest tax just yet - mostly as these kinds of products are still very new. However, we can infer tax treatment based on the current guidance and it will all depend on how the platform you're using works.
You'll pay Income Tax on the new crypto you earn in interest. So if you're being paid out new coins or tokens, you'll pay Income Tax on this.
However, many DeFi protocols don't work like this anymore as you'll invest in liquidity pools to earn interest. When you invest, you'll receive a token in exchange representing your share of the asset. The token will then increase in value the longer you leave your asset in the pool. In these instances, these transactions are more likely to be seen as a crypto to crypto trade, which is subject to Capital Gains Tax - not Income Tax.
Of course, when you later sell, spend, swap or gift coins received from interest earnings - you'll pay Capital Gains Tax.
Learn more about crypto interest tax here. 
Yield farming tax
Like all of the above, there's no specific guidance on yield farming tax just yet as it's a relatively new phenomenon. So the tax you pay will all depend on how the specific yield farming protocol you're using works. 
If you're swapping or selling tokens or coins in your yield farming activities, you'll pay Capital Gains Tax.
Meanwhile, if you're earning new coins or tokens from your yield farming activities, you'll pay Income Tax.
You can learn more about how yield farming works and how it's taxed here.
Make crypto taxes simple with Koinly
Koinly crypto tax calculator makes crypto taxes simple.
All you need to do with Koinly is sync the crypto wallets and exchanges you use via API or CSV file import to get your crypto transaction data into Koinly. We work with all major crypto exchanges, wallets and blockchains including Binance, Coinbase, Nice Hash and many more.
From there, Koinly does all the calculations for you. It'll figure out your cost basis, capital gains and losses, crypto income and more. You can just head into the tax report page in Koinly to see a summary of your crypto taxes. 
You can then download specific tax reports based on your location, including the IRS Form 8949, Schedule D and Schedule 1 for US investors, the HMRC Capital Gains Summary for UK investors, the ATO myTax report for Australian investors and many more.