Getting paid to play games sounds like a dream - but it's a reality with play to earn (P2E) crypto games. By playing DeFi games like Axie Infinity, The Sandbox, Decentraland and many more, you can earn crypto while gaming. The metaverse is the limit when it comes to DeFi games. But as with all crypto - the taxman will want to know about your earnings. We're exploring the play to earn model, the best play to earn crypto games and how your P2E earnings are taxed around the world.
What are play to earn crypto games?
Play to earn is a new business model within the gaming industry that has sprung up mostly as a result of the decentralized finance (DeFi) phenomenon.
Decentralizing ownership of video game content gives gamers ownership over their in-game assets, encouraging them to grow the in-game economy and create value for both players and game developers. Essentially, players are rewarded for their time and effort spent in-game. 
Though we say in-game assets, this isn't always the case. While in some instances players are rewarded with an NFT of a digital asset that's functional within the metaverse - the metaverse is spilling over into the real world. In-game economies are merging with real-world economies. Case and point, users who stake Axie Infinity's AXS token will soon be rewarded with dividends from the Axie Community Treasury - currently valued at just over $2 billion.

5 best play to earn crypto games
Of course, not all play to earn crypto games will see the same success. As is the case with the crypto market - there are duds, just like there are shitcoins. That's why we've put together our top 5 best play to earn crypto games for you to get stuck into. With no further ado…
Axie Infinity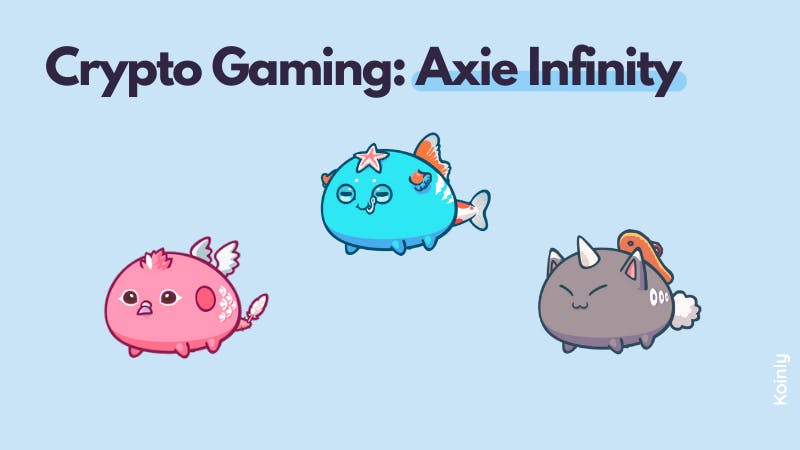 Axie Infinity is the most established play to earn crypto game on the market, with more than 2 million people playing every day. The NFT-based lets users play, battle, collect, breed and trade creatures known as Axies which are digitized as NFTs. Think Blockchain Pokemon and you're on the right track.
To start playing Axie Infinity - you'll need to get three Axie's from the Axie Marketplace.
At the time of writing, the cheapest Axie available was 0.019 ETH so around $71. So to buy the three you need - you're looking at an up front cost of at least a couple hundred dollars to start playing. This cost is a barrier to entry for many users.
To get around this, you can apply for an Axie Scholarship - where a breeder or manager loans out a free Axie so you can get stuck in and start playing (and earning!). You can find Scholarships on a variety of sites - including a dedicated subreddit.
When it comes to playing, you'll earn ERC-20 SLP tokens (Smooth Love Potions) whenever you battle monsters in adventure mode, battle other players in the arena and complete daily quests. SLP tokens are in high demand because you need them to breed new Axies. At the time of writing, SLP tokens are valued at around $0.03 and the average player will earn between 100 - 200 SLP tokens each day. Doesn't sound like much, but this is just one way to play to earn.
AXS (Axie Infinity Shard) tokens are also a key component of the game. You can earn this ERC-20 token in game by breeding monsters, competing in PVP battles and selling rare Axies. You can also swap SLP for AXS tokens on Uniswap. At the time of writing, AXS tokens are worth $94 which is no small amount for playing a game!
However, you might want to hold on to your AXS tokens for long-term gains because you can stake AXS tokens and be rewarded from the Axie Community treasure. Estimated rewards are currently at 115% APR. This means if you staked just one AXS token and the price remained at $98 for the year, you'd be looking at a minimum return of $206 for the year!
The good news keeps on coming because one of the best ways to earn is through the NFT-function in the game. You can breed and sell Axies - which are digitized as NFTs. We already said above the lowest priced Axie was currently $71, but average prices are more like $300. The most expensive Axie sold (Axie #3429) sold for $366,000!
Axies aren't the only NFTs you can buy and sell in the game, you can also invest in Lunacia land. These NFTs vary in price based on their location in-game. 
Pros: Very active market place and a variety of play to earn strategies.
Cons: Cost can be a barrier to entry.
Splinterlands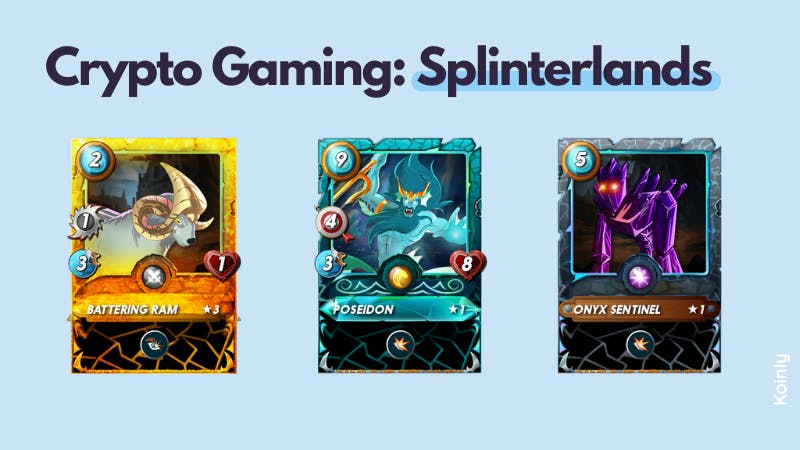 Splinterlands is a tactical trading card game - where cards are digitized as NFT tokens.
You can play Splinterlands for free, but if you want to access the play to earn mechanics in-game - there is a cost barrier to entry like with Axie, though it's much lower. You'll need to buy a Summoner's Book for $10. Once you've purchased this, you can earn rewards, enter tournaments and trade on the market.
When you play Splinterlands, you'll earn DEC for participating in ranked battles. DEC (Dark Energy Crystals) tokens are the main in-game currently in Splinterlands. The amount of DEC tokens you receive will depend on your league, the amount of players battling, your win string, your card choice and more. DEC tokens are currently valued at around $0.008. But considering players can quite easily earn around 500 DEC an hour, it's not a bad price for having fun!
You can also earn Splinterlands credits for playing. Splinterland credits can only be spent within the game to purchase packs, cards and more.
This matters because the NFT trading aspect is where the real value of the play to earn model comes in. The rarer the cards, the more you can sell them for (or trade them for). You can sell and trade Splinterlands cards on many NFT marketplaces including OpenSea. The highest priced Splinterlands NFT is currently Poseidon at 1,000 ETH ($3,789,900!).
When you hold Splinterlands NFTs, you'll be rewarded with SPS tokens - the Splinterlands governance token. The more NFTs and the rarer cards you hold the more SPS tokens you'll be rewarded with. SPS tokens are currently valued at around $0.27 and you can sell them on many marketplaces or stake them to earn more.
Pros: Low cost to entry and many play to earn strategies available.
Cons: Lower rewards than other play to earn crypto games currently.
Thetan Arena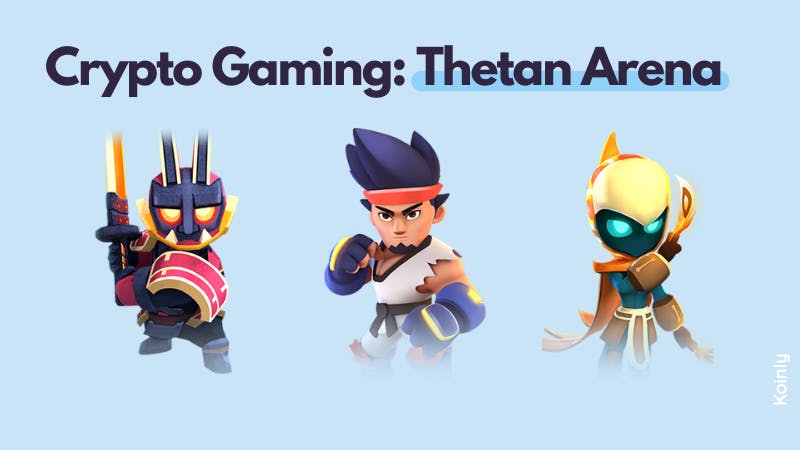 Thetan Arena is an esport multiplayer online battle arena (MOBA) game - like a hybrid of Apex and DOTA.
You can play Thetan Arena on mobile (Android and IOS) or on PC. There are multiple game modes to pick from, including solo and multiplayer and you can start earning as soon as you start playing. 
When you win a match, you'll be rewarded with Thetan Coin (THC) reward tokens and Thetan Gem (THG) governance tokens. You can sell both of these and they're currently valued at $0.007 and $10 respectively.
However, you might want to hold onto your THC and THG as you can use it to earn more. You can use both tokens to buy Premium Heros, which allow you participate in special events with higher rewards.
Premium Heros are digitized as NFTs which you can buy and sell in the Thetan Arena marketplace - with the top Premium Hero currently priced at $522,000. 
Pros: Free to start playing and earning.
Cons: If you haven't played MOBA games before, the game lacks in-depth tutorials for newbies.
Decentraland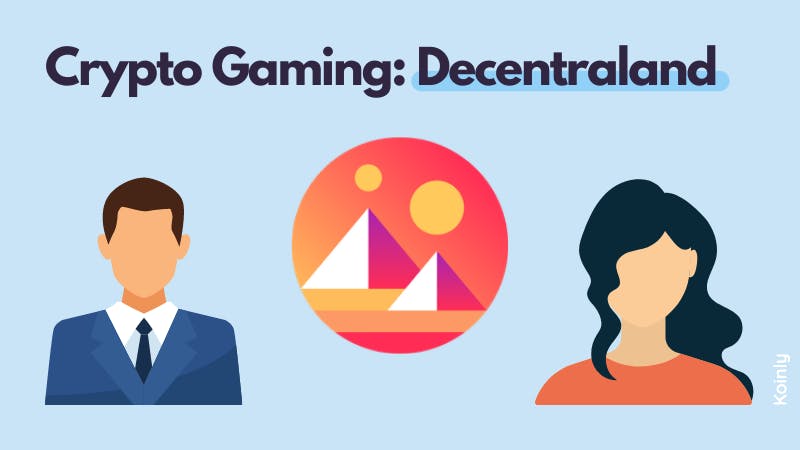 Decentraland is a decentralized 3D virtual reality platform that utilized NFTs to digitize in-game assets. The game soared in popularity - in part, thanks to the 2020 lockdown - and now has a huge community across Twitter, Reddit and more.
All you need to do to start playing is create an avatar, give it a name, accept the T&Cs and start exploring the metaverse. Though to enjoy the full range of wonders available in this realm - you'll want a crypto wallet connected to customize your avatar, visit spaces and take part in events.
Players can create virtual buildings like homes, theme parks, casinos, galleries and more and charge other players to visit, as well as showcase a range of digital content. Decentraland is absolutely packed full of NFTs, which players can buy, sell and trade inside and outside the metaverse. 
MANA is the currency of Decentraland and although you won't earn it just for playing like with other play to earn models - the sky's the limit. You can earn MANA by providing services, selling goods in the marketplace and so on. You can buy Mana tokens from a variety of crypto exchanges, as well as sell MANA tokens you earn. MANA is currently valued at $3.65.
If you're looking to make more - land and names are the big money makers in Decentraland. Acquire and sell both on the marketplace to earn more.
For a real Inception moment, you can also play in-game play to earn crypto games within Decentraland. Some of the most popular are Ethermon and WonderQuest.
Similarly, you can gamble MANA in casinos within Decentraland. Users who create and build casinos and other popular destinations are often some of the biggest earners in the Metaverse.
Pros: Free to play and unlimited earning opportunities.
Cons: Land has quickly become very expensive.
DeFi Kingdoms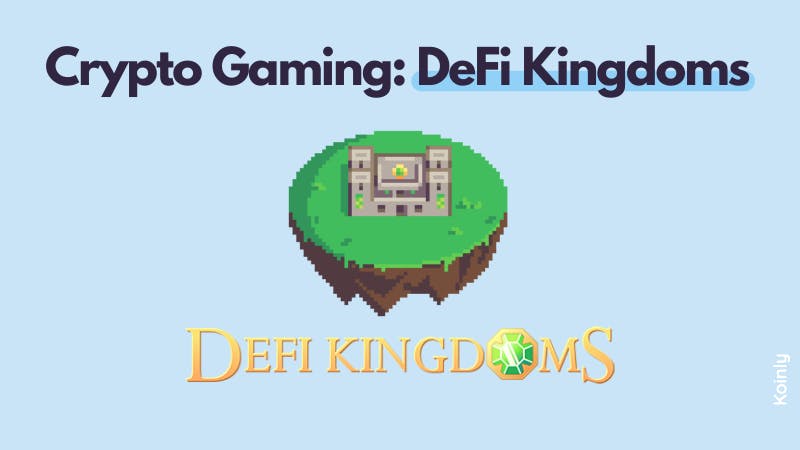 DeFi Kingdoms is a DEX, LP and game all in one. You can play it on PC through the MetaMask browser or through mobile (if you connect through the MetaMask mobile browser).
Once you've connected your MetaMask wallet to the DFK website, set up a profile and enter Gaia. 
JEWEL is what makes DeFi Kingdoms run, and you'll need to purchase some to get started as you need it to do practically anything in-game. You can trade JEWEL for a huge variety of other tokens and then stake it in-game in the bank for passive income. You can also use JEWEL to provide liquidity through the gardens function in the game. At the time of writing, JEWEL is valued at $6.80. 
The JEWEL functions are just one aspect of the game though. When it comes to actually playing DeFi Kingdoms - the main game play is in the Heroes function. These Heroes are utility NFTs with a huge variety to pick from. You can buy a Hero with JEWEL from the tavern (the in-game marketplace). You can then use Heroes to summon other Heroes, list your Heroes for hire, sell your Heroes and - of course - battle PVP and go on quests. You'll earn DFKTEARS (Gaia's tears) tokens for going on these adventures - currently valued at $0.26.
Pros: High value tokens and a lot of new features coming out
Cons: Cost barrier to entry and a lot of features still in BETA.
How play to earn crypto is taxed
The play to earn crypto model is pretty new - which of course means tax offices around the world haven't yet issued guidance on it for the most part, with the exception of the Philippines.
After it hit the news that many Filipino residents were using Axie Infinity to maintain a regular income during the initial stages of the global lockdown - the Philippine Tax Office stated that players earning more than $5,000 a year needed to pay tax on their Axie Infinity earnings.
Just because a tax office hasn't yet given out guidance doesn't mean you won't pay tax on it. All crypto investments are subject to tax - so your play to earn crypto income will be included in this.
The type of tax you'll pay will depend on the type of transactions you're making in your game. It'll either be subject to Income Tax or Capital Gains Tax - or sometimes both.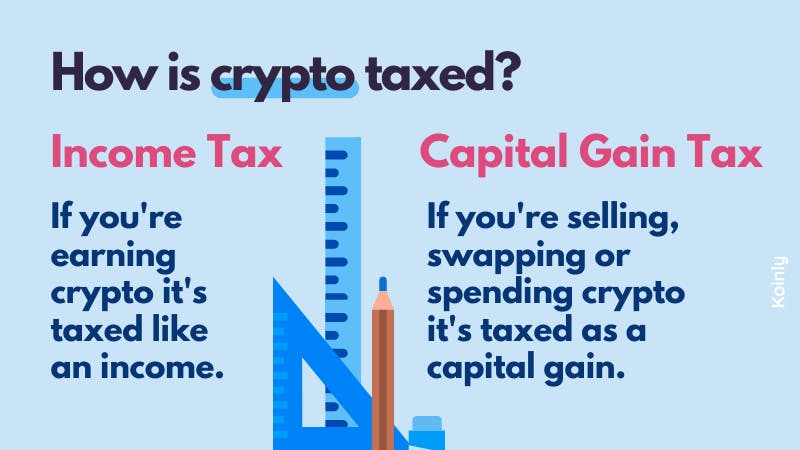 Whenever you sell, spend, swap or gift (depending on where you live) crypto, you'll pay Capital Gains Tax on any profit you make from it. A capital gain or loss is the difference in value from when you acquired the asset to when you spent, sold, swapped or gifted it. If the value has increased - you have a capital gain and you'll pay Capital Gains Tax. If the value has decreased - you have a capital loss and you won't pay Capital Gains Tax.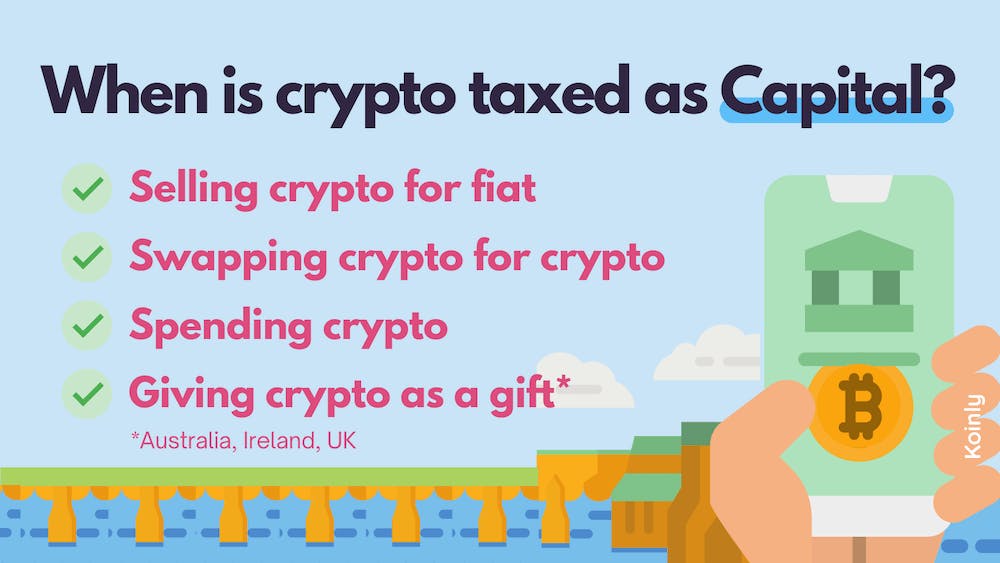 Crypto can in some instances also be subject to Income Tax. This varies depending on where you live but in general things like getting paid in crypto, staking crypto and mining crypto are all subject to Income Tax. So you'll pay tax at the same rate as your normal Income Tax rate on the fair market value of the crypto on the day you received it.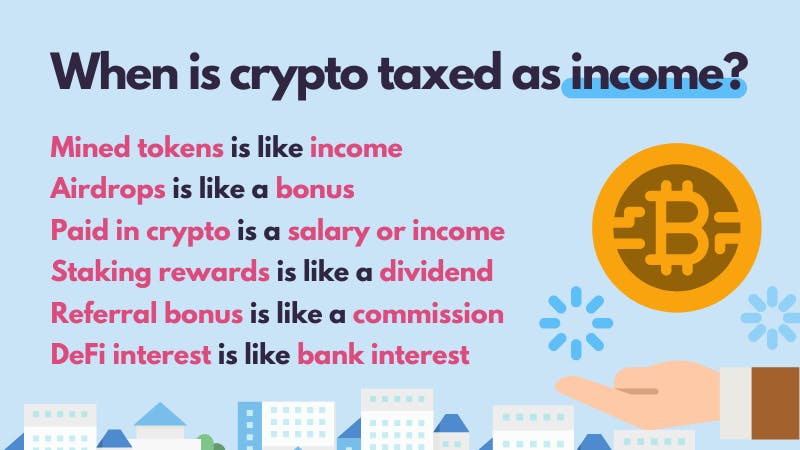 Play to Earn Income Tax
As we said above, no tax offices have issued clear guidance on play to earn crypto income. However, as it is a source of income it is likely that many tax offices will subject this to Income Tax. So for example, if you're earning new tokens or coins - like AXS or SLP tokens - you'd pay Income Tax on the fair market value of those coins on the day you receive them.
That's not all though - because when you later sell, swap, spend or gift those tokens or coins, you'll pay Capital Gains Tax.
Play to Earn Games Capital Gains Tax
Whenever you sell, swap, spend or gift (depending on where you live) crypto, you'll pay Capital Gains Tax on any profit you make. The amount of tax will vary depending on the cost basis method you used.
For example, in the US, when crypto is taxed as income, you can use the fair market value of the coin on the day you received it as your cost basis. So you'd only pay Capital Gains Tax if you had a profit at the point you sold, swapped or spent it.
Meanwhile, Canada uses the adjusted cost basis method. So because you paid nothing for your crypto, your cost basis would be zero. So you'd pay Capital Gains Tax on the entire proceeds as it's all considered profit.
NFTs are taxed the same way as tokens and coins. So whenever you sell, swap or gift NFTs, you'll pay Capital Gains Tax on any profit.
How Koinly can help with crypto taxes
Koinly crypto tax software calculates all your crypto taxes for you, including play to earn crypto taxes. All you need to do is sync the various crypto wallets, exchanges or blockchains you use via API or CSV file import and Koinly will automatically import your transaction data. Once your data is in, Koinly will calculate all your crypto taxes for you and create one simple tax summary. All you need to do is download your chosen tax report and file it with your local tax authority.