Opening a Bitcoin IRA can be daunting, but in this guide, you'll find all the information you need to build the ideal Bitcoin IRA. 
A long-term retirement strategy might not be the first thing you associate with the crypto market - but Bitcoin IRAs and crypto IRAs are an excellent option for many investors who are prepared to overlook short-term volatility in return for long-term gains. 
Suppose you, like many of us, see the potential of blockchain technology to upend the traditional financial system,  want to bet on crypto in the long term, and take advantage of IRA tax incentives. In that case, this article will help you get started. 
We'll give you the low-down on what Bitcoin IRAs are, how they work, the pros and cons of Bitcoin IRAs, and list some of the best Bitcoin IRAs available.
What is a Bitcoin IRA?
A Bitcoin IRA or crypto IRA is a self-directed Individual Retirement Account (SDIRA)  that allows you to invest in cryptocurrencies and enjoy the benefits associated with IRAs.  Don't worry if  'self-directed' doesn't mean much to you; we'll get to that soon.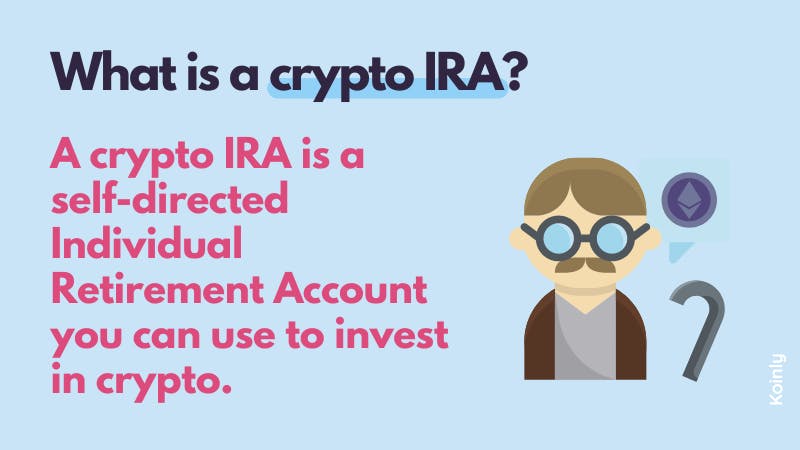 What are the benefits of a Bitcoin IRA?
Beyond helping you tap into a potentially lucrative future of Bitcoin and other cryptocurrencies, these IRAs offer the following benefits: 
No withdrawal, no tax: You won't be expected to pay tax on any gains until you actually withdraw your funds from the IRA. 
Re-invest gains: By not withdrawing your gains, you can make reinvestments and grow your portfolio tax-free. 
Preferred tax rate: When you cash in your IRA, you'll be taxed based on your income, which will likely be considerably lower after retirement, and with a Roth IRA, you pay zero tax. 
Diversify: Adding Bitcoin to your retirement portfolio via a traditional IRA isn't possible, so this is your chance to diversify. 
As you can see, the benefits of using a Bitcoin or Crypto IRA  are impressive, and the list above doesn't tell the entire story. However, we want you to have the whole story so let's take a look at some of the risks associated with crypto IRAs.
What are the risks of a Bitcoin IRA?
Any investment is risky, and with inflation hitting multi-decade highs, it feels like our equity isn't safe anywhere; that being said, we'd be foolish to pretend crypto isn't a high-risk asset.  We suggest you keep the following risks in mind before you start building your Bitcoin IRA: 
Volatility: Bitcoin and other major alt-coins like Ether and DODGE are notoriously volatile, and even though this shouldn't affect you in the long run, but the short-term swings can still be nerve-racking 
Early Withdrawal Penalties: Taking your money out of an IRA before you retire can result in a penalty, and you'll be required to pay income tax.
Is a crypto IRA a good idea despite the risks?
We can't peer into the future, so any investment we make, whether it's in crypto, real estate, or paying for our children's tuition, can't guarantee positive returns. 
Luckily, through diversification and long-term planning, we can improve our chances of success, and an IRA is the wisest long-term approach you can take with crypto.
How can you start building your Bitcoin or Crypto IRA?
A normal IRA has a custodian that such as a bank, that makes sure that all the legal conditions required to receive tax benefits are met by the user. Most traditional IRA custodians haven't warmed up to crypto yet, so they can't help you build a Bitcoin IRA. Fortunately, there are a growing number of online companies that have stepped in to fill the void left by traditional banks.
Are Bitcoin and Crypto IRAs legitimate?
Before we give you some tips on what platforms offer the best Bitcoin IRAs, you might be asking whether this is a legitimate investment instrument. You'll be happy to hear that Crypto IRAs are 100% legit and the incentives they offer are perfectly legal.  (LINK)
How does a Bitcoin IRA work?
A Bitcoin or Crypto IRA works like a normal IRA but the fact that it's self-directed means you can add alternative assets like crypto. Just like a traditional IRA, you face annual contribution limits that you can check on the IRS' website.
What is the Best Bitcoin /Crypto IRA?
The surge in demand from people looking to add Bitcoin and other alt-coin to their retirement portfolio has resulted in a growing supply of crypto IRAs; we've narrowed down the list of options to three of the best to save you some time.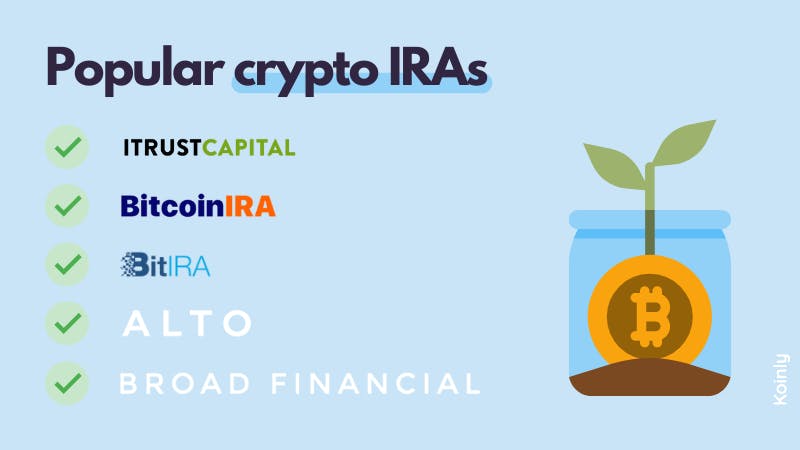 iTrustCapital IRA
iTrustCapital offers low and simple pricing - with a $29.95 monthly maintenance fee and a 1% charge on crypto trades. However, you'll need to have a $2,500 initial deposit to open an account. 
You can use your iTrustCapital IRA to invest in a great range of cryptocurrencies including:
BTC
ETH
LTC
DOT
ADA
BCH
BAT
ENJ
ALGO
ATOM
XTZ
CRV
SOL
AAVE
MATIC
YFI
SUSHI
UNI
COMP
XLM
EOS
DOGE
MKR
LINK
SHIB
BitcoinIRA
Bitcoin IRA is one of the largest crypto IRA providers and despite the title - Bitcoin isn't the only crypto you can invest in. You can also invest in ETH, LTC, BCH and XRP.
It's great for newcomers to IRAs in general as it has an easy interface, 24/7 real time trading and full customer support. Bitcoin IRA also offers BitcoinIRA Earn - where users can loan their IRA funds to earn interest. Bitcoin IRA maintenance and account fees will depend on your initial deposit size. The minimum initial deposit for a standard account is $3,000.
BitIRA
BitIRA is a relative newcomer to the crypto IRA market - but offers excellent security for digital assets, backed with unlimited insurance coverage. Users benefit from multi-encryption encoding for transactions in progress and once completed physical keys are kept in a cold storage wallet in a secure location. You'll need a minimum investment of $5,000 to open a BitIRA account and you can trade a good variety of cryptocurrencies including:
BTC
BCH
LINK
ETH
ETC
LTC
ZEC
XLM
AAVE
Alto CryptoIRA
Alto CryptoIRA might not be the biggest crypto IRA provider - but it does give investors the widest selection of crypto as the company is partnered with crypto exchange Coinbase. Alto currently supports more than 125 cryptocurrencies - you can see a full list here.
Alto also offers low account fees - between $0 to $25 depending on the account you choose and 1.5% trade fees. 
Broad Financial
Broad Financial's Bitcoin IRA works a little differently to other crypto IRAs. When you open a crypto IRA with Broad Financial, they create an LLC (Limited Liability Company) to invest your funds in. Broad Financial serves as your custodian for the LLC and issues you a capitalization check and checking account for your IRA. What this means is you can invest in any cryptocurrency you want to and you're not limited by the crypto the IRA supports. 
When it comes to fees, you'll need an initial investment of $1,400 as a minimum and you'll pay an average annual fee of $300. The Broad Financial Crypto IRA is available as a Traditional IRA or a Roth IRA - so you can pick which tax benefits you'd like to prioritize.
How will your Bitcoin IRA be taxed?
Your Bitcoin/Crypto IRA will be taxed depending on various factors including your age, tax domicile and income. Get and in-depth understanding of how you're IRA will be taxed by reading Koinly's Crypto IRA Tax Guide.