We're covering everything you need to know about Celsius Network, what's happening with Celsius in the bear market and how to do your Celsius taxes.
What is Celsius Network?
Celsius Network is a popular crypto platform with a buffet of earning opportunities for investors, offering up to 17% APY on certain assets. The platform launched its ICO in March 2018 with their native CEL token.
Up until very recently, CEL investors enjoyed all time highs of around $8... but during the most recent bear run, the token has lost more than 92% of its value, currently trading at around $0.50. 
Is Celsius in trouble?
Potentially. On Sunday the 12th of June 2022, Celsius released a statement "pausing all withdrawals, Swap, and transfers between accounts" for the 1.7 million investors using the platform.
The email stated the reason for the pause was due to extreme market conditions.
However, many other investors claim the writing has been on the wall for Celsius for some time. In a Reddit post from the week before Celsius halted withdrawals, an investor claimed Celsius showed signs of insolvency due to delayed withdrawals, loans from Tether and CEL token dumps from the CEO.
Since the withdrawal freeze, a number of crypto and mainstream media outlets have reported that Celsius have hired a restructuring lawyer. Celsius haven't confirmed how long the freeze will last, nor whether investors' assets will be returned.
Despite what many crypto influencers will claim - nobody knows exactly how this situation is going to play out yet. The platform may reopen once they've stabilized their liquidity, or they may pause withdrawals indefinitely and begin the long process of paying out secured and unsecured creditors. We'll update this as soon as there's more news.
What can I do to recover my investments?
Until Celsius allows withdrawals again, funds are effectively stuck in the platform, so there's little investors can do currently to protect or recover their investments.
If Celsius allows withdrawals again soon, you'll be able to withdraw your assets from the platform should you wish to. In the current climate for hodlers, it's wise to keep your crypto in a non-custodial, secure wallet - better still if that's a cold wallet. 
For CEL tokens, nobody knows where the price may go. Since pausing withdrawals, the CEL token price has stabilized - but may quickly plummet if and when withdrawals start back up and the sell off begins. For many investors, selling off your earned CEL tokens before they go to zero may be the wisest option - and many may want to simply as a result of Celsius pausing withdrawals and losing trust in the platform. 
If you make a gain, you'll need to report and pay Capital Gains Tax on any gain. If the token continues to plummet and you make a loss, you can still utilize your loss to offset your gains and reduce your overall tax bill. 
Whatever happens - here's how to get your Celsius taxes done with crypto tax software.
How to do Celsius taxes
To get started with your Celsius taxes - you need your Celsius transaction history. This will have records of every transaction you've made on the platform, including buys, swaps, earnings and more. 
How to export Celsius transaction history
There's a couple of ways to get your Celsius transaction history, through API or get a CSV file:
Because Celsius has an API, using your read-only API key is the most efficient approach to importing everything. After that, your crypto tax software will sync your transaction data, and you'll be able to start creating your tax report.
You may also import transactions by downloading a CSV file of your Celsius transaction history. In Celsius Network, there should be a history download button that generates a CSV file with your transaction data; simply import that file into Koinly to generate your tax document.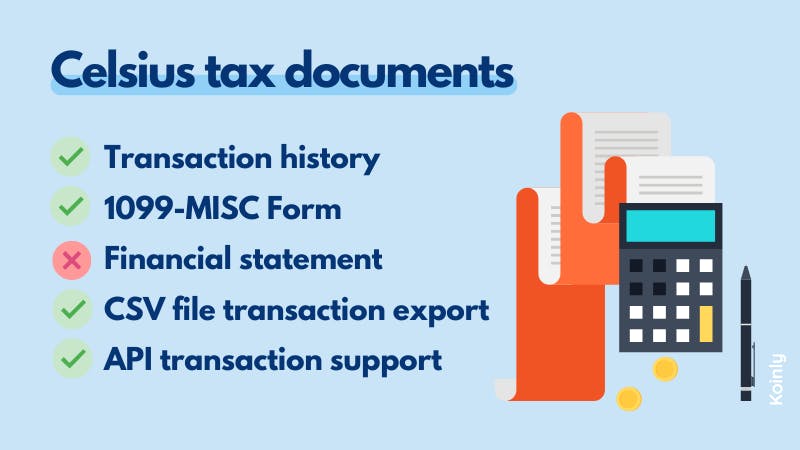 Does Celsius provide a tax report?
No, tax reports are not available through Celsius Network. It's challenging for any crypto exchange platform or wallet provider to generate a comprehensive tax report because of how frequently users engage in cross-platform transactions. The platform does however offer one kind of tax form.
Does Celsius provide a 1099 form to the IRS?
Yes. Celsius provides 1099-MISC forms for US investors who earned $600 or more on the platform throughout the financial year.
To get your 1099-MISC form, go to profile, then reports, then tax report. You can then choose to have your 1099-MISC posted or emailed to you. In general, 1099 forms should be available by February of the following year, but you'll be able to see if yours is still generating in the status box next to the form. 
Remember, your 1099-MISC form only shows your earnings from Celsius and may not represent an accurate picture of your earnings from crypto overall. If you later sold or swapped your CEL tokens or other earnings, you'll be liable for Capital Gains Tax on any profits too. This is why you need your entire Celsius transaction history and not just a 1099-MISC form. 
Does Celsius Network supply a financial statement?
No, you will not receive a financial statement from Celsius Network. When filing a tax form, your transaction history can be used as a kind of financial statement.
Celsius Network CSV
Yes, CSV export is supported by Celsius Network. To get your CSV file, open your Celsius app and tap the Celsius logo in the bottom right, then select profile, then settings. Next, select download transaction history and your CSV file will be sent to your email address. You can then use this to calculate your crypto taxes manually, or upload it to your crypto tax app. 
Celsius Network API
Yes, Celsius Network offers a tax report API for exporting transaction records. Log in and select your name in the top right corner, then API. Now select create new API key and check all the read permissions, then generate. Once you've generated your API key, just copy and paste it into your chosen crypto tax calculator. Your API will then return your Celsius transaction history.
Does Celsius provide an end of year statement?
No, Celsius Network does not provide an end-of-the-year statement.
Does Celsius report to the IRS?
Yes, Celsius reports to the IRS. Any time you get a 1099 form from Celsius, the IRS gets an identical copy. As well as this, the IRS may request KYC data from platforms like Celsius to ensure tax compliance. 
Does Celsius report to other tax authorities?
It's likely Celsius reports to other tax authorities around the world like the ATO, HMRC and the CRA to name a few. Most countries have requirements to operate in that country, including sharing customer data with the relevant authorities to ensure tax compliance.
How to generate Celsius tax report
Tax forms for Celsius Network can be generated in one of two ways - manually or with the help of crypto tax software. 
If you're doing your crypto taxes yourself, you'll need to identify all your taxable transactions from Celsius including short and long-term gains or losses from trades, and any crypto income from earn programs. It's a lot of work if you're an active investor, which is why most people opt to use a crypto tax tool instead.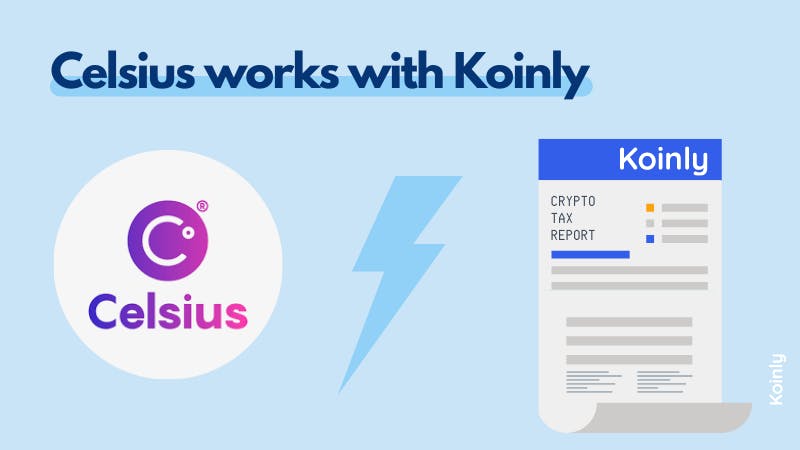 Koinly is a Celsius tax calculator that helps users calculate their capital gains and losses. It connects to various exchanges and wallets to fetch data and generates reports based on your location and your tax office.
Thousands of cryptocurrency investors, accountants, and blockchain businesses use Koinly, which is also the chosen tax partner for several top cryptocurrency exchanges. We're developing solutions to make cryptocurrency more widely used by automating the regulatory hurdles of tax compliance and asset tracking. Here is a detailed list of what Koinly offers:
Imports all information about your trades such as sales, swaps, purchases, and rewards.
Detects transfers between your wallets and tracks your original cost.
Helps you convert your transactions into your chosen fiat currency.
Lets you track your entire portfolio including realized and unrealized gains and losses.
Works out which transactions are taxable and which ones are not.
Generates your crypto tax report, based on your location, ready to file.