When it comes to Crypto portfolio tracking, there's hundreds of apps out there all craving your attention. Rather than embarking on an endless trial and error nightmare, here we've chosen the most reliable, credible and easy-to-use crypto portfolio trackers out there.
Pionex
Pionex is a high grade automated trading tool, or crypto trading robot. Using Pionex, users can automate their trading without constant checking of the markets. It even aggregates liquidity. 
Important features and points:
Trading fee is 0.05% for the maker and taker.
16 free in-built trading bots.
Dollar-Cost Averaging (DCA) Bot Sets repeated purchasing at regular points to offset the effects of volatility.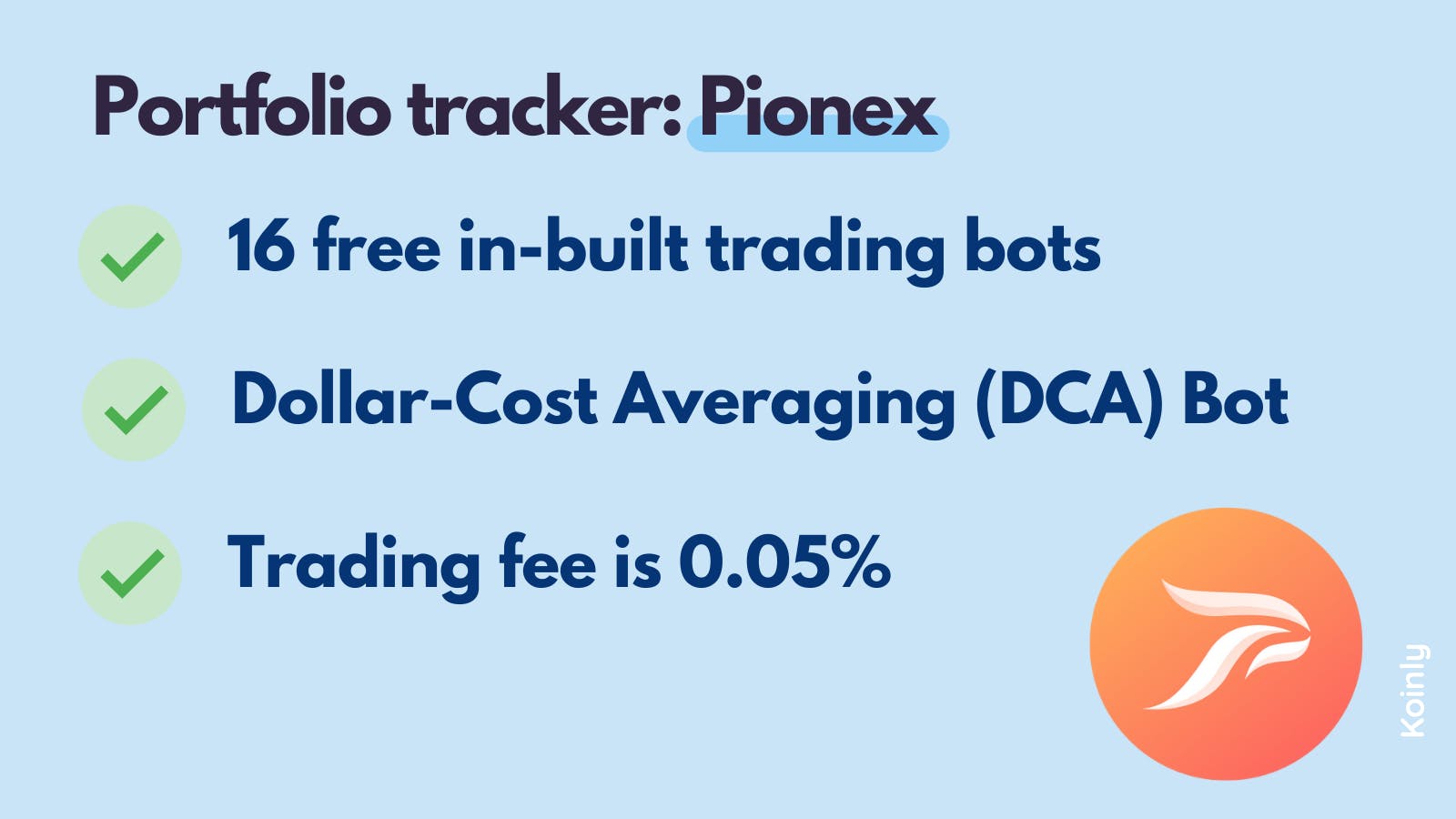 Kubera
Hailing itself as 'the world's most modern portfolio tracker', Kubera lets you track cryptocurrency portfolios alongside stocks and other traditional assets. This is unique to many apps on this list, as Kubera even allows you to incorporate tangible assets like real estate, mortgages and cars.
Important features:
Multi-asset tracker: you can track all crypto assets (including DeFi and NFTs), as well as tangible ones.
Connects to over 20,000 different banks worldwide.
Costs $15 a month or $150 annually.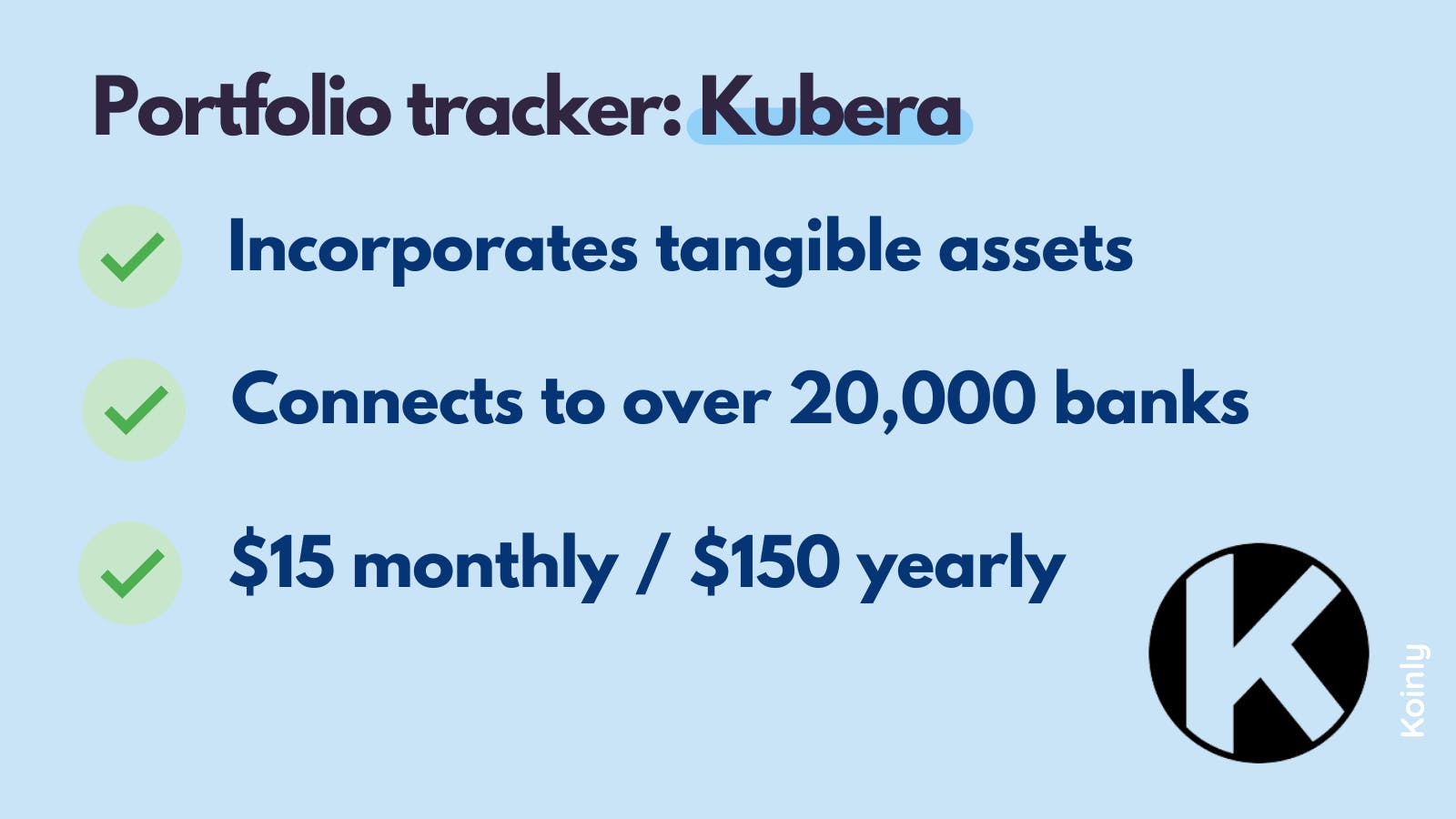 CoinStats
By offering transaction analytics, instant notifications and fast trading, CoinStats provides fantastic insights into your crypto portfolio. Users can connect their favorite wallets and exchanges within, allowing you to  manage all your DeFi and crypto assets in one convenient location.
Earn up to 20% APY.
Secure encryption.
Supports over 400 crypto platforms.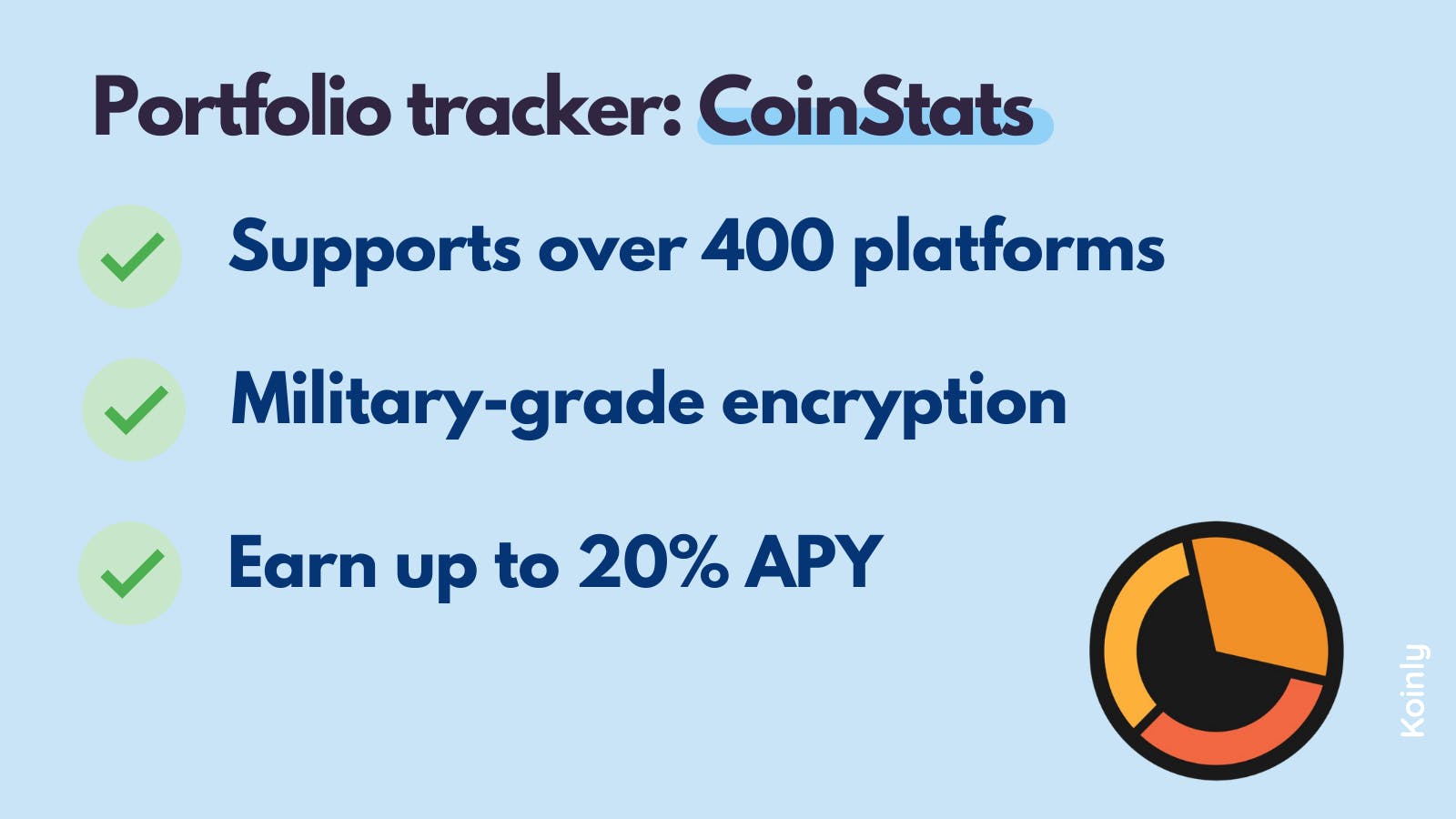 Coin Market Manager
With its advanced crypto portfolio tracking capabilities, the Coin Market Manager app is optimal for super active traders. It facilitates easy connection with your preferred exchange, management of all accounts in one place, and automatic import of trade history. As expected, the app connects with all the biggest exchanges, from ByBit to Binance.
Important features:
Seamless journaling through automation.
Its in-depth analytics includes trade history breakdown and performance analytics.
Holds a personal verification page and custom URL.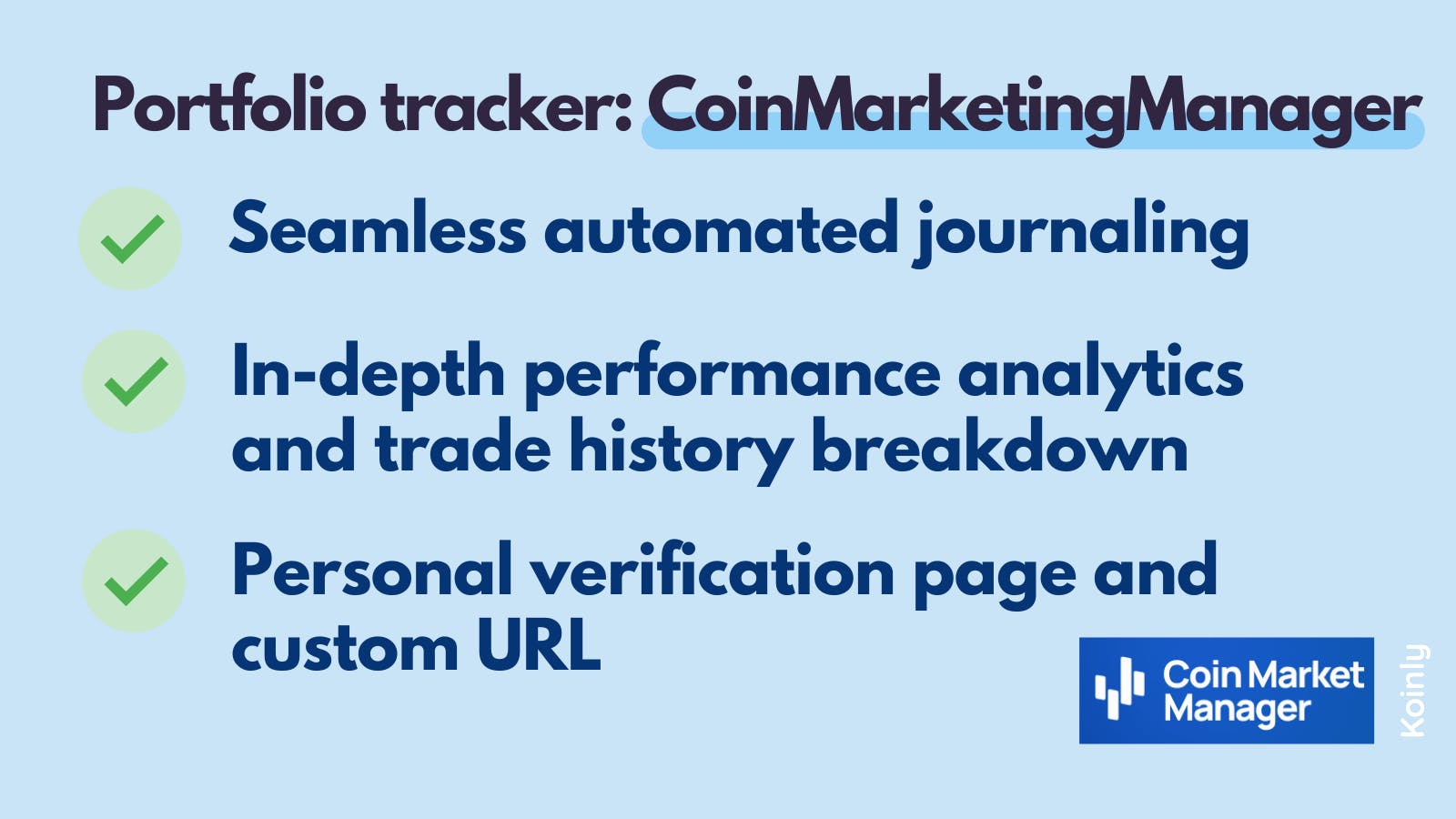 Delta
Delta is rated as one of the most innovative apps of its type, both for its functionality and its aesthetic interface. The app monitors the latest values of cryptocurrencies and your positions in your native fiat currency.  It also allows you to manage various portfolios, giving you live access to the price movements of not just crypto, but also stocks, ETFs, indices, mutual funds, bonds, futures, and options.
Important features:
Multi-asset tracker.
Tracks trading fees.
Has an attractive dark mode that's useful for low-level lighting as well as users with visual limitations.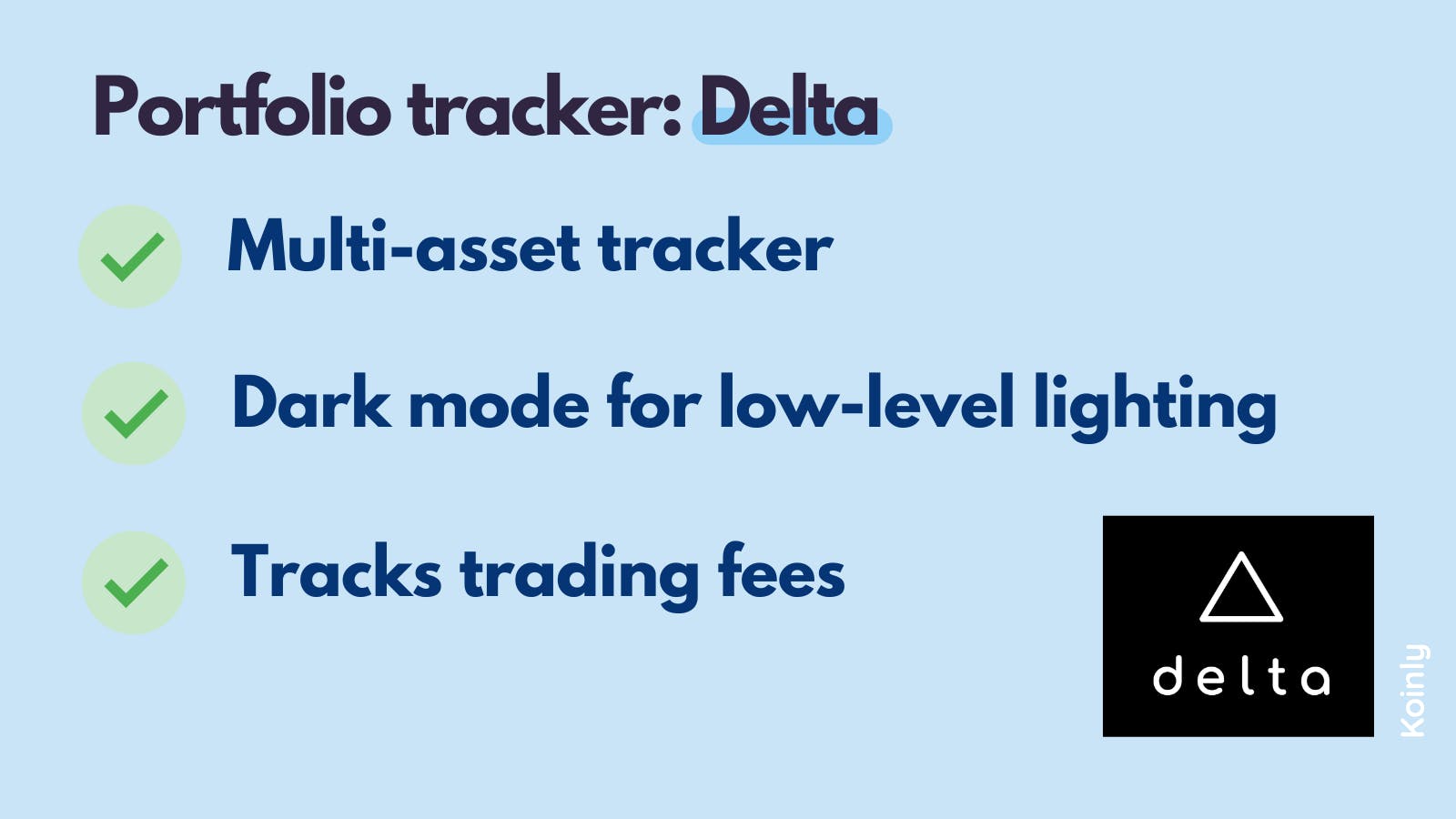 Altrady
Altrady is a top-notch crypto portfolio tracker that allows cryptocurrency investors to buy and sell on multiple exchanges from a single platform. This is ideal for investors who want to diversify their portfolios with speed and precision.
The app also provides investors with a large range of customization tools that can be used to create a truly personalized platform. 
Important features:
Advanced automation features.
Wide range of customization tools.
Hotkeys and journaling features allow investors to make notes on their trades and progress.
Has monthly pricing in addition to standard broker fees.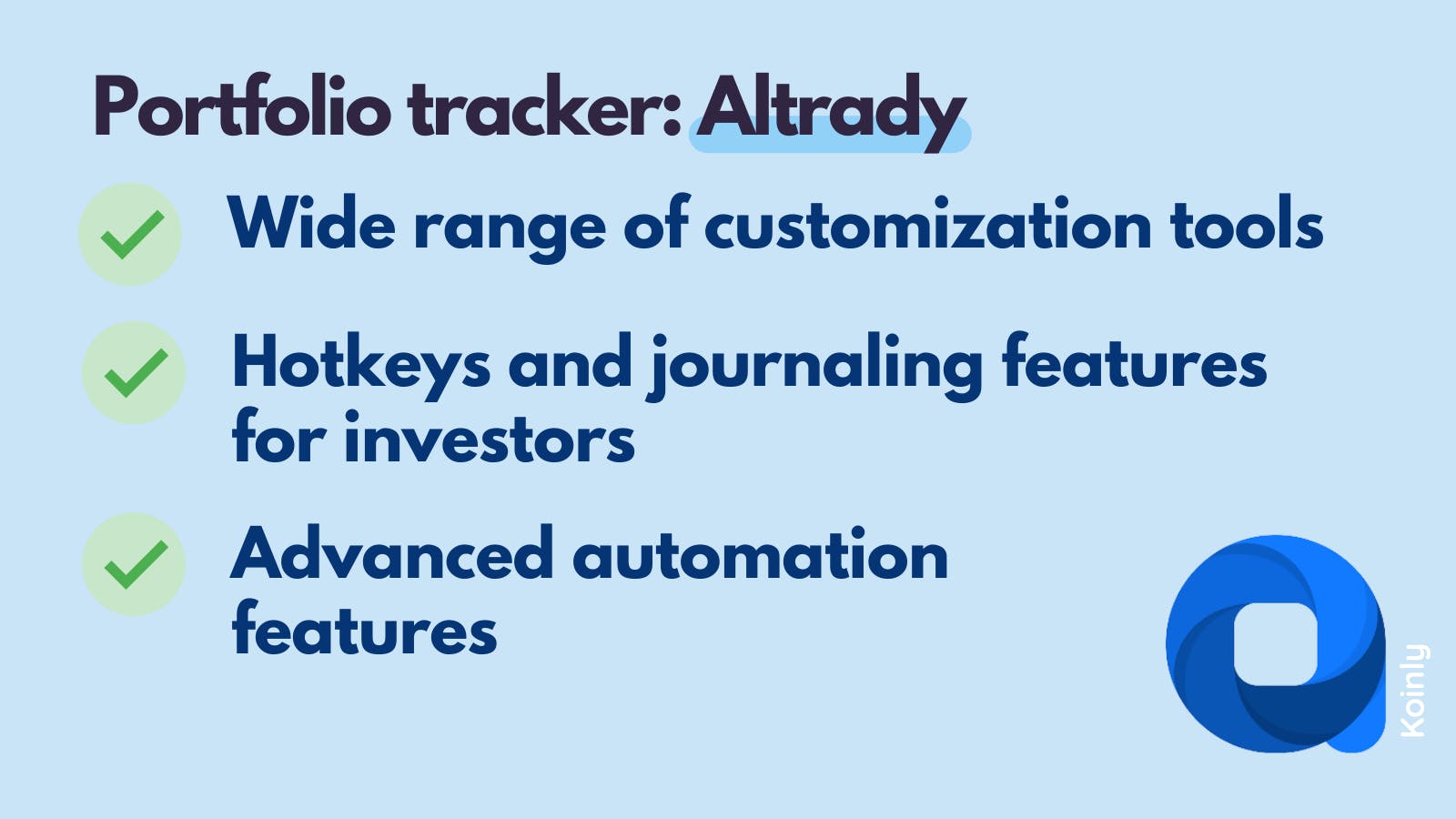 Zerion
An app made for DeFi crypto tracking, Zerion lets users build and manage their DeFi portfolios held across multiple wallets from one tidy location. Its most used feature is trading and providing liquidity to DEX pools. 
Important features:
Specializes in DeFi tracking.
Free to use.
Allows you to earn interest by borrowing and lending.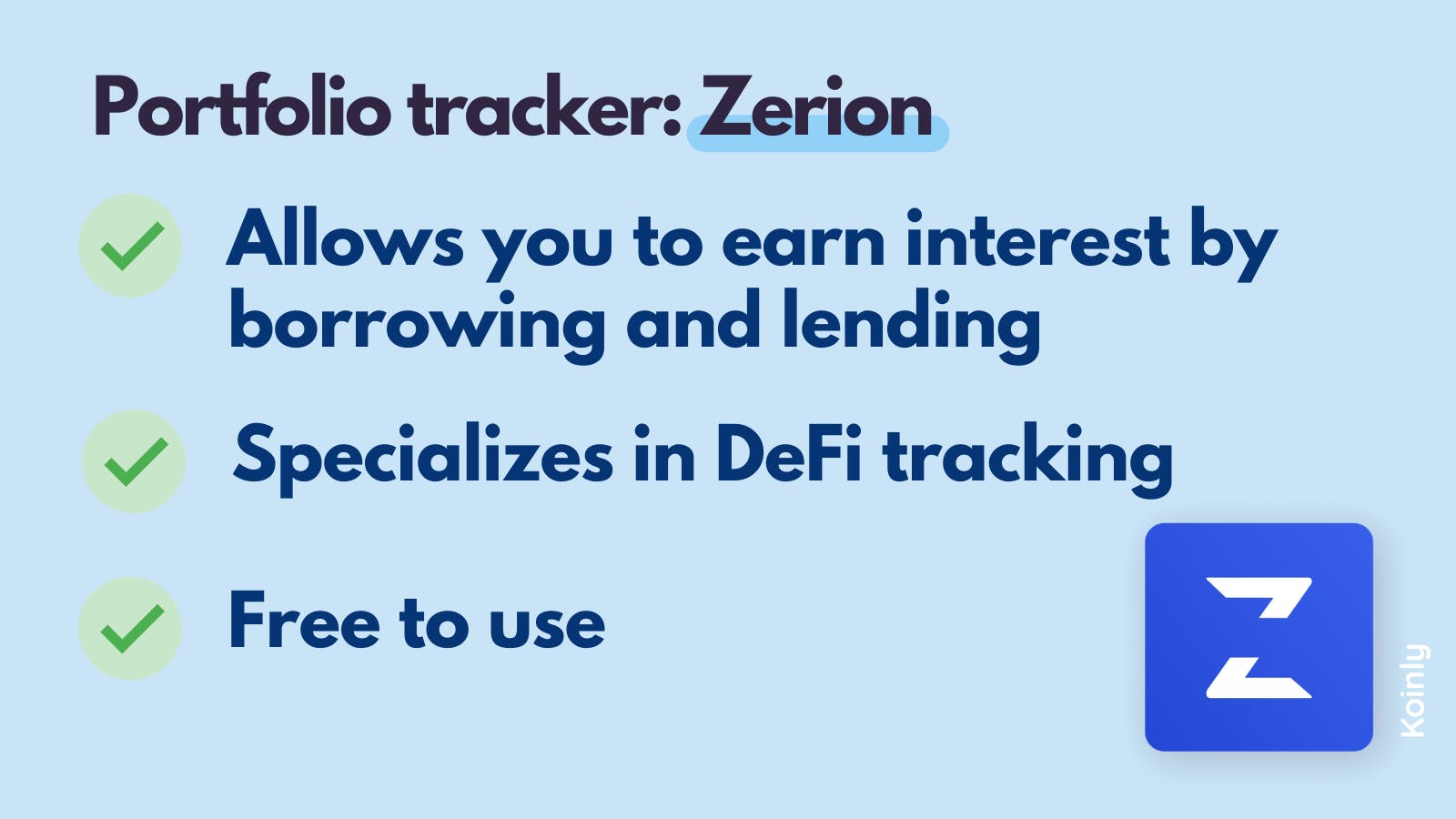 Koinly
Koinly allows you to see your total holdings and portfolio growth over time across all your wallets and accounts. Within the app, you can see your total ROI from invested fiat, get an income overview, as well as an outline of your mining, staking, lending and other crypto income. With just a glance you can see how much you are up or down.
Alongside the crypto portfolio tracker feature, Koinly is a crypto tax tool that calculates your taxes for you. Not only does Koinly integrate with the transaction history from multiple exchanges, but it calculates your taxes in a format that makes sense for your country's tax office. Essentially, Koinly does all the boring tasks that would cost your hours and hours fiddling in a spreadsheet. 
Important Koinly features:
Shows you your total ROI from invested fiat.
Combines all of your transactions from every exchange.
Indicates which of your trades are taxable and which are not. 
Allows you to submit a clean and accurate report to your tax office.