Do you have to pay tax on cryptocurrency in India? Wondering how India's crypto tax works and how the ITD views Bitcoin and other cryptocurrencies? We've covered everything you need to know about crypto tax in India in our ultimate crypto tax guide for 2022.
This guide is regularly updated
Before we start - India's crypto tax rules are in flux. At Koinly, we keep a very close eye on the Income Tax Department's crypto developments and regularly update our guide to keep you informed and tax compliant.
3 Feb 2022: Welcome to your cryptocurrency tax guide for India!
How is crypto taxed in India?
Historically, India's government had no official stance on the classification and taxation of bitcoin and other cryptocurrencies. By February 2022 we at long last have a clearer, albeit simplistic, tax framework to follow - but it's not good news for Indian crypto investors.
This was announced in the Budget 2022-2033 speech, where India's Minister of Finance advised that all cryptocurrencies including NFTs are to be classified as Virtual Digital Assets and taxed as income - not as capital assets.
The key points to note:
Profit from the transfer of any virtual digital asset is to be taxed at the rate of 30%.
Profits are seen as income, taxed under section 115. (Similar to lottery winnings).
There is no opportunity to treat cryptocurrency as a capital asset.
Discounted tax on long term versus short term gains is not an option.
No deduction, except the cost of acquisition, will be allowed while reporting income from the transfer of digital assets.
A TDS of 1% is to be charged on payments of virtual assets, above a certain threshold (yet to be defined).
 Recipients of a crypto gift will be taxed, as if their gift was a form of income.
The proposed 30% income tax is applicable from 1 April 2022 and the TDS of 1% is applicable from 1 July 2022, to be effective from financial year 2022-23 onwards.
Income Tax on crypto in India
There is no specific Bitcoin tax or cryptocurrency tax in India. Instead, India plans to tax crypto as Income from Other Sources, similar to income from savings bank account interest, fixed deposits, winning in lotteries is taxable under this head.
Furthermore, profits from the transfer of virtual digital assets such as crypto, NFTs will be taxed at a flat tax of 30%. This rate is the same as India's top income tax bracket.
The flat income tax rate applies to private investors, commercial traders - and anyone else who transfers crypto assets in a given financial year.
The 30% flat tax rate will be the same irrespective of the nature of income i.e. it does not matter if it is an investment income or business income. There is also no distinctions between short-term and long-term gains.  
30% flat tax applies irrespective of:
Individual income tax bracket.
Holding period.
Nature of transaction.
Whether you're a private investor or commercial trader.
It's useful to note that Income Tax only applies to citizens with a total income over Rs 2.5 lakh in FY 2020-21.
Taxable transfers of crypto may include:
Selling crypto for INR or another fiat currency.
Trading crypto for crypto, including stablecoins.
Spending crypto on goods and services.
Gifting crypto
Mining coins is potentially income from other sources
Getting paid a salary in crypto
Staking rewards
Mining tokens
Airdrops 
DeFi income
While the IDT has not released guidance on DeFi transactions specifically - DeFi profits are likely to be considered income and taxed at a flat Income Tax rate of 30%:
Earning new crypto tokens through yield farming on lending protocol like AAVE, Compound.
Earning new liquidity pool tokens, governance or reward tokens.
Lending your crypto to platforms like NEXO to earn interest.
Earn crypto dividends on platforms like CoinRabbit.
Referral rewards like Binance Referral.
Learn to earn campaigns, like Coinbase Learning Center or CoinMarketCap Learning Center.
Watch to earn platforms like Odysee.
Browse to earn platforms like Permission.io browser extension, Brave.
Play to earn games like Axie Infinity.
Shop to earn through browser extensions like Lolli.
Share public address to earn on platforms like Moon Faucet.
1% TDS on Crypto Assets  
According to the Budget 2022 announcement, Tax Deducted at Source (TDS) will be imposed on payments for the transfer of crypto assets at a rate of 1% for transactions over a certain threshold. However, the Government has not clarified what this 'threshold' will be.
The TDS of 1% has been introduced to capture the transaction details and keep a track of investments being made in crypto assets. So, every time you purchase a crypto asset (subject to a certain threshold), you are liable to deduct 1% TDS of the transaction amount in the financial year. 
How are gifts taxed
India's proposed crypto tax rules take a blanket approach across the board, and that includes how the ITD may tax crypto gifts. Recipient of a virtual asset gift - including an NFT - are liable to pay Income Tax on the value of their gift, at a flat rate of 30%.
Crypto taxation on losses
Because crypto is not classified as an asset in India but rather seen as income, loss from digital assets cannot be offset against any other gains or income. Indian crypto investors are also not allowed to claim crypto related expenses. The one exception is the cost of acquiring your crypto asset, which can be claimed.
Loss from digital assets cannot be set-off against any other income.
No deduction, except the cost of acquisition, will be allowed while reporting income from transfer of digital assets.
How to calculate tax on crypto transfers
To calculate Income Tax on crypto profit, you need to start by figuring out your cost basis.
Your cost basis is how much it cost you to buy your crypto, plus any transaction fees, in INR.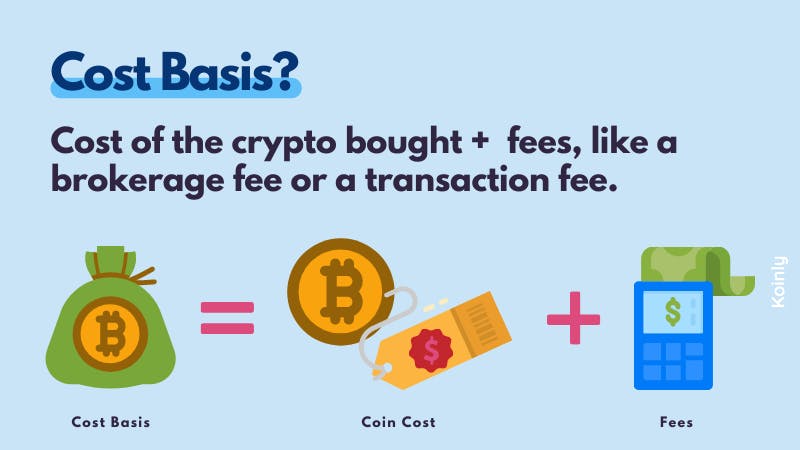 Tax free crypto India
Wondering when Bitcoin is tax free in India? What about other cryptocurrencies? Fortunately, you won't always pay tax on your crypto in India.
You won't pay tax on your crypto in India when you're:
HODLing crypto.
Transferring crypto between your own wallets.
Tax on lost or stolen crypto in India
While the Finance Minister has offered no clear guidance on lost and stolen crypto, it can be assumed however, that India's Income Tax Department wont offer a sympathetic ear. Tread carefully.
Will you pay tax when you buy crypto in India?
Buying crypto with INR
Buying bitcoin or any other cryptocurrency? You'll pay a Tax deducted at Source (TDS) of 1% on the transaction total. The Government is yet to specify the threshold.
HODLing crypto
Waiting for the moon? Great plan and great news for your taxes. You'll pay no tax on crypto you HODL.
Again, do make sure to keep records of how much it cost you to acquire your crypto so you can accurately calculate your capital gains and losses later on.
For those long-term HODLers, it may be worth using a platform that tracks and stores trading information for long periods of time, as exchanges often only keep information for 3 to 6 months. This information can then easily be imported into Koinly to quickly find out how big your tax liability is.
Buying crypto with crypto
Under the proposal, trading crypto for crypto is taxed at a flat Income Tax of 30%.
To calculate your capital gain, you'd use the cost base of the crypto you disposed of and subtract it from the fair market value for that asset on the day you traded it for another crypto.
Buying crypto with stablecoins
Stablecoins are cryptocurrencies that are pegged to a reserve currency, often a fiat currency. For example, the cryptocurrency USDT is tethered to the US dollar. This allows for reduced price volatility
Buying crypto with stablecoins is viewed as trading crypto for crypto, so any profits are subject to a flat Income Tax of 30%.
Do you pay tax when you sell cryptocurrency in India?
Yes - you'll pay tax whenever you sell cryptocurrency in India, with no exceptions.
Selling crypto for fiat
Selling crypto for fiat currency like INR is subject to a flat Income Tax of 30%.
Selling crypto for crypto
If you raise a profit from trading one crypto for another, the profit will be subject to a flat Income Tax of 30%.
Do you pay tax when transferring crypto?
The Ministry has not offered specific guidance on this, but we can assume that provided there is no profit involved in moving crypto that you own from one wallet to another, that 30% Income Tax should not apply.
Moving crypto between wallets
The Minister has not offered specific guidance on this, but we can assume that provided there is no profit involved in moving crypto that you own from you wallet to another, that 30% Income Tax should not apply.
Adding or removing liquidity
Deep into DeFi? Most DeFi protocols use liquidity pools. If you're investing in these, at a glance you might not think of them as a taxable event. In theory, you're only paying 30% income tax when you see a profit, so adding coins to a liquidity pool should not be seen as a taxable event. It can however be argued that investors who receive a Liquidity Pool (LP) token in acknowledgement of their contract, could be engaging in a crypto to crypto trade - and this LP may be seen as a source of income to be taxed at 30%.
How are airdrops and forks taxed in India?
The Ministry has not offered specific guidance on this, but we can assume that where a profit is involved, a 30% Income Tax will apply.
Soft and hard forks
For soft forks, you'll receive no new assets - you can't pay any tax.
For hard forks, where you receive a new coin as a result of a fork - you may be liable to pay the 30% Income Tax.
Receiving an airdrop
It's very likely that you'll pay 30% Income Tax on airdrops.
You can calculate how much income you have by identifying the fair market value of the tokens on the day you received them in INR.
Selling or swapping coins from an airdrop
The bad news keeps on coming. Not only will could you pay Income Tax when you receive an airdrop, but you'll pay Income Tax when you later sell, swap, or spend the coins or tokens you received from an airdrop - if there's a profit.
Your cost basis for airdrops is the fair market value on the day you received them in INR.
Crypto gifts and donations tax
Gifting crypto in India is taxed.
Gifting crypto to a friend
What plans does the Ministry have for taxation on gifts in the form of virtual assets? It's bad news unfortunately.
According to the latest proposal, the recipient of a crypto gift is liable to pay Income Tax at a flat rate of 30%. This applies to all crypto assets, including NFTs.
Donating crypto to a registered charity
What's in store for not-for-profits who receive charitable donations in the form of crypto? Will a donation be seen as a taxable source of income? India's Finance Minister is yet to clarify whether any tax liability exists for charities and NFPs.
Earning from DeFi protocols
Anytime you're seen to be 'earning' from DeFi - whether that's new coins or tokens - it's likely that ITD will view this as additional income and you'll pay Income Tax based on the fair market value of the asset in INR on the day you received it.
Selling or trading tokens on DeFi protocols.
Anytime you sell or trade a coin or token on a DeFi protocol earn a profit you're likely to pay Income Tax of 30%
Crypto mining tax India
Mined coins may be subject to Income Tax of 30%.
When do you need to report your crypto taxes ?
ITR Filing due date extension:
ITR filing by taxpayers not covered under audit is extended from 30th Sep 21 to 31st Dec 21
ITR filing for Tax audit cases is extended to 15th Feb 22
ITR filing for transfer Pricing is extended to 28th feb 22
ITR filing of Belated or Revised Return for Fy 20-21 is extended from 31st Dec 21 to 31st March 22.
How to calculate your crypto taxes
Calculating your crypto taxes so you can report them - especially if you trade at volume - is time consuming. You can do it all manually, or you can use a crypto tax calculator like Koinly to save you hours.
If you want to calculate your crypto taxes manually, follow these steps:
Identify all your taxable crypto transactions for the entire financial year you're reporting on.
Identify which transactions are subject to Income Tax.
Identify the cost base for each transaction .
Arrive at a total of income earned in INR from cryptocurrency.

How to use a crypto tax app like Koinly
Don't get stuck in the busywork. Don't get it wrong. Don't rely on your accountant to know where to look. Use Koinly to generate your crypto tax reports. Here's how easy it is:
It only takes a minute!
2. Select your base country and currency.
In this instance, India and INR.
3. Select your accounting method.
Koinly supports many Cost Basis Method.
4. Connect Koinly to your wallets, exchanges or blockchains.
Koinly integrates with more than 300 crypto exchanges, wallets and blockchains. (See all) If you can't find yours, let us know - we're always adding more.
5. Let Koinly crunch the numbers. Make a coffee.
Koinly will calculate your cost basis for each crypto asset like ETH, ADA and Bitcoin and taxes them accordingly. Koinly will calculate each capital gain or loss from your disposals, as well as your crypto income and expenses.
6. Ta-da! Your data is collected and your full tax report is generated!
Head to the tax reports page in Koinly and check out your tax summary.
Download what you need, when you need it.
8. Send your report to your accountant
Use the generated file to complete your Income Tax Return or send it over to your accountant. Job done.
The information on this website is for general information only. It should not be taken as constituting professional advice from Koinly. Koinly is not a financial adviser. You should consider seeking independent legal, financial, taxation or other advice to check how the website information relates to your unique circumstances. Koinly is not liable for any loss caused, whether due to negligence or otherwise arising from the use of, or reliance on, the information provided directly or indirectly, by use of this website.