Want to choose a crypto exchange but don't know where to start? Don't worry, we've going to show you everything you need to get started in our beginner's guide to choosing a cryptocurrency exchange.
What is a cryptocurrency exchange?
A crypto exchange is a platform on which you can buy and sell cryptocurrency, as well as conduct a variety of other transactions. You can use exchanges to buy crypto using regular currency, like USD, GBP or AUD. You could also trade one crypto for another — converting Bitcoin to Ethereum, for example.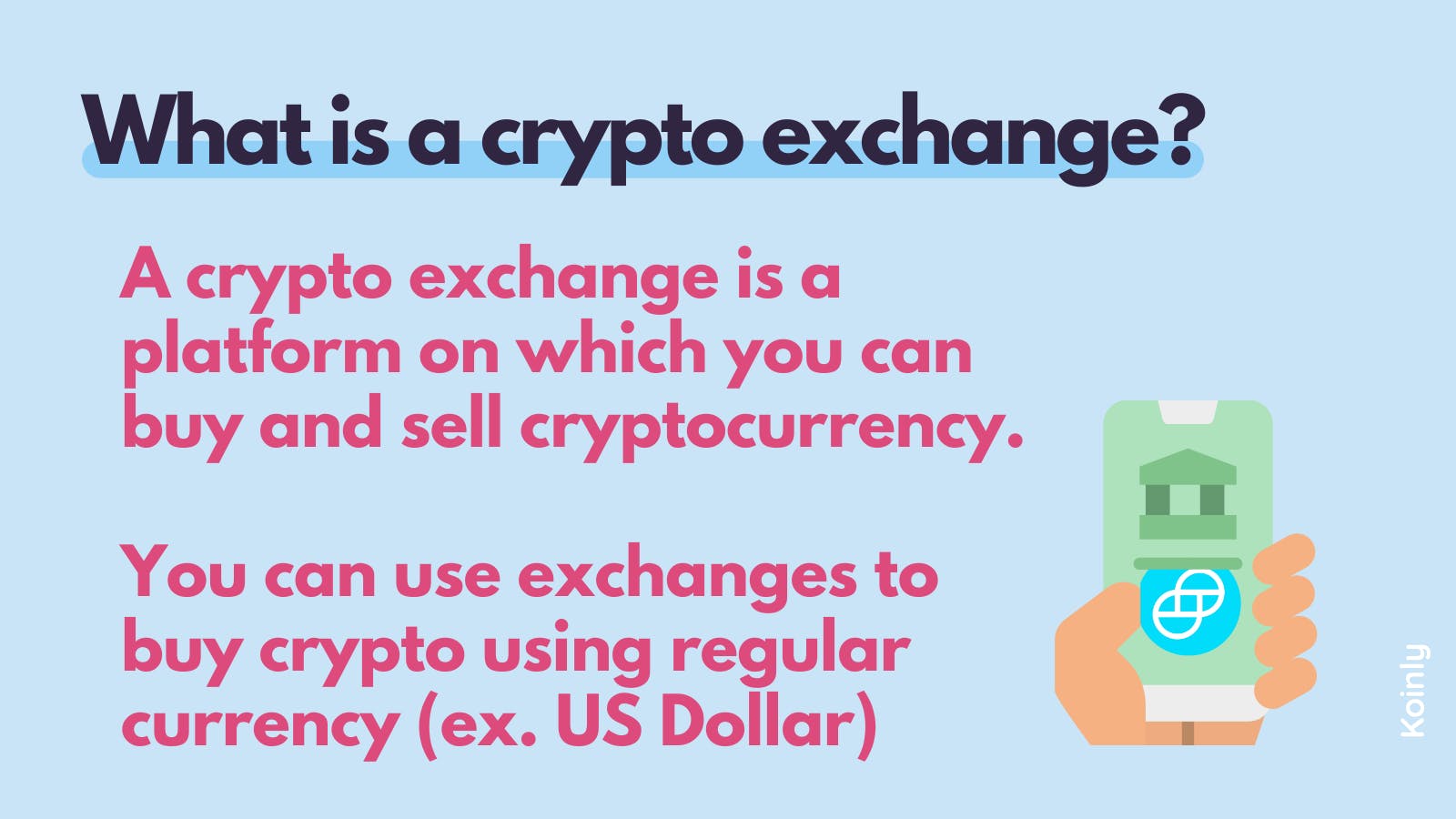 Exchanges reflect current market prices of the cryptocurrencies they offer. You can also convert cryptocurrencies back into USD or another currency on an exchange, to leave as cash within your account (if you want to trade back into crypto later) or withdraw your portfolio (perhaps including profits) to your regular bank account.

How to choose a cryptocurrency exchange
These are the factors you're going to consider:
1. Level of expertise required
2. Fees
3. Security
4. Available cryptocurrencies
5. Special features
Let's look at each in-depth.
Level of expertise required
Crypto exchanges are created with various levels of experience in mind. Since you're here, reading this post, let's assume you're a beginner. Most of the big ones, such as Binance and Coinbase, are designed for newcomers in the space. These platforms have simple, minimalist interfaces and easy processes.  Exchanges aren't stupid — they understand most new investors just want to get in, buy some crypto, and leave. 
But, if you are interested in more advanced features, such as leveraged trading or derivatives, there are certain platforms that offer this. Investigate before what kind of extra features the exchange offers before signing up.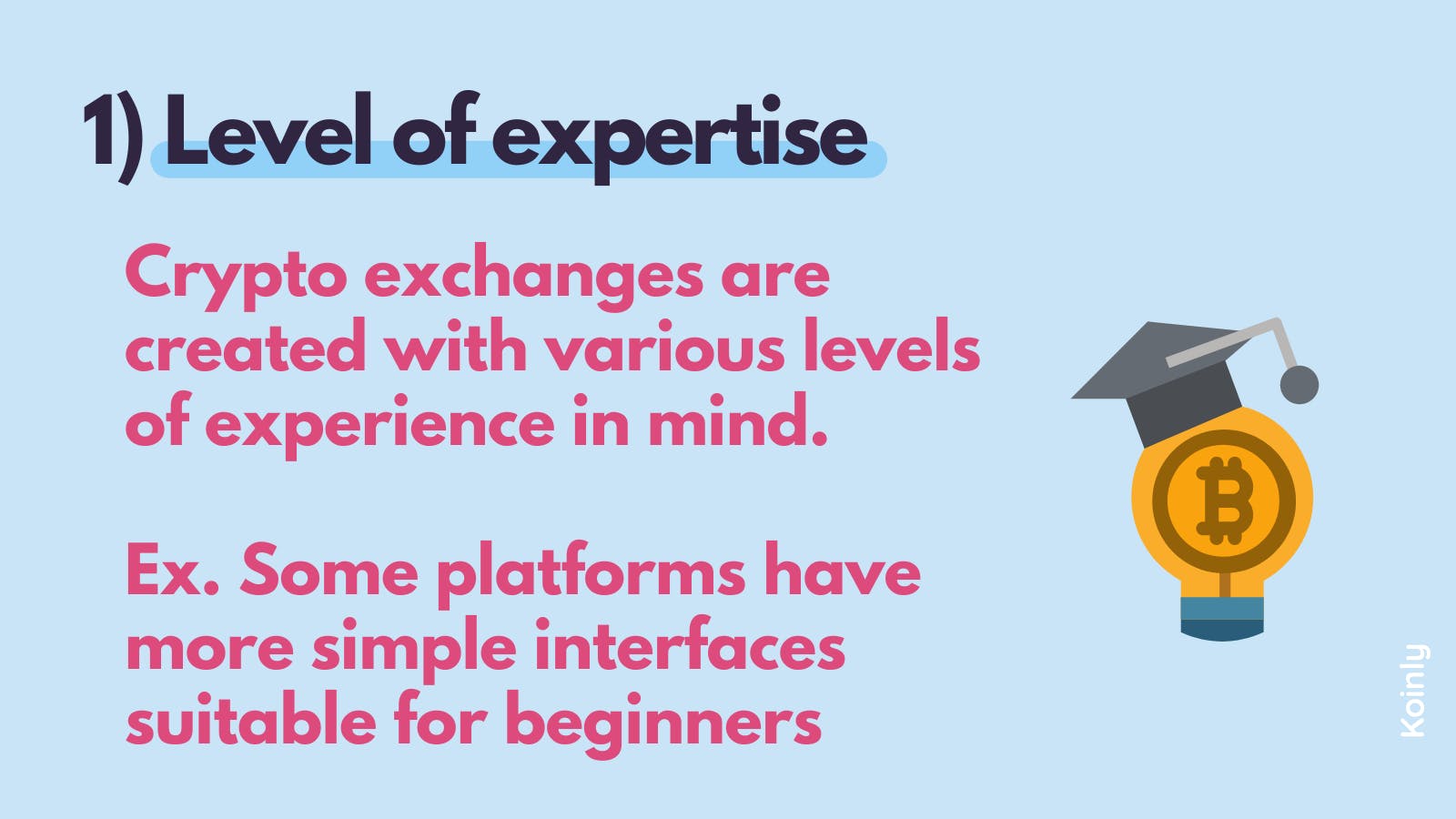 Fees
For a cryptocurrency exchange to make money, it needs to attach to some of the financial momentum flowing through it. These fees include:
Transaction fees :  The primary source of revenue for exchanges. They are typically charged on both fiat-crypto trades as well as crypto-crypto trades.
Deposit/Withdrawal fees : Some exchanges charge fees for deposits and/or withdrawals. Deposit fees vary based on the type of deposit but are less common than withdrawal fees since exchanges want to incentivize users to fund their account. 
Consider how the fees would impact your investing based on your style. Do you plan to be highly active, making some transactions every day? If so, perhaps consider an exchange with a lower per-transaction fee would be best. Alternatively, If you're considering transacting less often, these fees aren't as much of a problem, and you may want to focus on other features, such as security.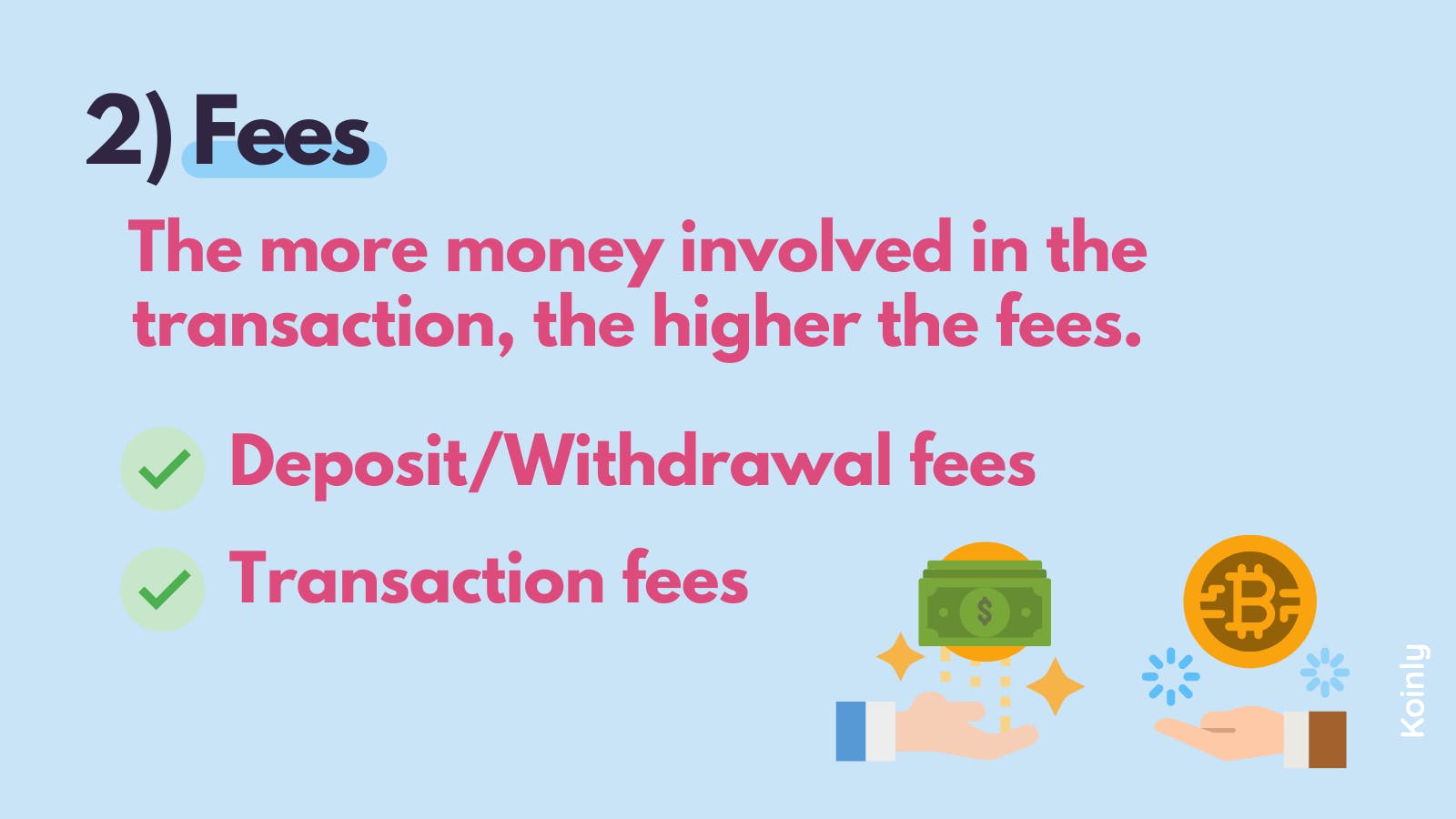 Security
Some will argue that the harder it is to create an account at a particular exchange, the better. If it's too easy to generate an account, that suggests that an exchange is not particularly trustworthy. There are a few features you'll want to look out for:
KYC
Most exchanges ask you to do something called KYC (Know-Your-Customer). Without KYC, if your digital assets suddenly disappear, you may have a much more difficult time tracking down and retrieving your money in those cases.
However, if you don't want to input your personal information, there are various centralized exchanges (DEX) that allow you to trade crypto without a KYC verification process. To see the safest ones, see our guide here on the best no-KYC exchanges.
Two factor authentication
Two factor authentication is another solid sign that a platform takes security seriously. Although it can be annoying for users when logging in, the extra security 2FA offers is unparalleled. This is  because it immediately neutralizes the risks associated with compromised passwords. If a password is hacked, guessed, or even phished, that's no longer enough to give an intruder access. Without approval at the second factor, a password alone is useless. 
Federal Deposit Insurance Corporation
The FDIC is an independent agency created by Congress to provide deposit insurances for savings and commercial banks in the United States. The organization was put in place during the great depression to help restore public confidence in the banking system. A lot of exchanges allow the FDIC to insure up to $250,000 per person.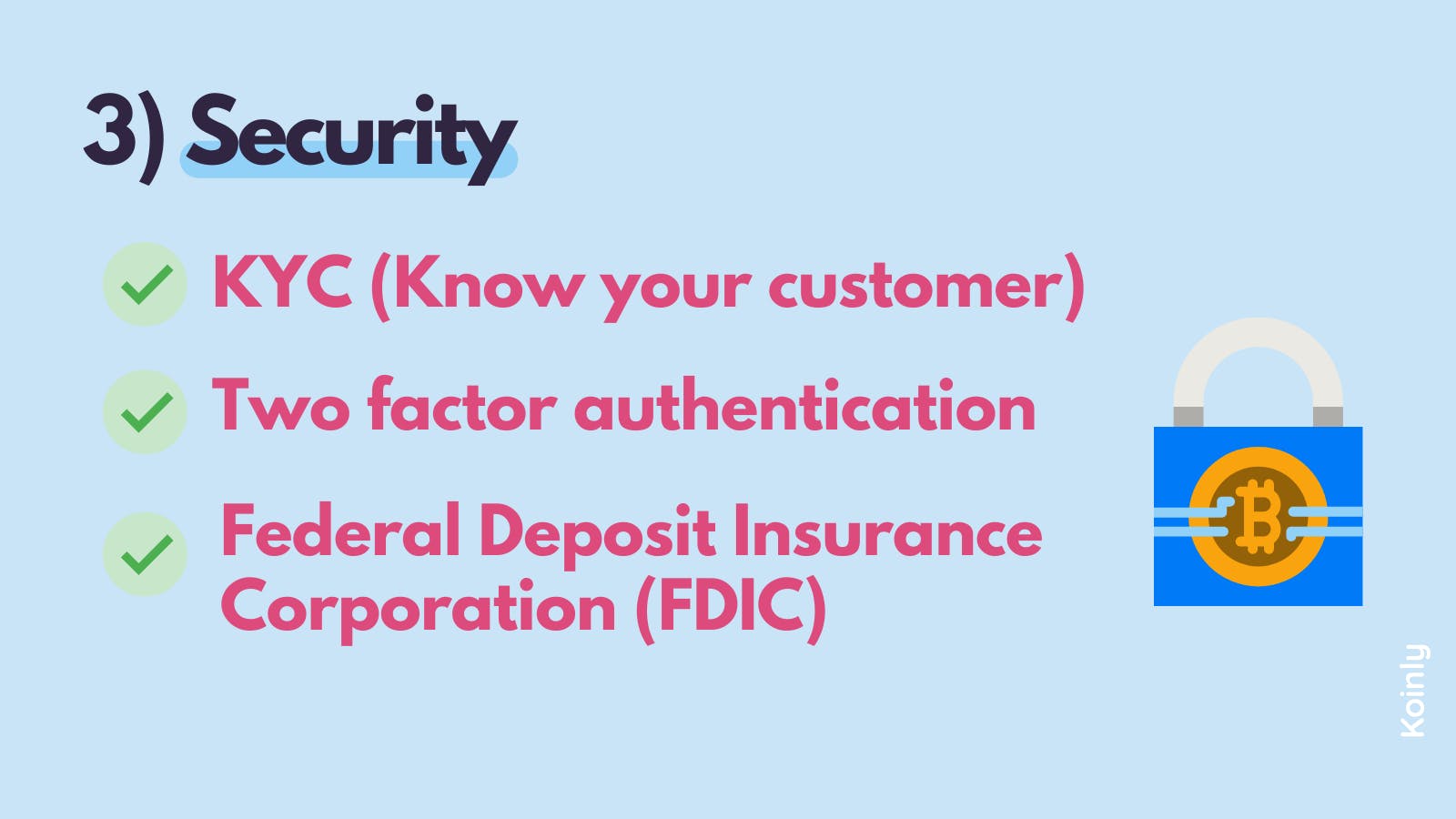 Available cryptocurrencies
Another important consideration is the coins that your exchange offers. You might think that the bigger the exchange, the more coins they offer, but this isn't always the case. You don't want to sign-up to a certain exchange and then discover they don't offer the coin you want.
Gemini for example, is one the most popular and successful exchanges in the world. However, it only offers a relatively small selection of digital currencies for its users of 63. Likewise, although Binance holds over 500+ coins worldwide, this is limited to 60 for US users. This is fine if you only see yourself investing in the large ones, like BTC and ETH, but if you're someone you're looking for obscure altcoins, you may want to look elsewhere.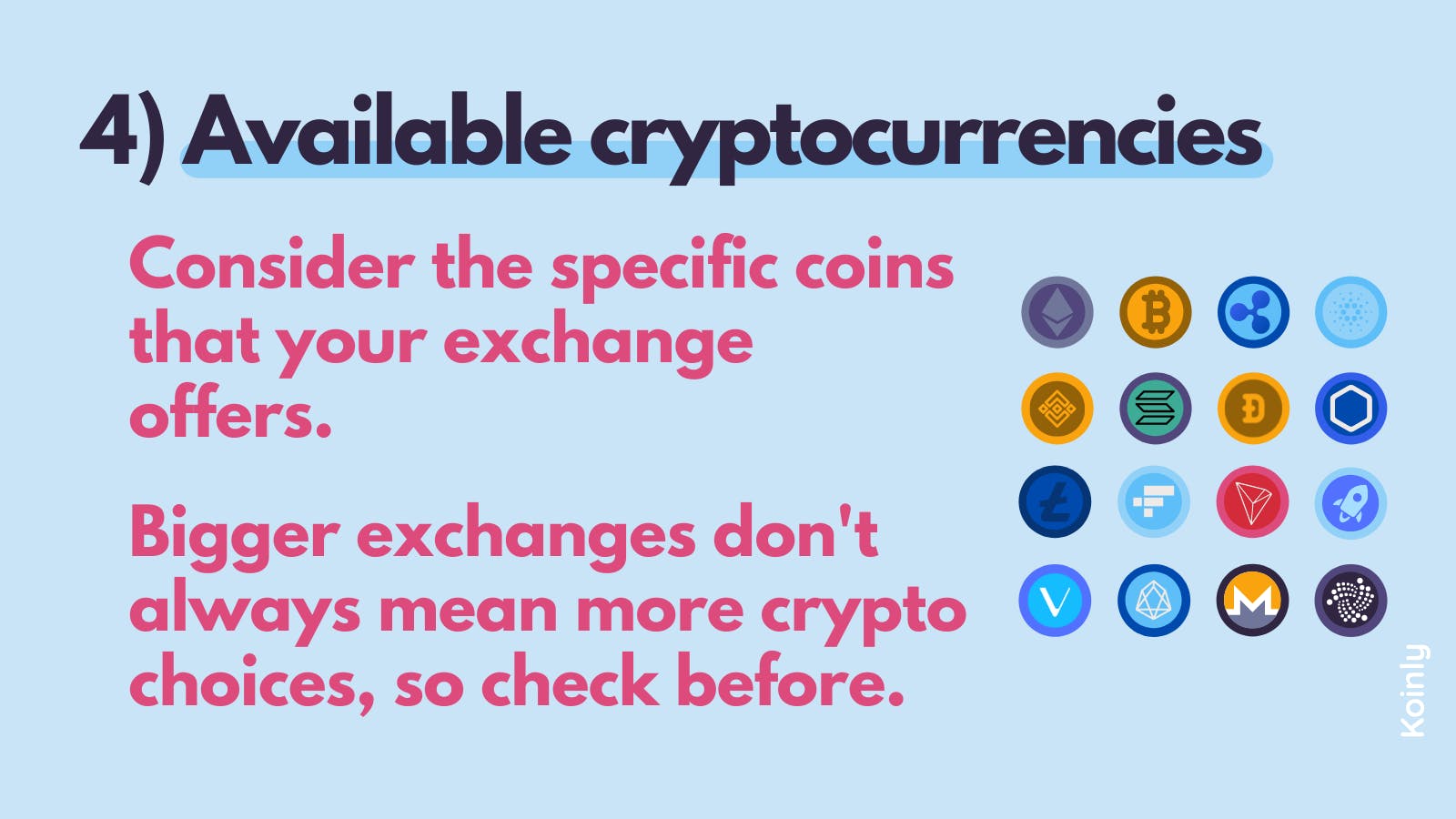 Special features
Exchanges tend to offer their own special benefits and features which may favor some users over others. Here is an example of two special features that may persuade you to use one over the other.
Native currencies
Some crypto exchanges offer native currencies. These are useful because they offer discounts in trading fees (which is very cool). BNB, from Binance, is a good example of a native currency.
Stablecoins
Some exchanges, for example, offer native stablecoins which can get you discounts and decrease trading fees by paying with their proprietary stablecoin.
A stablecoin is a digital currency that is pegged to a "stable" reserve asset like the U.S. dollar or gold. Stablecoins are designed to reduce volatility relative to unpegged cryptocurrencies like Bitcoin.
Interest
Other than stablecoins, exchanges such as BlockFi and Gemini give their users the chance to earn compound interest on their crypto holdings. Compound interest savings accounts allow users to earn interest on their holdings over a specified period. Compound interest has been available in traditional finance for a long time, but is only available on certain crypto exchanges.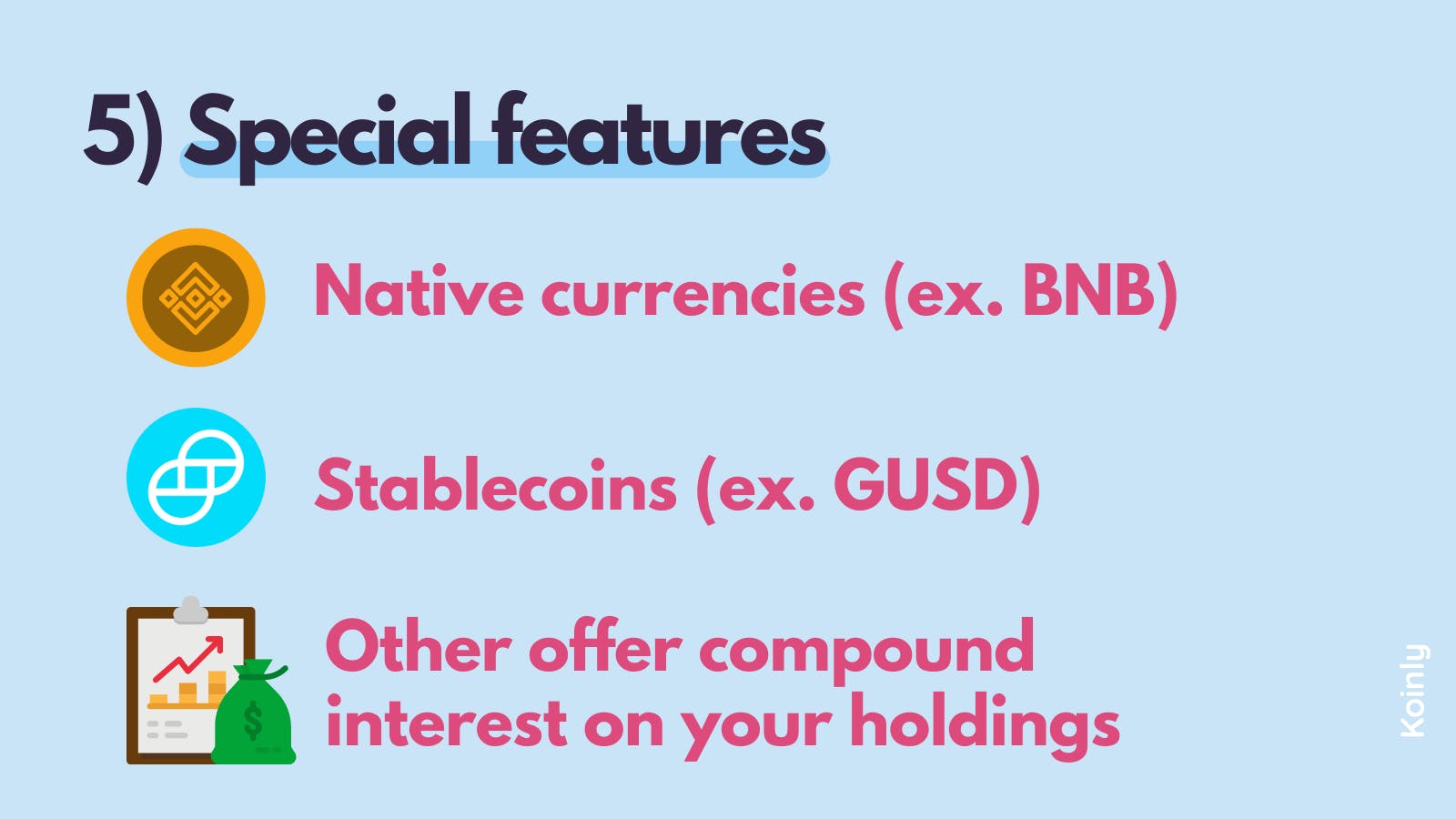 Where should you buy your crypto?
Binance
Binance is the world's biggest bitcoin exchange and altcoin crypto exchange by volume.
Level of expertise: Beginners, but offers margin and spot trading on a separate platform for advanced users.
Fees:  0.015% to 0.10% purchase and trading fees, 3.5% or $10 (whichever is higher) for debit card purchases
Security: KYC, Two factor authentication verification, Federal Deposit Insurance Corporation (FDIC)-insured United States dollars (USD) balances for Binance US, device management, address whitelisting
Available cryptocurrencies: 500+ for global traders, 60 for Binance US users.
Gemini
Gemini is a cryptocurrency trading platform started by the Winklevoss twins (controversial founding members of Facebook). An astrology nerd may know, Gemini represents twins and indicates duality, and is a reference to the owners.
Level of expertise: Beginner
Fees: Varying transaction fees from $0.99 for less than $10, and $2.99 between $50 and $200. For transactions more than $200, a flat is 1.49% charged.
Security: KYC, Two-step verification, FDIC-insured USD balances up to $250,000
Available cryptocurrencies: 63
Special features: Elegant and minimalist app (the dark feature looks cool). Allows users to earn compound interest.
Coinbase
Coinbase is a secure online platform for buying, selling, transferring, and storing digital currency. Their mission is to create an open financial system for the world and to be the leading global brand for helping people convert digital currency into and out of their local currency.
Level of expertise: Beginners, but has Coinbase Pro for advanced users.
Fees: 0.50% per trade, 3.99% for credit card purchases, 1.49% for Coinbase wallet or bank account purchases, and wire transfers are $10 for deposit and $25 for withdrawal.
Security: KYC, Two-step verification, FDIC-insured USD balances up to $250,000, bug bounty program, platform insurance against theft, and cold storage
Available cryptocurrencies: 141
Special features: Beginner-friendly and easy-to-use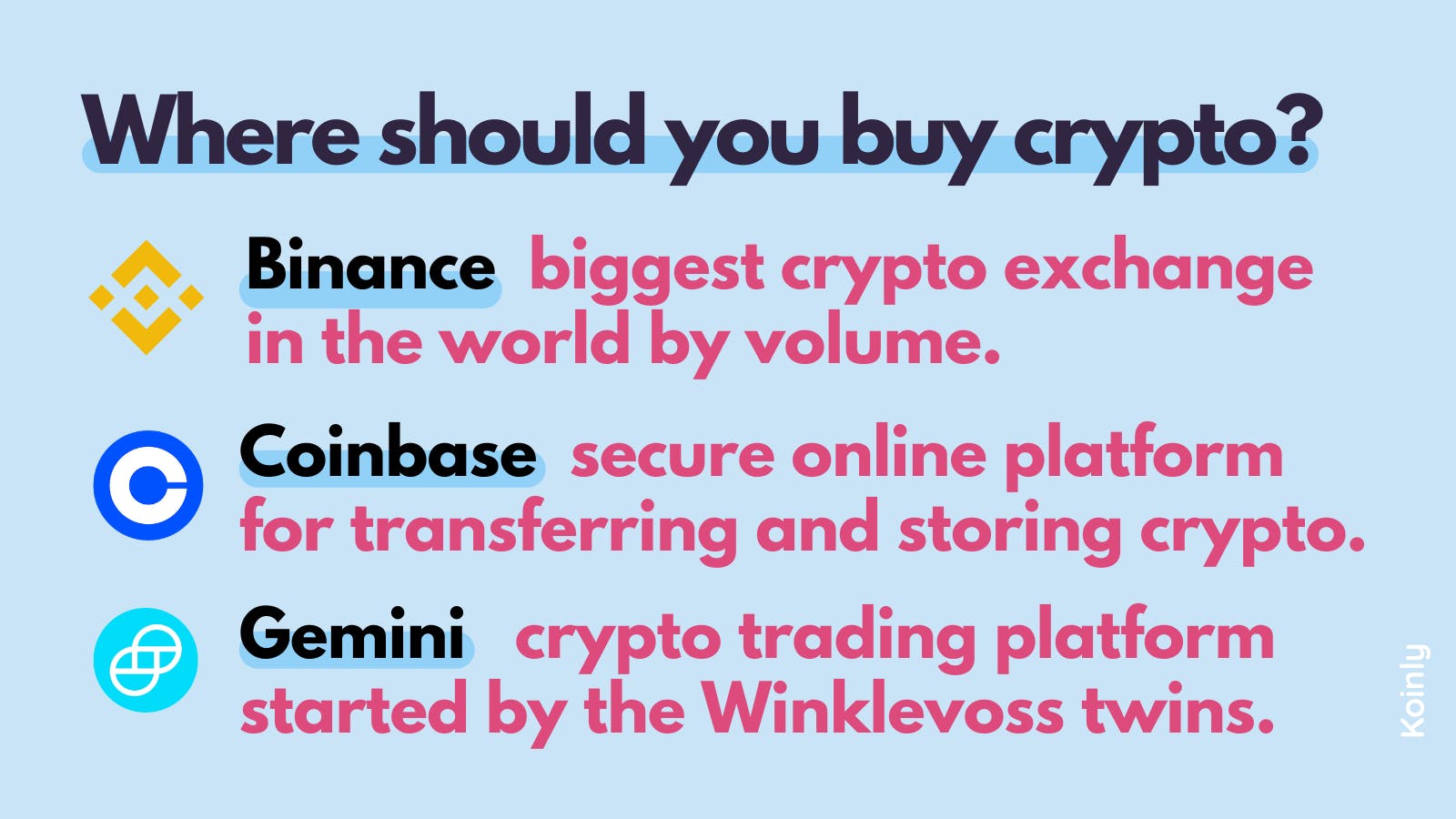 For more detailed accounts of crypto exchanges, checkout our top crypto exchanges for taxes article.
Which crypto exchanges are legal in your country?
Do your due diligence to ensure the crypto exchange you'd like to trade on is actually legal in your country or district. For example, users in the largest area of Canada are currently unable to register on Binance due to disagreements with Canada's biggest district, Ontario. Just make sure the exchange you're thinking about using allows you to register: it should be quite simple to find out.
In terms of absolute bans, the following countries do not allow trading crypto in their country: 
China
Algeria
Bangladesh
Egypt
Iraq
Morocco
Nepal
Qatar
Tunisia
How is crypto tax on exchanges reported?
Most crypto exchanges do not calculate your taxes for you. However, many of them offer the ability to download your transaction history into a CSV file. This file can then be transferred and integrated to a crypto tax calculator, where their software can do all the boring and complicated calculations for you.
For the best crypto exchanges ​​to get crypto tax reports in the UK, US and Australia, checkout our articles detailing the top 10.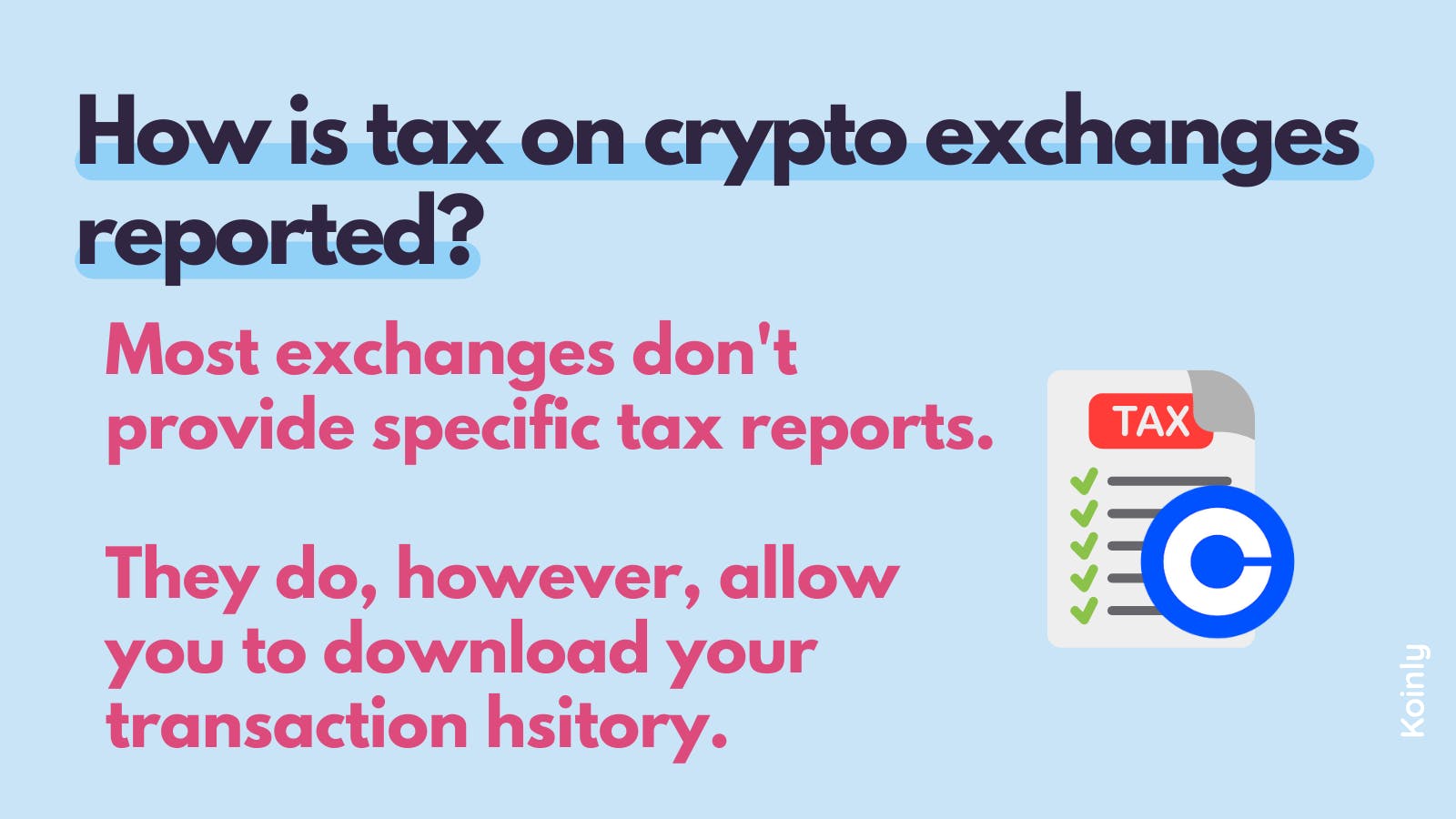 How Koinly helps with crypto exchange tax
Koinly is an example of a crypto tax tool that calculates your crypto taxes for you, meaning you don't have to go through the hassle of doing it yourself.
Not only does the software integrate with your exchange transaction history, but it calculates your taxes in a format that makes sense for your country's tax authority. Essentially, Koinly does all the boring tasks that would cost your hours and hours sitting at a computer.
If you're interested in integrating your chosen exchange with our tax software, you can check out our specific guides here (most even include a video). Here are some of the more popular exchanges:
We have plenty more of these guides for a whole range of exchanges. Just seek your exchange out here. 
So, as a quick breakdown, here's a short summary of what Koinly does:
Imports all your trades including purchases, sales, swaps, and rewards.
Converts your transactions into your country's currency at fair market value.
Shows which of your transactions are taxable and which are not.
Allows you to submit a clean and accurate report to your tax office.