Get all the answers to your questions about eToro taxes and reporting, including transaction statements, eToro profit and loss calculations, trade exports, and more.
How to prepare eToro taxes 
Need to get your eToro taxes done quickly? Wherever you live - your tax office wants to know about your taxable crypto transactions. This includes your short and long-term capital gains, your capital losses, and any additional income from crypto. To get started - you need your eToro transaction history.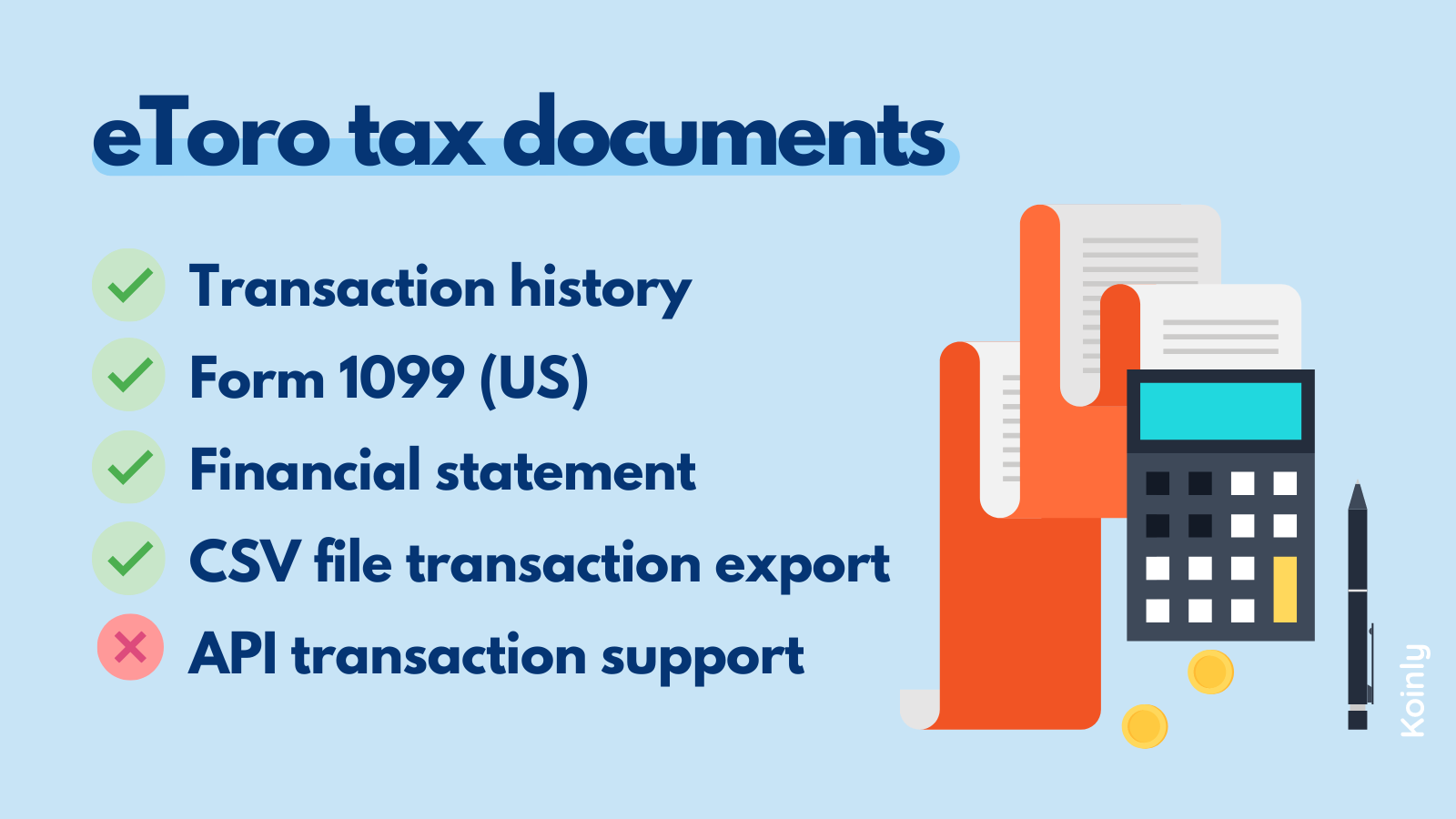 How to download your eToro transaction history
You can download and export your eToro trading and transaction history within your eToro account. Then you can either upload this to a crypto tax calculator, or do your taxes manually.
 1.    Export your eToro transaction history and calculate your crypto taxes yourself. You'll need to identify each taxable transaction, your cost basis, your subsequent capital gains and losses as well as any crypto income.
2.   Export your eToro transaction history and upload it to a crypto tax calculator. Simply upload your eToro CSV file to a crypto tax app which will calculate your crypto taxes for you and generate your crypto tax report based on where you live.
Does eToro provide a tax report?
Yes, eToro does issues users with a variety of tax reports. These may be suitable for some users depending on their investments, but for the vast majority of crypto investors, eToro tax reports do not include the information they need to file their crypto taxes.
Does eToro issue 1099 forms?
Yes, eToro issues 1099 forms.
US residents may receive a consolidated 1099-K or 1099-B form depending on their activities and investments. 1099-B forms list the proceeds and short-term capital gains and losses from investments, while the 1099-K form reports on all transactions broken down by month. The consolidated 1099-K and 1099-B report from eToro should only be used for informational purposes and is not an official IRS form, it's only to help you calculate and file your eToro taxes.
For crypto investors using eToro, eToro USA may issue Form 1099-MISC depending on your investment activities. Remember, whenever you get a 1099 form, so does the IRS.
Does eToro supply a financial statement?
Yes, your eToro account statement is equivalent to a financial statement. You can access your account statement via settings, then accounts, then documents. Let's take a look at how to get a CSV file of your eToro account statement for crypto tax purposes.
eToro CSV export
Need to get your eToro CSV export of your transaction history in time for the tax deadline? No problem.
Log in to your eToro account and select portfolio from the left hand menu. Now select history from the top menu, then settings. Next select account statement. You need to select a time frame (this should cover the entire time period you've used eToro) and make sure you select excel file format as the file type. Hit export and you're done! Upload this to your chosen crypto tax app or calculate your taxes yourself. 
eToro tax API
eToro doesn't have an API that works with crypto tax calculators - yet! We'll update this page as soon as it does.
Does eToro provide an end-of-year statement?
No, eToro does not provide an EOFY statement.
But you can use your eToro transaction history export to create an end-of-year statement. Just set your date range to cover the last financial year.
Does eToro report to the IRS?
Yes. eToro reports to the IRS as they issue 1099 forms to users. Any time you receive a 1099 form, the IRS receives an identical copy.
Does eToro report to other tax offices?
As part of the Common Reporting Standard (CRS) - financial institutions like eToro are required to report certain information to tax authorities. The exact information they share with the tax office will depend on the regulations in that country, but in summary, it's very likely eToro are reporting to other tax offices like HMRC, the ATO and the CRA. 
How to generate eToro tax form
If eToro is going to issue you a 1099 form, you'll receive these automatically - usually by February of the following tax year at the latest. 
The issue with 1099 forms and cryptocurrency is that each 1099 form only takes into consideration your crypto investment activity on that specific exchange. So your eToro 1099-MISC will only include crypto transactions you made on eToro.
If you're only using eToro, this isn't an issue, but the majority of crypto investors are using multiple platforms to trade and invest crypto. So the 1099 form doesn't actually cover their total taxable transactions.
This is where a crypto tax calculator comes in handy. You can sync all the wallets and exchanges you use and track all your crypto transactions (and taxes) from one single platform. All you need to do to add your eToro transactions is upload a CSV file of your eToro account statement.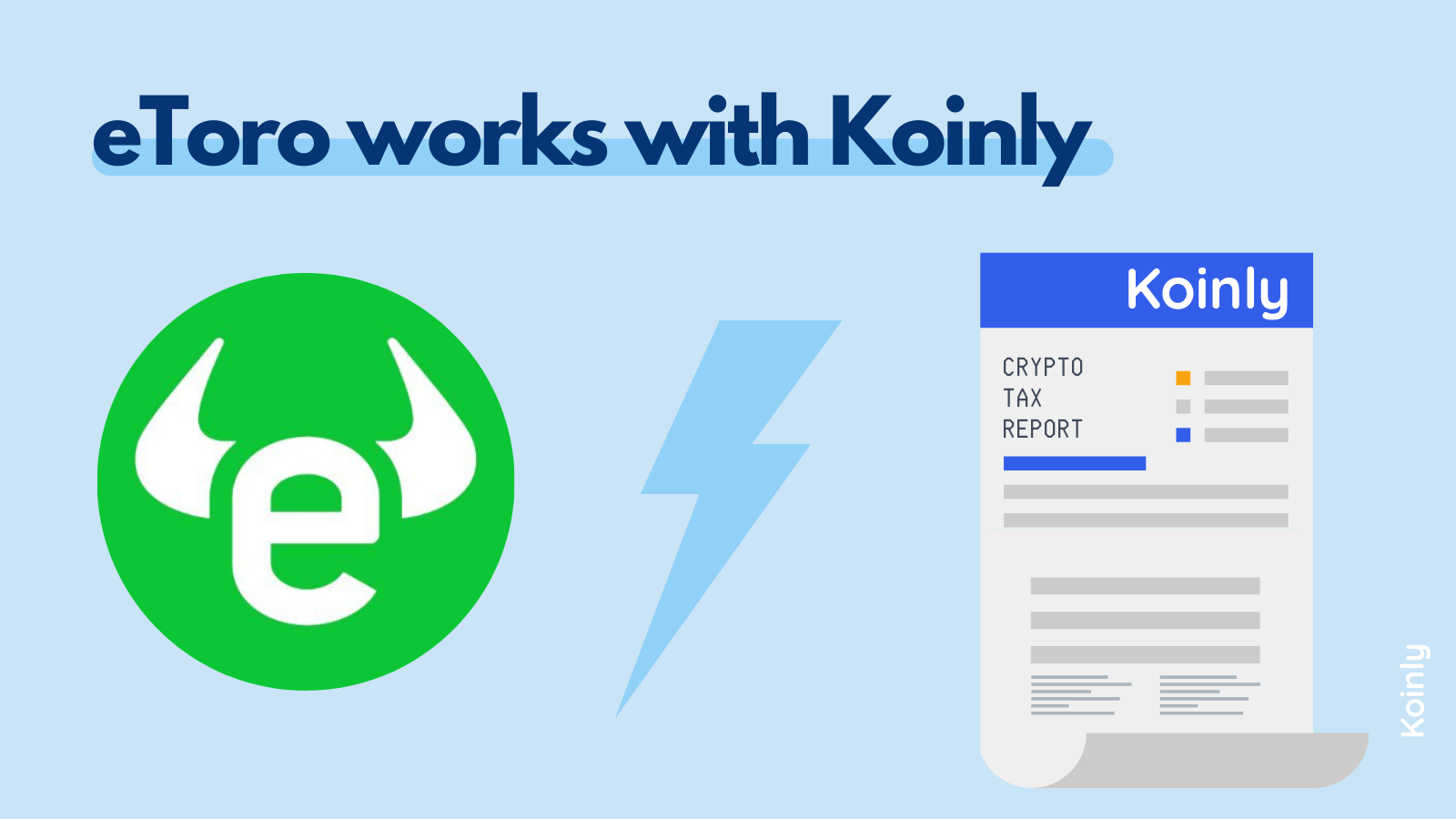 If you've been wondering is Koinly an eToro tax calculator tool, the answer is, yes! Not only can Koinly import eToro transaction history, but Koinly can also calculate your eToro taxes in a format that makes sense for your country's tax office. As an eToro tax calculator, Koinly can do a bunch of impressive tasks that save you time and can even save you from paying too much tax.
Koinly will import all your eToro trades including purchases, sales, swaps, income, and more.
Koinly will then convert your eToro transactions into your country's currency, at fair market value. This in itself is a massive time saver.
Finally, Koinly works out which of your eToro trades are taxable, and which are not - calculating your eToro gains/losses, crypto income, and more. All of this is important for being able to submit an accurate eToro tax return to your tax office.