Spending BTC, ETH and other cryptocurrencies is hard in the real world. Most stores don't accept cryptocurrencies as a form of payment. So if you're rich in crypto but low on dollars - you might be thinking about getting a crypto debit card. Crypto debit cards let you spend crypto at stores that wouldn't usually accept crypto as a means of payment - but you might get a surprise tax bill in the process.
Here's everything you need to know about crypto debit cards, including what they are, how crypto debit cards work, the pros and cons of crypto debit cards, the best crypto debit cards available and crypto debit cards taxes.
What is a crypto debit card?
There are lots of reasons traditional retailers haven't started accepting crypto - even BTC - as a means of payment just yet. Some common reasons include volatile exchange rates, the environmental impact or even just not having a secure understanding of blockchain technology. Whatever the reason - the vast majority of stores haven't yet made crypto a payment method.
That's where crypto debit cards come in as they solve this exact problem and let you spend your crypto at more stores than ever. Just like a regular debit card - you can use a crypto debit card to pay for goods and services, except instead of paying in dollars you'll use crypto like BTC, ETH, LTC and other altcoins.
Many crypto credit cards have been released in partnership with Visa and Mastercard - so anywhere that accepts Visa and Mastercard will now also accept crypto debit cards, giving you millions of places to shop.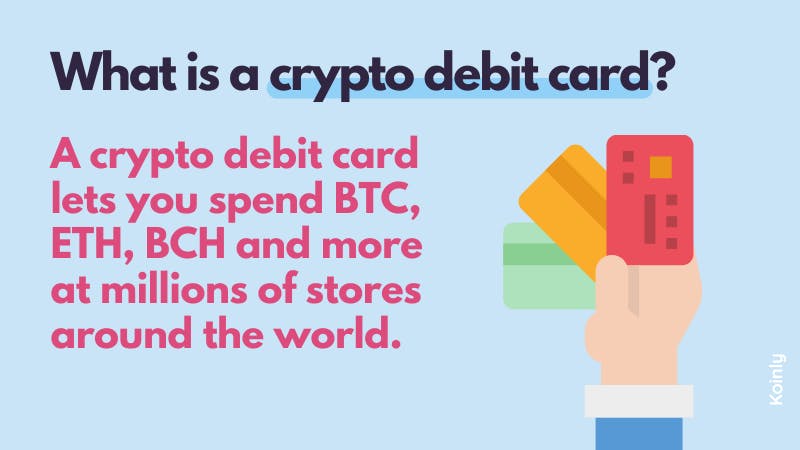 How do crypto debit cards work?
When you open a crypto debit card - you'll need to top it up with the cryptocurrency of your choosing. Once you've got funds in your crypto card account, you can use it just like you'd use any other debit card - whether that's online or at a brick and mortar store.
When you want to use your crypto debit card, your card provider converts your digital currency into fiat currency to use in the transaction. The fees involved in liquidating your crypto assets vary, as well as fees for other transactions. Some charge no fees at all, some charge a range of fees depending on the transaction and some charge a monthly fee to own the debit card.
Why use a crypto debit card?
So, why wouldn't you just use a regular debit card if a crypto debit card works in the exact same way? Good question. Crypto debit cards come with a lot of pros.
Crypto debit card pros
Avoid exchange rates when travelling abroad.
Lower transaction fees and monthly maintenance fees.
Specific perks like crypto cashback. 
Increased asset liquidity.
More advanced security measures to protect digital assets like 256-bit encryption, 24/7 fraud monitoring and two-factor authentication.
Of course - nothing is without its flaws. Crypto debit cards also have some downsides.
Crypto debit card cons
Price volatility means that you may end up spending more of your crypto. For example, if you use ETH to buy a pizza and the price of ETH doubles the next week, you will have lost out on a lot of ETH. This works both ways though, so you may end up with a bargain depending on how the market goes.
Some crypto debit cards require you to stake crypto to unlock specific rewards.
Tax. Spending crypto can come with a big Capital Gains Tax bill.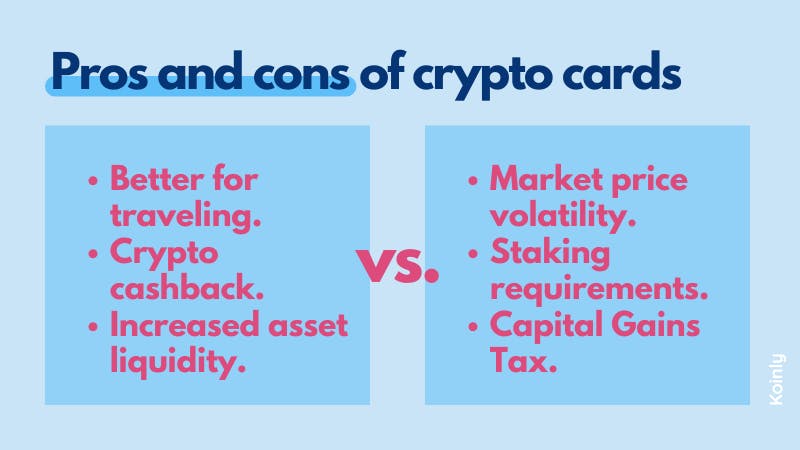 Crypto debit cards tax
Unlike when you spend fiat currency like dollars - when you spend crypto, you may have to pay Capital Gains Tax. 
This is because crypto is seen as a capital asset from a tax perspective. Whenever you dispose of a capital asset by spending it (or selling or trading it), you'll pay Capital Gains Tax if you've made a capital gain.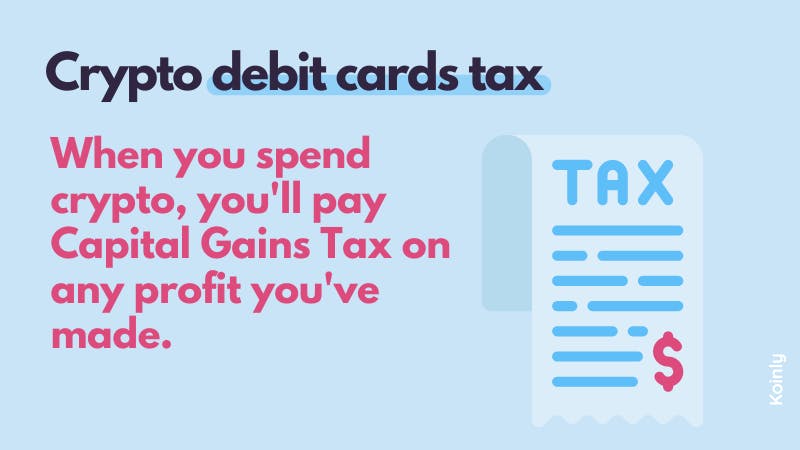 A capital gain is any profit you've made from the asset. So if you bought crypto and the price of your asset has increased since you acquired it - you have a capital gain and you'll need to pay Capital Gains Tax. If the price of your asset has decreased since you acquired it, you have a capital loss and you don't need to pay Capital Gains Tax.
You don't want to ignore losses though because you can use them to reduce your overall Capital Gains Tax bill. More on that here. 
The exact amount of Capital Gains Tax you'll pay depends on how long you've held your crypto and your regular income. See more on Crypto Capital Gains Tax rates and how crypto is taxed.
Best crypto debit cards 2022
If you've decided you would like a crypto debit card, there are a lot of products to pick from - each offering different perks and drawbacks. The best crypto debit card is the one that's right for your unique circumstances. Some of the most popular crypto debit cards include:
Coinbase Crypto Card
Coinbase crypto card is a Visa debit card, funded by your Coinbase balance. You can use it in millions of locations around the world for PIN or contactless payments, as well as ATM withdrawals. The card supports 9 different popular cryptocurrencies including BTC, ETH and LTC. US residents can get a Coinbase debit card for free, while European residents will need to pay a small issuance fee. When you spend, you'll pay a 2.49% crypto liquidation fee, but you can also get up to 4% crypto cashback.
Binance Visa Card
Binance also partnered with Visa to launch the Binance Visa Card. There is no issuance fee to get a Binance debit card and you'll pay no monthly fees either. The news keeps on getting better because the transaction fees are a very low 0.9% and some transactions are free altogether. Binance also advertises an incredible 8% cashback - but it comes with a catch. You'll need 600 BNB in your account, which is no small sum. At the time of writing just 1 BNB is priced at $480.
Crypto.com Visa Card
The Crypto.com Visa Card supports 90 different cryptocurrencies and 20 fiat currencies! Crypto.com offers a variety of card tiers, with increasing levels of cashback depending on your CRO stake. You'll earn 1% in cashback with nothing staked, all the way up to 8% cashback for $400,000 staked. Other benefits for higher tier cards include free Netflix, Spotify and Prime subscriptions, airport lounge access and monthly vouchers for Airbnb and Expedia. 
BitPay Crypto Debit Card
The BitPay debit card is a Mastercard debit card, so you can spend it anywhere that accepts Mastercard. BitPay is an appealing option for US residents because you'll pay no conversion fees in the US, though you will pay an ATM withdrawal fee of $2.50. Meanwhile, residents of other countries will pay a 3% transaction fee. BitPay supports six cryptocurrencies and 8 different fiat currencies.
Wirex Visa Card
Wirex supports 25 different cryptocurrencies with no issuance, monthly or withdrawal fees for US residents. In fact, the only fee you'll pay is a 1% fee to fund accounts with crypto. The Wirex card also offers up to 2% cashback on crypto with no minimum balance necessary to earn rewards. Wirex also has an additional feature known as X-Accounts which lets users earn up to 10% interest on BTC and ETH.
CoinJar Card
In the UK or Australia? The CoinJar Card is a great option for your crypto debit card. Both cards are powered by Mastercard, fully integrate with Google Pay for easy spending and come with no monthly fees, plus you'll get CoinJar Rewards points every time you spend crypto. Your CoinJar Rewards can be used to cover the cost of future trades or transfer.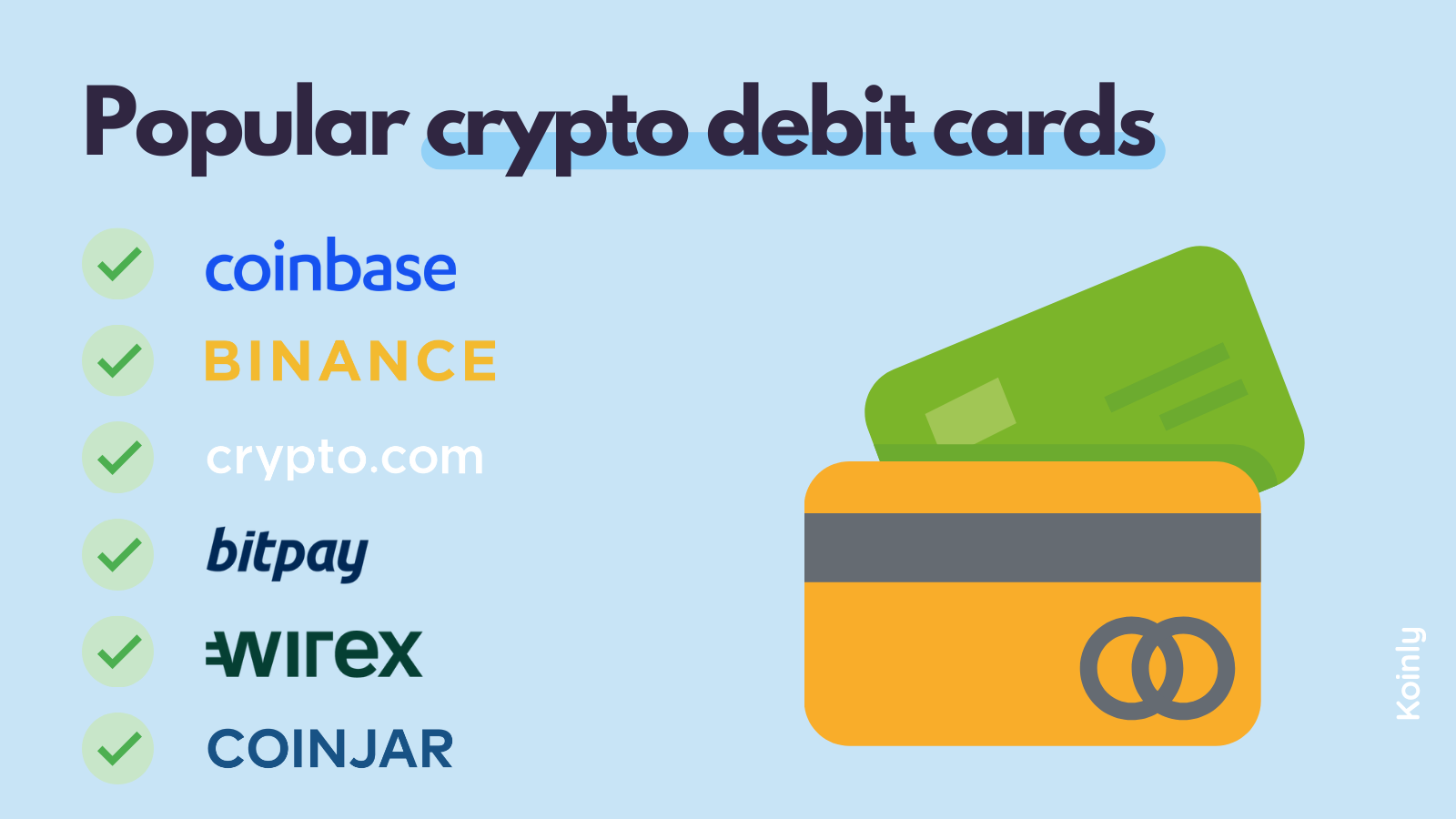 Are crypto debit cards safe to use?
Yes. Crypto debit cards offer some of the best security features to protect your digital assets including 256-bit encryption, 24/7 fraud monitoring and two-factor authentication. You'll also need to complete KYC verification to get a crypto debit card to prevent fraud.
Where can I use a crypto debit card?
In general, anywhere you can use a Visa or Mastercard - so millions of stores and ATMs.
Can I replace my normal debit card with a crypto debit card?
It's entirely up to you. If you use crypto as your main source of funding, then a crypto debit card is a great way to increase asset liquidity and make day-to-day purchases easier.
Are crypto debit cards the future?
There are hundreds of providers offering crypto debit cards these days, with low fees and a range of perks. With all these products, it's easier than ever to spend your crypto just like you'd spend fiat currency. Particularly for travelling abroad, regular debit cards just can't compete. Nothing is certain, but as crypto becomes more and more mainstream, crypto debit cards may well become the norm.
Don't forget the tax!
Remember, the big downside of crypto credit cards is that whenever you make a capital gain from crypto you spend - you'll pay Capital Gains Tax. It's not something you need to take into consideration with regular fiat currencies, but Koinly can help make crypto tax simple.
We work with all the major crypto providers, including Coinbase, Binance, Crypto.com and Wirex. All you need to do is sync the wallet you use with Koinly through API or CSV file import and we can calculate your crypto taxes for you - including any disposals of crypto from spending.