This guide is regularly updated
Before we start - Spain's crypto tax rules are in constant flux. At Koinly we keep a very close eye on Agencia Tributaria's crypto policies and regularly update this guide to keep you informed and tax-compliant.
First Published 19 June 2021: Welcome to your Spain cryptocurrency tax guide!
Updated 29 November 2021: Updated for the 2022 tax year.
Is cryptocurrency taxed in Spain?
Cryptocurrency transactions can attract Income Tax, Inheritance Tax and Donations Tax and Wealth Tax in Spain. The State Agency for Tax Administration of Spain - Agencia Estatal de Administración Tributaria (AEAT) - has not set out clear guidelines on how crypto buying, selling and mining is taxed, however certain binding rulings paint a clear enough picture.
In Spain cryptocurrency is viewed as an asset and is taxable under Personal Income Tax (PIT). Crypto gains attracts either Income 'General Tax' (renta general), or Income 'Savings Tax' (renta del ahorro).
Crypto capital gains fall under Income 'Savings' Tax. Crypto mining profits fall under Income 'General' Tax.
In October 2020, the Spanish government published a draft law to gain higher control of cryptocurrencies. It states that Spanish crypto traders must inform the tax authorities about the possession of any cryptocurrency held, and any transaction that you make in a very detailed way. This applies to crypto you have both in and outside Spain.
Crypto must be filed via both the Personal Income Tax Declaration and the Model 720 Declaration if their total value is over 50,000€.
Will the Agencia Tributaria know about your crypto?
Yes. In October 2020 Spain approved the Law on Measures to Prevent and Combat Tax Fraud. Under this ruling, crypto exchange platforms such as eToro and Bitpanda are required to share customer information with the Spanish government.
With third party information at hand, in 2019 and 2020, the Agencia Tributaria sent a notice to certain taxpayers informing them that it was aware that they had carried out operations with cryptocurrencies and that, if there were profits, these they had to be declared.
In addition, the European Union's Sixth Anti-Money Laundering Directive has come into force on June 3 2021, every company that provides financial services to cryptocurrency customers and businesses will have to comply with much tougher regulations about when and how they identify customers. Data is made available between EU member states in a bid to stamp out money laundering and illegal activities.
What if you don't declare?
You should always declare any crypto gain you benefit from selling or trading crypto. Otherwise, the Spanish Hacienda could impose a big penalty for that tax violation.
If the total amount exceeds € 120.000, the tax violation becomes a crime against the Agencia Tributaria, with fines up to 5 times higher than the amount you did not declare.
Penalties for not filing the 720 Form can be severe, as they can reach thousands of euros and there will be a penalty also in the Personal Income Tax Return that can reach up to 150% of the income not declared. 
Income 'Savings Tax' (renta del ahorro) Capital Gains Tax Rate
If you're trading crypto in Spain, the percentage you'll pay on Capital Gains, under Income Savings Tax ranges from 19 to 26%. 
This does not mean that if you earned 60,000€ in crypto gains that you will pay 23% on the whole amount. Instead you will pay 19% for the first 6000€, 21% for the next 44,000€, and 23% on the remaining part until 60.000€.
How Spain taxes Cryptocurrency
The Spanish government does not see Bitcoin and other cryptocurrencies as money nor foreign currency. Instead, the Agencia Tributaria classes crypto as property, which means crypto can be taxed in 4 ways in Spain.
Income Savings Tax (Capital Gains Tax)
Income General Tax
Wealth tax
Inheritance and Donations Tax
Capital gains are taxed as Income 'Savings'.
You'll pay between 19% and 26%, depending on how large your total capital gain is.
The following crypto activities attract capital gains tax in Spain when undertaken by individual investors (most crypto users):
Exchanging crypto for fiat currency.
Swapping or trading crypto for crypto.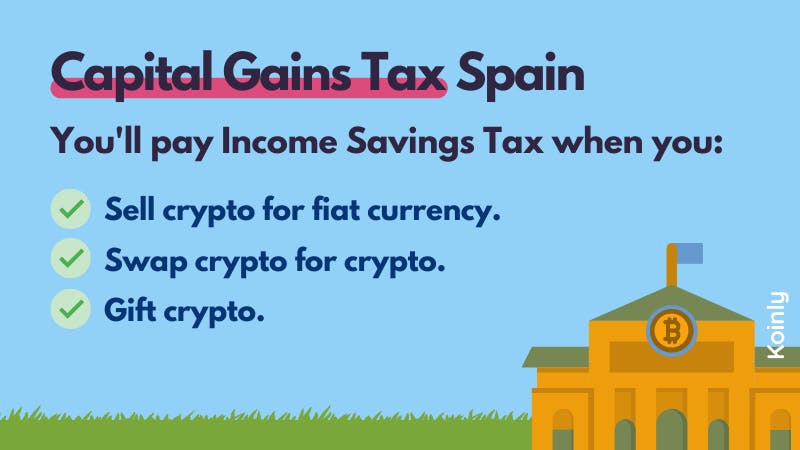 How to work out your Capital Gains Tax
The first step is to determine your cost base. This is the purchase price of your crypto plus the costs related to acquiring or disposing of it.
If you make a gain:
Report the total amount in your annual personal income tax return.
If you make a loss, work out your reduced cost base.              
The general rule is that you can compensate losses and gains for each investment product and, in case of losses, with other products of the same category. If in the declaration of that same year there were no profits with which to compensate, it can be done in the following 4 years.
In case the losses exceed the gains, the non-offset losses can be compensated in the declarations of the following four years, up to a limit of 25% of the gains of each the following year
Income 'General' Tax
The income tax, also called IRPF ("impuesto sobre la renta de las personas físicas") is a direct tax applied to the difference between the incomes earned by an individual minus the expenses that can be deductible according to the Spanish tax system. 
This means that, if you obtain any income, no matter if it is as a self-employed conducting your own activity/business or as a result of your job as an employee, you will pay taxes upon that. 
Getting paid in crypto.
Crypto mining.
The Spanish tax office has not yet released any clear guidance on how other common crypto transactions like airdrops, staking, liquidity mining and yield farming are taxed. However, it is likely they will take the same view as other tax authorities around Europe and view crypto from these kinds of transactions as a kind of income. You should speak to an experienced accountant for more specific guidance on how to report these transactions in your tax return.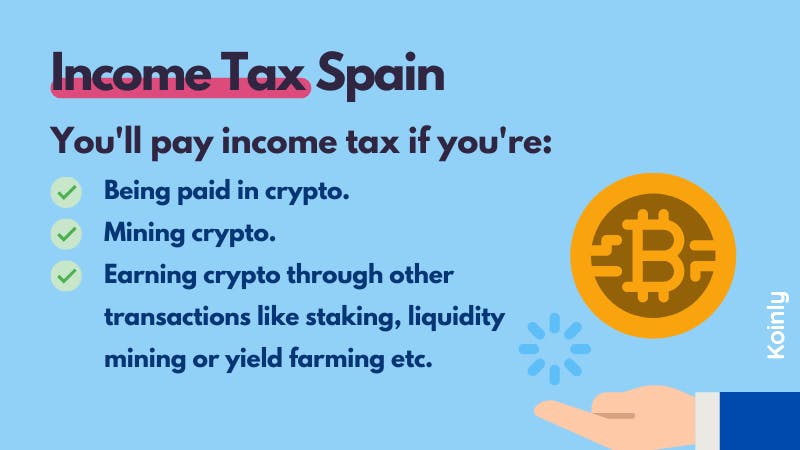 Tax Free
The following crypto activities are tax-free in Spain:
Buying crypto.
Holding crypto - unless subject to Wealth Tax (more on this below).
Transferring crypto between your own wallets.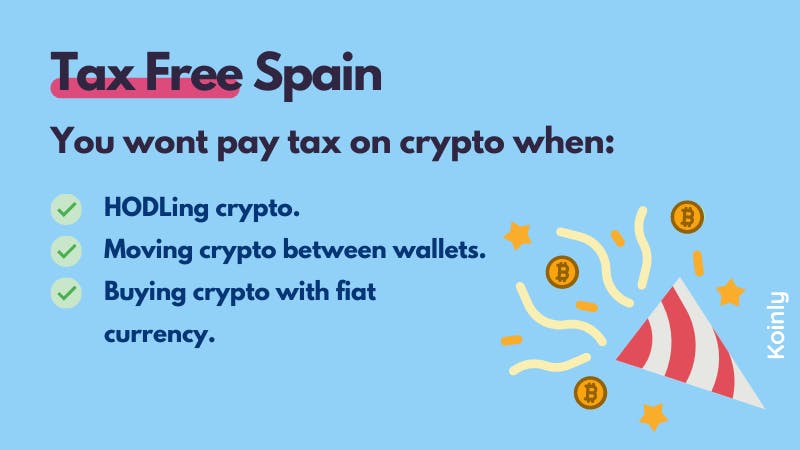 Wealth tax
Certain regions of Spain charge a Wealth Tax, such as Catalonia, Comunitat Valenciana and Andalusia. The fiat value of any crypto owned must be considered when determining the value of that your wealth. 
If the taxpayer is obliged to make this declaration, they must include the value of the cryptocurrencies at the time of the tax declaration and pay according to the applicable rate. These amounts should be valued for Wealth Tax purposes in accordance with their market price at the date of accrual (i.e. 31 December of the corresponding tax year); in other words, in accordance with their exchange value in euros on such date.
Each of the Autonomous Communities in the country defines a minimum up to which you must start paying this tax, but usually that minimum is 700,000€.
So, basically, you will need to compute all the assets you have, including cryptocurrencies. If the total amount is higher than the minimum exempt in your region (which may be as low as 400,000€), you will need to pay wealth tax.
It is a progressive tax that ranges from 0.2% to nearly 4% depending on your wealth and on the specific region in which you live (because percentages also differ in that sense). However, in summary:
Catalonia: between 0.21% and 2.75% tax.
Asturias: between 0.22% and 3% tax.
Region of Murcia: between 0.24% and 3% tax.
Andalusia and Cantabria: between 0.24% and 3.03% tax.
Community of Valencia: between 0.25% and 3.12% tax.
Balearics: between 0.28% and 3.45% tax.
Extremadura: between 0.3% 7 3.75% tax.
Madrid is the only autonomous community that does not impose a wealth tax. However, you may still need to submit a Wealth Tax Return for information purposes.
Inheritance and Donations Tax
If a person receives an inheritance including cryptocurrencies, this must be included in the ISD statement.
Like with the Wealth Tax, the tax you'll pay on inherited or gifted crypto will vary depending on how much you received and where you live. Each Autonomous Community sets their own tax rate for inherited and gifted assets. But in general, the taxable rate will vary between 19% to 52%.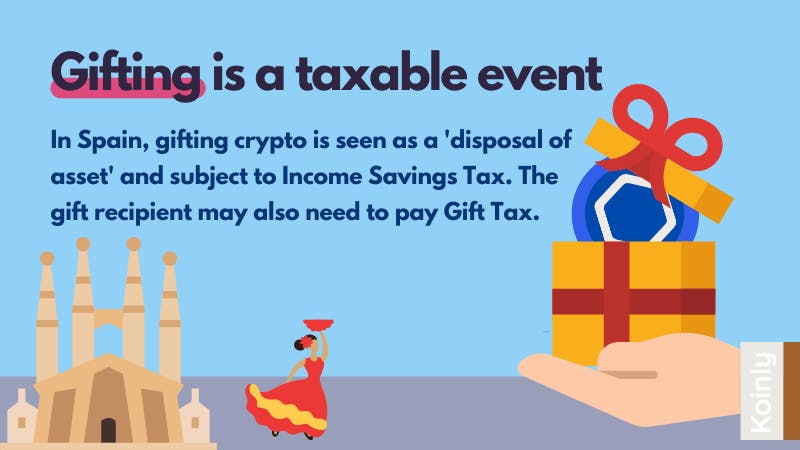 How to report your crypto tax activity?
The AEAT wants to know about your crypto activity in terms of income and capital gains. You'll need to declare both in your annual income tax return and a model 720 declaration, if applicable.
Model 720 Declaration
The Model 720 Declaration is used to inform the tax agency about your assets abroad, so you can pay income tax accordingly (both the income tax declaration and the model 720 must be aligned).
This applies to crypto in 2 ways
All those cryptos you have in exchange pockets pertaining to companies that are not located in Spain.
If the value of your cryptos exceeds 50.000€, you must submit the 720 declaration. 
Furthermore, if you have all your coins located within a portable Wallet (like Trezor), you don't need to formalize this declaration either, as that situation is analogous to having your cryptos in Spain.
Spain tax deadline
The Spanish tax year runs from the 1st of January to the 31st of December each year - just like the calendar year.
Spanish income tax returns must be filed by 30 June for the preceding year. This means you will need to submit your tax return for the 2021 calendar year by 30 June 2022.
How to file crypto taxes in Spain
If you are a Spanish tax resident, complete Form 100 (Modelo 100) in order to make a Spanish income tax declaration.
Once you, or your accountant has calculated your crypto tax (we have an app for that!), the easiest way to file your taxes is via the AEAT's Renta Online.
Which accounting method for crypto tax in Spain?
In Spain, crypto tax is calculated using the FIFO method (first in, first out) when calculating your crypto taxes. To understand how FIFO works, check out this article.
You need to keep records
The AEAT requires you to keep detailed records of cryptocurrency transactions for 5 years after you "prepared or obtained the records", or "completed the transactions or acts those records relate to", whichever is later. You need to keep the following records:
the date of your crypto transactions
the value of the cryptocurrency in euros at the time of the transaction (which can be taken from a reputable online exchange.)
what the transaction was for and who the other party was (even if it's just their cryptocurrency address).
Who can help you calculate your crypto tax?
Crypto tax reporting is fairly new, and a road less travelled for most accountants. That doesn't mean the AEAT is going to cut you any slack. Here are 4 ways you can tackle your crypto taxes and keep in the taxman's good books. We'll start with the easiest and most accurate method first.
Use a crypto tax calculator like Koinly to create a report of crypto activity. Send the report to your accountant to complete your tax return. Super accurate, super easy.
Use a crypto tax calculator like Koinly to create a report of crypto activity. Add the necessary data to your tax return and file it yourself. Accurate, and easy, if you know what you're doing.
Get your accountant to work out your crypto activity by supplying transaction histories, statements etc. Let them work it out and file for you. Not very accurate, lots of admin.
Work out your activity yourself, and file yourself. (Best of luck to you.)
How to use a crypto tax app like Koinly
Don't get stuck in the busywork. Don't get it wrong. Don't rely on your accountant to know where to look. Use Koinly. Here's how easy it is:
Select your base country (Spain) and currency (euro).
Connect Koinly to your wallets and exchanges. Koinly integrates with Binance, CoinSpot, CoinJar, Kraken, Swyft, and 300+ more. (See all)
Let Koinly crunch the numbers. Make a coffee.
Ta-da! Your data is collected and your full tax report is generated!
To download your crypto tax report, upgrade to a paid plan from $49 per year.
Send your report to your accountant, or complete your AEAT income tax submission yourself, using the figures from your Koinly report.
Now that you know how to go about calculating and submitting your taxes, let's explore Spain's crypto tax rules in more detail. Here's a breakdown of the most common crypto scenarios and the type of tax liability they result in:
Capital Gains Tax examples
Capital Gains Tax (CGT) is the type of tax most crypto investors face. That applies in Spain, but under Income 'Savings' Tax.
Before we look at the different crypto 'events' that a trigger CGT in the eyes of the AEAT, let's define what a capital gain is. Simply put, a capital gain is the profit or loss you make from trading or selling crypto:
Capital gain = selling price - buying price - fees
Your buying price + associated fees are also known as the cost-basis or just basis in accounting lingo.
Capital Gains tax is paid on the profit from a trade.
Gains: If you make a capital gain when you dispose of cryptocurrency, you'll need to pay tax on some or all of that gain. ex. if you paid 1000€ for 1 BTC and sold the Bitcoin later on for 2000€, then you will pay a CGT on the 1000€ profit.
Or, if you bought 1 BTC for 1000€ and also paid a fee of 10€, then your cost basis is 1010€. If you later sell the Bitcoin for 1500€ then you will realise a capital gain of 1500€ - 1000€ - 10€ = 490€. You will have to pay a CGT on that 490€.
Losses: If the proceeds from the disposal of the cryptocurrency are less than what you paid to acquire it initially, you will experience a capital loss. If you make a loss on the trade then you can deduct it from other profits or even carry over the loss to future years. Losses can offset gains made on cryptocurrency investments, share investments and even property investments. You can't deduct a net capital loss from your other income.
You could accumulate those losses and offset them with gains during the next 4 years.
Trading or exchanging crypto for crypto
Trading one crypto for another (ex. BTC → XRP) is a taxable event in Spain. The AEAT sees this type of trade as 2 separate transactions, first you are selling your BTC for X amount of fictional euros, then you are buying ETH with these fictional euros.
Even though you never received any euros in hand, you still have to pay tax on the sale of the BTC.
The market value (in euro) of the purchased coins is used to determine the capital gain. If the cryptocurrency that you received can't be valued, you will have to take into account the market value of the crypto you sold at the time of the transaction.
Profit made from the swap / trade of cryptocurrency are treated as savings income for the purposes of Spanish Personal Income Tax.
EXAMPLE
Salvadore purchased 1 Bitcoin for 1000€ in July 2017.
In November 2017, he exchanged 0.5 Bitcoin for 3 Ether. At this time, the market value of 3 ether was around 2000€.
This means his capital gains come to 2000€ and the cost of acquisition was 500€. In other words, Salvadore's capital gains would be 1500€.
INCOME 'SAVINGS' TAX (CAPITAL GAINS )
Selling crypto for fiat
According to the AEAT, selling crypto for fiat currency, such as the Euro, is a taxable event. Profit made from the sale of cryptocurrency are treated as savings income for the purposes of Spanish Personal Income Tax.
EXAMPLE
Pedro purchases 0.1 Bitcoin in July 2017 for 1000€ and sells it in November 2017 for 2000€. His total capital gain is thus 1000€.
INCOME 'SAVINGS' TAX (CAPITAL GAINS )
Gifting crypto to friends & family
Unlike in the USA, in Spain gifting (opposed to donating) crypto is viewed exactly the same as selling it, so it's a taxable event and you'll need to pay Income 'Savings' Tax on the 'disposal' of your crypto. The sales proceeds would be the fair market value of the crypto on the date when the gift was made.
EXAMPLE
Ex. Juanita bought 1 ETH for 2000€ in Jan 2020. in June 2020, she gives her daughter crypto as an 18th birthday present, on which day the ETH is valued at 4000€. The difference of 2000€ is the 'gain' that Juanita made, even though she did not sell her ETH back into euros, and she effectively gave the crypto away.
At tax time, Juanita's gain of 2000€ attracts CG tax.
INCOME 'SAVINGS' TAX (CAPITAL GAINS )
Tax Free examples
Believe it or not, not every aspect of crypto trading is taxable. In some cases, you might not have to pay any tax at all. Tax free crypto events in Spain include buying crypto, token & coin swaps and moving crypto between wallets that you own. In certain cases, using crypto to 'buy' items for personal use is also tax free. Here's a breakdown of the most common crypto scenarios where no tax applies:
Buying cryptocurrency
Like in most parts of the world, there are no taxes on buying or HODLing cryptocurrencies in Spain. However, keeping accurate records of the purchase is very important so that you can calculate the cost basis of the transaction when you decide to sell or 'dispose' of your crypto. Of course, you may still be subject to Wealth Tax if your total asset value (including crypto) exceeds the allowance in your Autonomous Community.
Buy and HODL
If your strategy is to simply buy and hold your crypto, then you don't need to pay tax on your cryptocurrency you hodl, even if the value of your portfolio increases. In Spain, the taxable event is when you sell, exchange or gift your crypto.
Transferring crypto between own wallets
Moving crypto between different wallets or accounts is not a taxable event and doesn't trigger CGT. Having said that, it's important to keep track of these movements because automated crypto tax software like Koinly use these movements to keep track of your cost-basis.
EXAMPLE
Let's say Sam buys 4LTC for 1000€ on Coinbase. She later moves the funds into her private LTC wallet. A few days later she transfers the LTC from her private wallet to her Binance account and sells it for 2000€, making a profit of 1000€.
If Sam wants to use Koinly to generate her crypto tax report, she will have to connect all three wallets. If she doesn't sync her private wallet but only syncs the Coinbase and Binance account, Koinly won't be able to identify that the funds she transferred into her Binance account are the same funds she purchased on Coinbase. However, once Sam adds her private wallet address, Koinly can match the transfer by tracing it from Coinbase to her wallet and then from her wallet to Binance. This will help in producing an accurate tax report.
If she no longer has access to her private wallet, she will have to make some manual changes using the Koinly web interface. She will have to mark the transfer from Coinbase as Ignored so that Koinly doesn't realize gains on it and she doesn't have to pay taxes twice. She would then change the value of the incoming transaction to Binance to match the cost-basis of the outgoing transaction from Coinbase.
Income Tax examples
Cryptocurrency income and mining income are taxed as income by the AEAT.
Getting paid in Bitcoins
Whether you are freelancing or working for a company that pays employees in crypto, you can't escape income tax.
Any coins received as income are taxed at market value at the time you received them so make sure you declare this income on your annual tax return or you might end up facing the taxhammer.
Mining & Forging Crypto
Any proceeds you receive from a mining pool/service or your own mining rig are taxed as general income and will need to be declared on your Income tax return.
Calculating your crypto taxes (example)
Let's look at how capital gains are calculated by way of an example.
Jed bought 1 BTC for $1000 on 1st July 2020.
He traded it for 20 ETH on 5th July 2020. The market value of 20 ETH at this point was $1500.
He also received 0.15 ETH (worth $10) from Coinbase as a signup bonus.
To calculate the crypto taxes for Jed we are going to use Koinly which is a free online crypto tax calculator.
After entering the 3 transactions into Koinly manually, this is the output:

We can see the gain/loss on each transaction clearly. Navigating to the Tax Reports page also shows us the total capital gains.
As you can see, Jed will have a taxable capital gain of $500 along with taxable income of $10 from cryptocurrencies.
The good thing about crypto tax software is that whether you have 10 transactions or 10,000 - it is equally easy to generate your tax reports! You can sign up for a free Koinly account and view your capital gains in a matter of minutes.
Use cryptocurrency tax software to automate your reports
Filing with your Koinly report
Ready to share your 2020-21 crypto journey with the AEAT? Whether you're filing yourself via the AEAT's online form or printed forms, or handing the job over to your accountant, you'll need to start by downloading your crypto activity summary from Koinly.
While the task of preparing your crypto taxes can seem quite daunting - especially if you traded on multiple exchanges - there are tools like Koinly which can make your life really easy.Here's how it works:
1. Connect your exchanges and wallets
Most exchanges have API's that can allow Koinly to download your transaction history automatically. You can also import CSV or excel files with your transaction history if you prefer that (or if your exchange does not have an API).
Once imported you'll have a clear overview of your trades and can use Koinly as a portfolio tracker.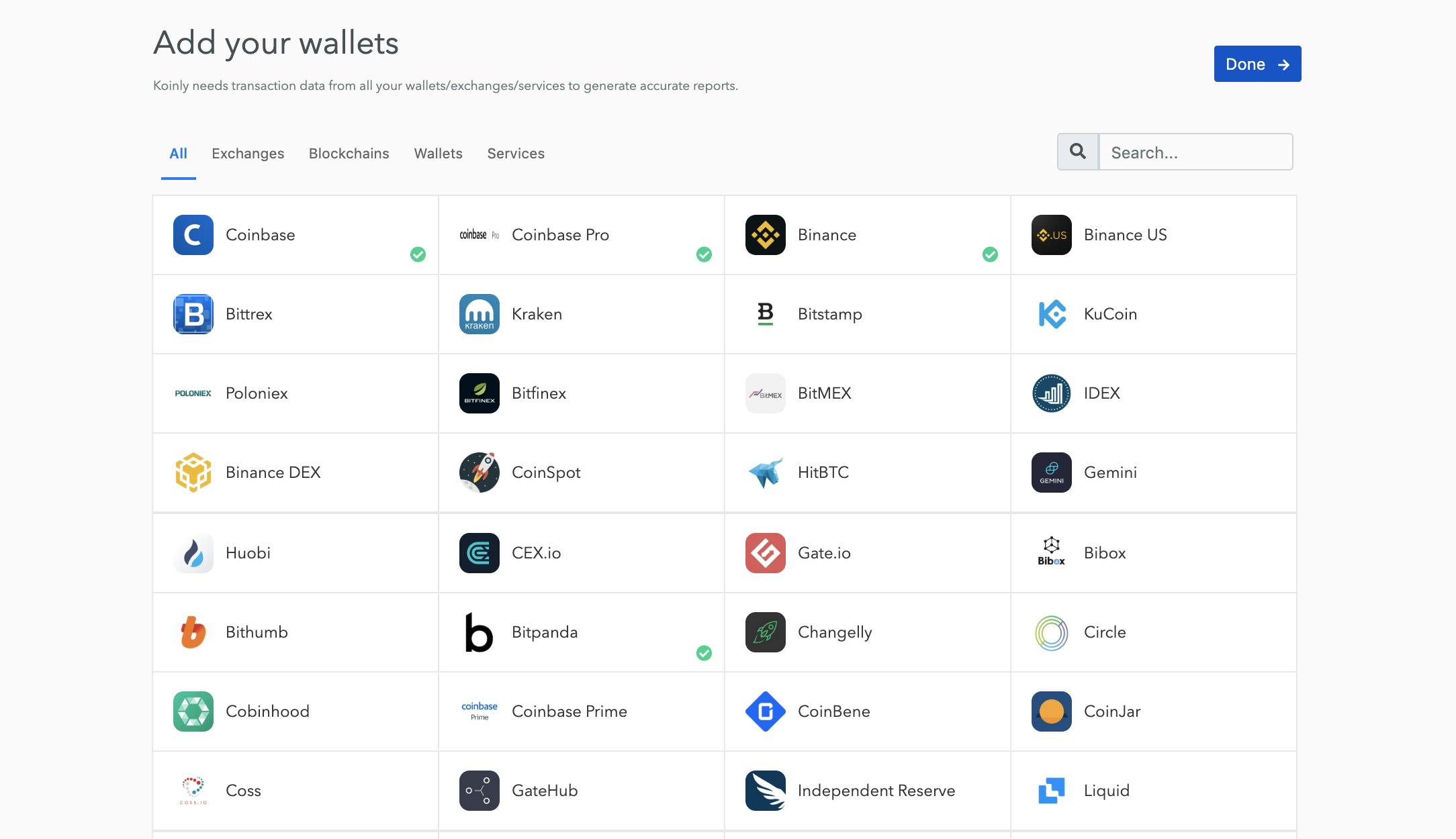 2. Ensure your account settings are correct for Spain.
Your base currency should be euro. The pre-selected cost-basis method is FIFO, which is correct and as per the AEAT's requirements.
3. Head over to the Reports page.
Select the date range you need to file for. The Spanish tax year runs from Jan 01 to Dec 31.
Koinly does a number of things under the hood in order to calculate your capital gains and income.
First it fetches the market rates at the time of your trades, then it matches transfers between your wallets and exchange accounts and finally it calculates your capital gains.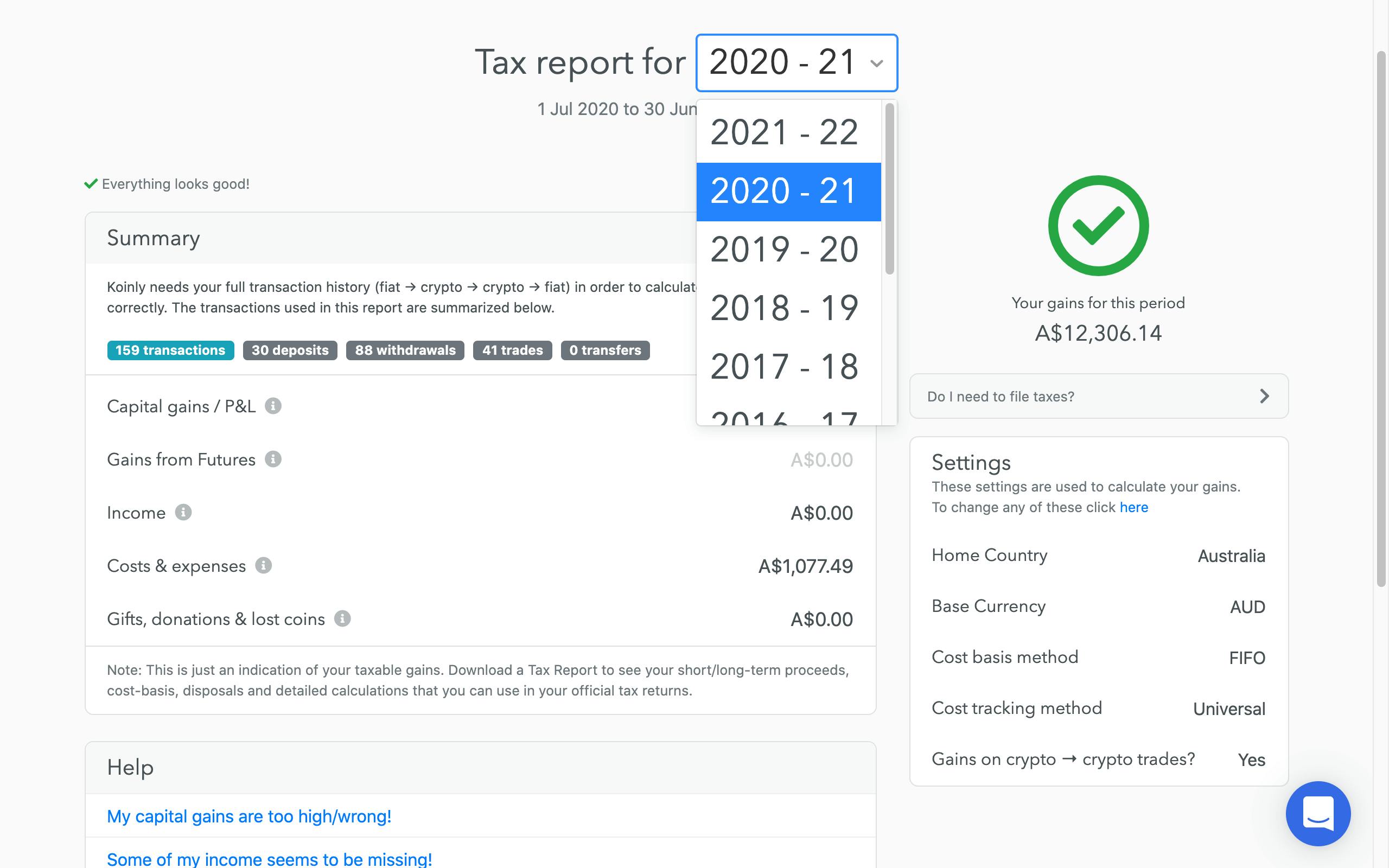 4. Select and download your report
Koinly offers many downloadable tax reports. For Spain, the report you need to download is called 'Complete Tax Report'. It contains everything you need to report to the AEAT.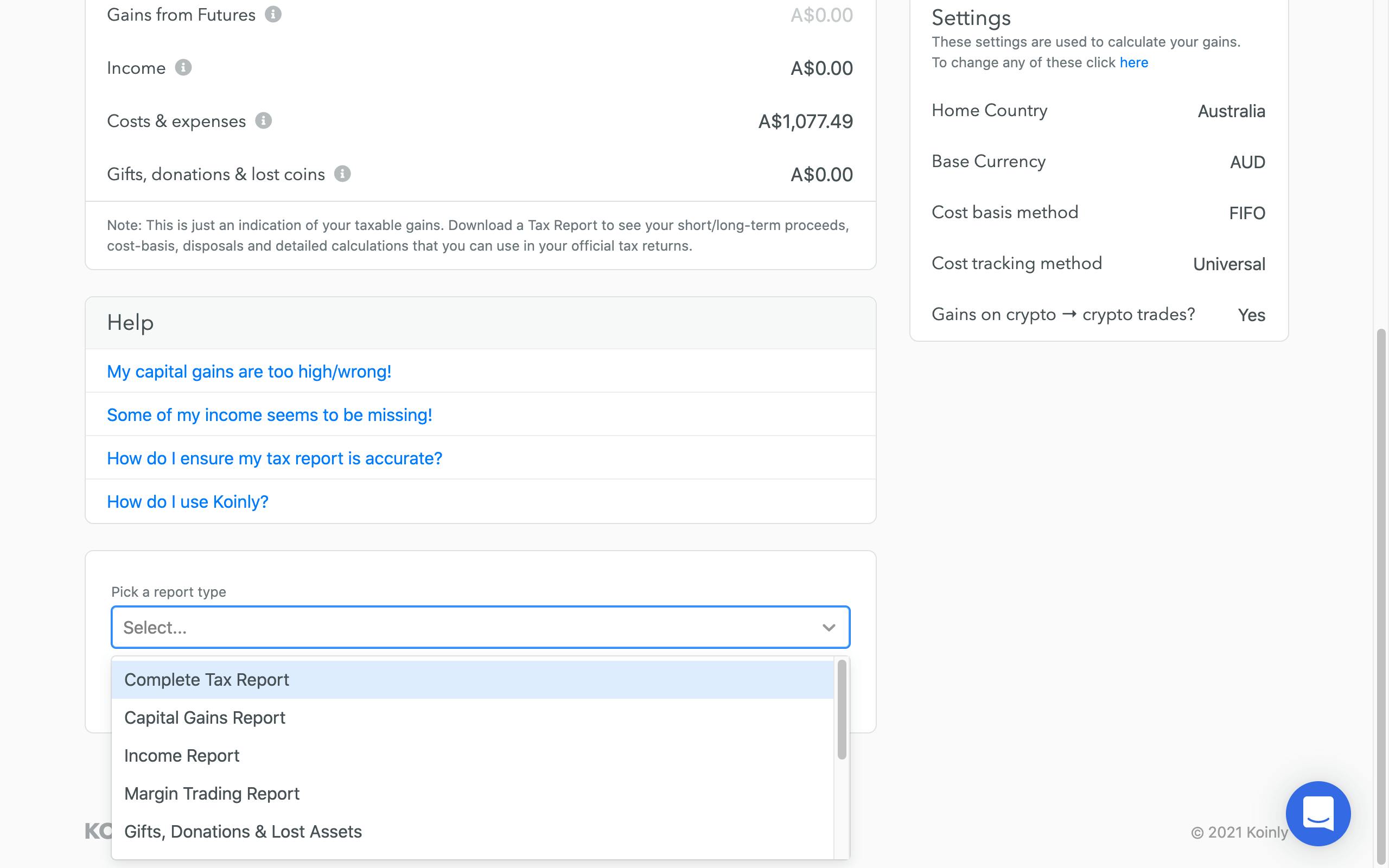 Your report will download as a PDF and will contain:
1. Capital gains summary
2. Income summary
3. Asset Summary
4. End of Year Balances
5. Capital Gains Transactions for Income 'Savings' Tax
6. Income Transactions for Income 'General' Tax
7. Gifts, donations & lost assets
8. Expenses
9. Data sources
Here's what it will look like - plus - see a sample report here.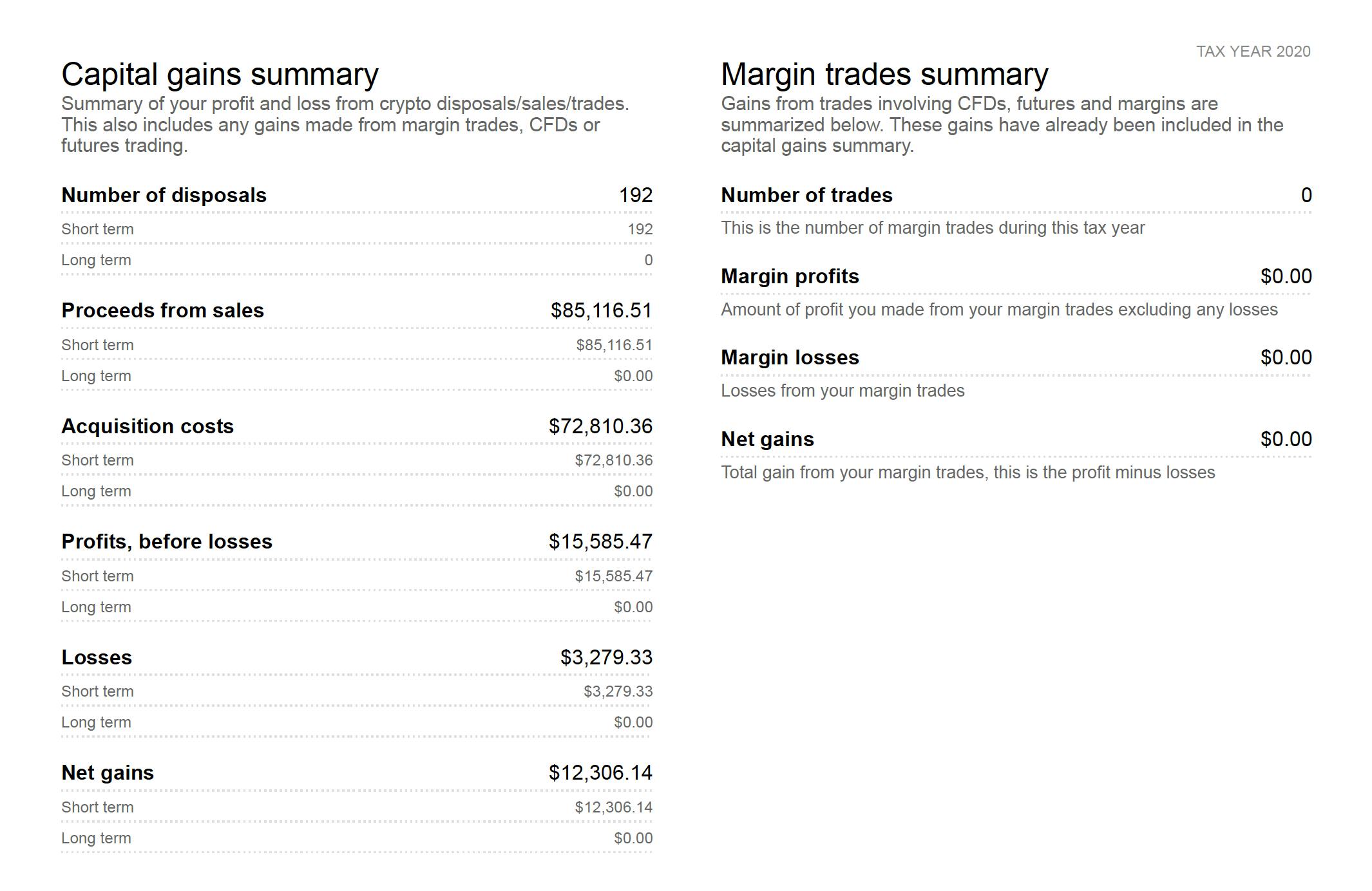 With your summaries calculated, it's time to share your data with the AETO.