Exodus is a popular Bitcoin and altcoin wallet - supporting more than 155 cryptocurrencies with both a desktop and mobile app. With so many transactions comes a lot of confusion come the tax deadline. Don't worry, we've got all the answers you seek about Exodus taxes and reporting, including transaction statements, Exodus profit, and loss calculations, trade exports, and more. Here we show you how to organize your Exodus tax reports in a manner that won't drive you crazy.
How to prepare Exodus taxes
Tax deadline looming and you need to prepare your exodus taxes fast? Wherever you live - your local tax office wants to know about your taxable crypto transactions from your Exodus wallet. This includes your short and long-term capital gains, your capital losses, and any additional income from crypto. To get started - you'll need your Exodus transaction history.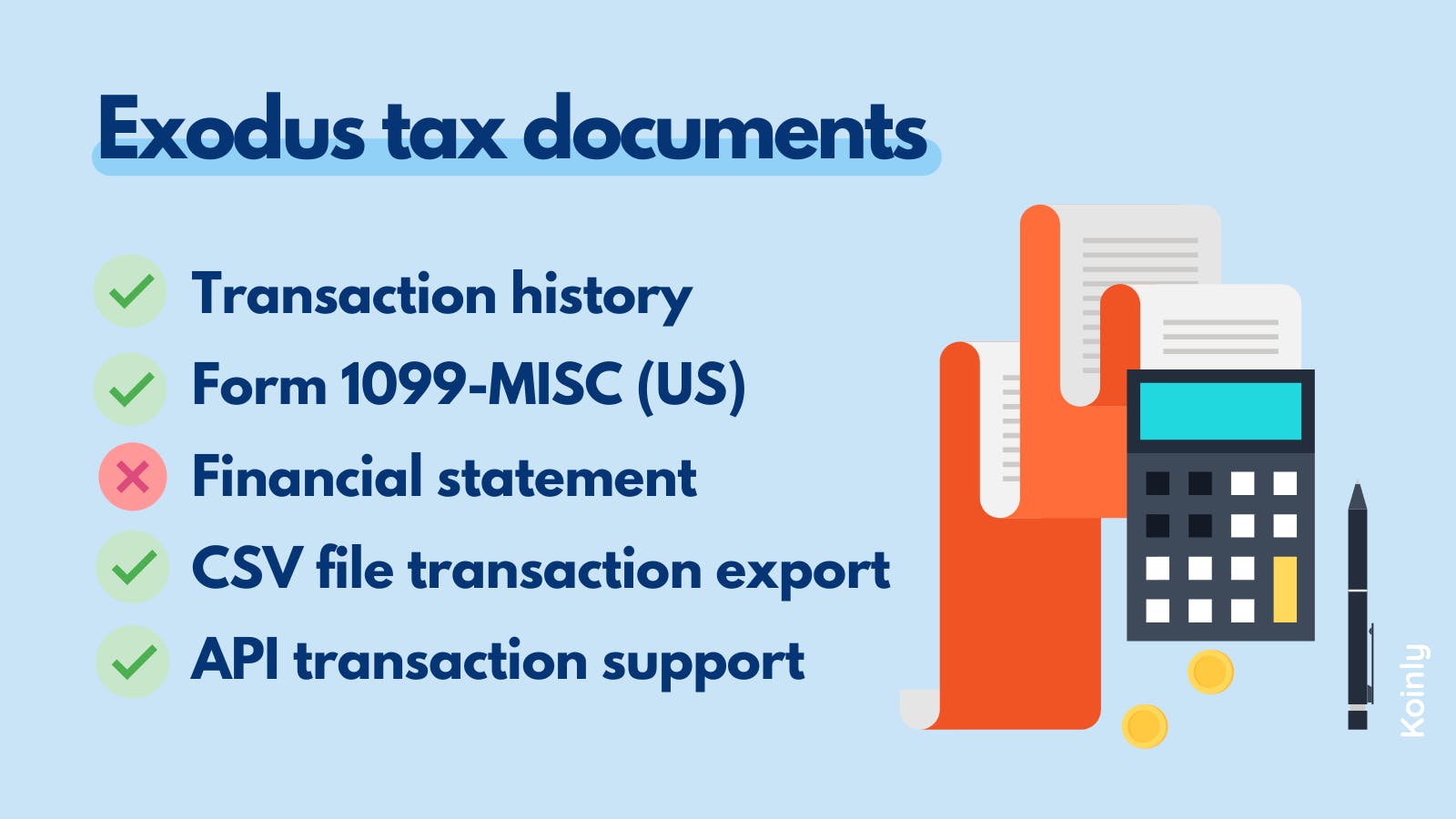 How to download & export Exodus trading & transaction history
You can download and export your Exodus trading and transaction history within your Exodus wallet. There are two ways to do this - and one is much simpler than the other one:
Use the Exodus API with crypto tax software. If you use the Exodus tax reporting API with a crypto tax app - all your Exodus transaction history will be automatically imported to your chosen app. You can see the full instructions on how to integrate Exodus and Koinly here.
You can export your entire Exodus wallet history to a CSV file. You can then upload this to a crypto tax calculator, or calculate your crypto taxes manually.
Does Exodus supply a tax report?
No - like most crypto wallets, Exodus doesn't supply a tax report for users. You'll need to use either a crypto tax app to generate your Exodus tax report, or export your Exodus transaction history and calculate your crypto taxes yourself.
Does Exodus issue a 1099 form?
Any US resident earning more than $600 in income from crypto may potentially be issued a 1099-MISC form by the crypto wallet or exchange they're using.
However, Exodus has no KYC verification process - so it's very unlikely that you'll be receiving a 1099 form related to your Exodus transactions.
Does Exodus supply a financial statement?
No, Exodus doesn't supply a financial statement. But you can use your Exodus transaction history to create a financial statement to use when filing your crypto taxes.
Remember, you'll need your complete Exodus transaction history to accurately calculate your cost basis, as well as your short and long-term gains.
Once you've got your Exodus transaction history - you can calculate your crypto taxes manually or get a crypto tax app to do it for you. Let's take a look at both.
Exodus CSV export
Here's how to get your Exodus CSV export.
Log in to your Exodus account and select the history icon, then select a portfolio. Now select the menu option and you'll be given a few options to export your transaction history:
You can export your wallet's complete history from the history section of your wallet. To do this, click the history icon and select a portfolio then click the menu icon to have the option to: 
Export All Transactions: All sent, received, and exchanged transactions.
Export Sent: Only the transactions sent out of your wallet.
Export Received: Only the transactions received into your wallet.
Export Exchanged: Only the transactions involved when Exchanging crypto inside your wallet. 
Pick your preferred option (all transactions if you're uploading this to a crypto tax calculator) and your Exodus CSV file will be downloaded to your device.
Exodus API
Exodus API automates importing your transaction history to your chosen crypto tax app for you. All you need to do is get the public address or public key of the coins/blockchains you're interacting with in Exodus and input them into your chosen crypto tax app to connect Exodus and get your transaction history. See full instructions on how to connect Exodus and Koinly.
Does Exodus provide an end-of-year statement?
No, Exodus will provide you with an EOFY statement, but if you integrate with tax software, you'll be able to generate an end of year holdings report that includes your Exodus wallet.
Does Exodus report to the IRS?
It's unlikely Exodus reports to the IRS. Exodus doesn't require users to complete KYC verification - so you might assume there's no way the IRS can track your crypto assets and transactions in Exodus. Exodus also doesn't require you to link a bank card to make deposits and withdrawals.
Does Exodus report to other tax authorities?
So we know the IRS may be able to track your Exodus transactions - but what about other tax offices like HMRC, the ATO and the CRA?
The answer is similar to above. Exodus requires no KYC verification or bank details to use - but if you're moving crypto assets between your Exodus wallet and other centralized exchanges, the majority of these exchanges have been pressured to share KYC data with tax offices to ensure tax compliance.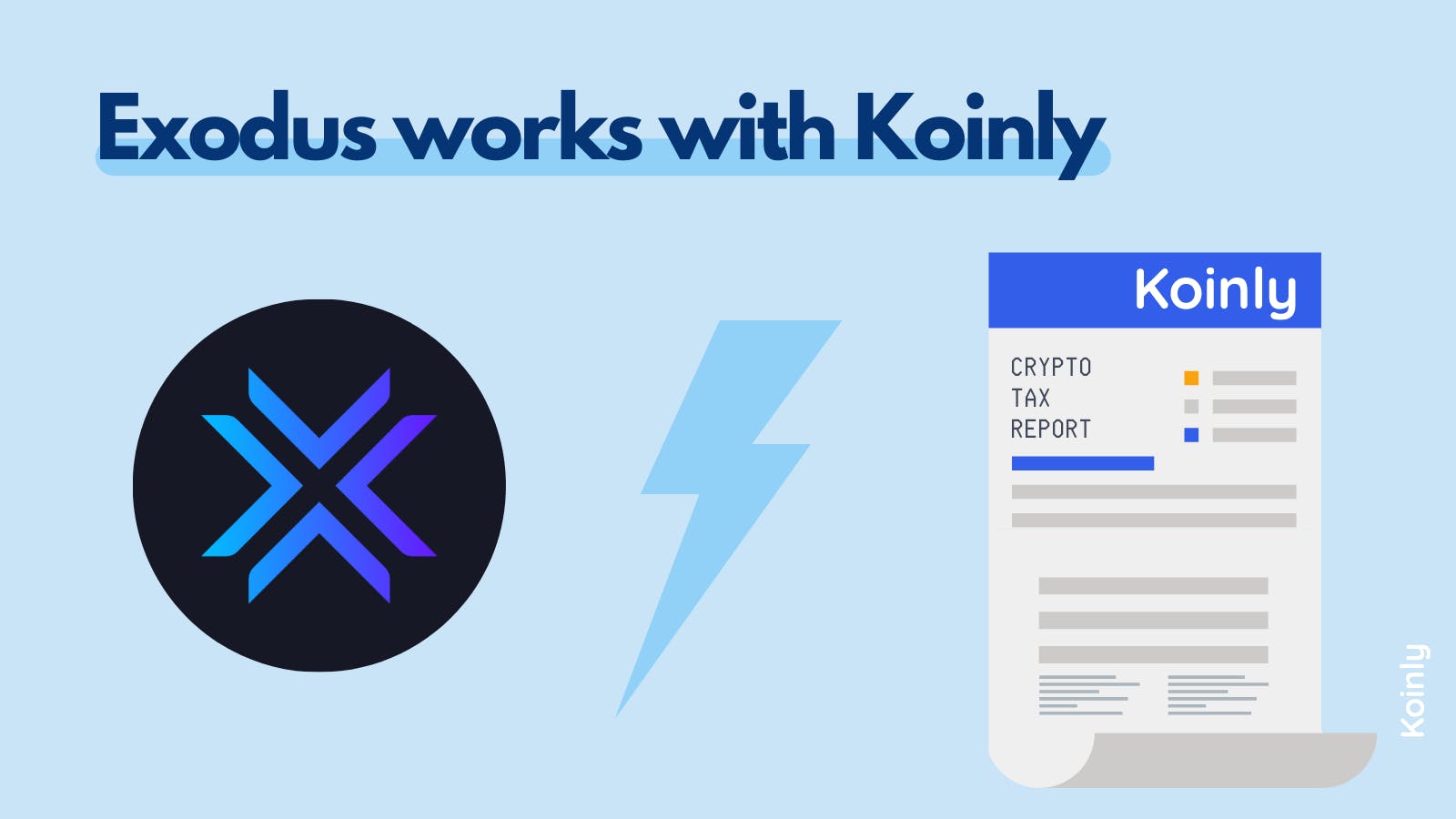 Why is Koinly the best crypto tax software?
As mentioned throughout this piece, Koinly is a crypto tax tool that calculates your crypto taxes for you, meaning you don't have to go through the slog or stress of doing it yourself.
The software does not only integrate with your Exodus transaction history, but it calculates your taxes in a format that makes sense to your country's tax office. Most importantly, Koinly does all the menial tasks that would cost your hours and hours sitting at a computer fiddling with a messy spreadsheet. No one wants that. 
As a quick breakdown, here's a short summary of what Koinly does:
Imports all your trades including purchases, sales, swaps, and rewards.
Converts your transactions into your country's currency at fair market value (this in itself is a massive time saver).
Deciphers which of your Exodus trades are taxable and which are not. 
Allows you to submit a clean and accurate report to your tax office.