Earlier this year Skat received the green light to collect information about Danish crypto investors from 3 local exchanges. As a result the tax agency received information on some 20,000 crypto traders. In the last 2 weeks the agency began sending out warning letters to these investors urging them to amend their tax reports by the 15th of December or face penalties.
Tax agencies are taking note of Bitcoin and want to avoid it being seen as a safe haven from taxes. The action by the Danish tax authorities follows similar action taken by the IRS in the US and other agencies around the world.
"Many of our Danish users have received these letters, Skat is asking for a full breakdown of all their transactions and asking them to fix all past reports as well. Filing tax on cryptocurrency trades is a difficult task as crypto traders usually hold several exchange accounts & wallets and freely transfer crypto between them, so there's no easy way to figure out what the capital gains are for any particular trade" said Robin Singh, founder of the cryptocurrency tax startup Koinly.
Koinly is a Swedish startup that automates the task of calculating crypto taxes for Denmark, Sweden, Norway and other countries. By linking exchange accounts and wallet addresses with Koinly, crypto investors can get a detailed tax report within a matter of minutes.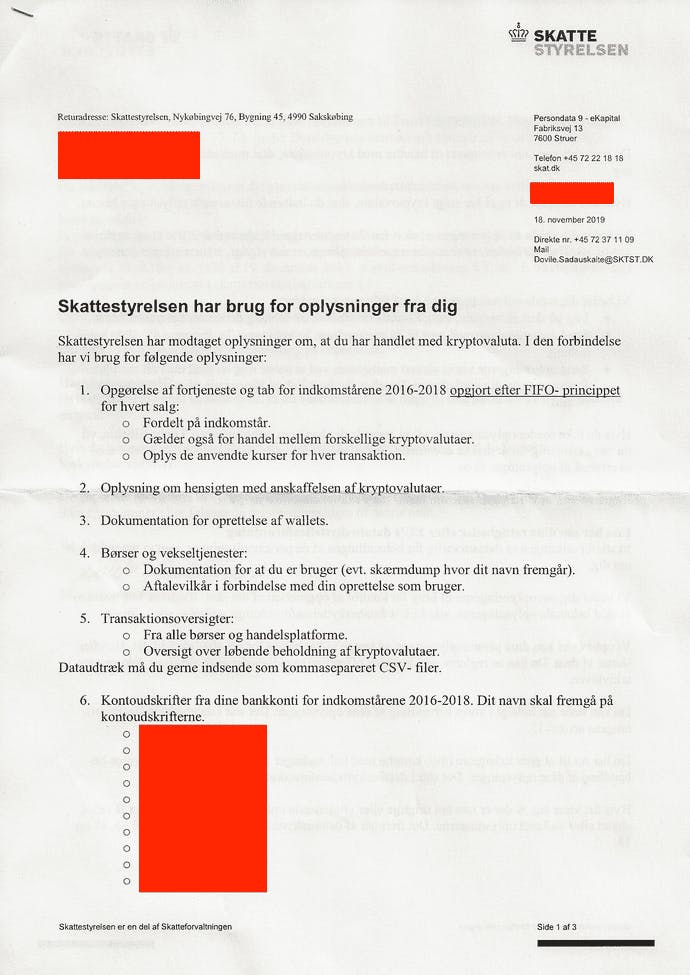 "Our aim with Koinly is to make it easy for both investors and accountants to generate tax reports that comply with local laws. Denmark in particular has special laws about how capital gains are reported - you can only offset profits with losses from the same cryptocurrency during the same income tax year. This is different from how it works in other countries so existing solutions require a lot of manual work - Koinly solves that" says Robin.
As regulations and guidelines around cryptocurrency taxes clear up, more people are likely to receive similar letters. It is important to reply to Skat with the information they have requested and amend past tax declarations if necessary. This is just the first step in the fight against tax evasion and more serious actions are likely to be taken against investors in the future so it is a good idea to get your affairs in order as early as possible.
About Koinly
Koinly was founded in 2018 by a former Fintech engineer, Robin Singh. It is a fast-growing crypto tax software startup that aims to help investors and companies with their tax reporting. In the past year alone the company has helped thousands of crypto investors track and generate tax reports for funds worth over $250m.
Koinly can also generate crypto tax reports for the US, Canada, UK, Sweden, Norway and various other countries.