Crypto gambling is a popular pastime for investors looking to win it big or simply pass the time while they hodl and there's plenty of Bitcoin casinos to pick from. But if you hit the jackpot - the taxman will want to know about your winnings. Learn more in our crypto gambling tax guide.
What is crypto gambling?
In the same way you can head to the casino in your city and spend those hard-earned dollars, you can head to a Bitcoin casino online and spend your crypto. In fact, there are actually a couple of Vegas casinos - like the D in Las Vegas - accept Bitcoin too.
Crypto gambling works the same way as gambling with dollars, pounds or any other fiat currency - you place your bet and you win or you lose. It's not a new concept either. SatoshiDice was one of the first Bitcoin gambling sites to launch back in 2012 - where hundreds of thousands of Bitcoins were gambled away (back when they were worth very little!).
Nowadays there are thousands of Bitcoin casinos to pick from, as well as other crypto casinos that accept popular altcoins like ETH, XRP, DOGE and more. But be warned, not all Bitcoin casinos are made equal. There are plenty of dodgy sites that won't let you withdraw winnings and so on - so do your research before to make sure you don't end up on a dud.

Is crypto gambling illegal?
It depends on where you live. Some countries have no issue with crypto gambling and haven't released any regulation on it - so in places like the UK, Australia and Canada, crypto gambling is legal. Meanwhile, in countries where crypto is illegal in general - like China, Egypt and Qatar - crypto gambling would also be illegal.
The US in particular has taken a confusing stance on crypto gambling. There is no specific legislation on a federal level around crypto gambling. However, there is extensive state legislation around online gambling in general. 
For example, online gambling is completely legal in Connecticut, Delaware, Michigan, New Jersey, Pennsylvania and West Virginia. Meanwhile, other states have specific rules around it like only online sports betting in Oregon and Indiana. Other states have kept online gambling illegal outright.
What this means is crypto gambling isn't regulated and strictly legal, but it's not prohibited either. Many reputable crypto gambling sites will have a privacy policy and terms of service that will clarify any concerns over you using their services. 
What crypto gambling games are available?
Pretty much any game you can think of. Anything you can play in a regular casino, you can play in a Bitcoin casino, including:
Slots
Poker
Table games like roulette, blackjack and Hi-Lo
Sports betting including live betting
Scratch cards
Dice games like craps
Lottery games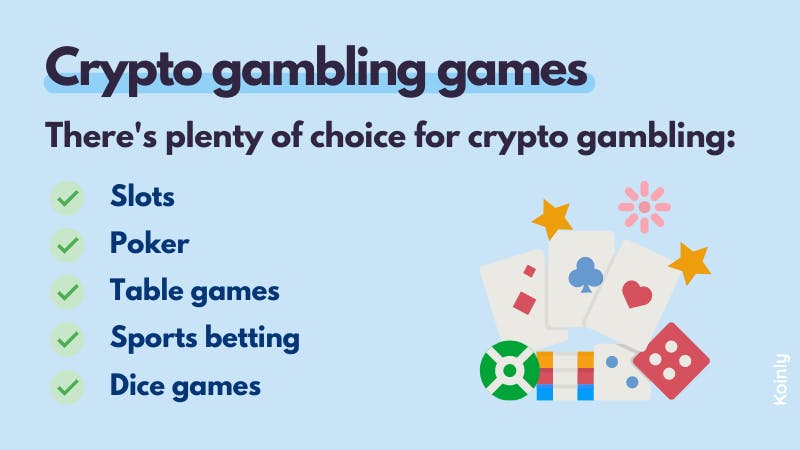 You don't have to head over to a Bitcoin casino to play either. There are plenty of established crypto exchanges (both centralized and decentralized) offering gambling opportunities, like the PancakeSwap lottery. 
How to pick a reputable crypto gambling site
Like we said above, not all Bitcoin casinos are made equal. So you should always do your research and make sure you're using a reputable site. You should:
Check any restricted countries.
Check their license.
Get a recommendation from other players.
See if they have a responsive customer support team.
Crypto gambling tax
A big win comes with a big tax bill - depending on where you live.
No tax office has issued guidance on crypto gambling winnings just yet. However, there are extensive guidelines on crypto taxation in general, as well as gambling tax in general. The type of tax you'll pay depends on the transaction you're making. There's only a few transactions we need to look at in regard to crypto gambling taxes:
Betting your crypto.
Winning crypto.
Selling your winnings for fiat currency.
Each is taxed slightly differently, so let's break it down.
There is no clear guidance on betting crypto and how it would be taxed. Arguably, it could be seen as spending your crypto on goods or services - which is subject to Capital Gains Tax. But as you may get nothing in return, it's a grey area. There is an argument you could feasibly write it off with no realized loss or gain.
When it comes to winning crypto, similarly there's very little guidance from a tax perspective for crypto winnings. There is however extensive guidance on gambling winnings in general and it all comes down to where you live. For example:
US: Gambling winnings are subject to both Federal and State Income Tax.
UK: Gambling winnings are tax free.
Australia: Gambling winnings are tax free.
Canada: Gambling winnings are tax free.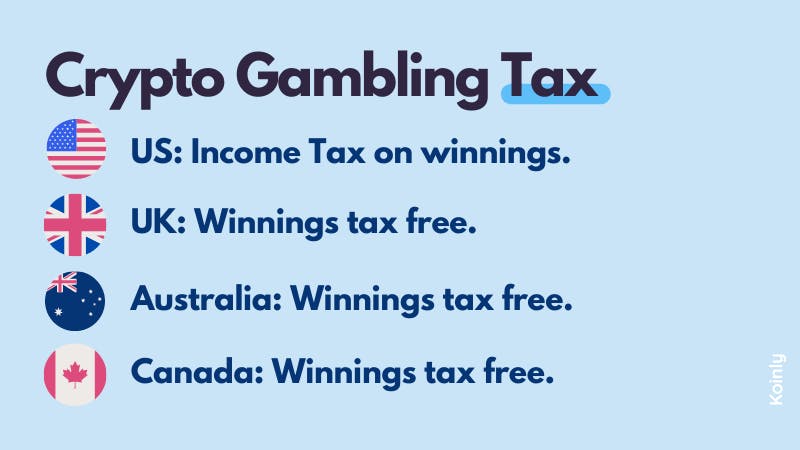 It's bad news for US investors, but good news in most other countries. However, you likely won't want to keep your gambling winnings in crypto - so what happens when you sell your crypto winnings for fiat currency?
When you sell your crypto winnings, you'll pay Capital Gains Tax on any capital gain. This is the difference in value between when you acquired your asset and when you sold it. 
This gets complicated due to the cost basis. Your cost basis is how much you spent on your crypto. Arguably, when it comes to gambling winnings - you have a zero cost basis (or a negligible cost basis). So potentially, your entire crypto winnings could be subject to Capital Gains Tax in countries like Canada where they use an adjusted cost basis method. Meanwhile in countries like the US or Australia where you have more freedom over cost basis methods, you may be able to change this so you don't pay Capital Gains Tax on the entire proceeds. You can find out more in our cost basis guide.
Koinly makes crypto tax simple
Whatever your crypto investments - whether it's gambling or trading - the tax man will want a cut. But Koinly can save you hours of maths and spreadsheets.
All you need to do is sync the wallets and exchanges you use using API or by importing a CSV file of your transaction history. Once you've done this, Koinly will calculate your capital gains, losses, income and expenses across all the platforms you use. You can see this in your tax summary - all on our free plan.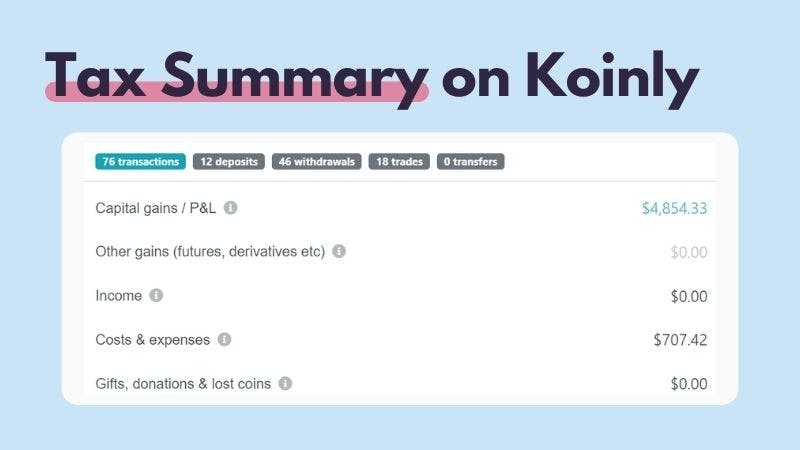 If you'd like to download a tax report, upgrade to a paid plan from $49. We offer a huge variety of tax reports from around the world, ready to hand over to your tax office - for example the IRS Form 8949 and Schedule D, the ATO myTax report and a HMRC Capital Gains Summary. All you need to do is hit download and add it to your tax return.