NDAX is a Canadian crypto exchange that makes it easy to buy, sell, and trade BTC, ETH, LTC and many more - but if you're selling or trading crypto, the CRA will want to know about it. Filing crypto taxes can seem like a complicated and daunting task. Fortunately, we've got everything you need to know about how do your NDAX taxes.
How to prepare NDAX taxes
The Canada Revenue Agency (CRA) is clear that crypto is subject to both Capital Gains Tax and Income Tax depending on the specific transaction. If you're selling, swapping, spending or gifting crypto - you'll pay Capital Gains Tax on half of any profit as a result. Meanwhile, you'll pay Income Tax based on the fair market value (in CAD) of any crypto you earn. So if you have any taxable transactions on NDAX, you'll need to calculate and pay any tax due with the CRA. To get started, you need to get your NDAX transaction history.
How to export NDAX transaction history
You have two options for downloading all of your transactions from NDAX and exporting them:
You can use the NDAX API to connect crypto tax software like Koinly. Once connected, Koinly imports all your NDAX trades automatically and calculates your crypto taxes for you, generating a tax report ready for the CRA. Get step by step instructions on how to connect here.
You can extract your NDAX transaction history as a CSV file and use it to calculate your crypto taxes yourself, or upload it to a crypto tax app like Koinly.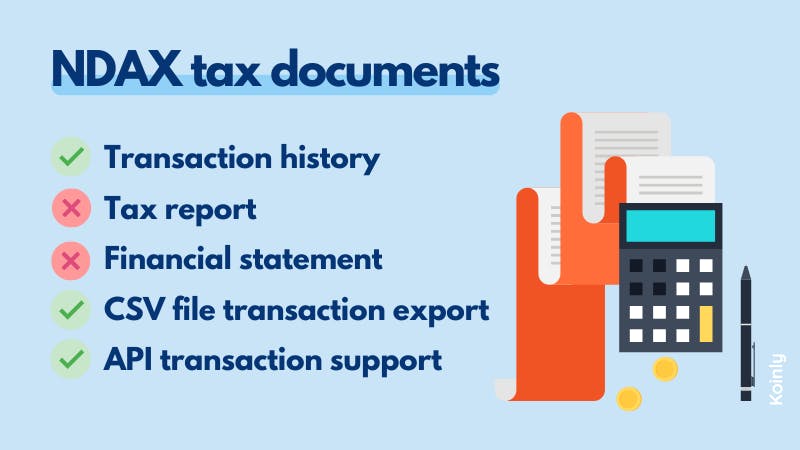 Does NDAX provide a tax report?
No, NDAX does not provide tax reports. However, you can download a CSV file of your NDAX transaction history to create one, or connect to crypto tax software via API.
Does NDAX supply a financial statement?
No, NDAX does not supply a financial statement. However, you can use your NDAX CSV file as an alternative.
NDAX CSV export 
Yes, NDAX provides CSV export. These files can be used to manually calculate taxes or imported into crypto tax software to calculate and report on taxes. To export your NDAX CSV file, log in to NDAX and select reports from the left hand menu, then create report. In the pop up window, select ledgers, all currencies and pick a date range, then export. If you're upload your NDAX CSV file to crypto tax software, you'll need to make sure your CSV file covers your entire transaction history for however long you've had your NDAX account. So when you're selecting your date range, make sure it covers this time period.
NDAX API
Yes, NDAX offers a read-only report API that you with a crypto tax tool. To get your API key, log in to NDAX and go to account settings in the left hand menu then select generate new key. Make sure you select read only, then generate. Once you've generated your new API key, copy the API key and API secret and paste it into your crypto tax app. You'll also need to get your User ID from the same page and copy and paste that into your app.
Does NDAX provide an end of year statement?
No, NDAX does not provide an end-of-year statement. But if you'd like a statement for a single year, you can pick a date range that reflects your financial year when exporting your NDAX CSV file.
Does NDAX report to the CRA?
Yes, NDAX may report to the CRA. NDAX is a FINTRAC registered crypto service provider. In order to comply with FINTRAC regulation, NDAX may be required to share customer data with the CRA on request.
How to generate an NDAX tax report
There are two ways that you can generate your NDAX tax forms; either DIY or use crypto tax software.
Doing it yourself? You'll need to identify your cost basis for your crypto assets using the adjusted cost basis method, and then calculate any subsequent capital gains or losses. You'll also need to identify the fair market value of any crypto income in CAD on the day you received it. You'll then need to add up these figures, and report it all to the CRA in your annual tax return.
It's a lot of work - so you might prefer to use a crypto tax tool instead. Crypto tax software does all of the above for you, including generating your crypto tax report ready to file with the CRA.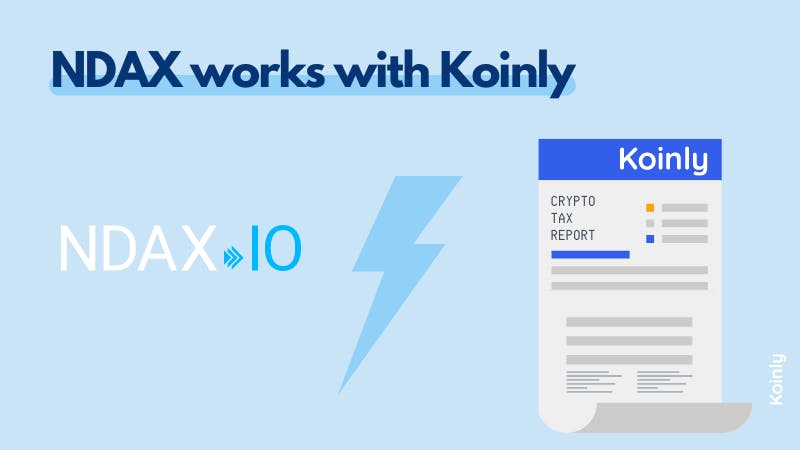 Koinly is an NDAX tax calculator that can help you calculate your crypto taxes and report them to the CRA in no time at all. Koinly works with NDAX and many other popular exchanges and wallets, all you need to do is connect via API or upload your CSV and Koinly does some clever tricks under the hood. Koinly will:
Import all your trades including purchases, sales, swaps, and rewards.
Convert your transactions into CAD.
Decipher which of your NDAX trades are taxable and which are not. 
Help you submit a clean and accurate report to the CRA.