Trust Wallet lets you send, receive and store cryptocurrencies as well as NFTs. Here we show you how to organize your Trust Wallet tax reports in a manner that won't drive you crazy.
Time for some Trust Wallet tax report talk. Excited? Thought not.
Don't fear though, because we're going to make things simple for you. Yes, it is possible that submitting tax reports and statements to your relevant authority can be painless.
Read on to find out how to do your Trust Wallet taxes in a manner that won't drive you crazy.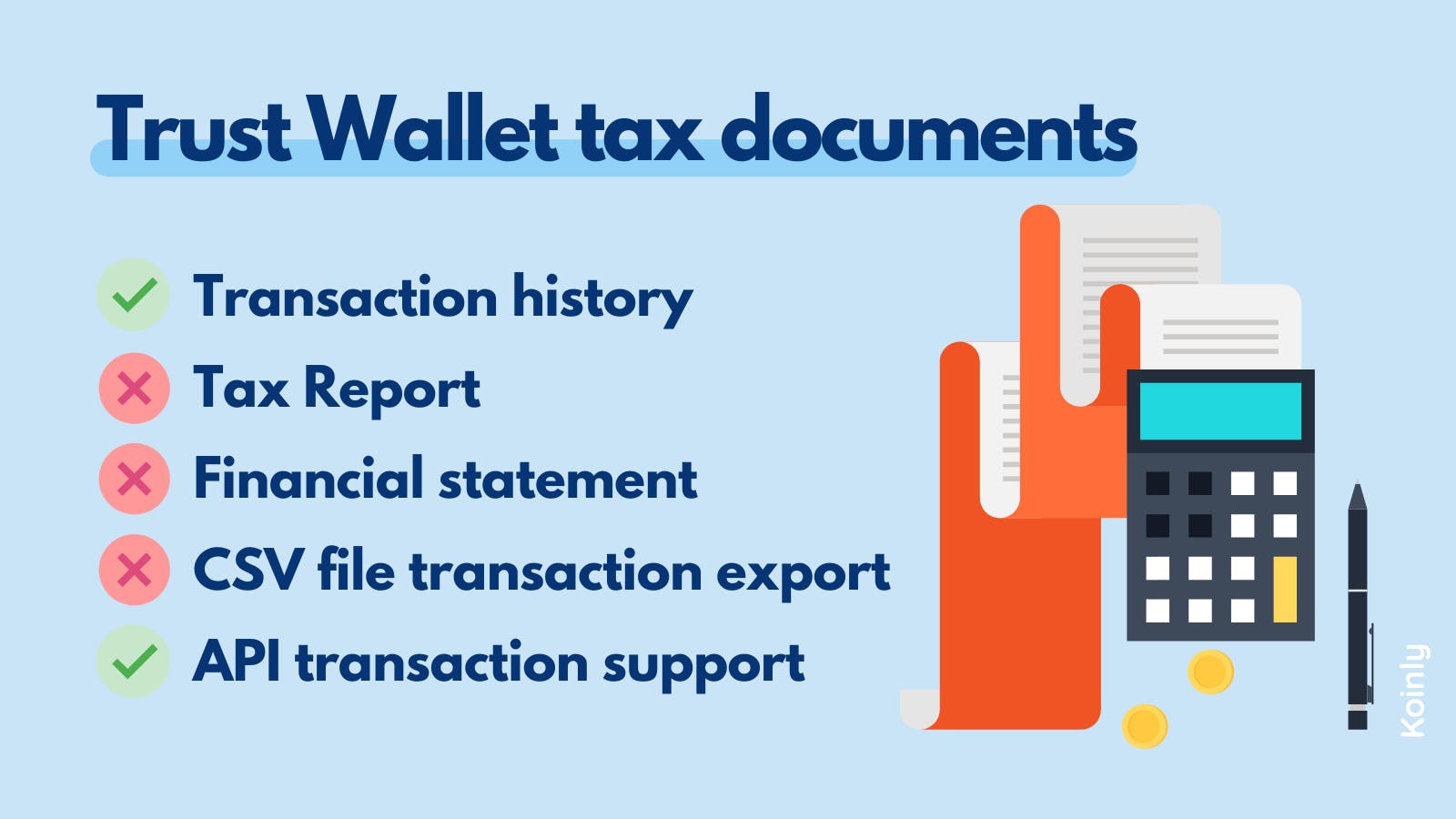 Can you view your Trust Wallet transaction history?
Yes, you can find your Trust Wallet transaction history within your account. Here's how:
Open Trust Wallet App.
Click on the Cryptocurrency of your choice in the token section.
View the transactions using that currency. 
If you want to see more, click on a transaction of your choice.
Click on 'more details', and it will open the explorer page of the blockchain.
You are now able to see your transaction details.
Does Trust Wallet provide tax documents?
No, Trust Wallet does not provide a specific tax report.
While Trust Wallet might not provide tax documents, it does offer the ability to download your export Trust Wallet trade history to external crypto tax software, which generates tax reports for you.
If you want an accurate and reliable tax report, you are much better served integrating your Trust Wallet transactions with a specialized software built for that very purpose. Koinly, for example, takes your transaction data and generates an automatic tax report from it. It's pretty cool, if we may say so.
Does Trust Wallet provide CSV exports?
No, Trust Wallet does not provide CSV reports. But you may be able to use a blockchain explorer to get a CSV file of your Trust Wallet transaction history.
Does Trust Wallet provide an end of year statement?
No, Trust Wallet won't provide you with an EOFY statement, but if you integrate with crypto tax software, they can provide this for you.
What is a Trust Wallet API?
APIs (application programming interfaces) are used to link and integrate your Trust Wallet transactions with external software.
Since Trust Wallet doesn't feature an option for exporting transaction data via CSV file, the API integration method is the best way to monitor your transaction data. See our easy guide to learn how to link your Trust Wallet transactions with Koinly, but in brief, you'll need to add the public address or key of each coin you interact with using Trust Wallet to your chosen crypto tax software.
Does Trust Wallet require KYC?
No. You don't need to complete any KYC verification in order to use Trust Wallet.
Does Trust Wallet report to the IRS?
As a non-custodial wallet that doesn't require KYC, you might think there's no way the IRS can know about your Trust Wallet crypto assets. It's true - to a certain extent.
However, if you're transferring your crypto between Trust Wallet and centralized exchanges - it's likely these exchanges have faced pressure from the IRS to share customer data about non-custodial wallets. As well as this, although Trust Wallet is non-custodial - it is owned by Binance.
As well as this, as you can buy crypto through a credit card using Trust Wallet - your bank may also share information with the IRS regarding your investments.
Does Trust Wallet report to other tax authorities?
In short, yes.
Many tax authorities across the world have started cracking down on crypto. As part of this, authorities like the IRS, ATO and HMRC have put pressure on crypto exchanges to share customer data to ensure tax compliance and improve security.
Although Trust Wallet haven't stated in plain terms that they share customer info with tax authorities, considering they're one of the larger crypto wallets and partnered with huge crypto exchange Binance, it is likely they have faced pressure from tax authorities to do so. If you want to avoid getting a letter through the post from your tax authority, your best bet is to ensure you do your taxes with accuracy.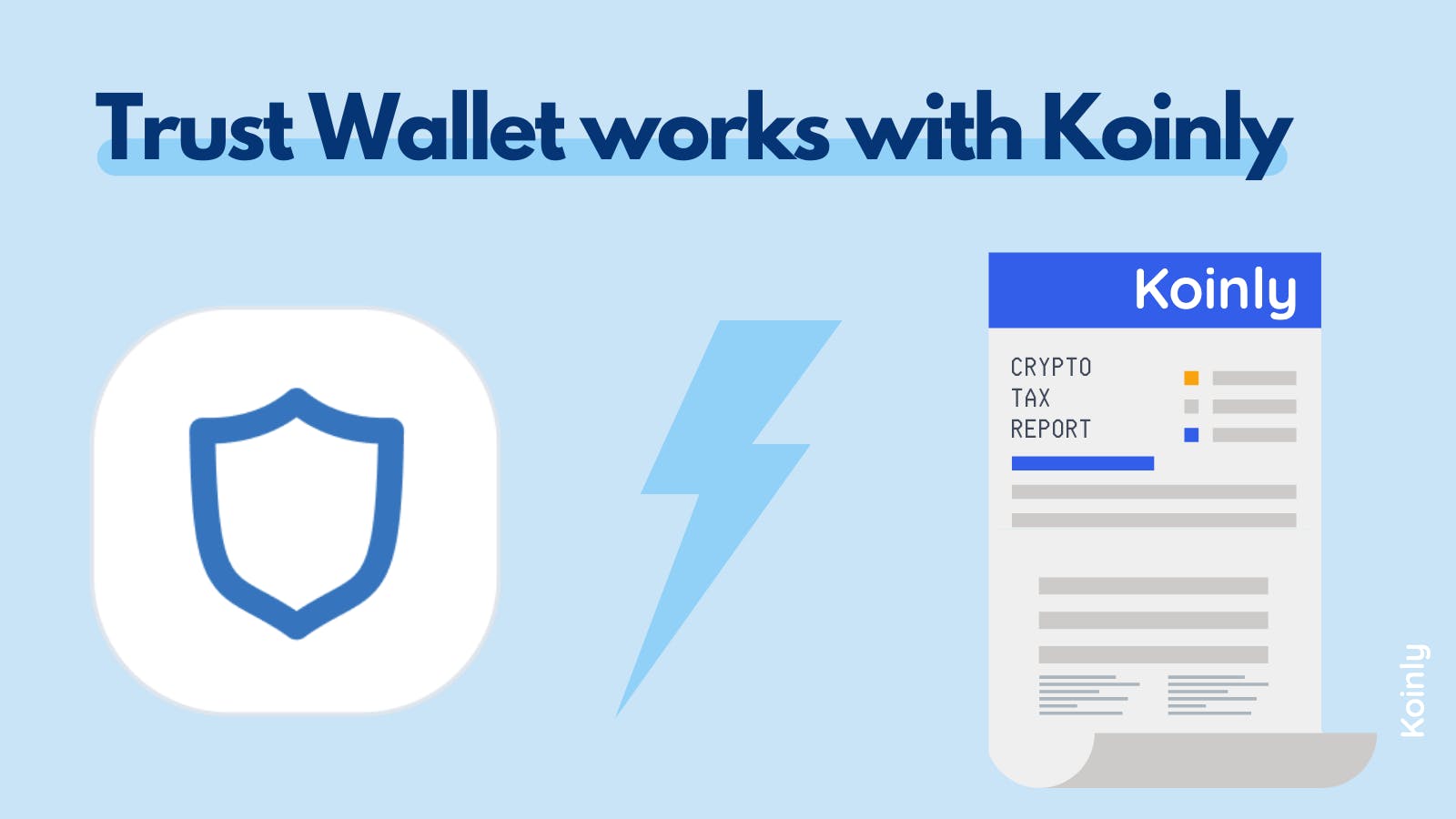 As mentioned throughout this piece, Koinly is a crypto tax tool that calculates your crypto taxes for you, meaning you don't have to go through the slog of doing it yourself.
Not only does the software integrate with Trust Wallet's transaction history, but it calculates your taxes in a format that makes sense for your country's tax office. Essentially, Koinly does all the menial tasks that would cost your hours and hours sitting at a computer fiddling with a messy spreadsheet. No one wants that. 
As a quick breakdown, here's a short summary of what Koinly does:
Imports all your trades including purchases, sales, swaps, and rewards.
Converts your transactions into your country's currency at fair market value (this in itself is a massive time saver).
Deciphers which of your Trust Wallet trades are taxable and which are not. 
Allows you to submit a clean and accurate report to your tax office.
Sign up for free and sort out your taxes within minutes.