Lost when it comes to Gate.io taxes? Today we're talking about Gate.io, and how to sort out your tax statements and reporting (without driving you completely mad).
Does Gate.io provide a tax report?
No, Gate.io does not provide a specific tax report.
However, while Gate.io might not provide tax documents, it does offer the ability to download your export transaction and trade history to external crypto tax software, which generates a Gate.io tax report for you.
If you want an accurate and reliable tax report, you are much better served integrating your Gate.io transactions with a specialized software built for that very purpose... like Koinly.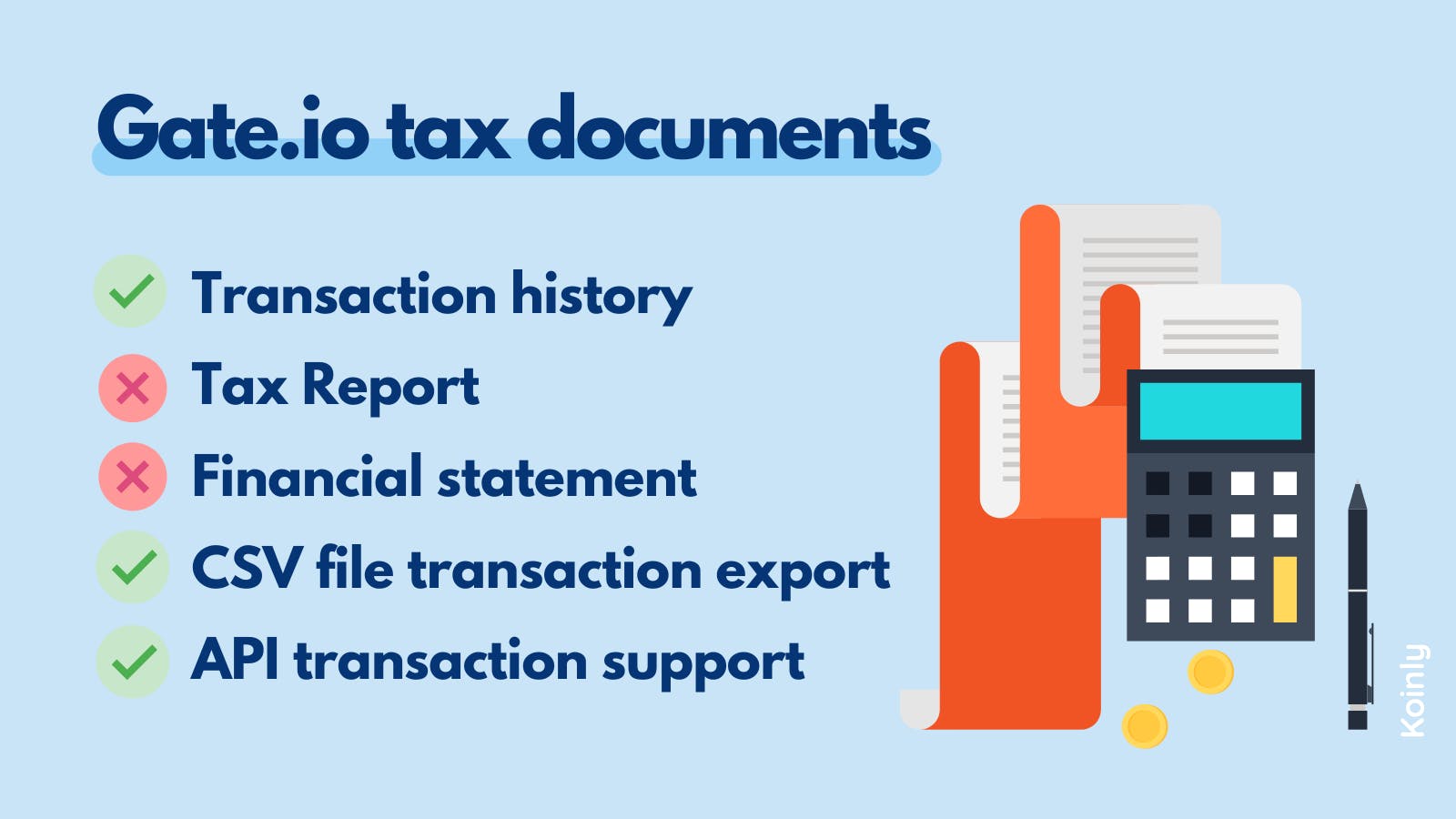 How to download Gate.io trading history 
Gate.io allows you to The first is on the Gate.io desktop website by going to the primary navigation at the tool, and clicking on "Orders". This will drop down some options, the first one being "Spot Orders". Click on that.
Next, click on 'Trade History' on the left hand side. This allows you to look up the trade history of markets in a select time frame. To download these records. Click the 'download' bottom in the top right. This gives you a Gate.io CSV report.
Now, having a downloaded file of your transactions is all well and good. But if you want to get any meaningful insights from this, there's a lot more work to do. You can't get a tax report, you only get the transaction data.
However, if you were to integrate with tax software, the whole process becomes much easier for you. Upon integration, Koinly generates a full tax and transaction report. It can even combine the data from other exchanges (such as Binance and Gemini) so you can see all of your data and insights in one place. To learn how to integrate your crypto transactions with Koinly, find our easy-to-follow integration guide here.
Alternatively, download the CSV file of your Gate.io transaction history using the steps above. You can then either send this to your accountant, or, if you're feeling brave, calculate your taxes manually. This may take your hours, and with natural human error, it's impossible to guarantee accuracy.
Does Gate.io provide an end of year statement?
Gate.io won't provide you with an EOFY statement, but as alluded to above, you can download a CSV file of your trade history which could function as an end of year statement. Follow the CSV instructions above to do this.
Gate.io API
APIs (application programming interfaces) are used for integration with crypto tax software (and other software). You can use the Gate.io API to automatically connect your Gate.io account with a crypto tax app, which can then calculate your Gate.io taxes for you. See how to connect Gate.io and Koinly here.
Does Gate.io require KYC?
Gate.io requires users to complete KYC in order to withdraw assets. You can deposit into the exchange with no KYC - but you won't be able to transfer your assets out again.
Is Gate.io legit?
Gate.io has millions of registered users, a huge daily trading volume and supports a great range of both popular and lesser known cryptocurrencies. Most users have minimal issues with the exchange and enjoy low trading fees. Some users in restricted countries have had difficulties with contacting customer service and being unable to withdraw their assets.
Gate.io was formerly Bter.com. It suffered a hack in 2015, losing around 7,000 Bitcoins. Since the rebrand, the exchange has improved its security and - where there have been smaller hacks - refunded affected customers.
Is Gate.io legal in the US?
Gate.io is not supported for residents of the US, largely because of the complex regulations for the crypto market there. Gate.io sent an email to known US users to warn them to withdraw assets before the 1st of April 2022 or risk losing access to them.
As well as the US, Gate.io is restricted in several other countries with strict crypto regulations including Canada.
Does Gate.io report to the IRS?
As Gate.io have withdrawn operations from the US recently, it's unlikely they're reporting to the IRS. Gate.io - like many other crypto exchanges - struggled to comply with the complex mix of state and federal regulations for the crypto market.
Does Gate.io report to other tax offices?
In short, yes they do. Although there isn't official confirmation for this, you would have to assume they do. You'll need to complete KYC verification in order to withdraw your assets from Gate.io. Gate.io may then be pressured to share this information with relevant tax offices around the world.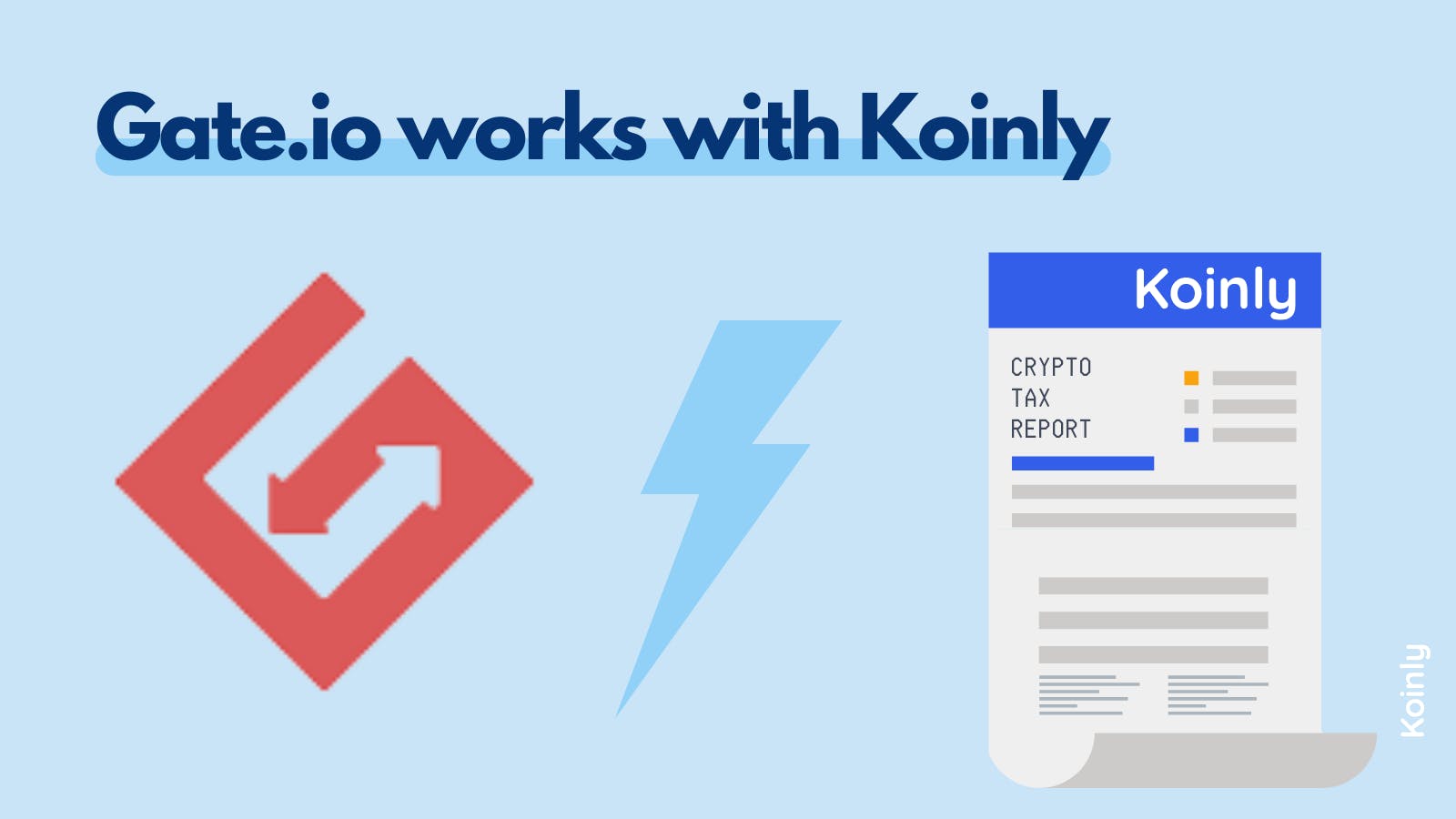 As mentioned throughout this piece, Koinly is a crypto tax tool that calculates your crypto taxes for you, meaning you don't have to go through the hassle of doing it yourself.
Not only does the software integrate with Gate.io's transaction history, but it calculates your taxes in a format that makes sense for your country's tax office. Essentially, Koinly does all the boring tasks that would cost your hours and hours sitting at a computer.
As a quick breakdown, here's a short summary of what Koinly does:
Imports all your trades including purchases, sales, swaps, and rewards.
Converts your transactions into your country's currency at fair market value (this in itself is a massive time saver).
Deciphers out which of your Gate.io trades are taxable and which are not. 
Allows you to submit a clean and accurate report to your tax office.
Sign up for free and sort out your taxes within minutes.