Get all the answers to your questions about Coinbase taxes and reporting including how to calculate your Coinbase gains and losses, how to download your Coinbase transaction history and how to report your Coinbase taxes to your tax office.
How to prepare Coinbase taxes
Need to prepare your Coinbase taxes but have no clue where to begin? Regardless of where you live, your tax authority will want to know all about your Coinbase transaction history, including your profits and losses, income and any expenses. To do your Coinbase taxes, you'll need your complete Coinbase transaction history. Don't stress - this is easy enough to find, we'll guide you through it.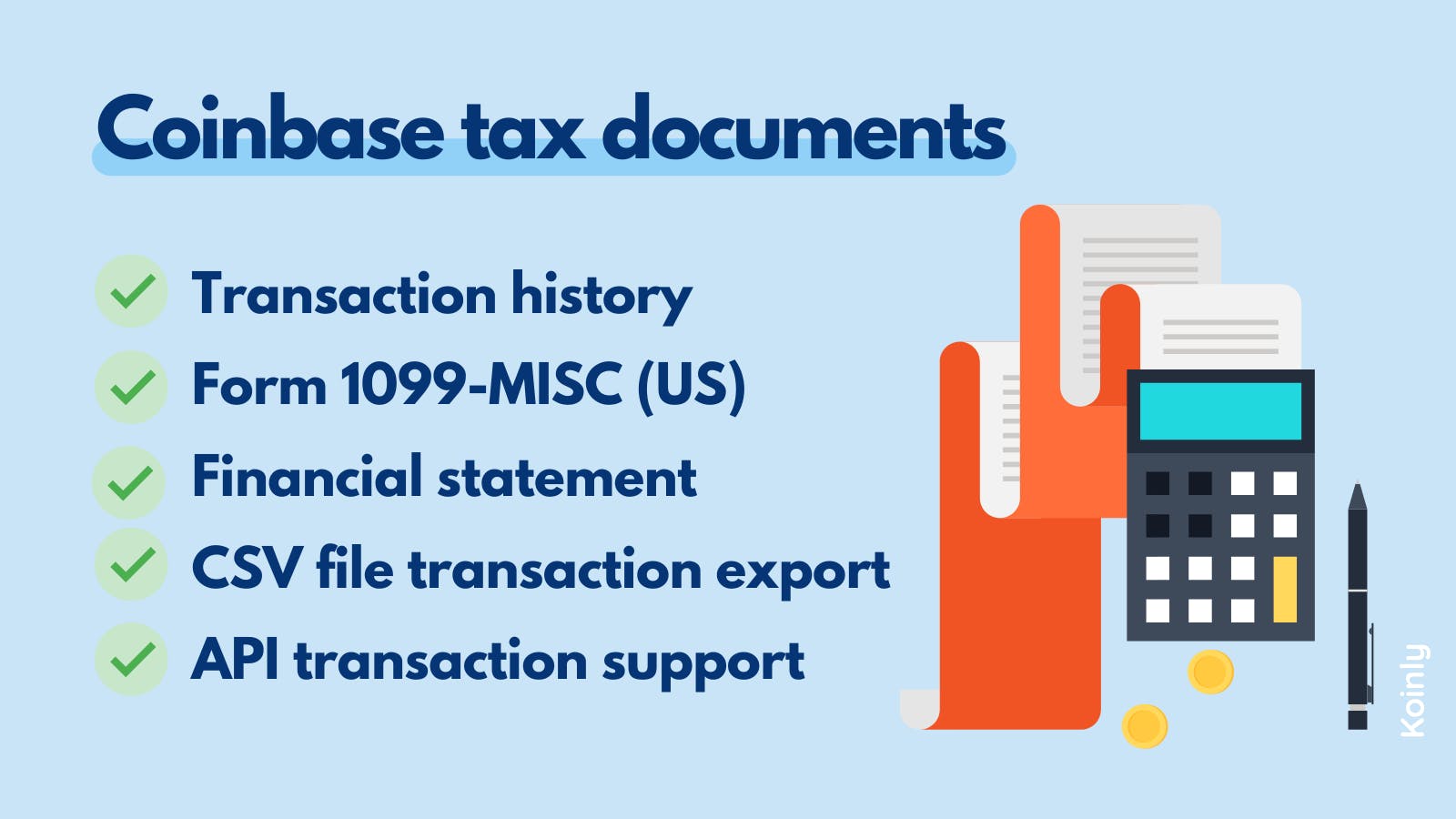 How to download Coinbase transaction history
You can download and export your Coinbase trading and transaction history within your Coinbase account. There's two ways to do it and one is much easier than the other!
Use the Coinbase tax report API with crypto tax software. If you use the Coinbase tax reporting API with a crypto tax app - all your Coinbase transaction history will be automatically imported to your chosen app. You can see the full instructions on how to integrate Coinbase & Koinly here.
Export Coinbase transaction history in a CSV file. You can download a CSV file of your Coinbase transaction history when you're logged into your Coinbase account. Then you can either upload this to a crypto tax app or do your Coinbase taxes manually.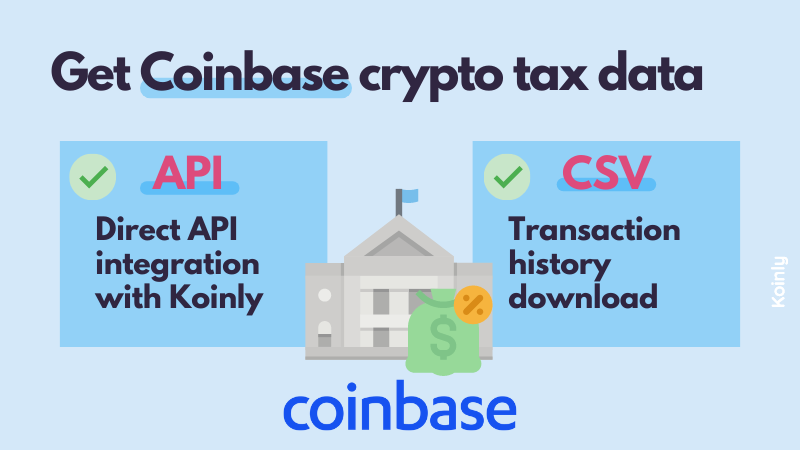 Here's how to get your Coinbase trade history export.
Log in to your Coinbase account and click on your profile icon in the top right corner, then go to settings. Next, select privacy and find the request data export button. Once you've done this, check the transaction history box and send request. Your Coinbase transaction history will get sent to your email address and it can take a couple of days to arrive.
Please note if you're using Coinbase Pro, you'll need to import a separate CSV file with your Coinbase Pro transaction history too.

Does Coinbase provide a tax statement?
No, Coinbase doesn't provide a specific Coinbase tax report for all users. However, Coinbase has partnered with some awesome crypto tax apps that can take your Coinbase transaction report and use it to generate a tax report for Coinbase.
The easiest way to do this is using the Coinbase tax report API. The API will fetch your Coinbase transaction data automatically, making far less work for you. The Coinbase tax report API is read-only, so you don't need to worry about another app having access to your Coinbase account.
If you'd rather avoid the Coinbase tax report API, you can download the CSV file of your Coinbase trading history using the steps above. You can do your taxes manually by calculating your cost basis, gains and losses and income or upload your CSV file to your chosen crypto tax app to let it generate your Coinbase tax report for you.
Does Coinbase issue 1099 forms?
Yes. If you're an American resident and you've made more than $600 in income on Coinbase - Coinbase will send you Form 1099-MISC. Previously, Coinbase issued users with 1099-K forms, however they've stopped issuing these after the 2020 tax year.
Does Coinbase supply a financial statement?
Yes. The Coinbase statement you need is your Coinbase transaction history. This Coinbase account statement will have your complete trading history on the exchange and you can use this to generate a Coinbase tax statement.
See the steps above on how to get a tax statement from Coinbase. Remember, you'll need to include your complete trading history from Coinbase, for however long you've had the account. This is so you can calculate your short-term and long-term gains accurately.
Once you have your Coinbase statement, calculate your crypto taxes manually or upload your Coinbase financial statement to a crypto tax app to fetch a Coinbase tax statement in minutes.
How to generate a Coinbase tax form
You can generate a Coinbase tax form one of two ways - through a crypto tax app or manually.
For those doing their crypto taxes manually - your tax office will want to know about all your taxable transactions on Coinbase. This includes whenever you've made a gain or loss by selling, spending, swapping or gifting crypto (in most countries). It will also include any income you've made from crypto - like through airdrops, mining, staking and more. You need to take all this information, tally up your net capital gains and losses and input it into your tax return. Of course, this is quite a lot of work - especially if you've got a lot of trades on Coinbase.
If you want to avoid all the manual labor, use crypto tax software to generate your Coinbase tax forms. Just use the Coinbase tax API or a Coinbase transaction history export and upload it to your crypto tax app, where it will then generate a custom Coinbase tax form on your behalf. Our tax software can even generate pre-filled tax reports based on your location and your tax office - for example, a pre-filled IRS Form 8949 and Schedule D.
Coinbase CSV export
Need to get your Coinbase CSV export in time for the tax deadline? No problem.
Log in to Coinbase, and head to settings, then privacy. Scroll down to find request data export and check the transaction history box, then send request to get your Coinbase trade history CSV. Done!
As we mentioned above - if you're using Coinbase Pro, you'll need to generate a Coinbase Pro CSV export separately. To do this, log in to your Coinbase Pro account and select statements from the drop down menu in the top right corner. Then select generate, then account. Now generate Coinbase Pro Account Report. Make sure you select all accounts and CSV format. You'll also need to ensure the date range you pick for your Coinbase Pro CSV export includes your entire transaction history on Coinbase Pro - however many years that might be.
Coinbase tax API
If you're using crypto tax software instead, the easier option is just to use the Coinbase tax API. You can generate this in Coinbase under the API management settings. However, as Coinbase is supported by all crypto tax apps - the majority of these will allow you to simply authorize access to Coinbase while setting up your account. This means you don't even need to copy and paste API keys and API secrets between the apps.
Like above, if you're using Coinbase Pro - you'll need to add the Coinbase Pro tax API too. You can find this under API in the main menu, then select create new API key. Once you've done this, just copy and paste the API key and API secret into your chosen crypto tax app. Please note, you can only set up the Coinbase Pro tax API from the desktop version of the site, not the mobile app.
Does Coinbase provide an end of year statement?
No, Coinbase won't provide you with an EOFY statement automatically, but the exported CSV file of your Coinbase trade history works as a Coinbase end of year statement. You can follow the instructions above to generate this statement. Remember, you'll need to download both a Coinbase trade history and a Coinbase Pro trade history CSV file.
Does Coinbase report to the IRS?
Yes. Coinbase reports to the IRS. The IRS issued Coinbase with a John Doe summons and won back in 2016 - forcing the exchange to share customer data.
As well as this, if you've made more than $600 in income from crypto - for example through staking - then Coinbase will send Form 1099-MISC to you, and the IRS gets an identical copy.
Does Coinbase report to tax authorities?
So we know Coinbase may report to the IRS, but does Coinbase report to other tax authorities like HMRC, the ATO and the CRA?
Yes.
HMRC confirmed they're working with Coinbase to share KYC information and ensure tax compliance. You can bet other tax offices like the ATO, the CRA and many more are putting similar pressure on Coinbase to share information about their residents.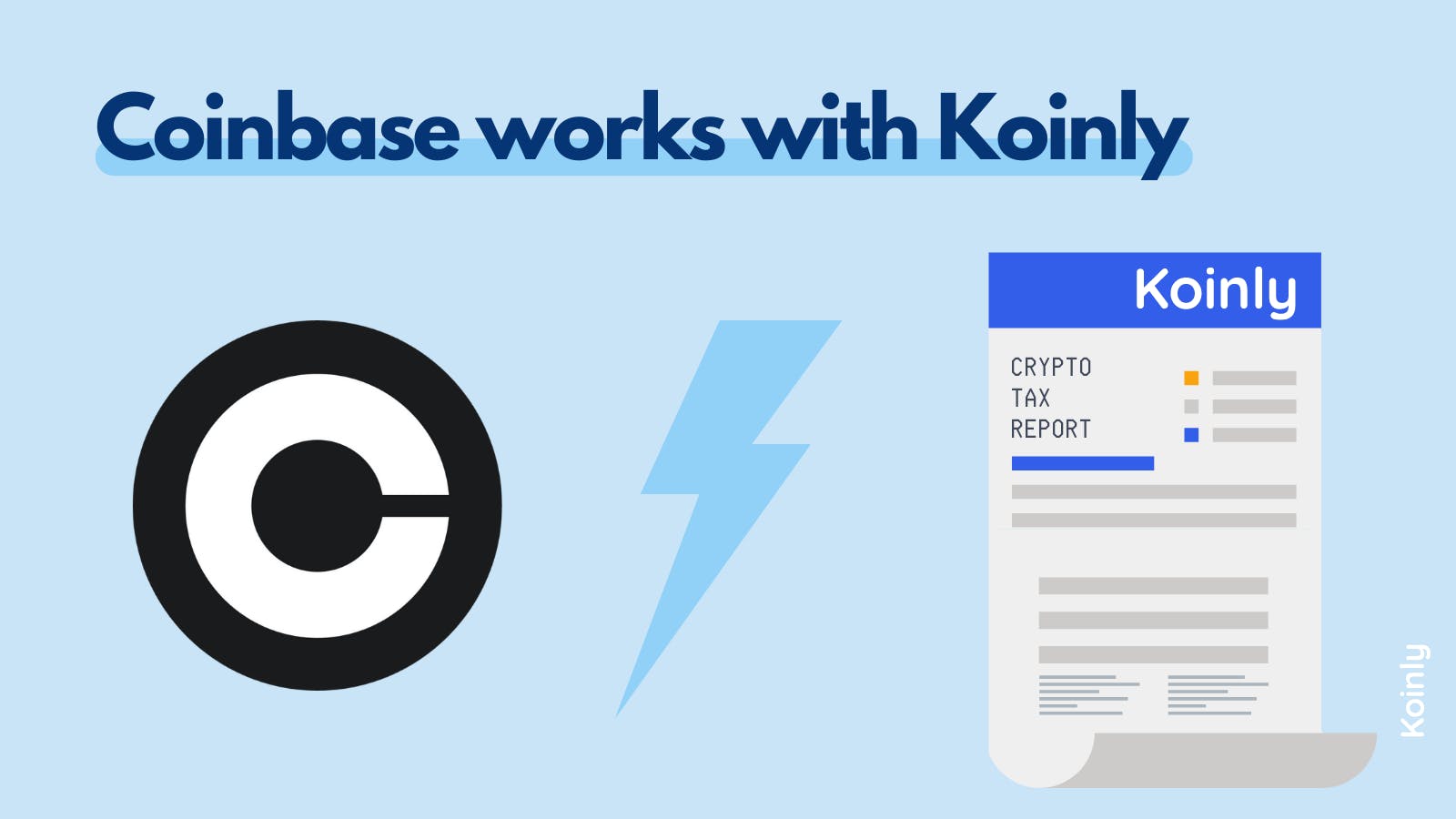 If you've been wondering is Koinly a Coinbase tax calculator tool, the answer is, yes! Not only can Koinly import Coinbase transaction history, but Koinly can also calculate your Coinbase taxes in a format that makes sense for your country's tax office. As a Coinbase tax calculator, Koinly is able to do a bunch of impressive tasks that save you time and can even save you from paying too much taxes.
Koinly will import all your Coinbase trades including purchases, sales, swaps, income and more!
Koinly will then convert your Coinbase transactions into your country's currency, at fair market value. This in itself is a massive time saver.
Finally, Koinly works out which of your Coinbase trades are taxable, and which are not - calculating your Coinbase gains/losses, crypto income and more. All of this is really important for being able to submit an accurate Coinbase tax return to your tax office.
Sign up free and try our Coinbase tax software today.