Long-term retirement strategy might not be the first thing you associate with the crypto market - but Bitcoin IRAs and crypto IRAs are a great option for many investors. They help you reduce your tax bill in the short-term and work as the ultimate hodling tool in the long-term. We're looking at what Bitcoin IRAs are, how they work, the pros and cons of Bitcoin IRAs, the best Bitcoin IRAs and how crypto IRAs are taxed.
What is a Bitcoin IRA?
A Bitcoin IRA, or indeed any crypto IRA, is a self-directed Individual Retirement Account (IRA). You can use Bitcoin IRAs and crypto IRAs to invest in cryptocurrencies as well as more traditional investment assets like property or stocks.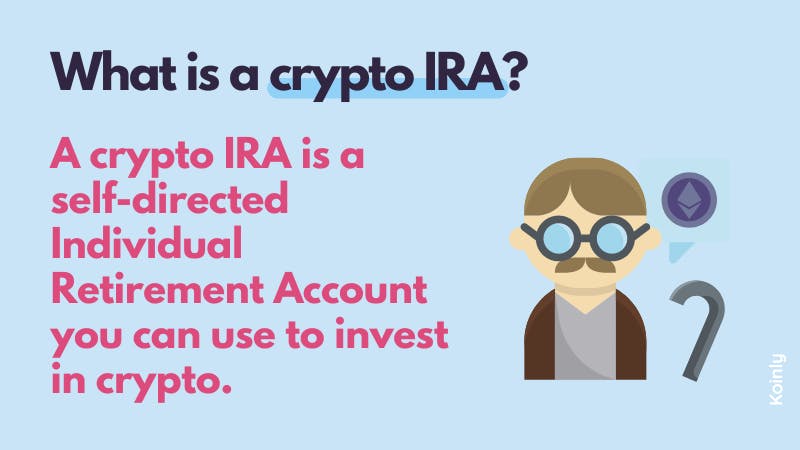 What are the benefits of a Bitcoin IRA?
There are two main benefits to Bitcoin IRAs. The first is that you're investing your future by planning for retirement - even if it isn't in the most traditional of ways.
The second is a short-term benefit because investing in Bitcoin IRAs or other crypto IRAs has significant tax benefits. If you're planning to hodl for the moon - you can defer your Capital Gains Tax, claim investments as a tax deduction or even avoid tax entirely with a Roth IRA. More on this later!
What are the risks of a Bitcoin IRA?
The crypto market is notoriously volatile. We'd all like to think Bitcoin will hit $100,000 soon, but the reality is no one knows where the market is heading. Your assets are only worth what they're worth when you retire. This is why many IRAs limit crypto investments to Bitcoin, as opposed to allowing investors to invest in a range of cryptocurrencies.
Of course, it's extremely unlikely the entire crypto market will have collapsed by the time you're grey and old, but if you're investing in lesser known cryptocurrencies - they may well have done. 
You'll also need to be in it for the long-run. Not a problem for hodlers, but if you're quaking anytime you see a dip and want to cash out, you'll face steep penalties. You can't withdraw funds from IRAs without a penalty until you reach retirement age - 59 ½ years old at the point of writing. Any withdrawals before this point will generally be subject to Income Tax, as well as a penalty between 5% to 10% depending on your IRA product.
How to invest in a Bitcoin IRA?
Self-directed is actually a strange term for an IRA because all IRAs must have a custodian to ensure all IRS conditions are met so people can't use them to avoid taxes illegally. 
The custodian for traditional IRAs is usually a bank - but most banks still haven't hopped on the Bitcoin IRA bandwagon just yet. However, a growing number of online companies are now offering Bitcoin IRAs for investors. All you need to do is pick one.
5 Best Bitcoin IRAs
How do you know which Bitcoin IRA to pick? It'll come down to the level of service, the fees involved and the terms and conditions for investing, as well as the crypto you're looking to invest.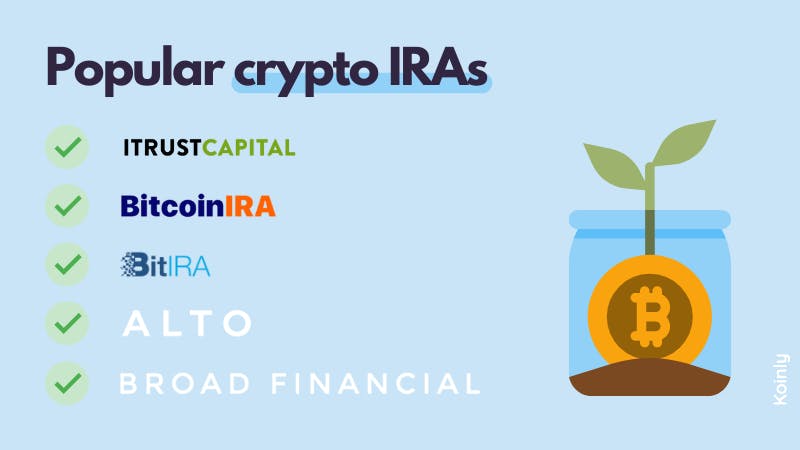 iTrustCapital IRA
iTrustCapital offers low and simple pricing - with a $29.95 monthly maintenance fee and a 1% charge on crypto trades. However, you'll need to have a $2,500 initial deposit to open an account. 
You can use your iTrustCapital IRA to invest in a great range of cryptocurrencies including:
BTC
ETH
LTC
DOT
ADA
BCH
BAT
ENJ
ALGO
ATOM
XTZ
CRV
SOL
AAVE
MATIC
YFI
SUSHI
UNI
COMP
XLM
EOS
DOGE
MKR
LINK
SHIB
BitcoinIRA
Bitcoin IRA is one of the largest crypto IRA providers and despite the title - Bitcoin isn't the only crypto you can invest in. You can also invest in ETH, LTC, BCH and XRP.
It's great for newcomers to IRAs in general as it has an easy interface, 24/7 real time trading and full customer support. Bitcoin IRA also offers BitcoinIRA Earn - where users can loan their IRA funds to earn interest. Bitcoin IRA maintenance and account fees will depend on your initial deposit size. The minimum initial deposit for a standard account is $3,000.
BitIRA
BitIRA is a relative newcomer to the crypto IRA market - but offers excellent security for digital assets, backed with unlimited insurance coverage. Users benefit from multi-encryption encoding for transactions in progress and once completed physical keys are kept in a cold storage wallet in a secure location. You'll need a minimum investment of $5,000 to open a BitIRA account and you can trade a good variety of cryptocurrencies including:
BTC
BCH
LINK
ETH
ETC
LTC
ZEC
XLM
AAVE
Alto CryptoIRA
Alto CryptoIRA might not be the biggest crypto IRA provider - but it does give investors the widest selection of crypto as the company is partnered with crypto exchange Coinbase. Alto currently supports more than 125 cryptocurrencies - you can see a full list here.
Alto also offers low account fees - between $0 to $25 depending on the account you choose and 1.5% trade fees. 
Broad Financial
Broad Financial's Bitcoin IRA works a little differently to other crypto IRAs. When you open a crypto IRA with Broad Financial, they create an LLC (Limited Liability Company) to invest your funds in. Broad Financial serves as your custodian for the LLC and issues you a capitalization check and checking account for your IRA. What this means is you can invest in any cryptocurrency you want to and you're not limited by the crypto the IRA supports. 
When it comes to fees, you'll need an initial investment of $1,400 as a minimum and you'll pay an average annual fee of $300. The Broad Financial Crypto IRA is available as a Traditional IRA or a Roth IRA - so you can pick which tax benefits you'd like to prioritize.
Bitcoin IRA Taxes
As mentioned above, Bitcoin and crypto IRAs come with significant tax benefits. But you need to have a good understanding of crypto taxes and the different types of IRA accounts available to capitalize on these. So let's break it down.
The IRS views crypto as property - this means in most instances it will be subject to Capital Gains Tax, like other properties such as stocks. When you sell, spend or trade crypto - you'll normally pay Capital Gains Tax on any profit (capital gain). In addition to this, some crypto transactions - like mining or staking crypto - are subject to Income Tax.
But this isn't the case when it comes to Bitcoin IRAs. The taxation on your Bitcoin IRA depends on the kind of crypto IRA you pick.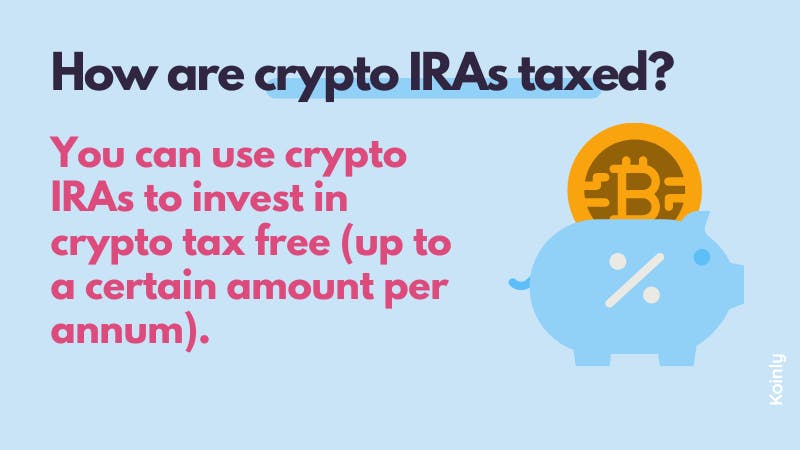 Traditional crypto IRA tax
Your contributions to a traditional crypto IRA are most often tax deductible. This means crypto held within your IRA isn't subject to Capital Gains Tax or Income Tax. Contributions to your traditional IRA are also tax deductible - up to a certain limit. So, you can reduce your tax bill by deducting traditional IRA contributions each year. You'll pay no tax on your crypto in a Traditional IRA until you withdraw your funds - at which point you'll pay Income Tax. Of course, as it's at the age of retirement - you'll likely pay a significantly lower Income Tax rate than you pay currently.
Roth crypto IRA tax
A Roth crypto IRA is a specific IRA product where you won't pay any tax when you withdraw your funds at the point of retirement. Like the above, you'll pay no Capital Gains Tax or Income Tax on crypto held within a Roth IRA. However this comes with a caveat, crypto you invest into a Roth IRA is not tax deductible - so you can't reduce your tax bill each year by contributing to your Roth IRA.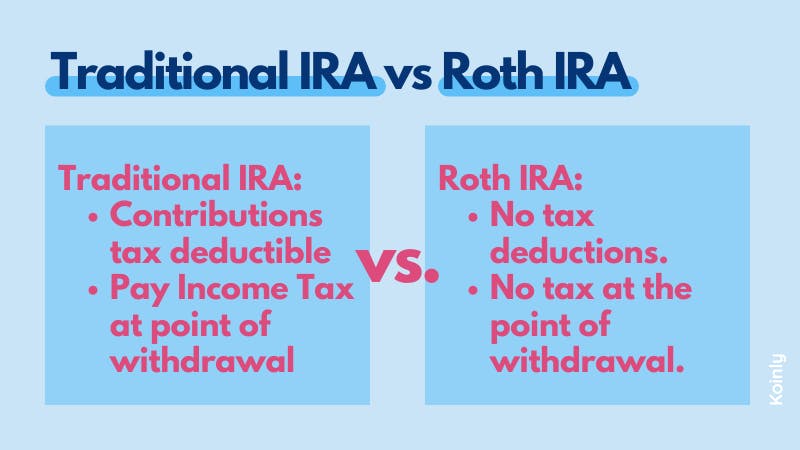 Traditional crypto IRA vs Roth crypto IRA
There's no right or wrong IRA to pick. It all depends on whether you want to take advantage of tax benefits now or enjoy tax free withdrawals in the future. Both types of IRA accounts have a maximum contribution limit of $6,000 a year ($7,000 if you're aged 50+). Traditional IRAs are better suited for those who expect to be in the same or a lower tax bracket at the point of retirement, while Roth IRAs are better suited to individuals who expect to be in a higher tax bracket at the point of retirement.
Make crypto tax simple
If you're not using a Bitcoin IRA - crypto tax can be complicated, but Koinly makes it simple by automating the entire process for you.
All you need to do is sync the wallets and exchanges you use with Koinly using either API or by importing CSV files of your transaction history. Koinly will then calculate your capital gains, losses, any crypto income and expenses and calculate your crypto taxes for you. You can find a simple summary of your crypto taxes on the tax summary page, as well as download pre-filled crypto tax reports including IRS Form 8949 and Schedule D, the TurboTax report and the Tax Act report.