Trading cryptocurrencies is time consuming. So how do crypto investors stay on top of their game in 2023? Well, many choose to use a crypto trading bot to help them ace their trades. These clever little pieces of code help you manage your crypto assets and make better decisions about your investments based on data and automation. To help you figure out where to start we've rounded up the best crypto trading bot tools in 2023.
From arbitrage trading bots to AI crypto trading bots, there's a lot of crypto trading bots to pick from - so how do you know which is right for you?
It'll all come down to the features you're looking for - whether you want a bot that can offer market data analysis for you to execute trades yourself, or whether you want a bot that can analyze market risks so you know how much to invest, all the way through to actually buying and selling your assets for you, crypto bot trading can help with all this and more!
To help you, we've put together a list of the best crypto trading bots for every investor with every budget. We're looking at:
Best AI crypto trading bot
Best free crypto trading bot
Best customizable trading bot
Best crypto portfolio management bot
Best crypto trading bot for professionals
Best crypto trading bot for privacy
Best crypto trading bot for market makers
Best crypto trading bot for developers
Best crypto trading bot for simulated trading
Best crypto trading bot for DeFi
Best AI trading bot: Cryptohopper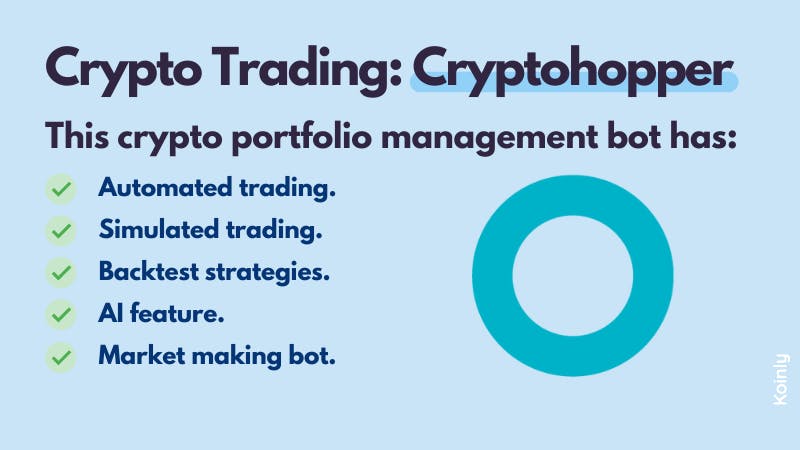 Cryptohopper is one of the best AI crypto trading bots and it's great for investors of every level of experience.
Standard features for those new to crypto trading bots include automatic trading and social trading - so whether you want to copy the best traders or let your bot trade for you based on market data, you can. You can also set up trailing orders to sell or buy based on a given price direction, so you don't need to be glued to your PC watching the market. The dollar cost averaging feature also helps users invest gradually to mitigate risk and losses.
For professional traders, Cryptohopper is one of the best options for an AI crypto trading bot. Investors can feed their bot strategies and let it learn, as well as adapt to changing market conditions. You can even automatically backtest all your strategies simultaneously and import them into your AI trading bot.
As well as your AI crypto bot, other professional features include a strategy designer to help you easily create trading algorithms, backtesting and a market arbitrage tool to help you leverage price inefficiencies across exchanges.
Cryptohopper can connect to all major exchanges including Binance, Coinbase and many more. Cryptohopper plans start for free and go up to $83.25 a month.
Best free crypto trading bot: Pionex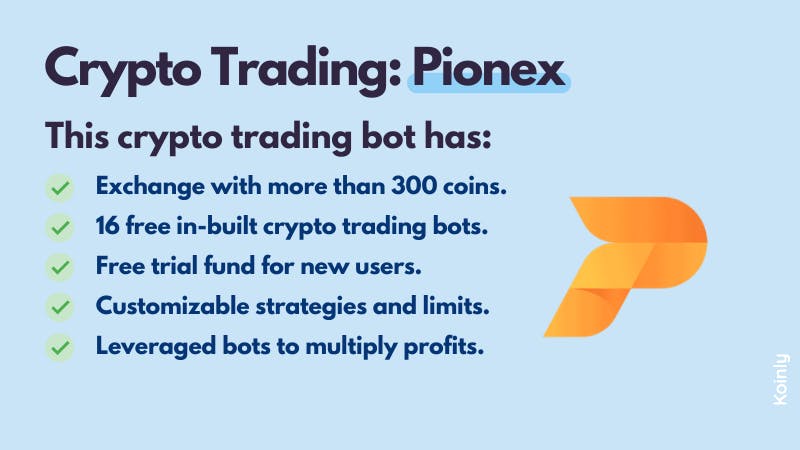 Pionex is a cryptocurrency exchange with more than 346 coins available conducting 100 million trades a day... best of all, Pionex offers free built-in crypto trading bots! Pionex has 16 free crypto trading bots available for all users - so all you need to do is pick the bot for your crypto trading. Options include:
Grid trading bot: Auto buy low and sell high.
Martingale bot: DCA buy, one time sell.
Spot-futures arbitrage bot: Low risk 15% to 50% APR.
Rebalancing bot: Custom index bot.
Dip-buying bot: Earn USDT before price falls below your target price.
BTC moon bot: Long-term strategy, 500 grids and wide price range.
ETH moon bot: Long-term strategy, 500 grids and wide price range.
Leveraged grid bot: Add leverage to multiply profits.
Margin grid bot: Borrow funds to increase grid trading bot profits.
Reverse grid bot: Sell high and buy low.
Leveraged reverse grid bot: Leverage the reverse grid bot to increase profits.
Infinity grid bot: Earn profits from fluctuations without selling.
Smart trade bot: Set buy price, take profit price and stop loss price.
Trailing sell bot: Avoid selling too early.
Trailing buy bot: Avoid buying too early.
TWAP bot: Dollar cost averaging.
Stop limit boy: Set buy and sell price in advance.
As you can see there's a bot for practically every strategy, every budget every level of experience making Pionex one of the best free crypto trading bot options out there. To sweeten the deal, new users to Pionex also get a free trial fund to test out trading bot strategies on the exchange and see the results for themselves.
Best Customizable Crypto Trading Bot: Altrady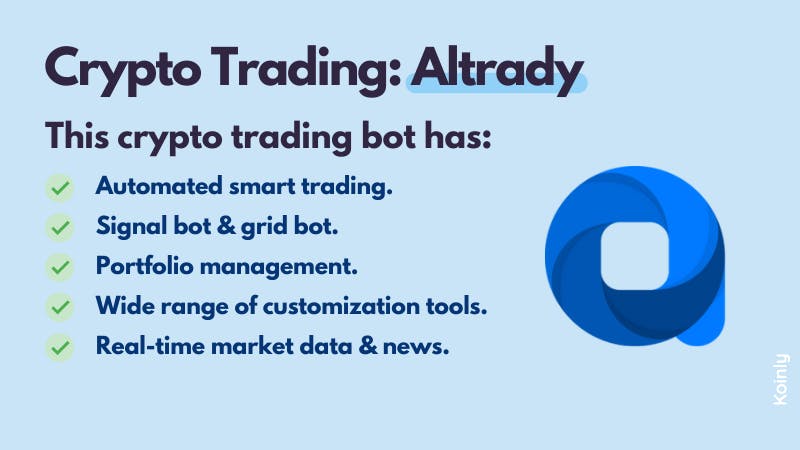 Altrady is a comprehensive crypto trading bot with a wide range of customizable tools and features, letting you automate and strategize your trading however you'd like to.
Not only that, but Altrady is an excellent portfolio management tool - letting you buy and sell on multiple exchanges from one platform. On the same platform, you can keep up to date with every move in the market with real time market data, aggregated news and even a journaling feature to keep your own notes on the market. As well as this, the quick scan feature can notify you on quick drops and rises in the market.
Trading features range from the staples like signal and grid bots, to advanced trading features like scaled laggers, trailing stops and OCO.
Whether you're new to the market or a veteran, Altrady is a great choice. For beginners, Altrady offers an excellent range of resources to learn how to conduct low-risk trades with ease and confidence. Meanwhile, for those looking to step their investment activities up a level, Altrady's technical analysis tools can help you make better decisions, based on real-time data.
Best crypto portfolio management bot: Shrimpy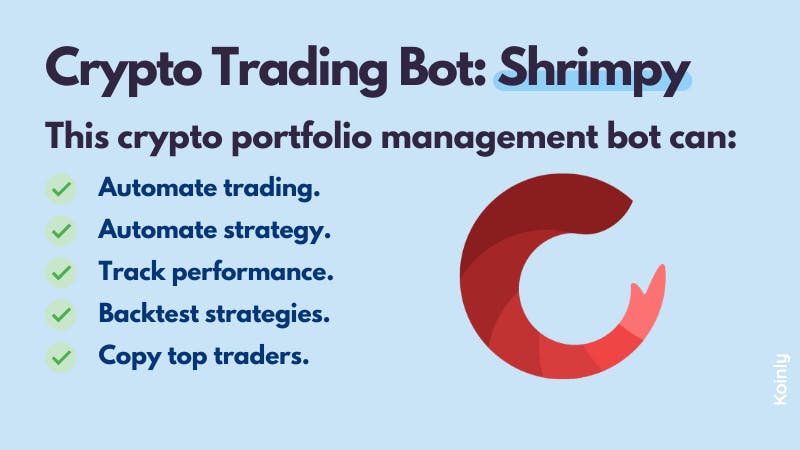 Shrimpy is the culmination of everything you want in a portfolio management solution. Unlike many other services available in the market, they found their niche as the perfect long-term automation tool. As such, many investors choice for best crypto trading bot - particularly if you're hodling for the moon.
Rather than promoting features like signals, arbitrage trading, or algorithmic strategies, Shrimpy offers a complete set of portfolio strategies. Instead of focusing on the short-term, they offer a simplified way to engage in the market over longer time horizons using automated crypto trading bots.
Shrimpy provides features for precisely managing your funds across exchanges. By plugging all your exchanges into their unified dashboard, you can systematically segment, track, and monitor your entire portfolio across a wide range of popular exchanges.
Tracking isn't everything they do, automation was where Shrimpy originated. They pride themselves as the leading portfolio rebalancing, dollar-cost averaging, and index fund building service in the market.
Once you get settled into the application, you will notice several other game-changing features. Social portfolios is one of these features. It's a new way to interact with other cryptocurrency traders by viewing their portfolio, copying their allocations or strategy, and automatically tracking portfolios over time.
Finally, no trading service would be complete without backtesting. Shrimpy offers a robust backtesting tool which evaluates the market using precise order book data that is used to simulate historical performance.
If that's not enough, Shrimpy also supports the Universal Crypto Trading APIs. These are trading APIs which connect to every major exchange and allow developers to build their own trading bots by taking advantage of the Shrimpy infrastructure. They are perfect for rapidly building complete trading services.
Shrimpy is the one of the best crypto trading bots in the market. You can try them today by signing up here. Plans start from $15 a month and go up to $299 for professional traders.
Best crypto trading bot for professionals: 3commas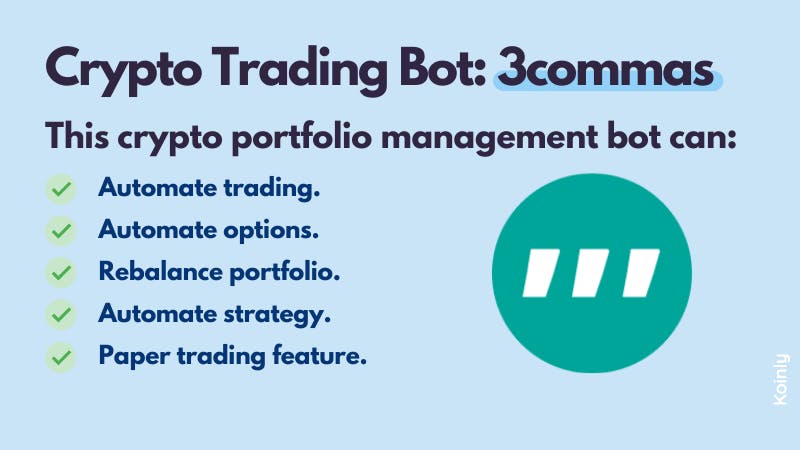 3Commas is one of the best crypto trading bots for professional traders. Unlike portfolio management solutions like Shrimpy, you would never hear the words "simple" or "easy" used in the same sentence as 3Commas. This trading service is complex, to say the least, but it's range of customizable features make it an excellent crypto trading bot for large scale investors, day traders, entrepreneurs and companies.
With enough time and effort, 3Commas can provide extremely detailed control over the way you execute your trading strategy across exchanges.
While 3Commas provides an extensive list of features, it's not for everyone. It's recommended for traders who are ready to commit the time necessary for learning everything about this automation and trading service available. Understanding how this crypto trading bot works is a feat in itself.
Once you understand 3Commas, the work isn't done. 3Commas focuses on short term trading strategies. Rather than "set it and forget it", signal based strategies will require more intervention as the market changes over time. That means the strategy you use will need to be adjusted. Taking time out of your day to keep up you're your trading bot.
3Commas is one of the most complete resources for professional crypto traders. Plans start free and go up to $99 a month for unlimited features.
Best crypto trading bot for privacy: Haasonline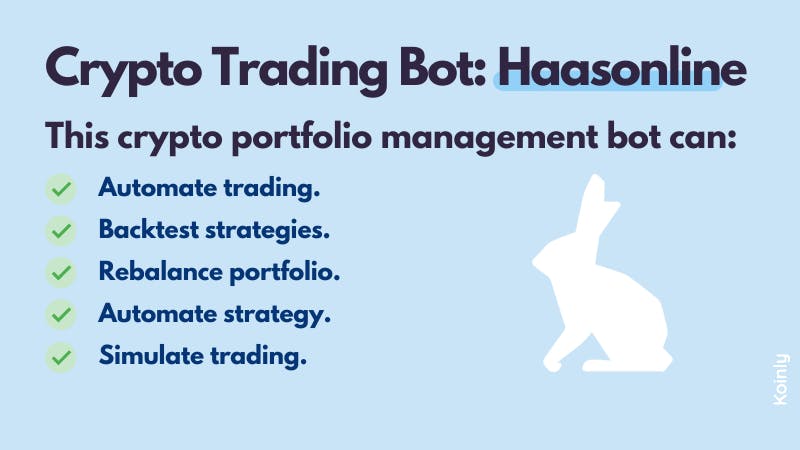 Haasonline is somewhat different than other crypto trading bots in today's day and age. Unlike most other services which are now managed in the cloud, Haasonline has remained as one of the only crypto trading bots which still runs from a personal computer - although they offer a cloud service too.
Running a crypto trading bot from your personal computer has both advantages and disadvantages. On one front, it could feel safer because your API keys never leave your computer. On the other hand, running a trading bot from your own computer means you need to be online 24/7. When your computer shuts off, so does your bot.
Additionally, when there are issues with Haasonline, that means it could be a while before the problem is resolved. Not only do they need to update the source code, but everyone needs to download and update their software to the latest version. Cloud-base trading bots can typically be updated quicker and changes can be propagated to users in near real-time.
Regardless of the difficulties with a desktop application, Haasonline has a complete user experience. Everything from signals, complex algorithmic trading, and arbitrage is supported in this application. Even recently, they launched their visual editor which allows traders to build strategies using drag and drop blocks. While you still need to understand the logic behind your strategy using the visual editor, it becomes easier to conceptualize the decision-making process for your crypto trading bot. Overall, Haasonline isn't for those entirely new to crypto trading bots, but for investors with some technical knowledge and developers - Haasbot is one of the best crypto trading bots around. Prices start from 0.011 BTC a month for beginner plans and range up to 0.033 BTC - with considerable discounts for those paying annually instead of monthly.
Best crypto trading bot for market makers: Hummingbot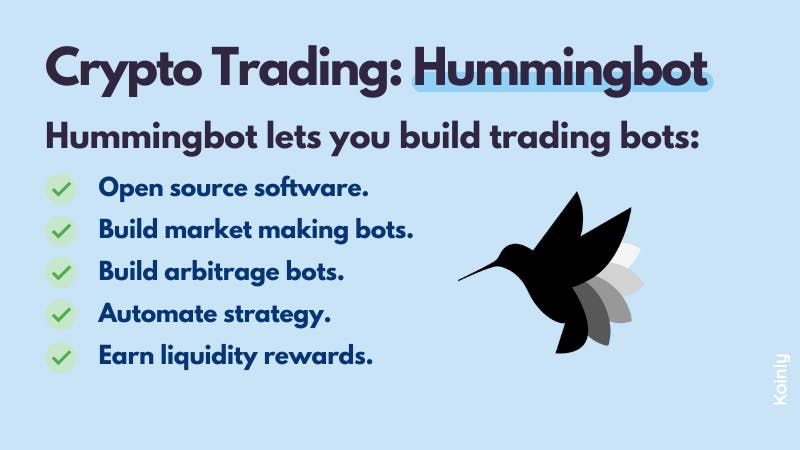 Hummingbot targets a different user than other bots which we've discussed here. Hummingbot is specifically designed for building and deploying institutional strategies for professional liquidity providers and market makers - both on dexes and centralized exchanges. In other words, if you're a small scale trader, there's plenty of other crypto trading bots out there - but if you're a professional liquidity provider, Hummingbot is one of the best crypto trading bots available.
Unlike portfolio management or signal based strategies, you can automate things like arbitrage, market making, and liquidity cloning with Hummingbot.
While these features are not in any way designed for the average trader or investor, institutions and exchanges would find these automation features useful for maintaining their own liquidity. In addition to the differences in functionality, this service is also open source. That allows anyone to view the source code and download the software to their personal computer for editing based on your own personal requirements.
If you're an institution looking for market making, check out Hummingbot - it's totally free of charge.
Best crypto trading bot for developers: Trality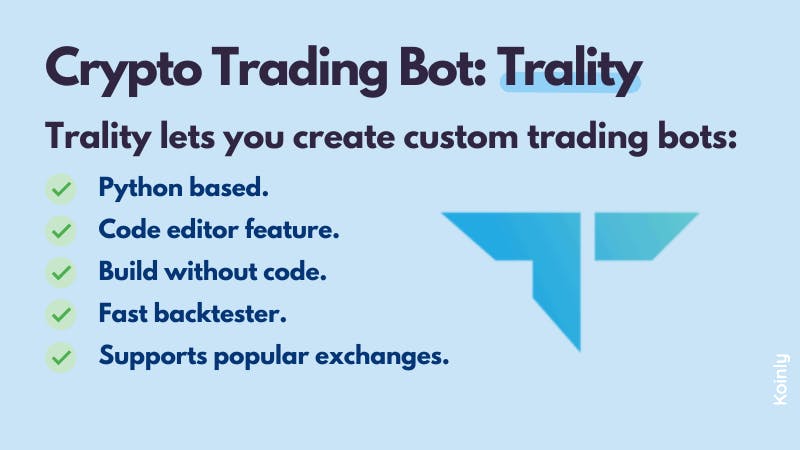 Trality is a powerful crypto trading bot utilizing Python API - meaning any crypto investors who know Python can further develop bots - and although we've listed it as our pick for best crypto trading bot for developers - it by no means means only developers can use Trality.
Trality caters to both Python experts who want to code their own trading algorithms, as well as casual investors just getting started with crypto trading bots.
Trality offers a code editor feature for devs, letting them leverage their coding skills and create the exact both they want in a browser-based Python code editor. For those without coding skills, you can use the rule builder feature to build your bot. This feature relies on predefined strategies, more than 100 technical indicators and boolean logic to arrange and build your bot.
Trality works with some of the biggest crypto exchanges around including Binance, Kraken, CoinBase and BitPanda. Trality plans start free for trading volume under $5000 and range up to $59.99 for unlimited trading volume.
Best crypto trading bot for simulated trading: Cryptohero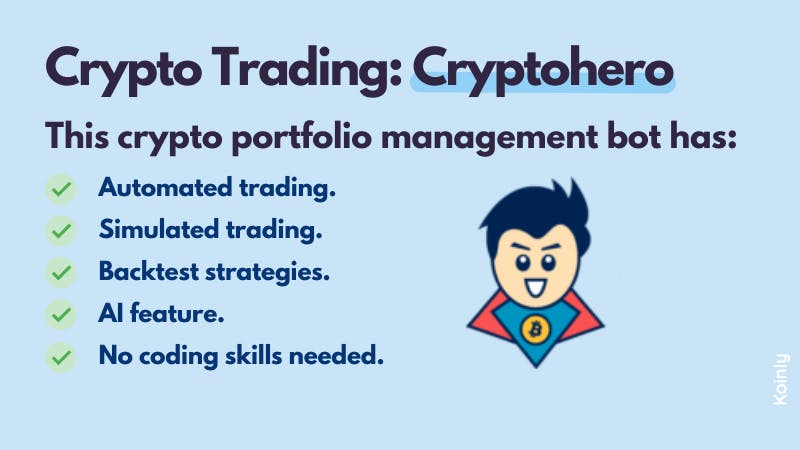 Cryptohero is a great option for those new to automated crypto trading bots, as well as those on a budget or short on time. It takes minutes to create, test and run a bot thanks to advanced AI. One of the features that make Cryptohero one of the best crypto trading bots is the paper exchange.
Cryptohero also offers a simulated paper trading feature so you can test your crypto trading bots before you run them. You can also use the backtesting feature to test it on your own trades before deploying your bot. It integrates with multiple large crypto exchanges with no coding skills required.
Supported technical indicators include Bollinger bands, exponential moving average, relative strength index and stochastic RSI. Among other things, Cryptohero crypto trading bots are capable of:
Long and short-term strategies
Dollar cost averaging
Range bound trading
Indicators and triggers
Free plans include one active bot and access to the paper exchange and prices range up to $29.99 a month for all features.
Best crypto trading bot for DeFi: TokenSets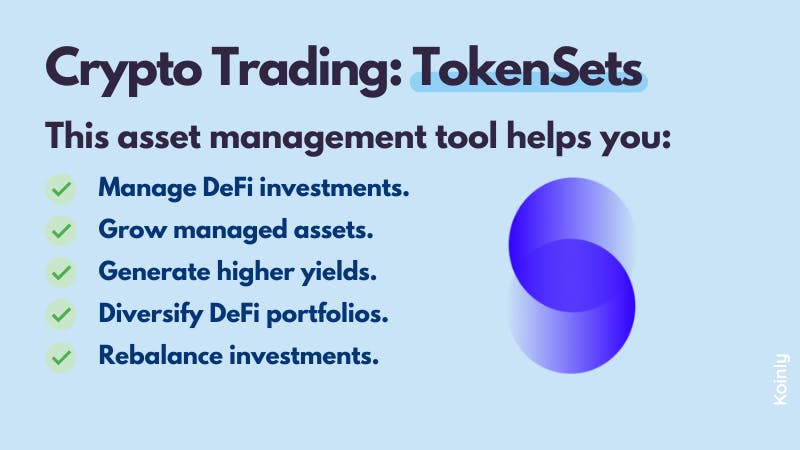 TokenSets is an asset management tool and it's one of the best crypto trading bots for the DeFi market. TokenSets let you manage your sets with advanced trading tools, with a wide range of DeFi services like Aave and Compound supported.
This crypto trading bot is ideal for both experienced DeFi investors short on time, as well as novice investors looking to enter the DeFi space. Developers can create their own sets directly and customize it with any ERC-20 asset and a bespoke strategy.
For novice investors, there are a huge range of established sets available with impressive yield returns to help guide you through a world of DeFi investment opportunities with minimal hassle and lower risk.
Crypto trading bot tax software
Automating your cryptocurrency portfolio strategy can be a huge time saver. Keeping up with the 24/7 markets is draining and will eventually lead to burnout. Explore how each of these awesome crypto trading bots can help you take back control of your time. Since they are all unique, it may take some time to understand how each crypto trading bot can be effectively leveraged for your portfolio.
Remember, crypto trading is just part of the picture. You also need to report your crypto income and gains accurately to your local tax office - you can do this easily with cryptocurrency tax software like Koinly. Just sync the wallets and exchanges you use and Koinly will import your trades and calculate your crypto taxes for you.