Have you been trading with Newton? Newton is a great trading platform for Canadian traders, but when it comes to tax time complicated tax calculations can still get the better of you. Our comprehensive Newton tax guide has got you covered with answers to the big tax questions - and the not-so-common ones too.
How to prepare Newton taxes
The Canadian Tax Authority (CRA) is cracking down on crypto tax evasion, so if you have been actively trading on Newton crypto exchange, they're going to want to know about the capital gains and income from your Newton investments. No need to panic! To get started, all you need is your Newton transaction history.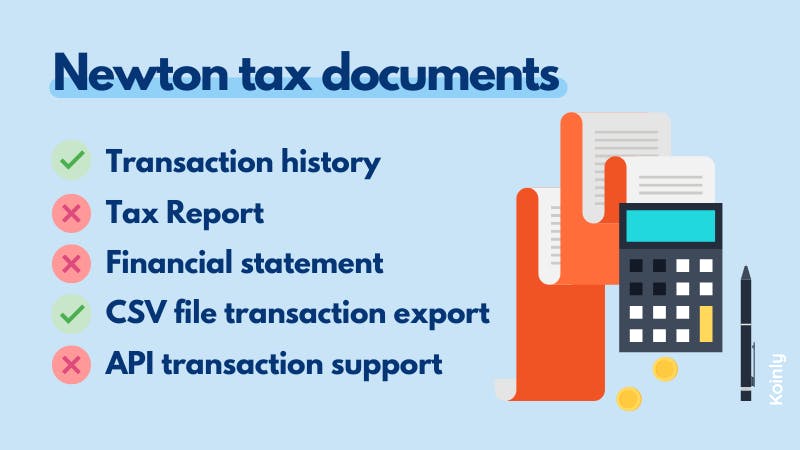 How to download Newton transaction history
Newton doesn't have a tax API yet, so the easiest way to get your Newton transaction history is to export a CSV file. You can easily export your transaction history directly from your Newton account. Once you've got it, you can either calculate your crypto taxes yourself or upload your CSV file to a crypto tax app and let it do all the work for you.
Does Newton provide a tax report?
According to Newton's website, they do not "provide tax, legal or accounting advice", which includes tax reports. You can, however, use your transaction history to create a tax report using a crypto tax app - like Koinly.
Does Newton supply a financial statement?
No, Newton does not supply a financial statement, but you can use a crypto tax app to generate one.
Newton CSV export
You can easily export your Newton transaction history as a CSV file for tax purposes. Just log into Newton and select the three line icon (settings) in the top right corner, then tax report. Now select export next to the relevant crypto tax software you're using.
Does Newton have a tax API?
Newton does not currently have a tax API, but they may do soon! We'll update this article as soon as they do.
Does Newton provide an end-of-year statement?
No, Newton does not provide an EOFY statement, but you can use crypto tax software to generate one.
Does Newton report to the CRA?
Newton is registered as a Money Service Business (MSB) with the Financial Transactions and Reports Analysis Centre of Canada (FINTRAC). FINTRAC have a shared reporting process with the CRA. In other words, yes Newton may be required to disclose customer data to the CRA if requested.
How to generate a Newton tax report
While technically there are three ways to generate a tax report, with Newton there are currently only two - you can either calculate your taxes manually or connect to a crypto tax app - like Koinly.
Calculating your taxes on your own can be a time-consuming process, and while it depends on the volume of your activity, you need to calculate any capital gain or loss from selling, trading, spending or gifting crypto for every single transaction. Not only can it be tiresome work, but it is also easy to make mistakes. That's why we recommend connecting to a crypto tax app, which will take care of all of the cumbersome calculations for you. 
All you need to do is upload your CSV file to the crypto tax app and your Newton tax report will be calculated for you. If you connect with Koinly a pre-filled tax report will automatically be generated based on your location - for example, Schedule 3, Capital Gains (or Losses) for the CRA.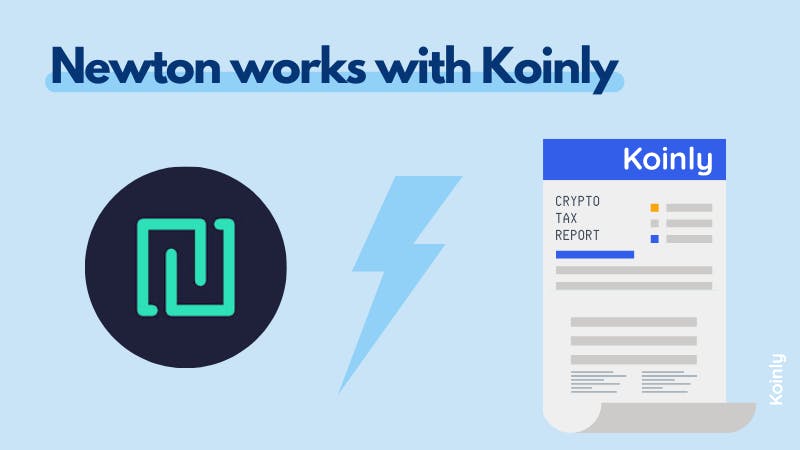 Koinly pairs perfectly with Newton. With Koinly your tax calculations will be easy. Once you connect to Koinly, your Newton transaction history will be imported and your taxes will be calculated for you.
As a Newton tax calculator, Koinly saves you time by doing the hard work for you, and the best bit - Koinly can even save you from paying too much taxes.
Still want to know the benefits of using a tax calculator like Koinly? Here's a short summary of what Koinly does:
Imports all your trades including purchases, sales, swaps, and rewards.
Converts your transactions into your country's currency at fair market value (this in itself is a massive time saver).
Deciphers which of your Newton trades are taxable and which are not. 
Helps you submit a clean and accurate report to your tax office.