No one likes doing taxes, but they are a necessary evil. If you are a Safepal Wallet user, you may be wondering how to go about doing your taxes. The good news is that it is not as difficult as you may think. Here are some tips to help you get started.
How to prepare SafePal Wallet taxes
Wherever you live, your tax office wants to know about any capital gains, losses or income you've made from crypto investments - including your SafePal Wallet investments. To get started with your SafePal Wallet taxes, you'll need your transaction history.
How to export SafePal Wallet transaction history
You have two options for downloading all of your transactions from SafePal Wallet and exporting them:
You can connect the SafePal Wallet API to crypto tax software like Koinly. If you're using SafePal Wallet to interact with several blockchains, you'll need to retrieve your public address or xpub key for each blockchain and add it to your crypto tax tool.
Although SafePal Wallet does not offer a CSV file export option within their app, in many cases, you may use a blockchain explorer to export a CSV file or create your custom CSV file, which you can then use to calculate your taxes yourself, or upload to a crypto tax calculator.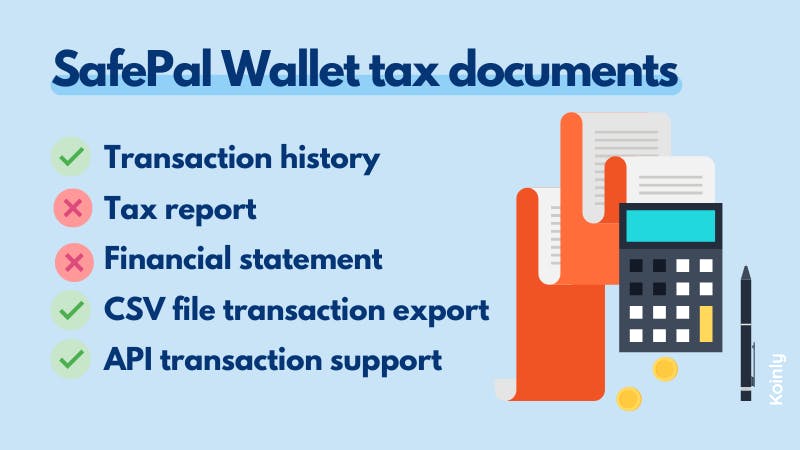 Does SafePal Wallet provide a tax report?
No, SafePal Wallet does not provide tax reports. It's incredibly difficult for any crypto wallet to provide an accurate tax report due to the multiple wallets investors are normally using - so tracking cost basis and identifying transfers from disposals is almost impossible for any one wallet or exchange. This is why most investors opt to use a crypto tax tool to track their entire crypto portfolio and tax liability from one spot.
Does SafePal Wallet provide a 1099 form to the IRS?
No. SafePal doesn't collect KYC data (unless using SafePal to interact with the Binance Dapp - and even then SafePal doesn't store your data). As such, it would be impossible for SafePal to issue 1099 forms for users.
Does SafePal Wallet supply a financial statement?
No, SafePal doesn't issue users a financial statement, nor can you export your transaction history as a CSV directly from the app.
SafePal Wallet CSV
Currently, the SafePal Wallet does not provide a CSV export option within the app. However, you may be able to use a blockchain explorer to export a CSV file or create your own unique CSV file. Alternatively, you can use the SafePal wallet API with crypto tax software.
SafePal Wallet API
If you're using crypto tax software, you simply need your public address/xpub key from SafePal to automatically fetch your transaction history. You'll need to get your public address or xpub key for each blockchain you interact with using SafePal wallet - for example ETH, BTC and DOGE. You can find your public address easily within the SafePal app - just select the blockchain you want to connect to and find the copy icon at the top of the screen. Once you have it, paste this into your crypto tax software.
Does SafePal Wallet provide an end of year statement?
No, SafePal does not provide an end-of-the-year statement.
Does SafePal Wallet report to the IRS?
According to SafePal's privacy policy, they may share or transfer your information to abide by applicable laws, regulations, legal procedures, and administrative or judiciary authorities. So, they might report to the IRS if the need arises. However, as SafePal collect minimal KYC data (unless using the Binance Dapp), the information they may potentially share is often limited.
Does SafePal report to other tax authorities?
SafePal's privacy policy doesn't only apply to the IRS, so SafePal may share or transfer your information with other tax offices under certain circumstances.
How to generate a SafePal Wallet tax report
You can generate a SafePal tax form by using a crypto tax software or manually calculate and file your crypto taxes. Manually doing this can take a lot of time and effort, and it's also prone to human error.
Which is why most investors opt to use crypto tax software to fetch their SafePal Wallet transaction history automatically and calculate their tax liability on their behalf.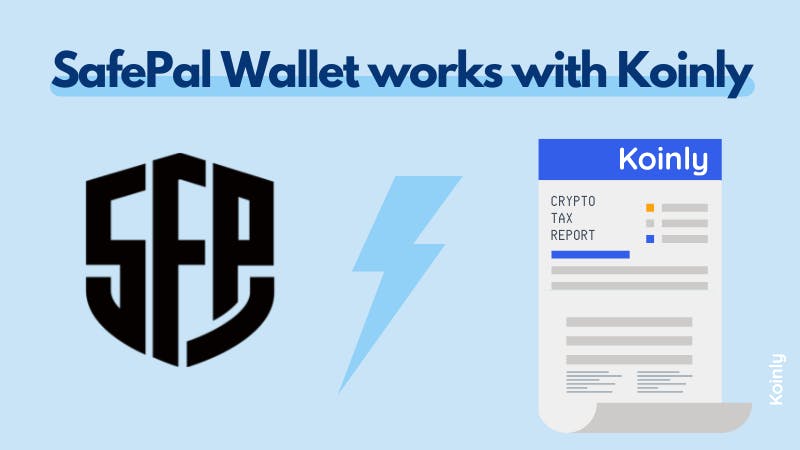 Koinly is a SafePal tax calculator that helps users calculate their capital gains and losses and income. It connects to more than 600 exchanges, wallets and blockchains to fetch data and generate reports following the user's local tax laws.
Thousands of cryptocurrency investors, accountants, and blockchain businesses use Koinly, which is also the chosen tax partner for several top cryptocurrency exchanges. Here is a detailed list of what Koinly offers:
Imports all information about your trades such as sales, swaps, purchases, and rewards.
Detects transfers between your wallets and tracks your original cost.
Helps you convert your transactions into your chosen fiat currency.
Lets you track your entire portfolio including realized and unrealized gains and losses.
Works out which transactions are taxable and which ones are not.
Generates your crypto tax report, based on your location, ready to file.