Doing your Voyager crypto taxes can be a difficult task, but it doesn't have to be. With the right tools and preparation, you can make tax time a breeze. Crypto tax software is a great tool for reporting your taxes, and with this guide, you'll be an expert in no time on how to do Voyager taxes.
How to prepare Voyager taxes
Selling or trading crypto on Voyager? Like any other investment activity - you'll need to pay tax on any profit made from your transactions. You'll even need to pay tax if you've spent crypto using a Voyager debit card. 
To prepare your Voyager taxes, the first step is to export all of your Voyager transactions and then either import them into your chosen crypto tax software or calculate your crypto taxes yourself.
Update July 2022
On the 1st of July 2022, Voyager suspended trading, deposits, withdrawals and loyalty rewards due to on-going liquidity issues, in part, after Three Arrows Capital crypto hedge fund failed to repay loans.
On the 6th of July 2022, Voyager announced they were undergoing a comprehensive financial restructuring process aimed at maximizing and returning value for stakeholders, known as a Chapter 11 filing.
Voyager confirmed on the 11th of July that USD deposits will be available after the reconciliation and fraud prevention process. For crypto assets held in the Voyager platform, Voyager stated that the company currently has $1.3 billion in crypto assets on the platform, plus claims against Three Arrows Capital for more than $650 million. Under their proposed reorganization plan (which may change), customers will have the ability to select the proportion of crypto and common equity they receive from a combination of the following:
Pro-rata share of crypto;
Pro-rata share of proceeds from the 3AC recovery;
Pro-rata share of common shares in the newly reorganized Company; and
Pro-rata share of existing Voyager tokens.
Similarly to the Celsius crash - investors must wait for proceedings to play out.
In September 2022, crypto giant FTX secured a winning $1.4 bid for the assets of Voyager Digital.
It's still not entirely clear what this means in regard to current Voyager investors assets. Although CEO of FTX, Sam Bankman-Fried, tweeted, "in Voyager, our bids are generally determined by fair market price, no discounts; goal isn't to make money buying assets at cents on the dollar, it's to pay back $1 on the $1 and get the $1 back to customers."
Since then, FTX Group faced significant financial issues and filed for Chapter 11 bankruptcy. It is unclear where this situation leaves Voyager consumers yet.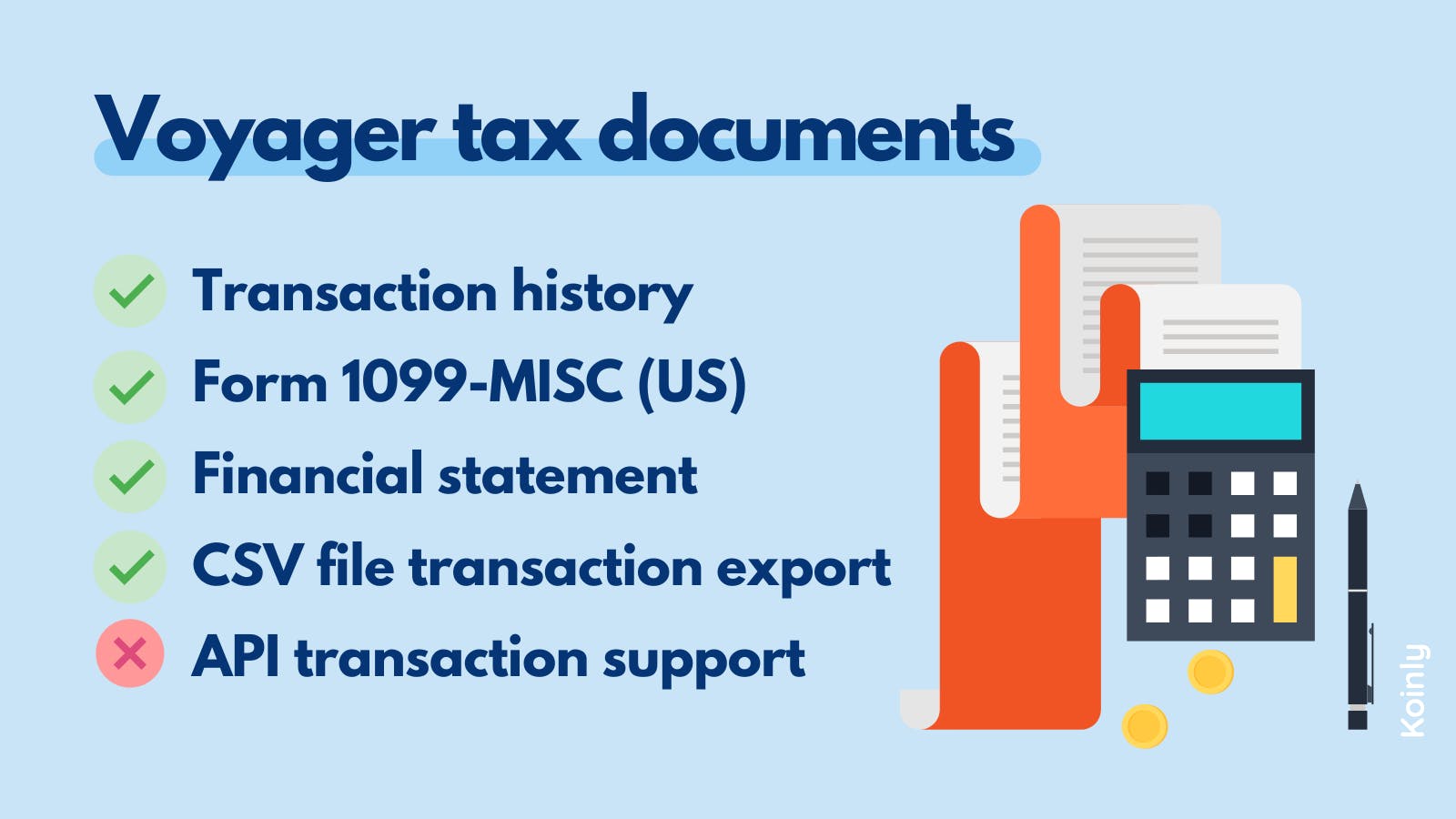 How to download and export Voyager trading and transaction history
You can download all of your transactions from Voyager and do your crypto taxes in one of two ways:
You can get a complete CSV file of your Voyager transaction history and upload it to a crypto tax calculator to have all of your Voyager transactions imported automatically. 
Download your complete CSV file of your Voyager transaction history and calculate your capital gains, losses and income yourself.
Does Voyager provide a tax report?
No, Voyager does not provide tax reports. Most investors are moving their crypto between many wallets and exchanges - making tracking the cost basis of assets almost impossible for any exchange. As a result, it's difficult for any exchange or wallet provider to produce comprehensive tax reports. Instead, Voyager provides a downloadable transaction history that you can import into crypto tax software.
Does Voyager send a 1099 form to the IRS?
Yes. If you've made more than $600 on Voyager, you may receive a 1099-MISC form from Voyager. Remember, whenever you get a 1099 form from Voyager or any other crypto exchange - the IRS gets an identical copy.
Does Voyager supply a financial statement?
The simple answer is yes. Voyager provides an account statement that will show your transaction history on Voyager. If you notice an error in your Voyager transaction history - contact the Voyager team within 60 days of receiving your account statement to get this amended.
Does Voyager provide CSV export?
Yes, Voyager allows CSV export. You won't find this option on your Voyager account; instead, use this form to submit a Voyager tax/transaction request. Fill out the form and be sure to request your whole transaction history (for all of the years you've traded on Voyager).
The tax/transactions request form allows you to generate your transaction history in downloadable CSV files. Here are the details needed for this process:
The email associated with your Voyager account
Choose whether you want CSV for all transactions
Choose the date range for your requested report
Then just submit the form. Once you've got your CSV file, use it to calculate your crypto taxes yourself, or import them into a crypto tax calculator like Koinly.
Does Voyager have a tax API?
No, Voyager does not support API connection at the moment. You will need to upload your CSV files. Remember, if you're going to use CSV files, make sure you import your deposits, withdrawals, and trades for all past years, not just the current ones.
Does Voyager provide an end-of-the-year statement?
Yes, Voyager provides an end of year statement. To provide year-end cryptocurrency gain/loss statements to its customers, Voyager partnered with Silver Cost Basis.
Does Voyager report to the IRS?
Yes, Voyager may report to the IRS when requested to ensure tax compliance. According to Voyager's privacy policy, the platform has the right to provide customer data to law enforcement if necessary.
Does Voyager report to other tax authorities?
Voyager is currently only available to US residents, so it's unlikely they're reporting to other tax offices just yet.
However the exchange is looking at expanding into Europe and Canada in the very near future. Just like the IRS, tax authorities all around the world are taking crypto tax seriously. This is part of their fight against money laundering, tax evasion and so forth. It's highly likely that as a reputable exchange that complies with country regulations - Voyager will work with the relevant tax authorities as they need to.
How to generate Voyager tax forms
A Voyager tax form can be generated using a crypto tax app or by manually calculating your crypto taxes. Doing this manually can take too much time and energy and of course, it's prone to human error. That's why most investors use crypto tax software instead.
Crypto tax software can quickly sync your transaction data with most exchanges and provide profit and loss reports as well as tax reports based on your location. All you need to do is upload the CSV file of your Voyager transaction history and save yourself time and energy while taking the anxiety out of tax season.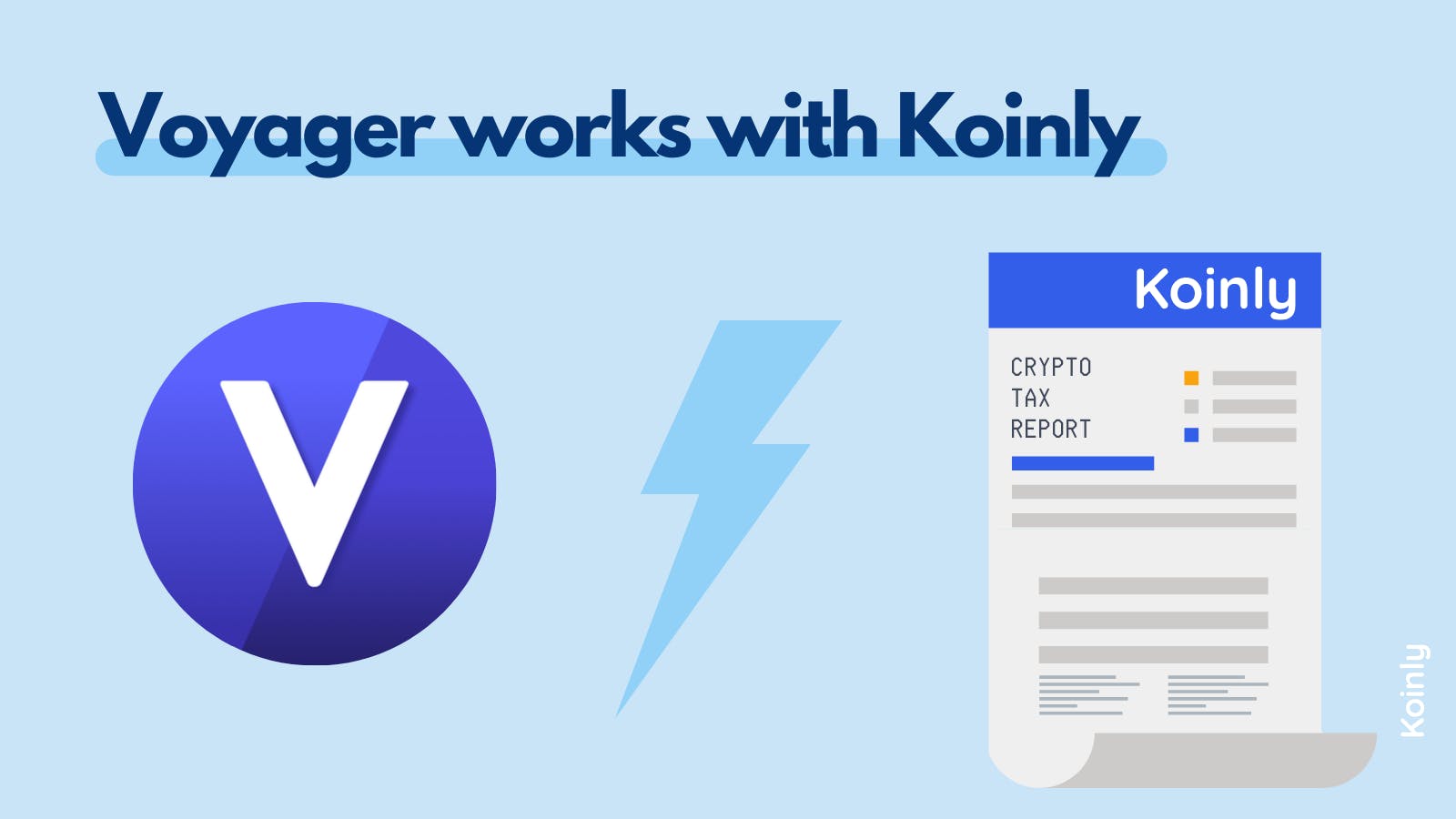 We have established the fact that generating a Voyager tax form by yourself can be very difficult and prone to error. This is where crypto tax software comes in.
Koinly is a free and open-source crypto tax calculator that allows users to calculate their capital gains and losses for over 17,000 cryptocurrencies. No more hours collecting CSV files, compiling data, calculating market prices and so on.
Easily calculate your Voyager taxes and generate the right tax reports to submit to your local tax authority. Koinly integrates with Voyager to simplify crypto tax reporting. Here's a quick overview of what Koinly does:
All of your trades are imported, including purchases, sales, swaps, and rewards.
Converts your transactions into your home country's currency at fair market value. This will save you a lot of time.
Identifies your taxable transactions and calculates your tax liability.
Assists you in preparing and filing a complete and correct tax return to the IRS.