Phemex is one of the largest cryptocurrency platforms used globally. Find all you need to know about Phemex tax calculation and reporting; find answers to questions that aren't answered anywhere else.
How to prepare Phemex taxes
In several countries, tax authorities are interested in how you trade with cryptocurrencies, including Phemex. This includes your capital gains and losses, expenses, and any income generated from your crypto investments. However, to get this done you will need information about your transaction history on Phemex. 
Since Phemex doesn't report taxes directly, it is usually recommended that you use crypto tax software. Don't worry, we'll walk you through it!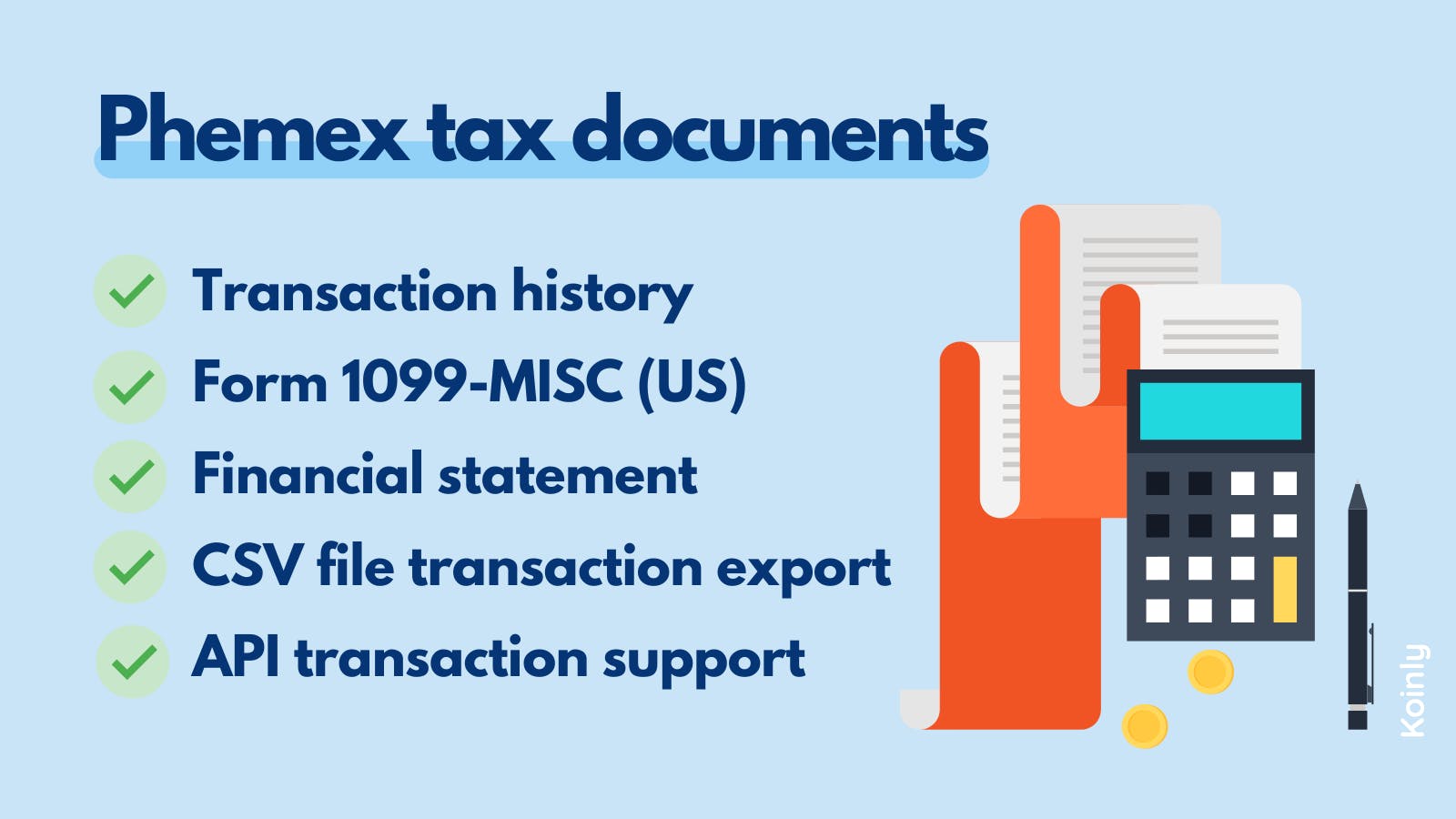 How to download & export Phemex trading and transaction history
You can download or export your transaction history into your Phemex account in one of two ways:
You can use the Phemex tax report API in conjunction with crypto software. Using the Phemex reporting API helps you import your Phemex transaction history directly into your favorite crypto tax software, like Koinly.

Export your Phemex transaction history into a CSV file. If you want to calculate your crypto taxes manually, you can download your Phemex transaction history from your Phemex account, although they come as separate components that need to be exported individually. We'll explain this further down.
Does Phemex provide a tax report?
No, Phemex doesn't provide a tax report. However, it provides financial statements which can be useful in calculating and reporting taxes. 
This is a seamless process if you use the Phemex tax report API which automatically collects your transaction history and sends it to the crypto tax software of your choice. 
Alternatively, you can do your crypto taxes manually by downloading the CSV files of your Phemex transaction history. You can then use this to manually calculate your crypto taxes or you can import your CSV files into crypto tax software like Koinly to generate your Phemex tax report.
Does Phemex send a 1099 form to the IRS?
If you are resident in the United States and have made over $600 in trades through cryptocurrencies, it is expected that you will receive a 1099-MISC form. Of course, this doesn't apply to users residing outside the United States.
Phemex is not regulated in the US as they offer crypto derivatives - so it's very unlikely you'll be getting a 1099 form from the IRS.
Does Phemex supply a financial statement?
Yes, Phemex does provide account statements - which you will need to calculate your crypto taxes. It is important to note that Phemex will not give you a financial statement in one CSV document, rather you'll have to download multiple CSV files to create a financial statement. After you have downloaded the files, you can import your Phemex files into a trustworthy tax calculator like Koinly to calculate your tax.
The files you'll need are:
Withdrawals statement
Deposits statement
Investments statement
Spot Trading statement
Spot Wallet Funds statement
Contract Trading Closed PNL statement
Contract Trade Funds statement
If you are using Koinly, you'll only need the withdrawal, spot wallet funds, contract trade fund, investment, and spot trading statement files.
Let's take a look at how to get your Phemex CSV files. 
Does Phemex provide CSV export?
Yes, financial statements generated by Phemex are downloadable in CSV format. These files can either be used to calculate taxes manually or imported into crypto tax software for calculation and reporting. Here's how to get each statement (or see more detailed instructions for Phemex CSV files for Koinly).
Withdrawal statement: Go to asset, then withdraw, then recent history and select view all. Select generate withdrawal report, pick a time period and select generate.
Spot wallet funds: Go to asset, funds and then spot wallet. Select generate spot history report, pick a time period and select generate. 
Contract trade fund: Go to asset, then funds, and then contract trade accounts. Select generate contract history report, pick a time period and select generate. 
Investment statement: Go to asset, then funds and then investment accounts. Select generate investment history report, pick a time period and select generate. 
Spot wallet funds statement: Go to asset, spot history, and then trade history. Select generate spot history report, pick a time period and select generate. 
If you're using Koinly for crypto tax calculation and reporting, the files above are all you need.
But if you're calculating your crypto taxes yourself,  you may also download the other statements using the guide below:
Deposit statement: Go to assets, deposit and then view all. Select recent history, then generate deposits report. Now pick a time period and select generate. 
Contract trading closed PNL: Go to asset, contract history and then PNL details. Select closed PNL, then generate contract trading closed PNL report. Select a time period and then generate. 
Please note for all Phemex CSV files, you may have to wait up to 24 hours for the CSV file to generate. You'll see a status next to your report that will change from "generating" to "generated" once your report is ready to download.
Does Phemex have a tax API?
Yes, Phemex provides a tax report API that can be used to export transaction details. 
You can connect Phemex with a tax report system such as Koinly - see instructions here. 
You can create API keys from the API management page in Phemex - but make sure to create read-only API keys for your crypto tax software. 
It is important to note that accessing the API secret code once the pop-up is closed is impossible. It is only available once.
Do they provide an end-of-year statement?
No, Phemex doesn't provide an EOFY statement for users. However, you can adjust the time range to cover the span of your country's financial year when you're exporting CSV files. For example, you could use January 1st 2022 to December 31st 2022.
If you're uploading CSV files to crypto tax software, make sure to download CSV files that cover your entire trading history on Phemex so you can calculate your cost basis, short-term and long-term capital gains correctly.
Does Phemex report to the IRS?
Phemex is not licensed to operate in the US, so it's unlikely they report to the IRS. However, that could all change quickly if the IRS or the SEC take an interest. It is advisable that all your taxable transactions are reported correctly.
Does Phemex report to other tax authorities?
It is likely Phemex has been pressured to share KYC data with other tax authorities. Just like other large crypto exchanges, it is likely Phemex reports to tax authorities such as the CRA, ATO, and a host of other relevant authorities.
How to generate Phemex tax forms
There are generally two ways you can generate tax forms for Phemex. It can be done manually or via a crypto tax app or software. Taking the manual route entails taking note of all taxable transactions such as capital gain or loss by selling, trading, spending, or gifting crypto and every other form of income you've earned through cryptocurrencies like mining, staking, etc. Collecting all necessary information in these aspects, calculating your net capital profit and losses and adding it to your annual tax returns.
However, if you have many transactions on Phemex, this could be taxing, which is why it is advisable that you use crypto tax software.
With crypto tax software, all the arduous tasks are done for you. You simply use the Phemex API or export your Phemex transaction history then import it into the tax software. It will generate a Phemex tax form for you based on where you live and your tax office.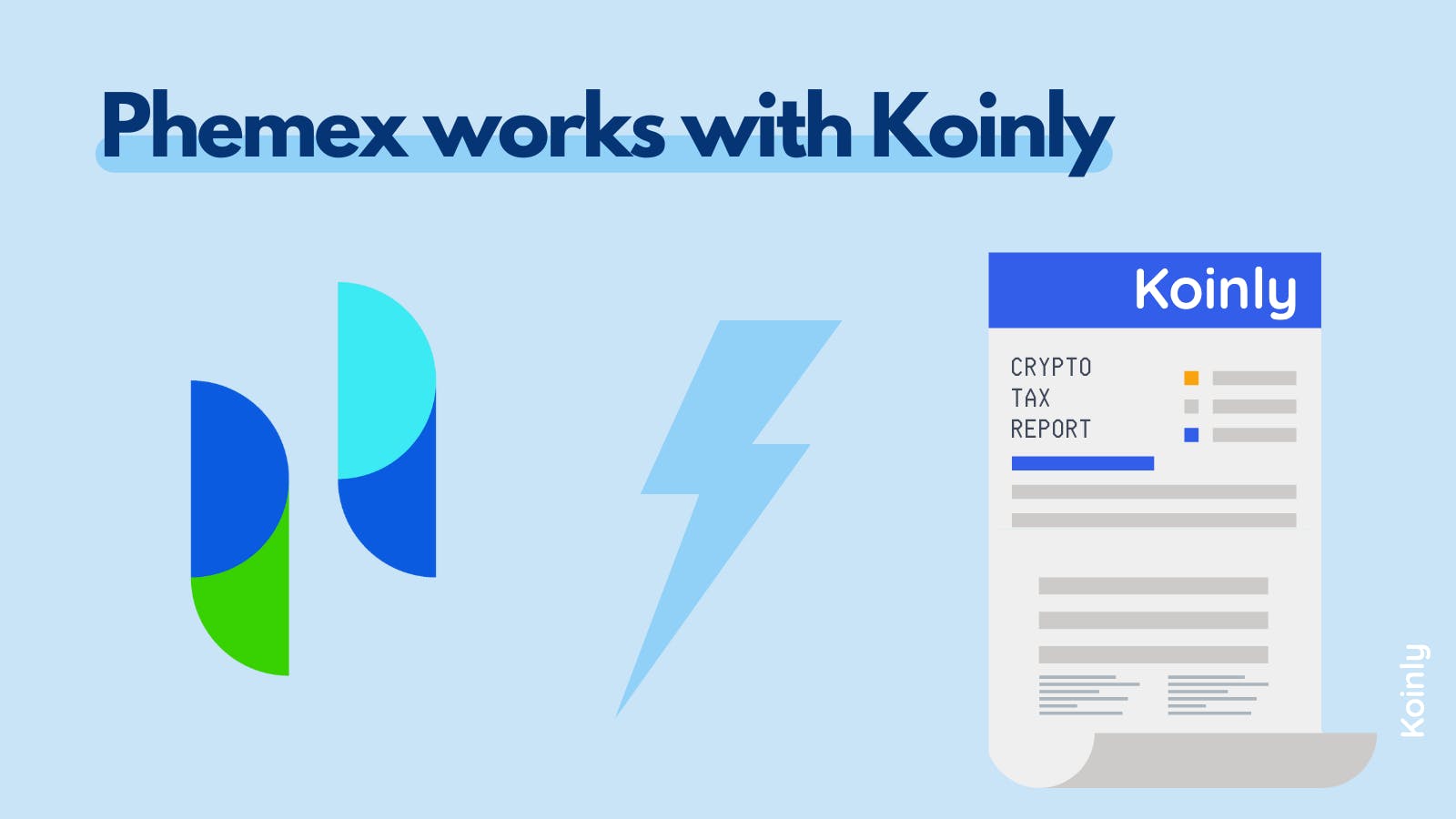 At this point, you probably know how tedious it is gathering information about your Phemex transactions, putting the sums together, and ensuring that nothing is left behind. However, with the Koinly tax calculator, you will not only save yourself the hassle that comes with collecting individual taxable transactions, but you will also minimize the chances of omissions.
Koinly will import your Phemex transaction history and also calculate your taxes! Time is important to you, Koinly saves you time, presents your tax information to your tax office in easy to understand format, and also ensures that you do not pay excessive taxes. Here's a concise detail of what you stand to benefit from using the Koinly tax calculator. 
Imports all information about your trades such as sales, swaps, purchases, and rewards.
Helps you convert your transactions into the currency value of your country of residence at fair market value (this saves you a lot of time and energy).
It helps you work out which transactions are taxable and which ones are not (although sometimes you may have to tweak it a little, for the most part, it is completely catered to by the software).
Makes your report neat and accurate, for ease of comprehension at your tax office.