NiceHash is a cryptocurrency exchange that also doubles as a crypto hash broker with its users spread across the globe. NiceHash connects those with hashing power to those who want to buy it. Our NiceHash tax guide includes everything you need to know about Nicehash tax reporting and calculation.
How to prepare Nicehash taxes
Trading on NiceHash? You will need to pay Capital Gains Tax on your profits. Mining on NiceHash? You will need to pay Income Tax based on the fair market value (in fiat currency) of your mined coins at the point you received them. It's a lot of work if you're an active crypto trader, but NiceHash users can prepare for taxes - starting with - downloading your transaction history. 
In our NiceHash tax guide, we'll cover everything you need to know about how to do your NiceHash taxes, as well as the quickest way to get your NiceHash taxes done!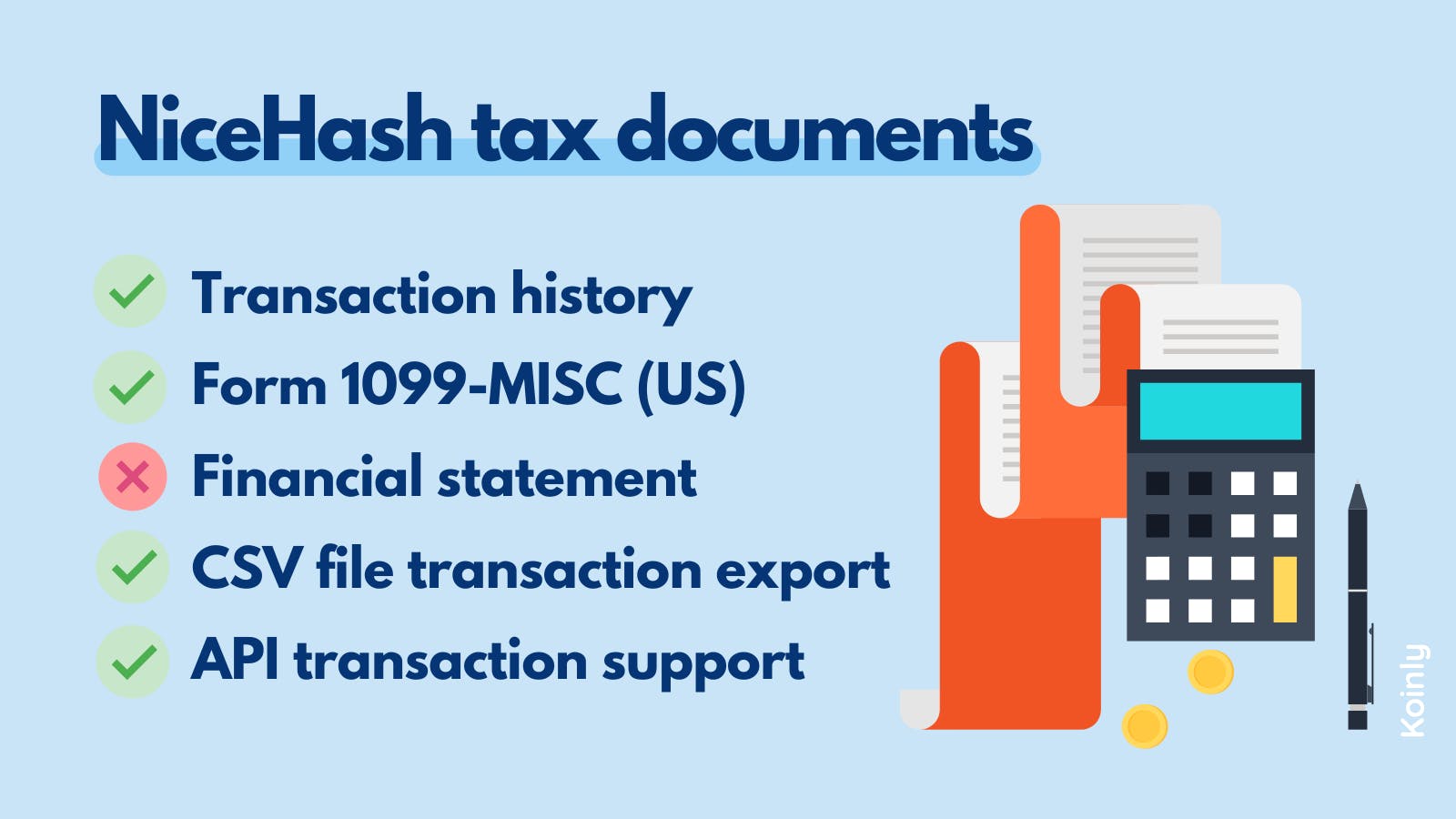 How to download and export NiceHash trading and transaction history
You can download your transaction history from your NiceHash account in two ways. You can download your NiceHash trading history by CSV file import or by API import.
1. NiceHash connects with crypto tax software via API to provide fast tax calculation and reporting. With the aid of an API, you can easily export your transaction history into a crypto tax software that calculates your tax and helps you report it to relevant tax authority.
2. You can manually export your transaction history from your NiceHash account as a CSV file. To do this, you have to download your transaction history before importing it into crypto tax software, or you can use your CSV file to calculate your crypto taxes yourself.
Does NiceHash provide a tax report?
No, NiceHash doesn't provide tax reports. Instead, it provides details about your transaction history which can be used by crypto tax software to calculate and report taxes. 
Does NiceHash send a 1099 form to the IRS?
If you're a crypto trader residing in the United States and you earn $600 or more from your transactions, crypto exchanges will normally issue a 1099-MISC form. So if your income on NiceHash is over this threshold - you could potentially get a NiceHash 1099 if you've completed KYC.
Does NiceHash supply a financial statement?
No, NiceHash doesn't supply a financial statement. However, with your NiceHash transaction history, you can generate a financial statement that is used for tax reporting.
NiceHash CSV export
Downloading NiceHash CSV files for your tax report is easy.
Simply log in to your Nicehash account. Move to the top right-hand side of the home page then locate your profile icon and click on it. From the drop-down menu, click on my settings. From the menu on the left, click on reports then new report. Under the 'select transaction type' section, click on select all. Click on the currency you are working with then select the fiat currency you are working with. Fix a date range then a time zone. You can now click on create. At the right side of your newly generated report, click on the three dots and select download export.
Voila! You have your NiceHash CSV export.
Remember, if you're uploading your CSV file to a crypto tax calculator - you'll need to export your complete NiceHash transaction history to ensure your cost basis, fair market value and short and long-term capital gains correctly. So your CSV file needs to cover the entire time period you've used NiceHash for - however long that might be.
NiceHash API
Alternatively, you can use the NiceHash API that you can use to import your crypto transaction history into crypto tax software. You will have to create API keys along with an API secret code on your NiceHash account first - you can find your API keys under settings. Koinly has provided a detailed step-by-step guide on how to use tax API in reporting your Nicehash transactions. Find it here. 
Once you've got your NiceHash API key, secret code and organization ID, head over to your crypto tax app and add your NiceHash wallet by inputting the API key, API secret code and organization ID.
Does NiceHash provide an end-of-the-year statement?
No, NiceHash doesn't provide an end-of-year statement. However, you can still get transaction details that cover the whole year. When generating your transaction history, set the date range to cover for the year in question. For example, you can set the date range from 1st January to 31st December 2021.
Does NiceHash report to the IRS?
NiceHash is a large mining platform and exchange that operates in the US. As such, NiceHash may have faced pressure from the IRS to share KYC data to ensure tax compliance.
Does NiceHash report to other tax authorities?
This depends on the region or county where you live as there may be more than one tax agency interested in your KYC information. It is also important to note that NiceHash may be compelled to share information about their customers' transactions with other relevant authorities because other larger crypto exchanges do the same. This is why it is important to calculate your tax correctly. To avoid errors, use a trustworthy crypto tax software to help calculate your tax liability.
How to generate NiceHash tax forms
Generating tax forms from NiceHash can be done in two ways. You can either generate it via a NiceHash API code or you can manually download your transaction history before importing it into a crypto tax software.
If you're doing it manually, make sure to include capital gains and losses from selling or trading crypto on the NiceHash exchange. Meanwhile, mining on NiceHash would be taxed as income instead.
If you have a large number of transactions for the year, calculating your taxes by yourself could be a tedious task. However, with crypto tax software like Koinly, you don't need to go through that stress. You only need the NiceHash API to download and generate your tax form and the good news is that Koinly does this in minutes. Koinly generates your tax form based on your residential location and tax authorities.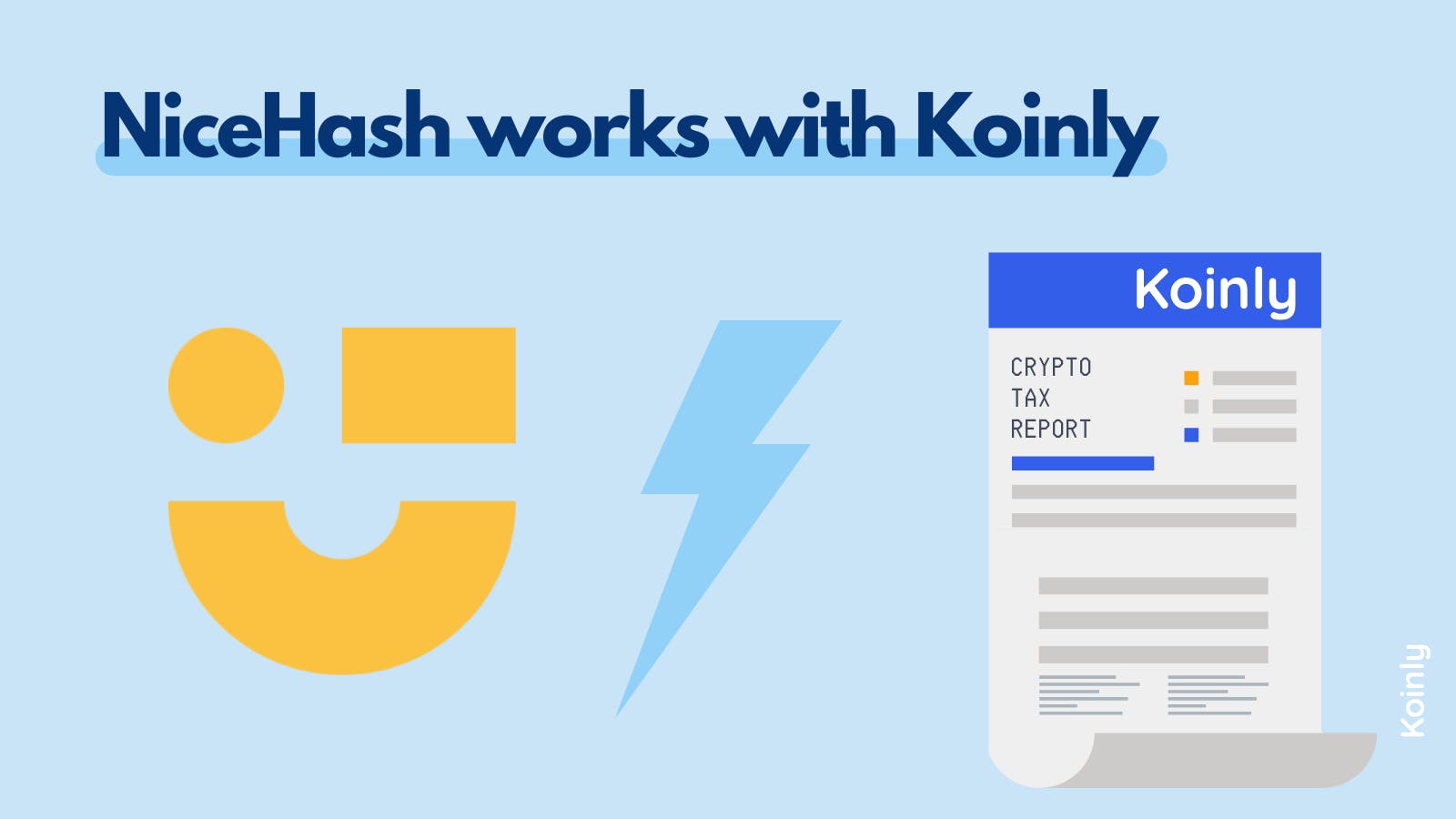 Calculating and reporting your taxes are important if you don't want any legal action taken against your crypto business. However, it can be both tedious and tricky. You may have many transactions to deal with and not have the hours free to make sure every taxable transaction is identified and taxed correctly.
Well, Koinly is here to save you the stress and give you accurate tax reports. Koinly imports your NiceHash transaction history and also calculates your taxes! Koinly also saves you time, presents your tax information to appropriate tax authorities in an accurate format, and also ensures that you do not pay excessive taxes. Here's what the Koinly tax calculator does:
Imports all information about your trades such as sales, swaps, purchases, and rewards.
Helps you convert your transactions into the currency value of your country of residence at fair market value (this saves you a lot of time and energy).
Figures out which transactions are taxable and which are not.
Calculates your capital gains, losses, income and expenses for you, all available to download as a custom tax report based on your location.