Need help with Nexo taxes? We've got you covered. Here's everything you need to know about how to calculate your Nexo taxes and where to find your Nexo tax report.
How to prepare Nexo taxes
Nexo is a crypto exchange and lending platform that offers great investment opportunities - but your tax office will want their cut of any capital gains or income from your Nexo investments. To get started with your Nexo taxes, you need your Nexo transaction history.
How to export Nexo transaction history
Nexo doesn't yet have an API so the easiest way to get your Nexo transaction history is to export a CSV file. This is easy to do in the platform, just head to the transactions tab. Once you have your CSV file, you can upload your file to a crypto tax tool or use it to calculate your taxes yourself.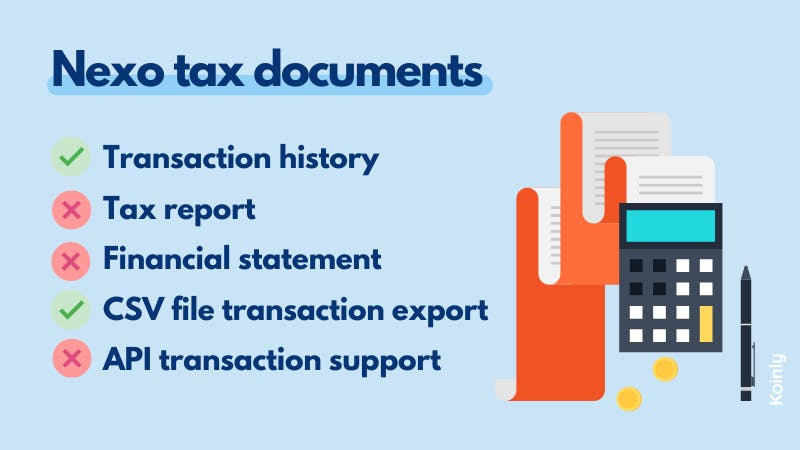 Does Nexo provide a tax report?
No, Nexo doesn't provide users with a tax report. But you can use crypto tax software to generate a Nexo tax report.
Does Nexo issue a 1099 form?
No. Nexo does not issue 1099 forms to US investors. As well as this, Nexo operations are limited in certain states including New York.
Does Nexo supply a financial statement?
No, Nexo doesn't issue a financial statement for users, but you can use your Nexo transaction history as your financial statement.
Nexo CSV export
You can export a CSV file of your Nexo transaction history from the platform. Simply log in, select transactions from the menu at the top. In the right hand menu, select a date range, all asset types and all transactions, then hit export. Once you have your CSV file, you can use it to calculate your taxes manually or upload it to your chosen crypto tax software.
Remember, if you're uploading your CSV file to crypto tax software, you'll need your entire transaction history - for however long you've been using Nexo. This is easy to do, just make sure you select dates that reflect the entire time period you've used Nexo when exporting your CSV file.
Good to know
Please note, Nexo recently made some changes to their CSV file that have caused some issues with importing data to crypto tax apps. We're actively working on fixing this (and a Nexo API integration). You can see our updates here.
Does Nexo have a Tax API?
Not yet - but we're working on it! We'll update this article as soon as we've implemented the Nexo API.
Does Nexo provide an end of year statement?
No, Nexo doesn't issue users with an end of year statement. But investors can use their exported Nexo CSV file as an end of year statement - just select the dates to reflect your financial year when exporting your data.
Does Nexo report to the IRS?
According to Nexo, they are still assessing the implications of the Common Reporting Standards to their business, and, for the time being, they do not believe to be required to disclose any information about transactions to the IRS or other tax authorities. Of course, if faced with a data request from the IRS, this situation may quickly change. The best way to avoid getting on the wrong side of the IRS is to report and pay your taxes accurately.
Does Nexo report to other tax authorities?
Like above, Nexo does not believe they're required to disclose any information about transactions to any tax authorities. However, this stance could quickly change if Nexo are challenged by various tax authorities.
How to generate Nexo tax report
There are two ways to create tax forms for Nexo. It can be done manually or with crypto tax software like Koinly (check here).
Doing it yourself? You'll need to identify your taxable transactions, including any capital gain or loss and income, as well as your cost basis or the fair market value of any crypto tokens on the day you received them in fiat currency. Then take all of this information and submit it in the required format for your local tax office.
Alternatively, use crypto tax software. All you need to do is upload your Nexo CSV file and let your crypto tax app do the rest for you, including generating your crypto tax report based on your location, ready to file with your tax office.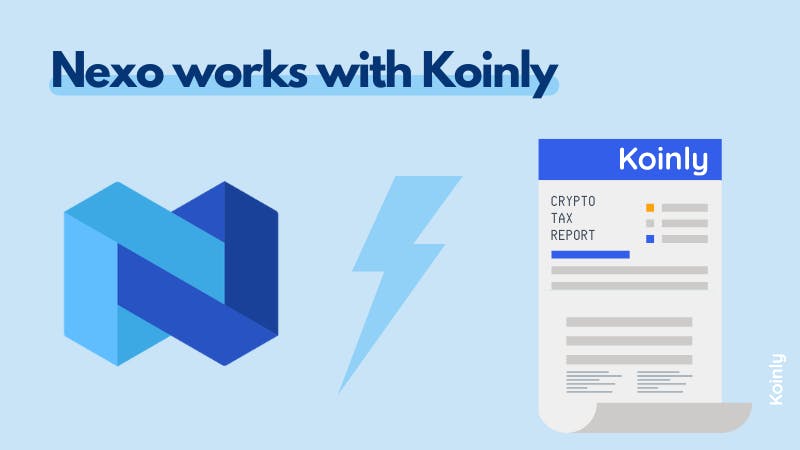 If you've been wondering is Koinly a Nexo tax calculator tool, the answer is, yes! Not only can Koinly import Nexo transaction history, but Koinly can also calculate your Nexo taxes in a format that makes sense for your country's tax office. As a Nexo tax calculator, Koinly is able to do a bunch of impressive tasks that save you time and can even save you from paying too much in tax.
As a quick breakdown, here's a short summary of what Koinly does:
Imports all your trades including purchases, sales, swaps, and rewards.
Converts your transactions into your country's currency at fair market value.
Deciphers which of your trades are taxable and which are not. 
Helps you submit a clean and accurate report to your tax office.