With EOFYS upon us, here's what you need to know and do now, to stay on the good side of the law come tax time.
Failure to declare crypto gains can attract a penalty of 75% of the outstanding tax liability, plus the tax itself and interest on the shortfall. Read the full press release here.
By now all Australian crypto traders should have heard, 'you can run, but you can't hide'. In short, the strategy now should be to play it with transparency and accuracy, while seeking tax saving measures along the way - like hodling for a year-plus, to save 50% on any capital gains you might make from a crypto swap or sale.
With EOFYS upon us, here's what you need to know and do now, to stay on the good side of the law come tax time.
A 101 on how Australia taxes crypto
Cryptocurrency is viewed as property by the Australian Tax Office (ATO) and is subject to either Capital Gains Tax and/or Income Tax depending on whether you're an investor (individual) or a trader (business).
The ATO has set out clear guidelines on how crypto buying, selling and mining is taxed. If you've bought or sold cryptocurrency in the last financial year, you will need to declare your crypto totals on your income tax return.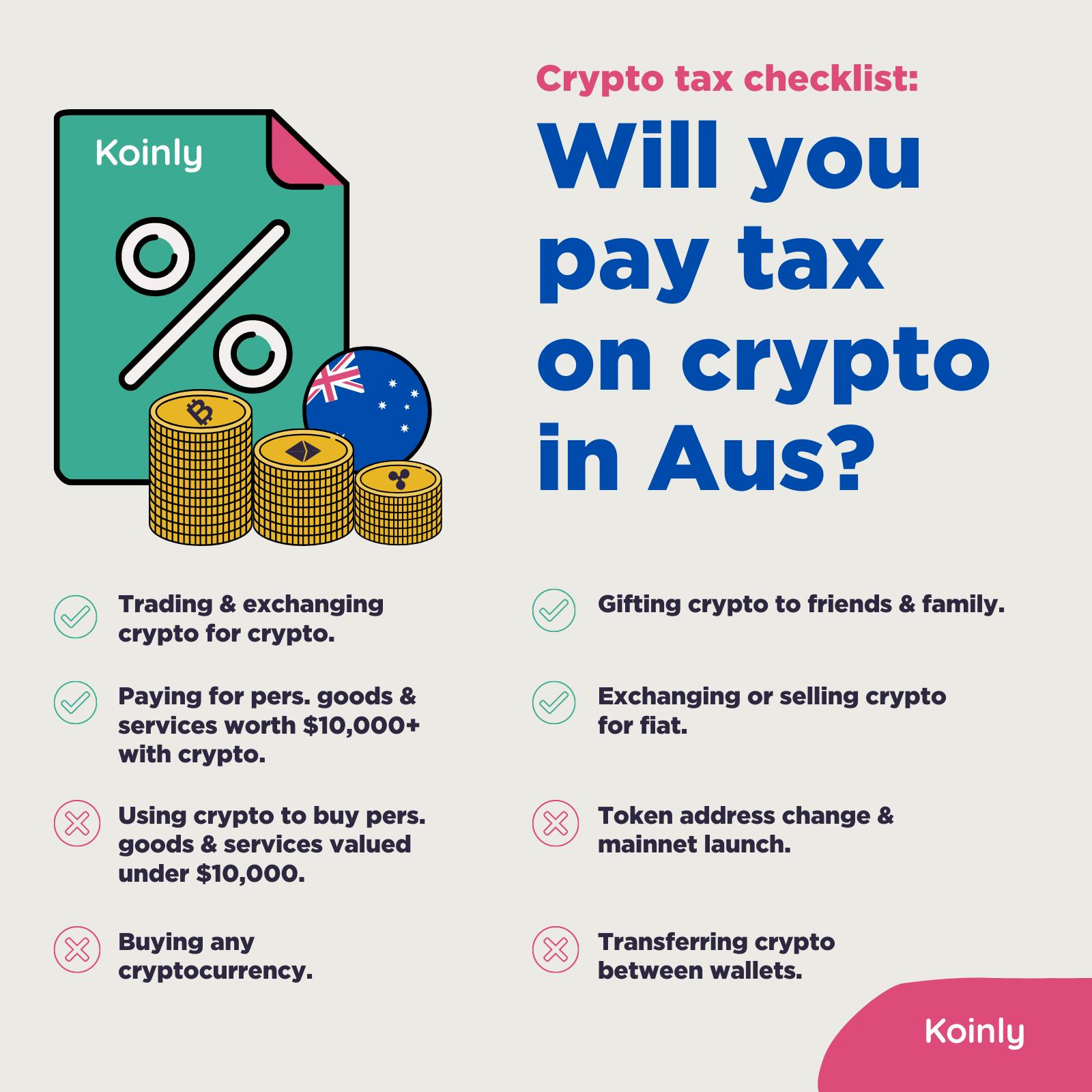 What does the ATO need to know?
The ATO wants to see your crypto activity summarised in your annual income tax return. The goal is to arrive at net gains and losses, but with crypto the devil is in the detail. You'll need to support the net totals you provide with detailed records of cryptocurrency transactions.
You also need to keep your records for 5 years after you "prepared or obtained the records", or "completed the transactions or acts those records relate to", whichever is later. You need to keep the following records:
The date of your crypto transactions.
The value of the cryptocurrency in Australian dollars at the time of the transaction (which can be taken from a reputable online exchange.)
What the transaction was for and who the other party was (even if it's just their cryptocurrency address).
Receipts of purchase/transfer of cryptocurrency.
Records from exchanges.
Records of agent, accountant and legal costs.
Digital wallet records and keys.
Software costs related to managing your tax affairs, like Koinly.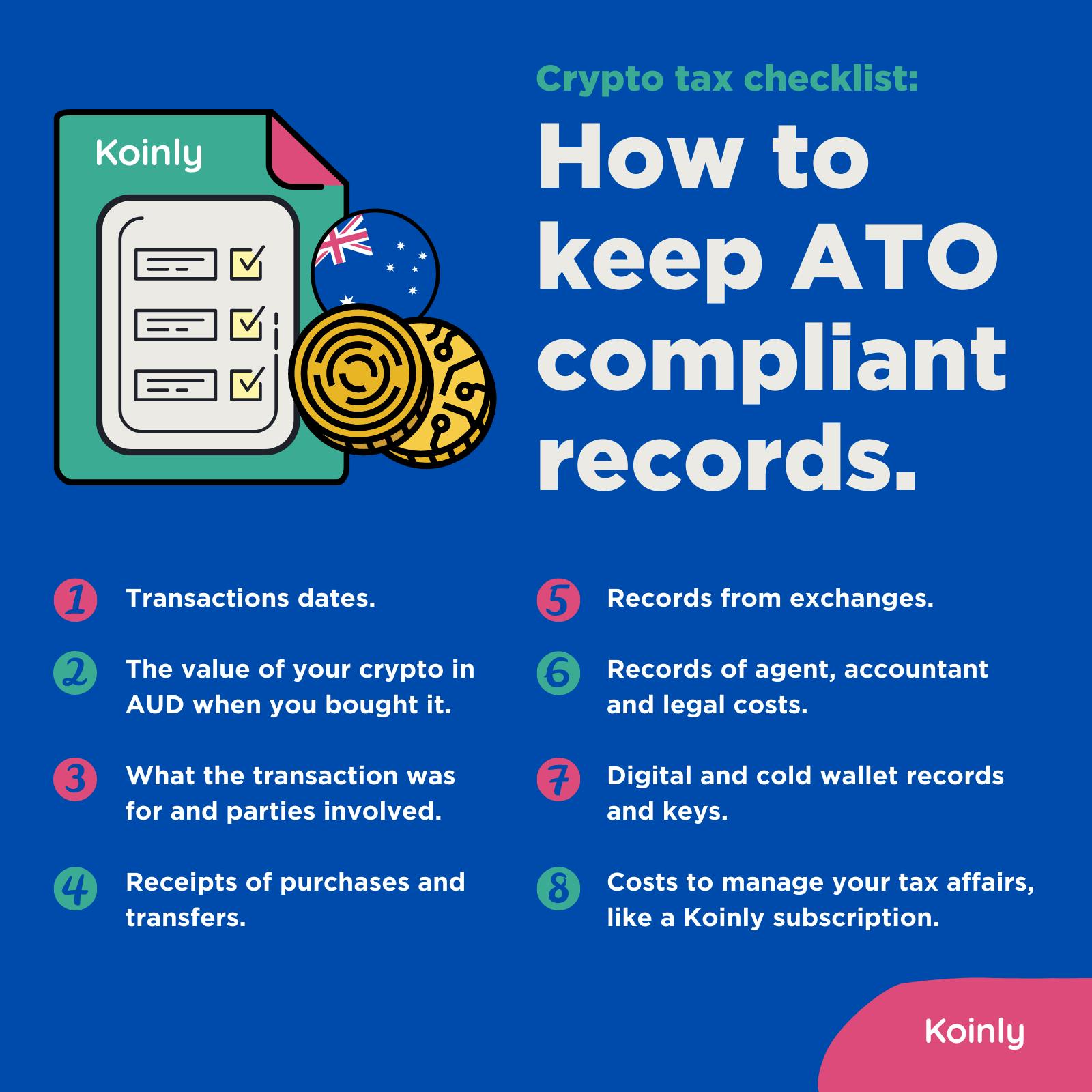 How do I get this information?
You either need to go it alone by sourcing, downloading and spreadsheeting, or use a tax calculating & portfolio tracking app like Koinly. Here's how easy it is:
Select your base country (Australia) and currency (Australian dollars).
Connect Koinly to your wallets and exchanges. Koinly integrates with Binance, CoinSpot, CoinJar, Kraken, Swyft, and 300+ more. (See all)
Let Koinly crunch the numbers. Make a coffee.
Ta-da! Your data is collected and your full tax report is generated!
To download your crypto tax report, upgrade to a paid plan from $49 per year.
Send your report to your accountant, or complete your ATO submission yourself, using the figures from your Koinly report.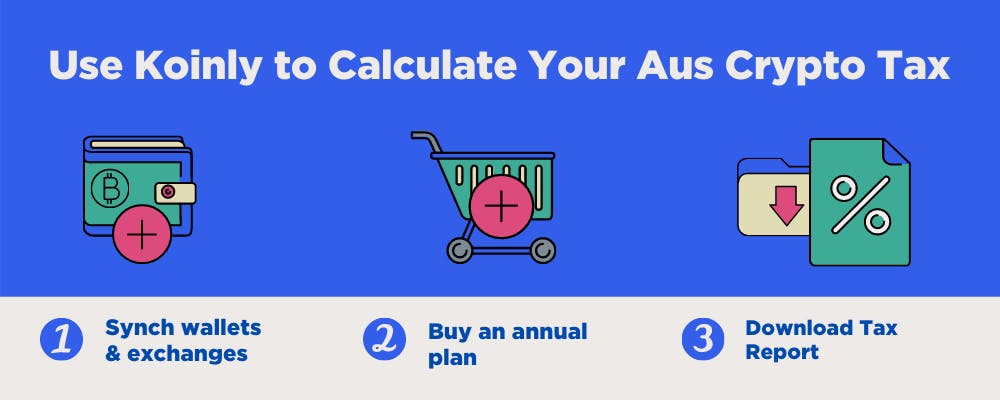 How should you report your crypto activity?
The ATO wants to know about your crypto activity in terms of income and capital gains. You'll need to declare both in your annual tax return. If you're completing your tax return for July 1, 2020 – June 30, 2021, it needs to be filed by October 31, 2021.
Once you, or your accountant has calculated your crypto tax (we have an app for that!), the easiest way to file your taxes is online using the ATO's online filing portal, called myTax, available from your myGov dashboard.
Download your 2020-21 tax report from Koinly, called 'ATO Report myTax' and input your crypto totals under the 'other income' section of your myTax submission.
Where to find out more
At Koinly it's our job to know about the crypto tax rules in each of the countries we support. For a complete overview on how crypto is taxed in Australia, head over to our regularly updated Australia Crypto Tax Guide 2021.
You can also see the ATO's crypto tax guidance here.