Looking into how to do your Crypto.com taxes? We're the first to admit that it can be overwhelming. But don't start to worry yet, with our comprehensive Crypto.com tax guide you'll be knocking out your crypto taxes in no time!
If you're thinking about Crypto.com taxes, you're likely thinking about how to calculate your crypto profit or losses, and how to use a tax calculator to work out your taxable income. This guide covers everything from transaction history to tax report. Ready to get started? You're going to need your Crypto.com transaction history.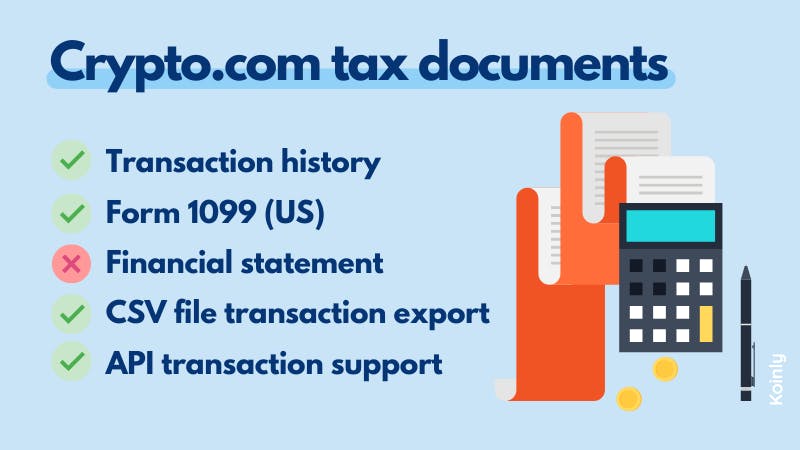 How to download Crypto.com transaction history
You can obtain your Crypto.com transaction history in one of two ways. You can either export a CSV file of your transaction history, or you can connect a tax calculator to your Crypto.com wallet via API. Option two is by far the easiest, all your Crypto.com transaction history will be automatically imported to your chosen app. 
Unlike many other exchanges, Crypto.com provides tax reports for its users. Crypto.com can provide capital gain/loss reports, an income report and a variety of IRS specific forms like Form 8949. While Crypto.com does let you import data from a few other popular exchanges, it doesn't support the wide array of exchanges and wallets that the majority of crypto tax tools do.
Yes. Crypto.com sends out a 1099-MISC to any US user who is a U.S. citizen that has earned USD $600 or more in rewards from Crypto.com, during the previous calendar year from Staking, Earn, Referrals, or certain other activities. Crypto.com will also provide a copy of your Form 1099-MISC to the IRS. You can learn more about crypto 1099 forms in our blog.
No, Crypto.com doesn't supply a financial statement per se, but you can use your Crypto.com transaction history to create a financial statement for tax purposes.
Crypto.com provides an easy CSV export option for users to download their transaction history - the instructions vary a little depending on whether you're using the mobile app or desktop.
Using desktop? You'll need two files to do your taxes - your transaction history and your order history. To get your transaction history, go to wallets, then transaction history then export history. To get your order history, go to order history in the left hand menu, then export history. Make sure you select all for assets and when you're picking a date range make sure it covers your entire trading history on Crypto.com. You can then upload your Crypto.com CSV files to a crypto tax calculator or use it to calculate your crypto taxes yourself.
Using the Crypto.com app? Open your app, then select accounts, then transaction history, then the export icon. Select crypto wallet and pick your time period for your CSV file (maximum 3 years) and hit export to CSV.
You may need multiple files if you use the Crypto.com fiat wallet or visa card - just select these from the drop down menu you picked crypto wallet from. If you've been using Crypto.com for more than 3 years, you may also need a couple of CSV files to ensure you have your complete transaction history.
Faster than fighting with multiple CSV files is to use crypto tax software and connect to Crypto.com via API. To get your API keys from Crypto.com, select your profile icon, then profile, then API keys and then create a new API key. Once you have your API key, copy the API key and API secret and paste them into your crypto tax calculator when you're adding a new wallet.
No, Crypto.com won't provide you with an EOFY statement, but you can use a crypto tax tool to generate one.
Yes, Crypto.com does report crypto activity to the IRS. As mentioned above, US users who earn $600 or more in rewards from Crypto.com from Staking, Earn, Referrals, or certain other activities will receive a 1099-MISC tax form and the same form will be sent to the IRS.
As a major exchange, it's likely Crypto.com has agreements to share KYC data with a variety of other tax agencies including the ATO, the CRA and HMRC.
You can either generate a Crypto.com tax report by using a crypto tax app or by manually calculating your crypto taxes yourself.
With an exchange as popular as Crypto.com and one that knowingly reports to the IRS, we highly recommend taking the first option. Calculating crypto taxes can be a time-consuming task - and they're prone to miscalculation. Tax authorities are clamping down on crypto tax evasion and they're watching closely. Wherever you live, your tax office wants to know about all your taxable crypto transactions, including any time you made a capital gain or loss from selling, trading, spending or gifting crypto. It also includes any additional income from crypto investments - like through mining, staking or airdrops. To manually calculate these transactions, you'll need to create a document of your crypto transactions, identify the type of tax applied to each kind of transaction and the resulting capital gain/loss, as well as the fair market value of any income on the day you received it.
Still want to go it alone? Or have we convinced you to take the easy path? Save yourself hours and let a crypto tax app to do it for you. Just use the Crypto.com tax report API and your crypto tax app will calculate your Crypto.com taxes for you and generate a pre-filled tax report based on your location - for example, the IRS Form 8949 and Schedule D or the ATO myTax report.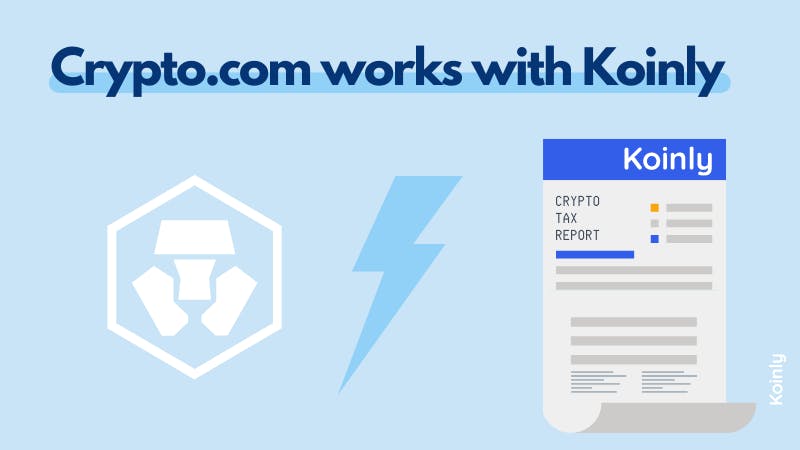 Are you considering using Koinly as a Crypto.com tax calculator tool? It's a great choice! It can streamline your crypto taxes for you and remove complicated tax calculations from your day. As a Crypto.com tax calculator, Koinly is able help you when it comes to a bunch of complicated tasks. And the best bit, not only will it save you time, but it can even save you from paying too much taxes.
As a quick breakdown, here's a short summary of what Koinly does:
Imports all your trades including purchases, sales, swaps, and rewards.
Converts your transactions into your country's currency at fair market value (this in itself is a massive time saver).
Deciphers which of your Crypto.com trades are taxable and which are not. 
Helps you submit a clean and accurate report to your tax office.