Need to file your Coinstash taxes with the ATO before the 31st of October tax deadline? No worries. We've got you covered with everything you need to know about how to calculate your Coinstash taxes and file with the ATO in no time at all.
How to prepare a Coinstash tax report
Scarier than a bear market? Tax season. The ATO is clear that crypto is taxable - including your Coinstash investments. You'll need to pay Capital Gains Tax on any profits you've made anytime you sold or traded crypto on Coinstash, as well as pay Income Tax on any crypto income. 
If you're an active investor, it's a lot of work - but not with the help of a Coinstash tax calculator. To get started, you'll need your Coinstash transaction history.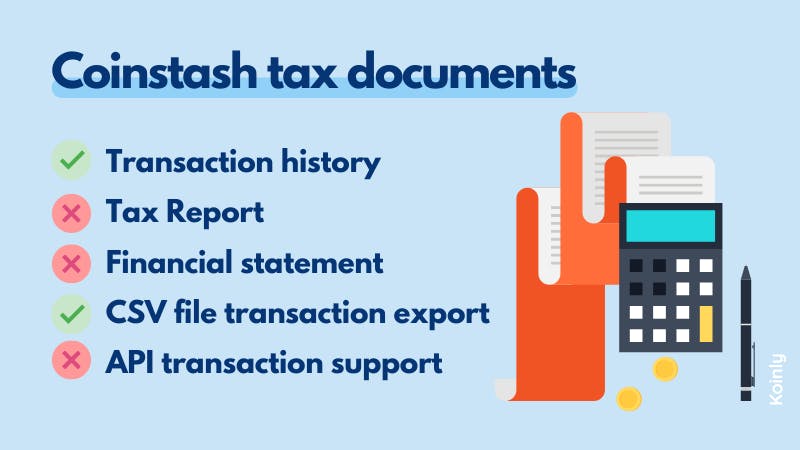 How to download your Coinstash transaction history
Coinstash lets users download their transaction history as a CSV file. You can then use this file to calculate your crypto taxes yourself, or upload it to a crypto tax calculator and let it do all the work for you. 
Does Coinstash provide a tax report?
No, Coinstash doesn't provide an ATO tax report. However, you can use a crypto tax calculator to generate an ATO compliant crypto tax report in no time at all.
Does Coinstash supply a financial statement?
No, Coinstash doesn't provide a financial statement for users. But you can use the export CSV function to get a record of your transaction history on Coinstash.
How to generate a Coinstash tax report
There's two ways to get your Coinstash tax report - make it yourself or use crypto tax software to generate one.
If you're tackling your taxes yourself, you'll need to get your transaction history from Coinstash (and any other wallets or exchanges you use) and identify each taxable transaction - so anytime you sold, swapped, spent or gifted crypto. Next up, calculate the profit or loss you made from each of these transactions. You'll also need to identify the fair market value (in AUD) of any crypto income. You'll then need to tally these figures up and report your net capital gain (minus any losses and applicable long-term capital gains discounts) and a total figure of additional income in your annual lodgment with the ATO.
It's hours of work for most investors and you'll need to do this for not just Coinstash but every crypto wallet or exchange you use - which is why most investors opt to use a crypto tax calculator.
All you need to do if you're using crypto tax software is upload your Coinstash CSV file and your app will do the rest for you, generating an ATO compliant crypto tax report in a fraction of the time it would take you to do it yourself. 
Here's how to get your CSV file.
Coinstash CSV export
Log in to Coinstash and select portfolio, then scroll to transactions and hit the download icon next to CSV. Done!
Does Coinstash have a tax API?
Coinstash doesn't have a tax API just yet - but we'll update this space as soon as they do!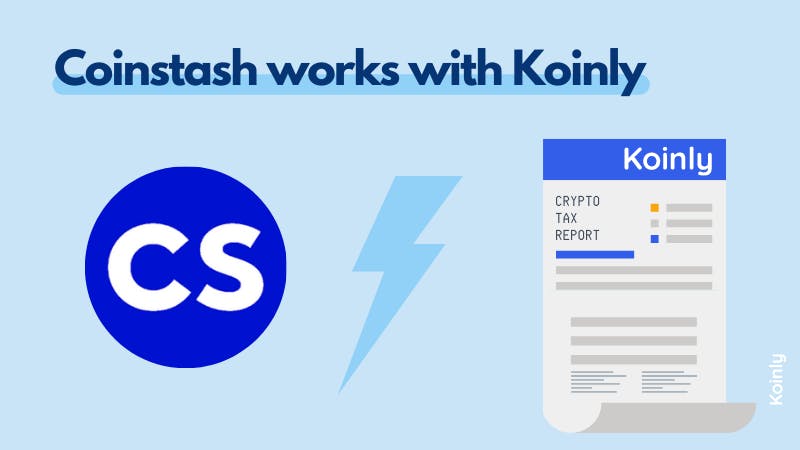 Does Coinstash provide an end of year statement?
No, Coinstash doesn't provide an EOFY statement, but your crypto tax app will be able to generate the documents you need for tax purposes once you've uploaded your Coinstash transaction history.
Does Coinstash require KYC?
Yes, like most Australian crypto exchanges, Coinstash has KYC verification in place for users in order to meet AUSTRAC operating requirements.
Does Coinstash report to the ATO?
Yes. Coinstash is an AUSTRAC registered exchange and as such may share customer data with government agencies upon request. 
If you've been wondering if Koinly is a Coinstash tax calculator tool, the answer is - yes!
Not only can Koinly calculate your Coinstash taxes, but Koinly also connects to more than 600 other exchanges, wallets and blockchains - so you can get all your crypto taxes done whatever platform you're using.
Koinly is able to do a bunch of impressive tasks that save you time and can even save you from paying too much in tax:
Koinly imports all your Coinstash transaction data via CSV file upload.
Koinly identifies your taxable transactions on Coinstash, including identifying non-taxable transfers from disposals.
Koinly identifies your cost basis for each crypto asset, calculates your short and long-term capital gains and losses and the fair market value of any crypto income (like airdrops!) in AUD on the day you received it. 
Finally, Koinly generates your Coinstash tax report, ready to download whenever you're ready to file with the ATO.

The information on this website is for general information only. It should not be taken as constituting professional advice from Koinly. Koinly is not a financial adviser. You should consider seeking independent legal, financial, taxation or other advice to check how the website information relates to your unique circumstances. Koinly is not liable for any loss caused, whether due to negligence or otherwise arising from the use of, or reliance on, the information provided directly or indirectly, by use of this website.